In-Depth HubSpot Review: 5 Years Of Real-World Use
Blog /

In-Depth HubSpot Review: 5 Years Of Real-World Use

Disclosure: We only review products we use here at Nectafy. Some of the links in this article are affiliate links that may provide Nectafy with a small commission at no cost to you.
The year 2005 was certainly one to remember. A team at the Palomar Observatory discovered Eris, one of the largest known dwarf planets in the solar system. For the marketing world, the year was memorable because two new companies entered the scene and began to quickly shake up the industry: YouTube and HubSpot.
While Eris and YouTube have their own interesting stories, you're here to learn more about that other name—but bear with me, as I want to lay out some important context before getting into the nitty gritty of our HubSpot review.
HubSpot's Evolution
Software development typically takes one of two paths: either you build best-in-class, niche functionality for a specific use case or you broaden your feature set to become an all-in-one solution for multiple, related needs. HubSpot chose the latter path, starting out as a simple marketing tool, but eventually achieving a grander vision for its platform.
For example, HubSpot added a customer relationship management (CRM) capability to compete with popular solutions like Salesforce. Similarly, HubSpot developed a customer service and support capability to compete against solutions like ZenDesk.
By making this decision, HubSpot went from a best-in-class platform in one area (marketing) to a strong contender in three areas: marketing, CRM, and customer support. Naturally, its pricing increased with these additional capabilities.
For a company that needs to address all of these areas—and has the budget—HubSpot makes complete sense. However, companies that only require one or two types of functionality can find alternatives that offer the same or a better fit at a lower price point.
What HubSpot Is (And Isn't)
What you want in a marketing platform is an easy way to get content on your website, a clear picture of who's visiting your site and why, and various methods to engage these visitors based on their actions. HubSpot Marketing is extremely powerful and does all these things well.
However, HubSpot is only part of the marketing equation, especially when it comes to content marketing. If you read HubSpot reviews, you may get the impression that once you sign up with the platform, you're set.
False!
HubSpot is much like a Lamborghini—it's a very nice vehicle that helps get you from point A to point B, but a vehicle nonetheless. Without a good driver and gas, you won't be moving anytime soon. In marketing terms, that means no additional visitors or customers without a team behind the wheel and a process to fuel your movement.
Developing A Winning Content Marketing Process: 5 Steps
If you choose HubSpot—or any similar platform—to support your content marketing efforts, you better have a clear, scalable process in place. Below are key steps you should take to bring your content marketing process to life.
1

Define your audience.

Figure out exactly who you're trying to help—and don't say everyone! If you're trying to help everyone, you're not helping anyone.

Talk with your sales team to learn what kind of questions prospects are asking. Do the same with customer success staff and other team members who have direct contact with the audience you're trying to sell to or service. What concerns are being presented? These conversations can help you refine your audience and identify content that would appeal to them.
2

Perform keyword research.

Keyword research is an important part of your content marketing process because it enables you to:
Discover what your audience is asking about online.
See how many people are asking about the same things.
Identify relevant topics to discuss.
Determine how likely your content is to be seen.
That last point is key because it ties into domain authority, a number from 0 to 100 that indicates what Google thinks of your website's clout (from least authoritative to most authoritative). The higher your authority, the easier it is to get your content ranked at or near the top of search results. A lot of people fail at this step and their content gets buried on page four or five, where it brings in minimal views.
If you're curious about which tool can help you with keyword research, Semrush is a good choice.
3

Identify relevant SMEs.

Once you figure out your topics, you need an authoritative source to speak on them. Don't just let the marketing department write the content based on other articles they found on Google. You'll end up with fluff copy that looks just like what already exists on the internet and holds no additional value. The audience won't like it; nor will Google.

You need to either look internally or externally for the right subject matter expert (SME)—someone who has enough knowledge and experience on the topic to provide useful insights.

You may be able to find someone within the organization, such as an engineer, product developer, salesperson, department head, or senior leader. But you may have to look outside the organization in some cases, as your internal resources may not know the topic well enough to speak about it in detail.

Consider individuals in close proximity first—who in your professional network is an expert on the topic? Identify people with experience in the field. They may have started their own business or be consultants. Broaden your search if needed by searching on LinkedIn or using a service such as Help a Reporter Out (HARO) to connect with experts.

The ideal SME is someone who has personal interest and even excitement around the topic—not just experience with it. They should be welcoming of your request for help and want to impart their knowledge (instead of guarding it).

The SME should be able to lean into the saying, simplicity on the other side of complexity—they should understand the topic so well, they can reduce it down to simple concepts that most people will understand.

In other words, if you asked the SME to explain the topic like you're an eighth grader, they'd gladly take on the challenge and boil down what will often be complex topics into easy-to-digest insights. Your audience—who likely has the same or lower starting knowledge point as the interviewer—will appreciate this.
4

Find a great writer(s).

If you thought the last step was hard, you might find this next one equally as challenging. Even if you properly define your audience, perform admirably in your keyword research, and identify a promising batch of SMEs, none of that matters if you don't have a great writer to tie up all that hard work into a beautifully written piece to share with potential customers.

Great writers do not come a dime a dozen. To be completely honest, finding a great writer is much more challenging than you may think because they need to be able to:
Structure thoughts and arguments well
Be curious
Communicate clearly and in an engaging manner
Advocate for the reader when interviewing SMEs
Ask thought-provoking follow-up questions
Of course, you also don't want a writer who isn't good with grammar. Then you have to become a full-time editor to correct their mistakes, which can cause your content engine to come to a grinding halt.
That last point is particularly important—not all writers conduct interviews well. Oftentimes, SMEs may go off tangents in their excitement and veer away from the intent of the topic. Or they may need direction to share the most relevant information. The writer needs to be able to keep SMEs on track and ask the right questions to get the best insights for the audience.
Great writers can do all the above and help ensure your efforts (and budget) go according to plan.
5

Review and repeat.

Last but not least is reviewing what's been written to ensure that it's factually accurate and in line with your content strategy, and then doing all the above steps over again…and again…and again.

It may sound repetitive, but committing to this process will ensure you meet (and even exceed) your content marketing goals. This is an ongoing process that can produce meaningful leads for years to come, as long as you do it correctly.

You can make the process easier with the right team—we can help if you don't want to do it yourself—and the right tool. Which leads us back to our HubSpot review… :)
HubSpot Review: Prologue
You probably really want to like HubSpot. I don't blame you.
As you have read the remarkable success stories, HubSpot's super-helpful content, the pseudo-objective MIT research (hey, we're actually on that page), and the glowing praise about inbound marketing, you can close your eyes and visualize your company 12 months from now, basking in more traffic, leads, and customers. You breathe in the glory.
Please savor that feeling. It's a special thing.
I was in your shoes just five years ago. Except, I didn't want to like HubSpot. I thought the company's marketing was over the top, its sales team too pushy, and its claims over-exaggerated. I had my own approach to content marketing.
But, to be honest, by doing things my own way I wasn't experiencing the positive results HubSpot documented. Not at all. Even with my over-inflated sense of confidence in my own skills and the tools that I had cobbled together, I secretly wondered if I was missing out on something special.
So, I took a crazy step.
I tried HubSpot.
By "trying HubSpot," I mean that I spent a boatload of money on the software (way beyond what I really could afford back then).
Since I mortgaged the farm to make it happen, I decided to follow HubSpot's content marketing advice as much as possible, and do things HubSpot's way.
I made one more game-changing decision. I made my experiment public.
What you're going to read in the rest of this huge review of HubSpot is my personal take on HubSpot throughout our journey, especially in the first year.
So, have we achieved the mountain top experience I dreamt of five years ago?
Read on, dear friend.
(Pssst. Want to take this review with you? We packaged it up into a 100-page PDF over here.)
Review Basis: Does HubSpot Really Work?

We're going to find out.
Before I start, let me just mention that at the end of this post, I'm going to show our actual traffic, leads and customer conversion numbers from our website for the past year. I'm holding nothing back. But, let's talk HubSpot first.
I've always been skeptical of HubSpot, to be honest. I'm pretty convinced of the effectiveness of a WordPress website combined with a huge array of free-ish tools to research, create content, monitor results, and engage in social marketing. And it has been working. But, as a content marketing company super-crazy about delivering real results, we're always looking for ways to deliver more for our clients. Particularly, I want to be able to track and understand more about how visitors become leads who become customers. Google Analytics has always been the main source of a sort of general understanding for us, but as of late, Google is hiding more and more information from its non-paid (Google AdWords) users. Plus, it's been difficult (read impossible) to track the full customer process from the first touch, through email marketing & downloads, through conversion of a visitor to a customer.
I've never been one to recommend something that I'm not doing myself, so I decided that Nectafy would completely embrace the HubSpot philosophy for the next year for our own web presence, and we're going to track our success/failure publicly.
A few ground rules.
In order to see if it really works, we're going to be "A" students, and do all of the recommended training and exercises. We're going to pursue HubSpot certification for all 3 of us on our content creation team, by the end of November 2013.
We're going to put in at least the recommended 10 hours/week into actually creating content and working the system. The content creation is the engine under the hood. We already put quite a bit of time into our content, although honestly, it's probably closer to 5-6 hours a week lately. We'll document how much time we spend each week, so we can accurately gauge input to output ratio.
Since we've built our site on WordPress, instead of using their built-in blogging software, we're going to use WordPress integration with their tools. That means that there are a couple of their dashboard tools that will be meaningless to us, but I think, on the whole, the experience should still be the same.
What is HubSpot?
For those of you not familiar with HubSpot, let me introduce you. Briefly, HubSpot is an all-in-one software solution for managing your web content, creating landing pages, managing your social media accounts, and measuring the success of your results by leads & customers instead of the more traditional page views, time on page, bounce rate, and other, shall we say, "geeky" analytics. HubSpot is headquartered in Cambridge, Massachusetts, so they're one of us.
What I already like about the experience so far
1. HubSpot takes customer training very, very seriously.
They have a fantastic library of webinars that help you understand the process of inbound marketing. You can participate in live webinars, or you can enjoy the recorded ones. (I like recorded ones because I tend to do things at my own pace.) The software itself also makes it easy to understand how the different components work. Plus, they have done a great job of making all of their help resources available everywhere in the tool.
2. HubSpot teaches philosophy, marketing, and business principles as a key part of success.
One issue that I've had watching HubSpot's marketing from the outside is that they sort of downplay how critical creating content is to the success of their system. Without creating the right kind of content, you will fail. I suppose that HubSpot assumes that their customers know this key information before they sign up, but for many companies looking to gain customers from their online presence, it can appear that HubSpot is some magic tool with a big green "Go" button, and great stuff happens.
So, I've been pleasantly surprised with how much effort they go to to help you understand the why's and how's of creating the right kind of content.
3. HubSpot is "smoking what they're rolling."
That's a memorable way of saying that HubSpot is leveraging the tools of inbound marketing to create their own success. That may seem obvious, but so many companies fail to practice what they preach. (Ha, ha.) I just realized how funny it is that I used the phrase "smoking what they're rolling" and "practicing what they preach" in the same paragraph.
What I'm skeptical about
1. I'm not sure that having an all-in-one tool will be that much more effective.
By using a combination of tools like WordPress, Gravity Forms, MailChimp, HootSuite, Capsule CRM, and so forth, I think we've already got the bases pretty well covered.
2. In our industry, content marketing, the internet is pretty crowded with plenty of other companies trying similar strategies. My thought here is that if HubSpot works for us, it should work for any B2B business.
Again, that's what this test is all about. I want to prove to myself one way or the other that HubSpot really works.
The Benchmarks
We began using content marketing at the end of November 2012, and here is what our traffic has looked like.
Unique Visitors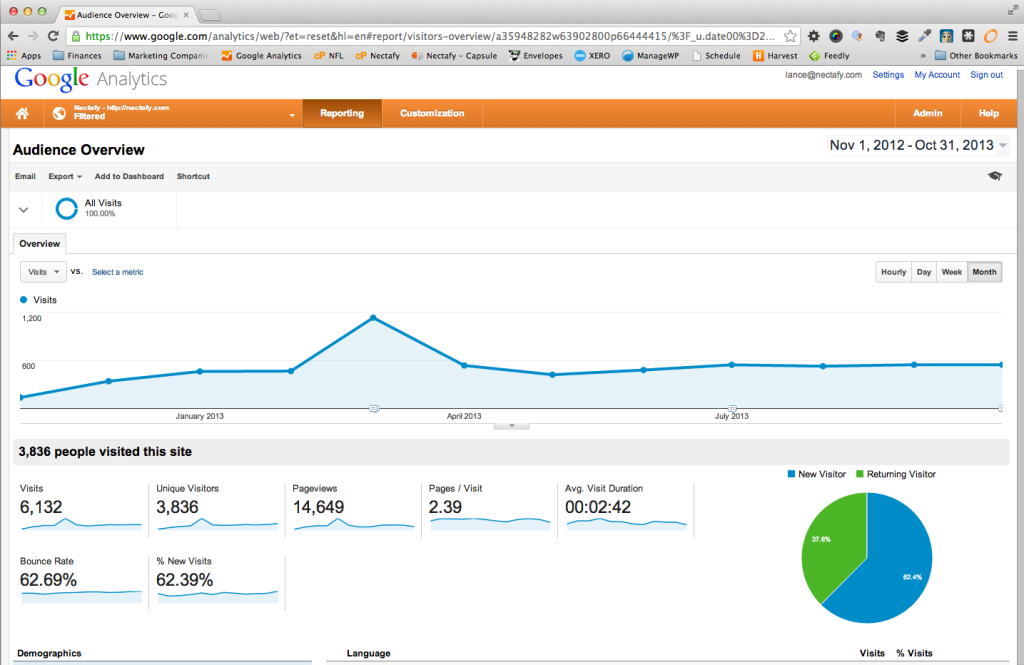 First, you can see that we currently average almost 600 visits per month. (The fun spike in March was thanks to being listed in a very active email list by D Bnonn Tenant, which sent many curious marketers to check us out.)
Secondly, although we have seen consistent growth through our ongoing marketing, it is been quite gradual.
Total: 3,836
Leads
The traffic only tells part of the story, though. Let's look at how we did with getting visitors to take the next step and download a guide, or somehow offer their email so we could follow up with them.

Total: 154 Leads
New Clients
If we only cared about leads, we'd be kidding ourselves. We need to gain new clients from all of this content marketing. Of course, some of our new client gains are from sources other than direct website traffic, but our ongoing content marketing strategy was still a huge part of bring that conversion about, so I feel good that this will still be an apples-to-apples comparison one year from now.

I included the average annual customer value in this chart, because I want to see if increasing our content marketing effectiveness also increases the value of the clients we have. In other words, the more we educate and advocate for our clients through content, will we be able to solve more and bigger issues and thus be able to generate more revenue?
Total: 23 New Clients
Let the games begin
Alright, so we have our benchmarks, and we have our ground rules. We're going to jump in and see what happens. At the beginning of each month, I'm going to post an update on these numbers using HubSpot. And at the end of October 2014, we should see pretty clearly whether we have a winner or a dud.
Month 1 Review: The Good, The Bad, The Data

Last month, I kicked off my experiment to find out if HubSpot really can deliver the goods with inbound marketing.
It's been a really interesting month, and I've learned a ton about HubSpot, and a little about myself.
I'll show you my actual data from my first month sipping the HubSpot Kool-Aid, and you can help me make some observations. I'm sure you'll have more insight than I will, but I'll get the conversation started.
(This post is stupid-long, so I made this handy little menu if you're attention-deprived like me.)
The Good | The Bad | The Challenge | The Work | The Data | The Story | The Analysis
The Good
I'm becoming an actionable-data addict.
I keep my HubSpot dashboard pulled up on my second monitor all day long, and I'll confess that I actually use the mobile dashboard sometimes during the evening when there's a lull in family activities. (I know, shame on me. Addictive behavior.)
When I look at my numbers, I take action to try to increase those, like tweeting a few links, or brainstorming a piece of content. That does nothing but help the success of the site.
The dashboard is really, really gorgeous. So is the mobile app. Well designed, beautiful interfaces are important to me. It's the same reason I use Xero for my company accounting instead of the butt-ugly interface on that other accounting software that everyone else uses.
I'm setting more strategic goals.
I've been forced to set initial 6 month goals as a part of HubSpot's emphasis on measurable, strategic goals.
750 visits per month (46% increase over current average)
20 leads per month (53% increase over current average)
2 customers per month (the same as last year)
HubSpot has a ton of really good resources to help you get going.
The resources that HubSpot makes available for learning, like webinars and workshops, are extremely helpful.
Their webinars are first-class.
They're fun, engaging, and very, very focused.
The coaching support from HubSpot has been outstanding.
My consultants, Kelsey Norberg and Casey Lockwood have been unbelievable to work with! I had a question the other day, and within a few minutes, we had scheduled a phone call to talk through it. In our one-on-one meetings, I'm getting answers to specific questions, and they're giving advice that is direct and practical. It feels like they're my biggest fans cheering for me from the sidelines. And that feels good.
Real-live tech support that's nice to talk to.
One morning at the beginning of last month, I called support even though I knew it was before office hours. I was shocked when someone answered the phone and helped me just because they could. They said they figured they should try to help. Now that's something special.
HubSpot's interface is easy to work with.
Most of the content creation areas like landing pages, calls to action, forms, and emails are drag and drop. My website is on WordPress, so I haven't used the module for creating pages, but I think it's similar. I really like how simple it is to create calls to action, especially.
HubSpot's social media tool is outstanding.
It's easy to do bulk, customized tweet scheduling.
It merges my contact list with my Twitter feeds. Genius.
It makes it a part of my data-driven workflow instead of a peripheral activity.
The Good | The Bad | The Challenge | The Work | The Data | The Story | The Analysis
The Bad
I'm becoming an actionable-data addict.
There are two sides to every coin, right?
I'm missing MailChimp a little.
While I love having the email marketing tool integrated for better analytics and reporting, I have to confess that I do miss MailChimp just a little. The formatting isn't quite like I want it to be—especially with my company information that gets inserted at the bottom of my emails automatically—and it seems like the reporting of the emails I send is a little sluggish.
It's tough to test stuff while you're learning.
I didn't read the warnings in the help files until after I had gone through and submitted several tests for my landing pages. Unfortunately, once that data hits your reports, you can't filter out your own actions. I'm hoping that they address this, and make it simpler to test things without impacting your analytics. By the way, they do make it simple to filter out IP addresses for traffic reporting; it's just the form submissions that gave me fits. So, now I know that some of my data from this first month isn't quite right.
I still need to use Google Analytics to see more insight about my site.
I guess I was hoping to not have to open Google Analytics again, but as it turns out, for instance, if I want to see how many visitors came from Twitter to one certain page, I'll have to go check that out in GA... unless, of course, I'm missing something.
Customizing some things seems a little clunky.
Since my site is built on WordPress, I needed to "skin" the landing pages to look like my website. Although the template builder and design center are very well laid-out, I found it pretty confusing for quite a while to find my custom style sheets. Honestly, it's probably just something that you have to kick around for a while to understand, but maybe they could make that a little simpler to figure out. My guess is that if you are a designer, you'll figure it out like me. Everyone else probably won't go anywhere near that side of things.
Some really helpful features are still off limits for my price range.
Workflows, which are very powerful, and automatic lead-nurturing features aren't in the basic package.
API access.
I've maxed out my pricing plan for contacts and email sending, so I'm trying to figure out my course of action. I could send my blog post updates from MailChimp again, but then I'll miss some of the key user data that makes HubSpot so valuable. And, as you know, now I'm an actionable-data addict.
The Good | The Bad | The Challenge | The Work | The Data | The Story | The Analysis
The Challenge
Required Time.
While I knew that there would be a lot of time required to begin the transition, I think I underestimated just how much time it would take. HubSpot recommends that you spend 5-10 hours a week at a minimum to make this fly. It was higher for me personally, and that's with help writing some content. As I look at my time sheet, I can tell that I forgot to hit the timer quite a bit, so I don't know how helpful this time sheet even is.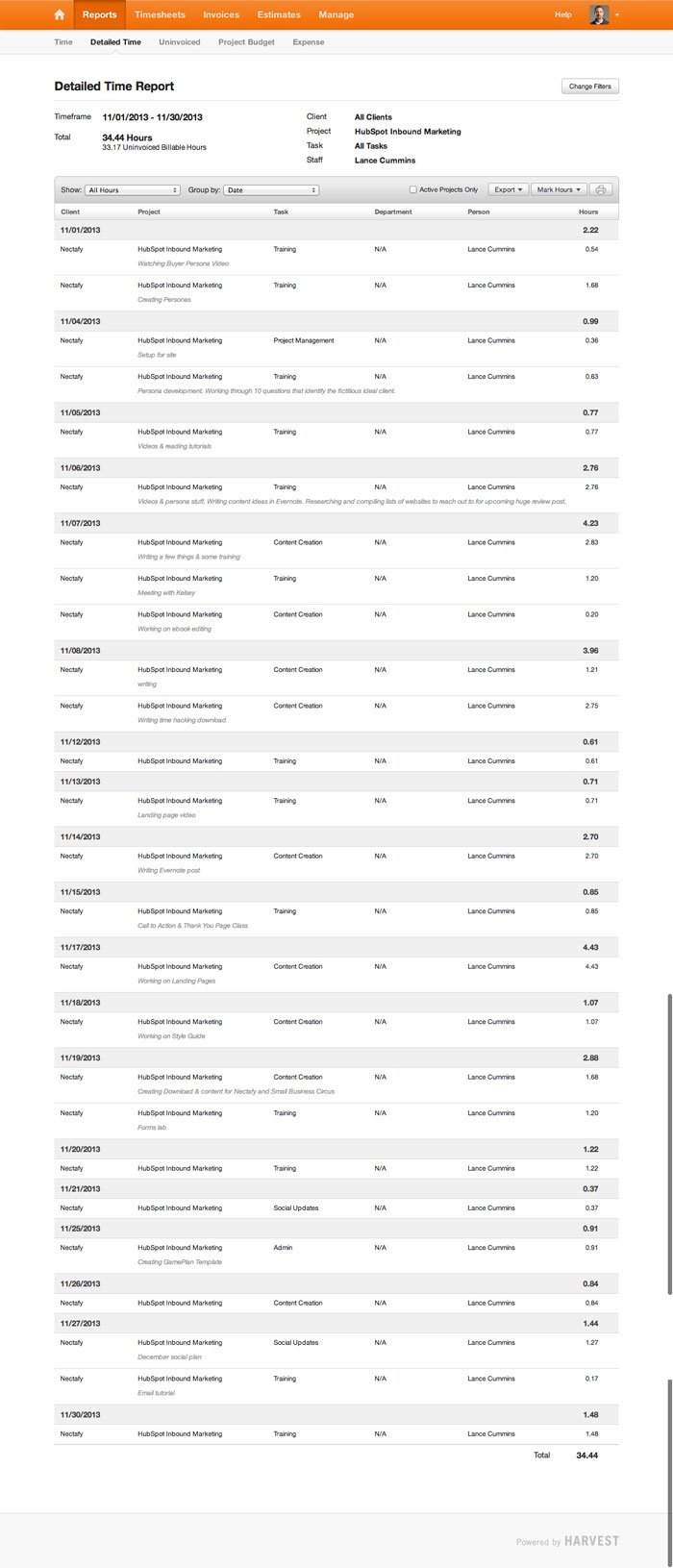 Closing.
HubSpot's approach to moving a lead to a customer is more sales-based than I'm used to, so I'm going to see how that plays out for my company. In the past, I've taken a pretty hands-off approach toward "key leads" and just waited for them to come to me. In HubSpot methodology, while you still use email and content to nurture leads, you also need to reach out to sales qualified leads using more typical sales techniques. For most companies with a sales team, that's a very natural thing. For me, it's a little more of a challenge. Of course, I haven't consumed all of their "closing" videos yet, but that's what I know so far.
The Good | The Bad | The Challenge | The Work | The Data | The Story | The Analysis
The Work
Remember, the goal for me was to be a good student, completely immersing myself in the HubSpot methodology. I want to see what happens if someone really embraces the whole process, not just dips a toe in. Also, I want to see how doable it is to do this and keep your business running at the same time. Honestly, it feels a little like trying to change a tire on a moving bus.
Also, because we have three of us as writers at Nectafy, we divided up some of the blog writing. I would not have been able to write all the articles this month by myself.
I've watched 20 or so webinars or workshops. For most of these, I obviously forgot to hit my timer, but they were each about an hour long. Fortunately, HubSpot does these videos very well, so they're packed with information and enjoyable to be a part of.
I spent time developing our buyer persona, and I have it pretty much down, but I still need to tweak a few things. Also, I figured out over the course of this past month that I actually need two buyer personas. So, that's on the task list for this month.
I spent the remainder of my time split between learning the interface, writing content, creating landing pages, forms, calls to action, and doing social media work.
Creating Premium Content Offers
I took an existing seven-part email course that I had created called "7 Sweet Steps To Turn Visitors Into Customers" and turned it into a multi-page PDF called, "The Unconventional Way To Win Customers." By the way, I highly recommend taking something that you already have and converting it so that you get a piece of "premium content" right away. Otherwise, you'll feel overwhelmed with all that has to be done to get rolling.
I took an eBook that HubSpot made available for redistribution about lead generation, and added my own ideas to it, spent time reformatting it to match my branding and created "39 Lead Generation Ideas To Fill Your Funnel."
I wrote an eBook called "The 13 Website Redesign Secrets Your Web Design Company Wishes You Knew."
We just recently had created a style guide for our company, so we had Emily write a post to coordinate with it, and we are now offering it as a "Style Guide Template" to help people get a quick start to writing their own.
Kelsey, my HubSpot marketing consultant, has asked me to create offers for all three phases of the lead funnel: top, middle, and bottom. Their methodology is very clear and easy to follow about what types of offers work well at each stage. So, the offers I created here are pretty much all top of funnel, and I know that my bottom of funnel is for someone to contact me, or request an assessment of their web presence. Now, next month, I'll be creating my middle of funnel offers. (Stay tuned!)
Writing Blog Posts
Between the three of us writers at Nectafy, we created 7 blog posts, which averaged about 1,300 words each because we wanted to be as thorough as possible on each topic.
We wrote them all to speak to the buyer persona that we created.
Does HubSpot Really Work?
Working With A Perfectionist? Here's What They Wish You Knew
4 Ways To Make Writing For The Web Less Complicated
The Messy Marketer's Guide To Using Evernote
How To Quickly Create A Written Style Guide For Your Company
Tough Truths About Website Redesign Told in 12 Tweets
How To Create An Editorial Calendar With Basecamp In 7 Simple Steps
Creating Landing Pages
Each premium content offer needs its own optimized landing page, so we created six landing pages, and then four Thank You pages that also offer additional interaction. Each form on the landing page has a custom follow up email that offers something additional if the user wants it. So, it takes a decent amount of time to get that all written up so that it all makes sense as the user moves down that path. (If you'd like to see how it works, you can just download any of those premium content offers up above and experience it first hand. Don't worry, you can opt out from any emails later if you want. I am still working on making those follow-up emails better, so don't judge me too harshly.)
On Page SEO
Honestly, my existing pages are doing OK, even though HubSpot's page performance tool says that there are all kinds of problems. Most of those issues have to do with the fact that my main site is built on WordPress and not on the HubSpot platform. Our blog posts are doing great with this as well, and that's where the majority of our online traffic is coming from.
Social Media
I have discovered that there have been two large flaws in how I approached Twitter. First, I wasn't talking directly to people and just enjoying the conversational aspect of the medium. Secondly, I was only putting links to my content out a few times and then letting it disappear. Using HubSpot's scheduling feature, it's now super easy to schedule tweets out over time and keep them from being redundant.
So I have spent more time this month working hard to keep my Twitter presence moving forward. I've also done just a little work with LinkedIn, but I've got so far to go there.
The Good | The Bad | The Challenge | The Work | The Data | The Story | The Analysis
The Data
Unique Visitors
This is the same screenshot as our launch post, just with November, 2013 added in. There's a pretty crazy spike at the end.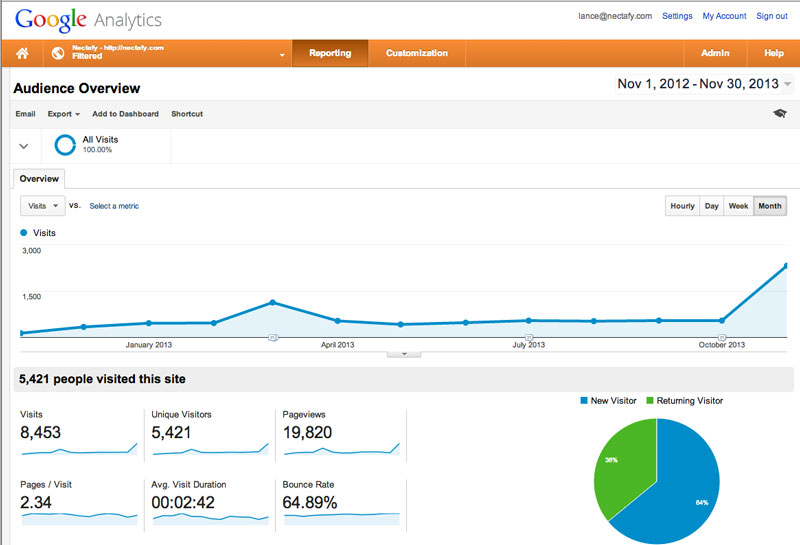 This is just for the month of November. The little dribbling at the end coincides over Thanksgiving and the weekend, so that may explain the sudden drop.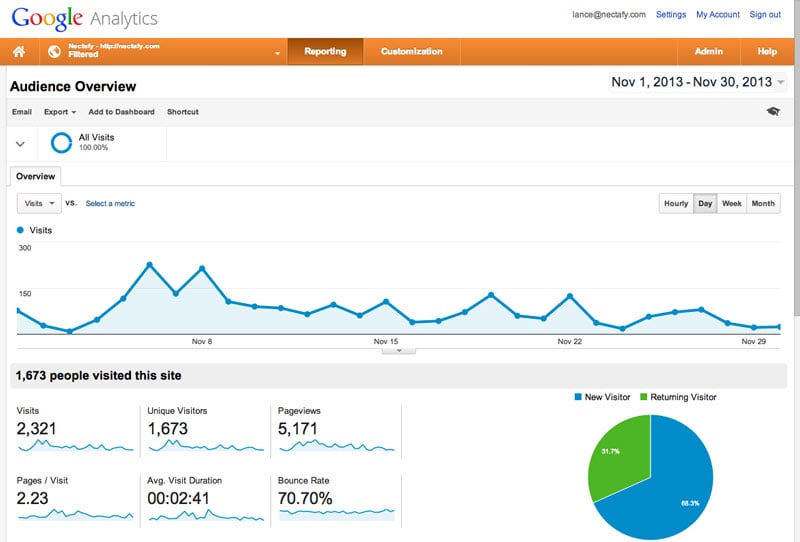 This is what that graph looks like in my HubSpot reports dashboard.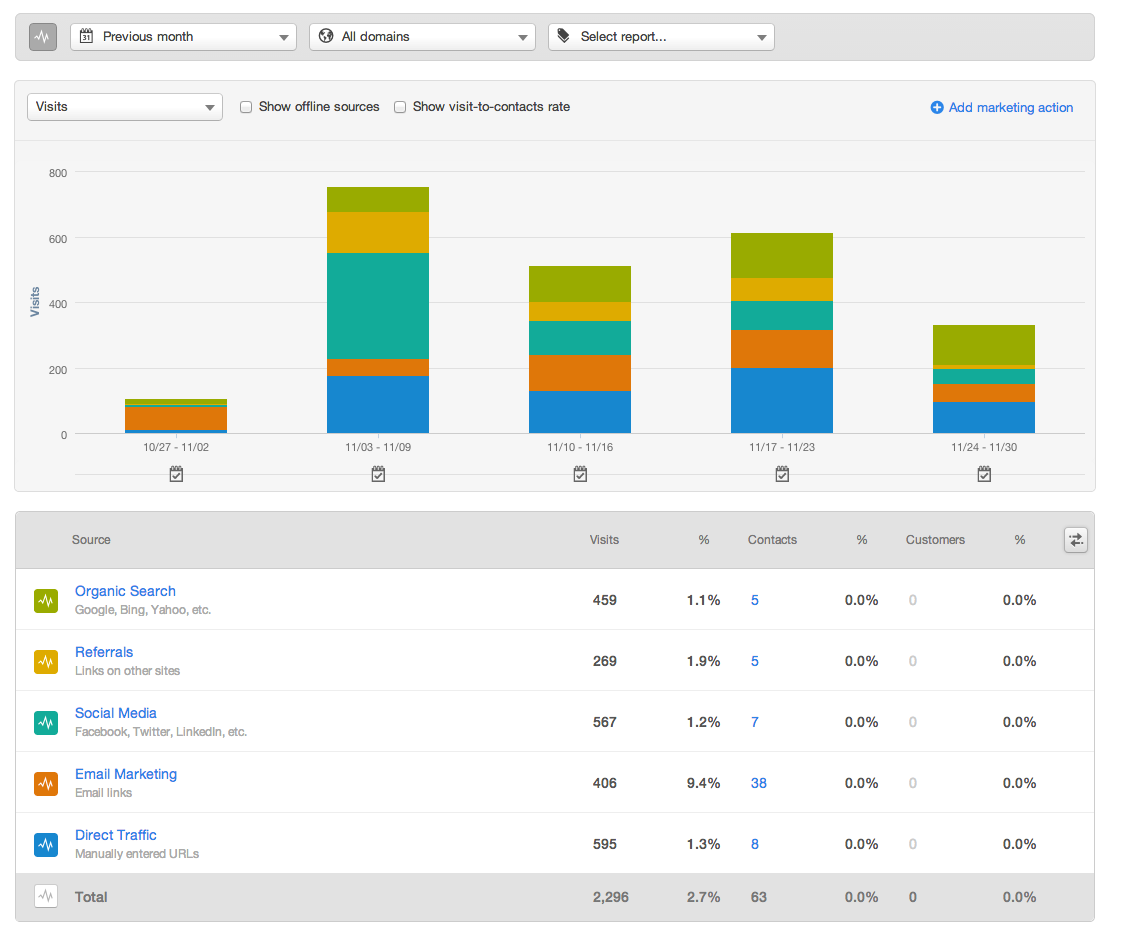 According to Google Analytics
Total visits in November: 2,321
Unique visits in November: 1,673
According to HubSpot
Total visits in November: 2,296
(Just as a point of reference, my monthly average for 2013 is 511 visits.)
In my initial post, we were measuring unique visits. Now that I've gotten into the HubSpot methodology, I can see why they don't measure unique visits, but instead display all visits, since every visit is a part of the lead nurturing process.
Leads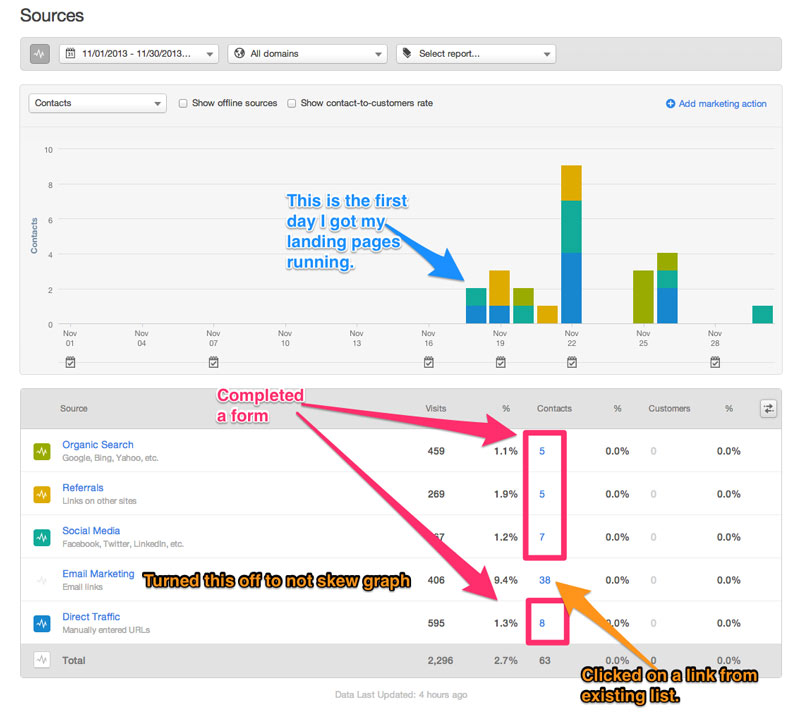 This graph is very colorful, and potentially a little confusing. As a part of integrating with the HubSpot methodology, I moved my existing email list of 314 addresses to HubSpot. When I sent my next blog update email, clicks from that email were registered as a contact (lead) even though they were already in my system. So, to be as accurate as possible, I disabled that section from this graph.
Also, it took me about 15 days into the month to get my first premium content offers done and my landing pages created. So, for leads, we're really looking at 2.5 weeks.
So, if you subtract the "contacts" that were already leads, we generated 25 leads in 2.5 weeks. I know that one of these was my testing, and two were friends that were testing for me, so we won't count them.
Total for November: 22 Leads
Customers
Here's my chart for customers.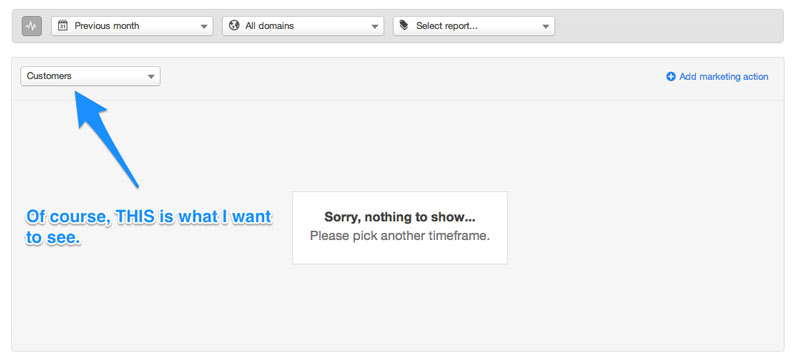 To give the benefit of the doubt, I know that this process is going to take some time. Plus, I am just starting to create my manual workflows to tie all of this together.
Total for November, 2013: 0 Customers
The Good | The Bad | The Challenge | The Work | The Data | The Story | The Analysis
The Story
There are so many moving parts and pieces that are outside my control in this experiment. Since I'm trying to be as candid and honest about this entire process, I want to give you a brief synopsis of how I learned about the power of one blog post, one tweet, and one link.
When I wrote my blog post introducing my "grand experiment" on HubSpot, I was pretty scared. Looking back to one month ago, it doesn't seem so scary, and probably to everyone else it seems a little silly, but right before I clicked the publish button, my heart was beating kind of fast. One author said that's how you know you've written something decent—if you're a little scared to make it public. I knew that I had created something that people would actually care about. And that was cool.
Within a couple of days, I was excited to see, based on my traffic, that other people had the same question as me about HubSpot. But I was really surprised to get a blog comment from Dharmesh Shah (@dharmesh), the CTO and co-founder of HubSpot. To make things even more interesting, he tweeted a link to my blog to his 214,000 followers. From there, I'm not sure the order, but somehow in a matter of a day or so, the New York Times Small Business folks retweeted that link to their 240,000+ followers, and put a link in the Small Business blog of the New York Times to my article.
Those tweets have introduced 189 people to my blog post, and that NYT link introduced 141 more. 80 of you wonderful readers then subscribed to my blog update list so you could find out how the experiment is going. I'm so grateful for each of you who were a part of making this fun sequence of events happen! Of course, that immediately opened up some new channels of communication and new relationships that I hadn't had before. All because of one blog post, one tweet, and one link.
The Good | The Bad | The Challenge | The Work | The Data | The Story | The Analysis
The Analysis
First, it's pretty obvious that I had a huge spike in traffic over that first HubSpot post, which has lead to increased leads, and so on. I think this month set a pretty high, and maybe slightly artificial, bar for the months to come. In some ways, I'm preparing myself for a letdown in December.
As many of you postulated in your comments in my initial experiment post, simply focusing on my online marketing efforts so intentionally has had a huge impact on both my behavior toward my marketing and the results, whether that was on HubSpot or not. Also, some of you have told me that you figured that if I applied their methodology I would see results, even if I didn't use their platform.
But there's also something to be said for accountability and some good, insightful coaching. The webinars, learning resources, and the one-on-one conversations with Kelsey and Casey have been huge for keeping me focused, when in the past it would be pretty easy to slip off the rails. I think many of us overlook the value of coaching in business overall, and that's something I'm working on as well.
Maybe it's just the freshness of a new toy, but I have actually had a lot of fun working with HubSpot's tools. They have made it much more interesting to add new content and mentally tie-in this content with real-live data. I can especially testify that their social media tool has helped me do a much better job of getting our content out there consistently instead of a stop-and-go approach.
The fact that we worked very hard to get seven posts published instead of our normal four also played a huge part in the added traffic. That meant that we were able to send out almost twice as many email updates which also brought more traffic to our new content.
Probably the most positive indicator for me this month is that our organic search traffic has grown steadily throughout the month (the last 4 days of November were the holidays, so I'm guessing that explains the lower volume the last week.) Our latest posts are all bringing in traffic steadily. I do think that HubSpot's emphasis on writing for a specific buyer persona and our intentionality with writing have played an important role in that success.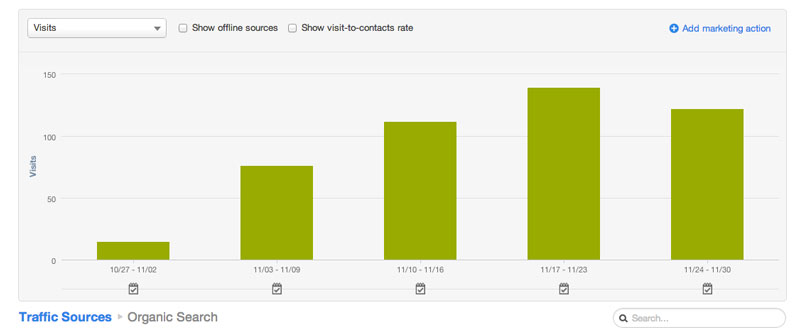 So, overall I'm pleased so far, especially considering it's only been one month. Now, the big question in my mind for next month is, "Will we actually see that all-important number that I really care about—a new customer?"
Month 2 Review: Loving, Loathing, Learning

Our second month was less exciting in some ways than our first month on HubSpot. No tweets from HubSpot's co-founder. No link in the New York Times. But, in one all-important category, our second month blew away our first! Before I spill the beans, though, let's talk about what I'm loving, loathing, and learning in my second month HubSpot review. I'm going to do my best to be more brief in this review. No long-winded rants. No sidetracking. (Wait. I did it again.)
What I'm Loving
HubSpot's reporting interface is deceptively simple.
There are several areas in the interface that let you create reporting on your visits, contacts, and customers, but I spend most of my time in the Sources report. At first blush, the Sources report doesn't seem to offer much information, but HubSpot has packed plenty of interesting insight into that tiny frame. I particularly like the ease with which you can break out the information into visits, contacts, and customers.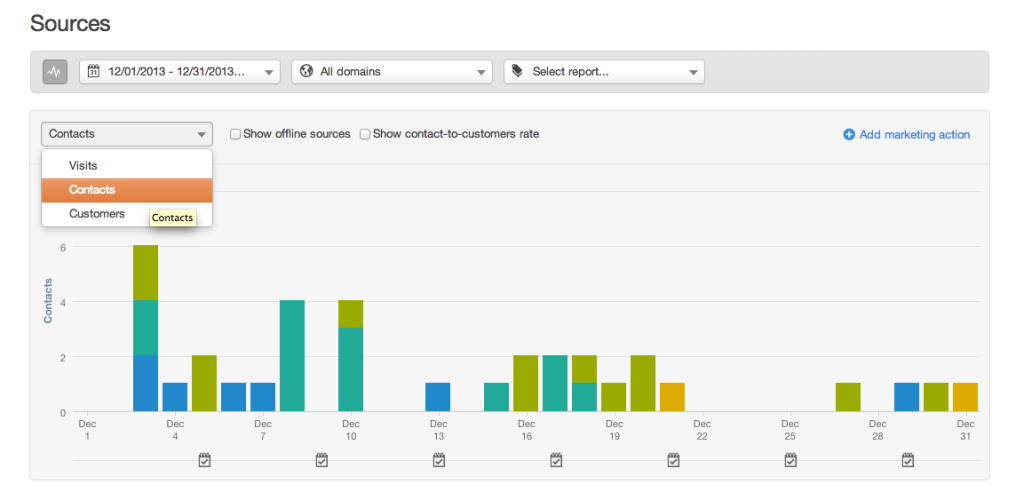 With a click of a checkbox, I can see my visit-to-contacts rate.

HubSpot's Page Performance Tool helped me identify page loading speed issues easily.
See those red Xs and warning signs to the left of the page?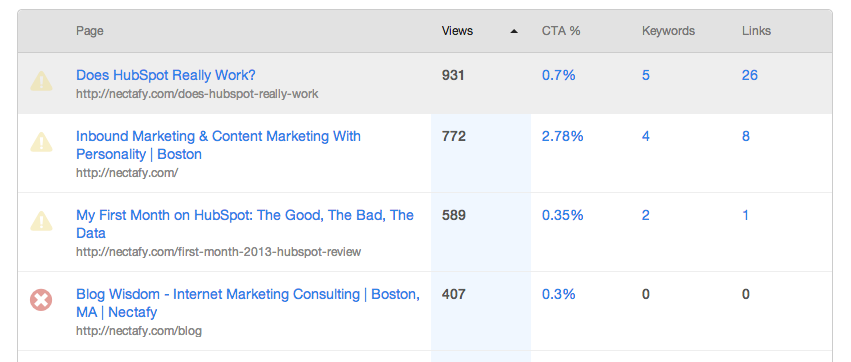 HubSpot identified that something wasn't working quite right. Thanks to that insight, I did a little digging and found out that I am having real page load issues. Now I'm moving my site to WP Engine for hosting and using CloudFlare as my CDN to speed things up. Hopefully, I'll have a good report next month that speed issues are gone.
The Calls-To-Action page shows how well these calls-to-action are working.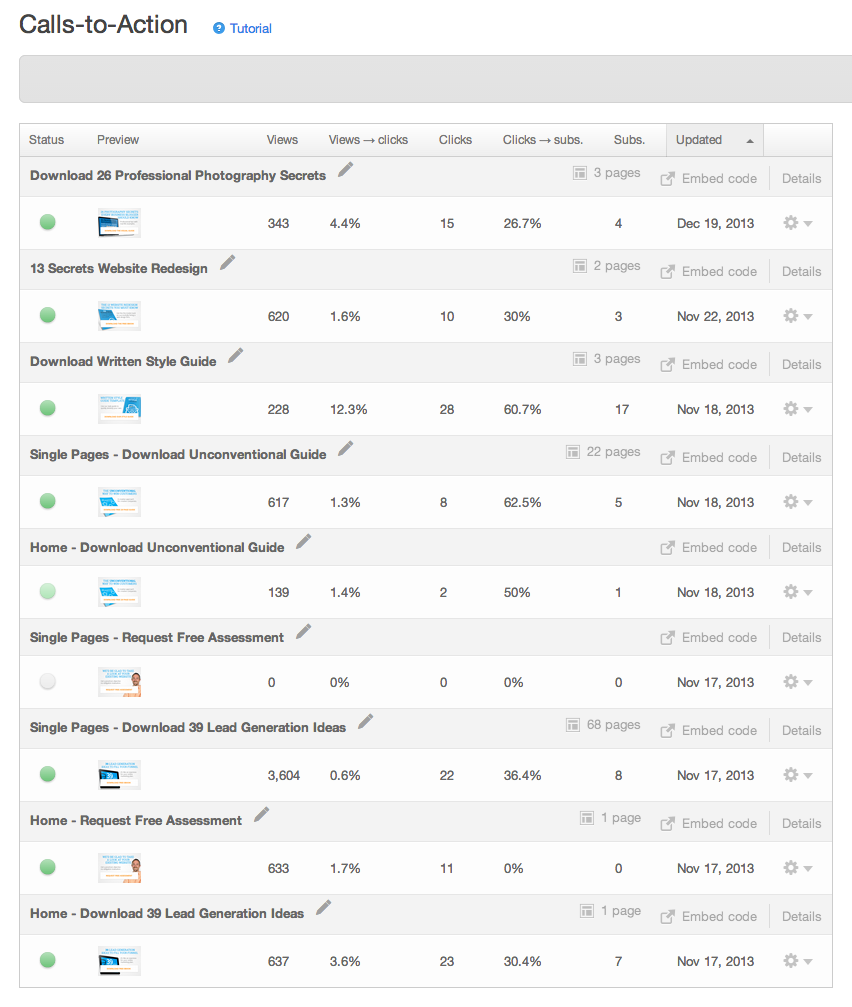 The monthly email report is clear and easy to share.
I receive this in my inbox at the end of each month.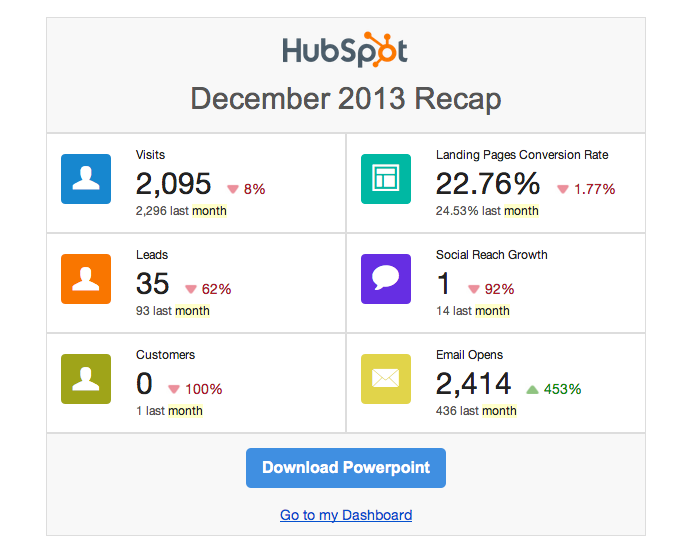 Unique Visits
From Google Analytics, just wanted to show you how it looks compared to my "pre-experiment" days.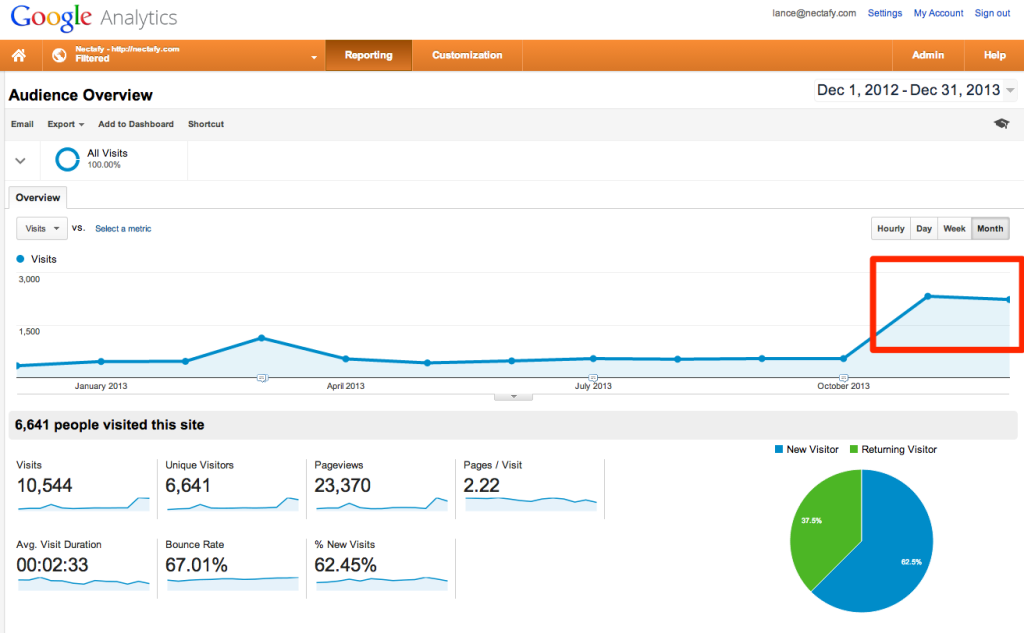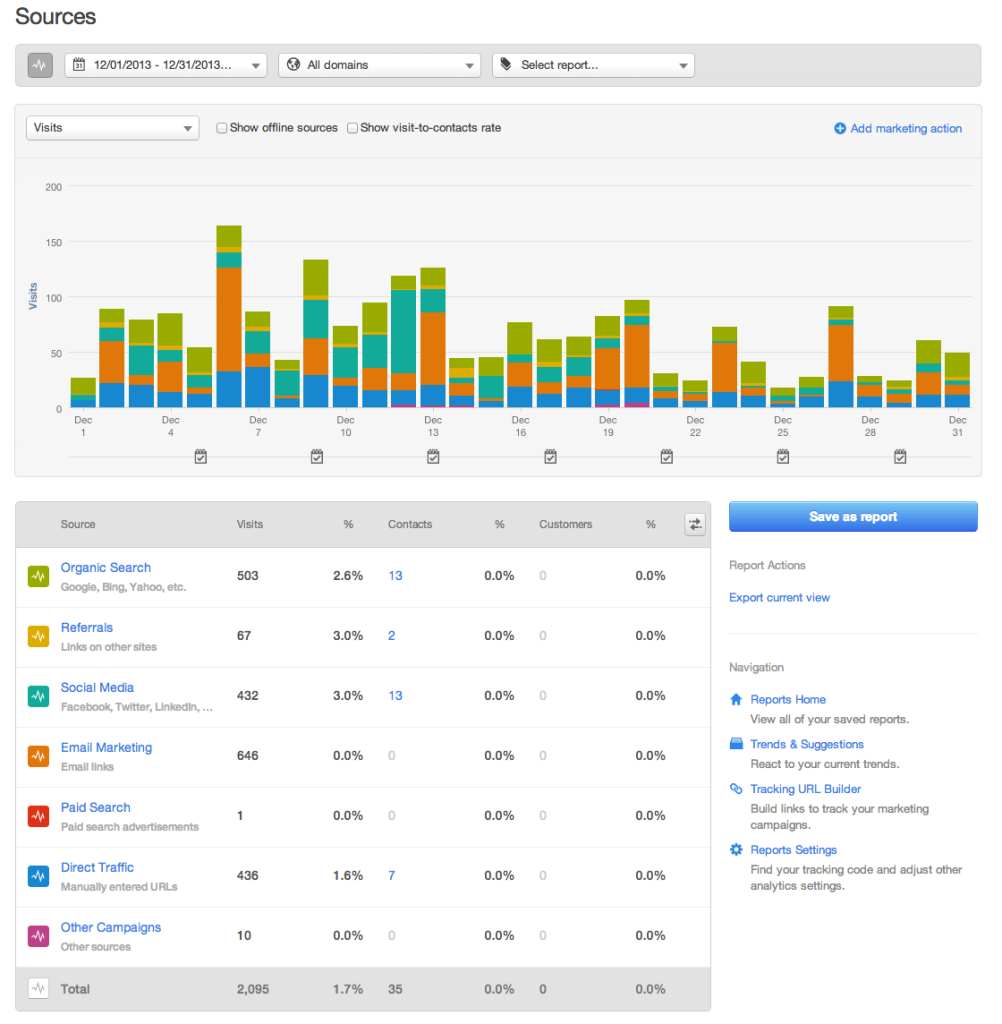 Visits in December 2013: 2,095
Visits in November 2013: 2,296
The good news is that even though our total traffic was down, our organic traffic actually grew in December, even with the crazy schedule.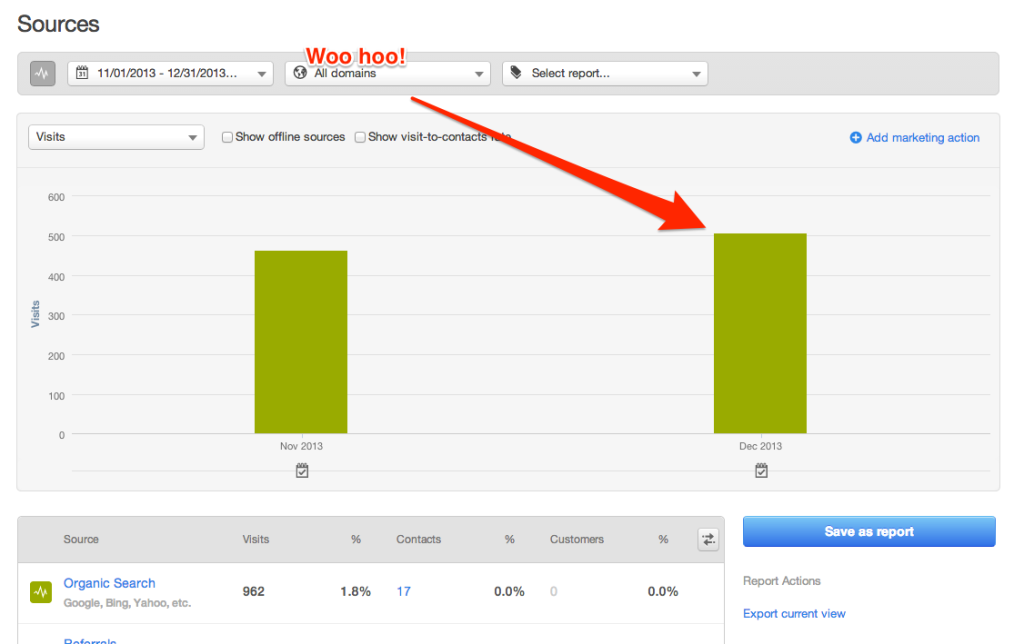 Leads
According to last month's report, we had 22 leads in November. This chart shows quite a bit more for the previous month due to two reasons: 1) It attributed a bunch of leads when I imported my email list from MailChimp, and 2) it seems that HubSpot updates previous months' data when visitors become leads. (More on that in the "Loathing" section.) But, let's stay focused. Leads are doing great!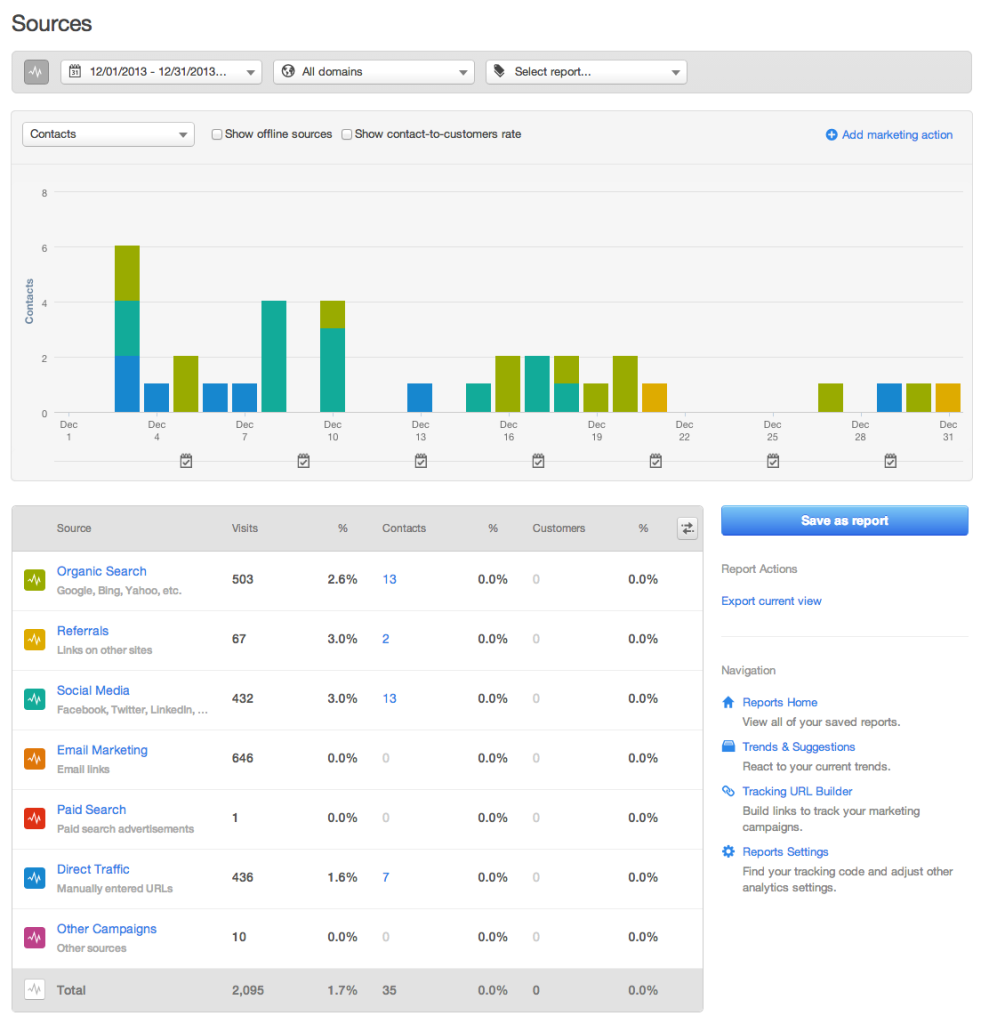 Total leads for December 2013: 35
Leads for November 2013: Originally 22, now appears to be updated to 97.
Response rate for December 2013: 1.7%
Response rate for November 2013: 4.2% (this includes post-month updates and that email import)
Customers
Alright, so here's the exciting part! In December, we were able to partner with one new client as a result of our inbound marketing efforts. We're so pumped to be able to serve them and to become a part of their team. I'm so crazy excited I can hardly type straight.

Total Customers for December 2013: 1
What I'm Loathing
"Loathing?" Really? OK, let me clarify this right off the bat. Loathing is probably too strong of a word to use here, but it works so well with "Loving" that I had to use it in my title. (For some odd reason, I was reminded of this song. To get the joke, fast forward to a couple of minutes in if you're impatient.).
After two months of working with HubSpot, I'm a lot more familiar with the tool. And we all know what familiarity breeds, right? (The right answer is "contempt," but again, that's too strong of a word... but it's still a lot of fun to use.) Actually the things I'm loathing are probably better described as "annoyances." So what's sticking in my craw after two months of using HubSpot?
1. Data is NOT real-time.
This is not a big deal in the larger scope of things, since (most likely) you're not making inbound marketing decisions moment to moment. But it does make staring at my dashboard in HubSpot slightly less exciting. So far, it appears that the data in my Sources report can be up to three hours behind. This screen shot is a little kinder than some I've taken.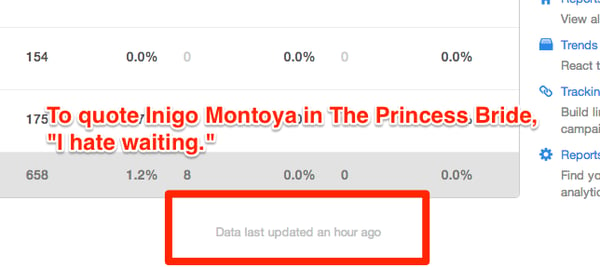 Man, I hate waiting. The upside, though, is when I check my Sources report before quitting for the night, it never looks as good as it does the next morning. This gets my day off to a better start. I realize that's kind of weird and may give you some insight into my psychological underpinnings.
2. Customers and leads are shown in past, not current, reports.
Customers and leads apparently get reported in the month they first connected with your site and NOT in the more obvious month of the date of their becoming a lead or a customer. Let me explain. We were able to change the status of one lead to a customer on December 31st. I was pretty excited to see a big "1" under customers in my Dashboard. The next day, I looked and was pretty bummed to see this instead.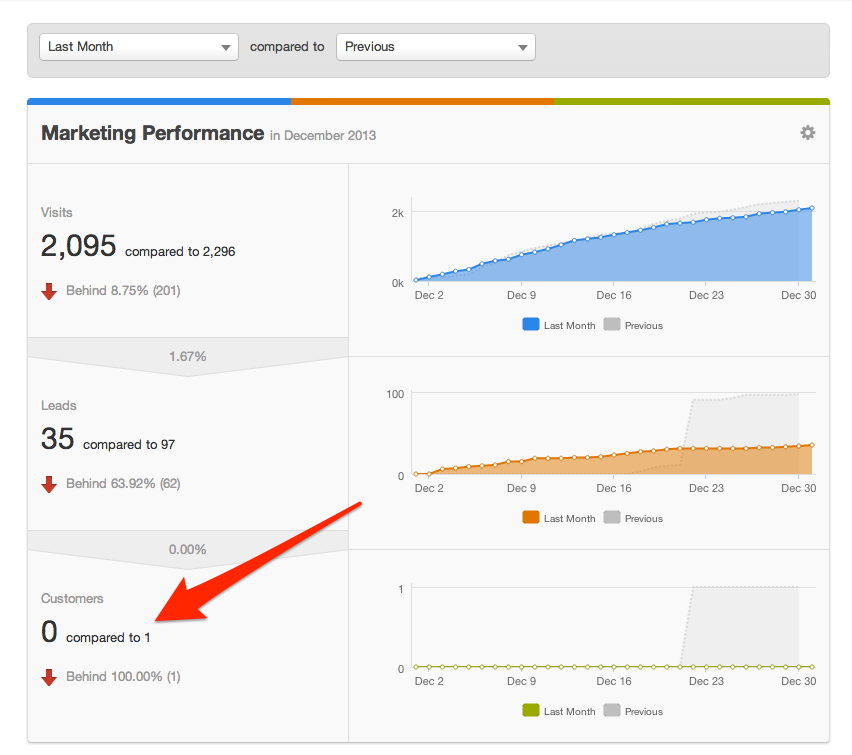 Huh? To make matters more "loathsome" (annoying), it appears that leads are attributed in a similar way. I'll save the part about leads for another day. Let's focus on customers. Now, I've talked about this with my HubSpot consultant, Kelsey, and she's checked it out with her sources. She said that there was much discussion and engineering that went into making the reporting perform this way. And I think I understand that it's an effort to help you better gauge the impact of your marketing by connecting the dots back to your first encounter with that customer. But, I would at least like some sort of option to view a customer either in the month they became a customer OR when we first connected. In my accounting software I have something similar to this. I can either view income statements based on what was billed, or I can check a box and view those statements on a cash basis, to see what actually came in.
What I'm Learning
More content equals more results.
We ramped up our content output to three times per week, with one of those posts being a "roundup" post. We realized pretty quickly that we need to create specific topics for those roundup posts for them to be helpful and also to help with organic searches more effectively. We are changing the format of that series for the next month.
Editorial calendars are really necessary.
We've developed an internal calendar that is working well for us. Tiffany's so organized that I can't help but look organized, too.
Buyer personas are critical.
Creating more focused content based on our buyer personas is working. (If you'd like to have a look at our buyer personas, just ask me on our contact page, and I'd be glad to share.)
Handcrafted emails are not quite as cool as handcrafted leather bags, but almost.
Email updates are working well for us to bring readers back to the site. Our click rates are staying pretty strong. We haven't started sending many manual workflow emails because we only just now have our next offer ready to go. Instead, we're using our email in a more traditional content marketing role by handcrafting emails and sending them out each time we create a fresh piece of content.

HubSpot, WordPress, Gravity Forms, and Zapier create online marketing harmony.
We've tied in our WordPress website to HubSpot's lists with Zapier and Gravity Forms. Oh. Yeah. It works pretty well, and only feels a little buggy. I don't think that bugginess is HubSpot's fault, though. Once I can afford to move to the Pro version, I'll actually have an API that I can use for all of this and it should be at least 27% more reliable. Yes. I made up that percentage.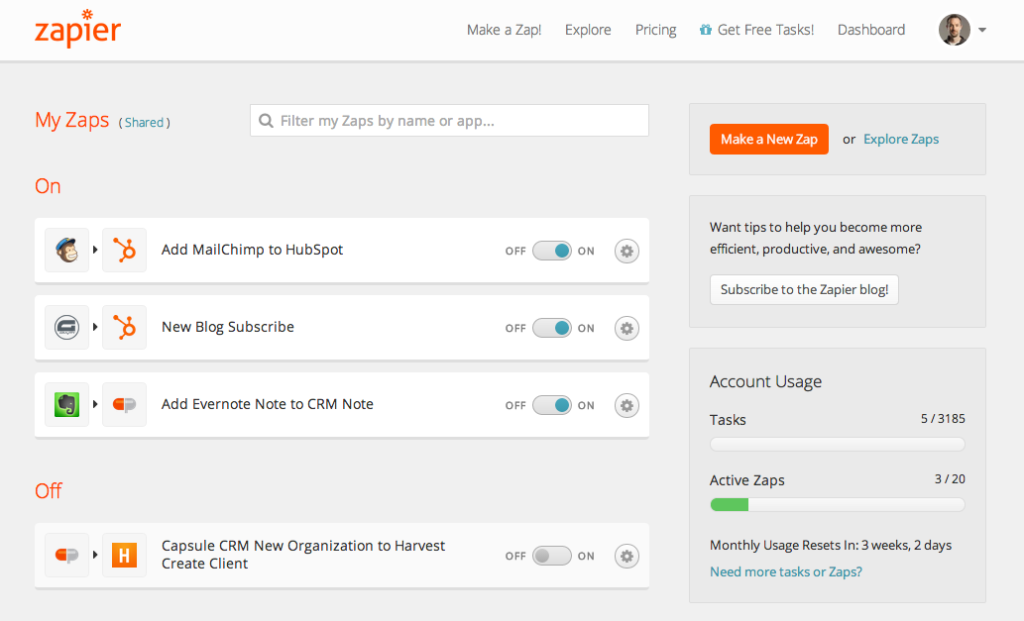 When offers match blog content, it's a beautiful thing.
This should probably be obvious, but when you create an offer and blog content around the same things, click through rates go up.

I'm now bonafide and certified.
I passed the certification exams for inbound marketing & HubSpot certification. If you're serious about using HubSpot, these certifications are a must. No joking. They've done an excellent job of distilling inbound marketing in their training videos. These exams help confirm that you paid attention.
You get used to spending a lot of time on inbound marketing.
I didn't think I had spent as much time on inbound marketing in December as I did in November. My time sheets tells a different story, though. I put in just about the same time month over month: around 40 hours. I think time is the single biggest obstacle for success with HubSpot for most small businesses. Inbound marketing takes a boatload of it, and to succeed, you'll need to get creative with getting help creating content and mining this data for your next steps.
It's a good idea to share what you've learned.
While I don't claim to be a HubSpot expert yet, I am an eager learner. I'm also eager to share what I'm learning. We've gotten off to a great start using HubSpot, and that's something I'm proud of, and also very grateful for. Overcoming the inertia to get started with inbound marketing can be difficult for all of us, so I'm honored to get to share my journey with you.
Month 3 Review: I've Had Enough

You could say that the honeymoon is over.
I guess it has lasted longer than most honeymoons. Three months.
For the last three months I've plunged myself into a self-inflicted experiment to see if HubSpot really works like they claim it does. Each month, I've written an in-depth review of my data, my experiences, and my gripes as I've completely immersed myself in the "HubSpot ideology."
I've been a good student (although I will confess that this past month I haven't been an "A+" student, more like a high "B"), following the process exactly as much as I can. I've watched the videos. I've created buyer personas, landing pages, and calls to action. I've emailed and tweeted and shared. I've enlisted the aid of two Nectafy employees to help me create a ton of really solid content.
I've added 40 additional hours of work personally each month to the time I was already spending running my business. I've checked my HubSpot reports at least 127,238 times...a day. (OK, that last sentence was an exaggeration just for effect. Humor me.)
After pouring my heart and soul into this HubSpot experiment, I'm left with only one thing to say.
I've had enough.
I've had enough time and practical experience with HubSpot to say that undeniably, categorically, data-phorically, HubSpot works.
(Alright, you can hate me now for the tease.)
So, yeah, my HubSpot honeymoon may be over, but it looks like this is a long-term relationship that's going to last.

But enough of my own opinions. Here's the data for January 2014, so you can draw your own conclusions.
Let's dive into data.
Visits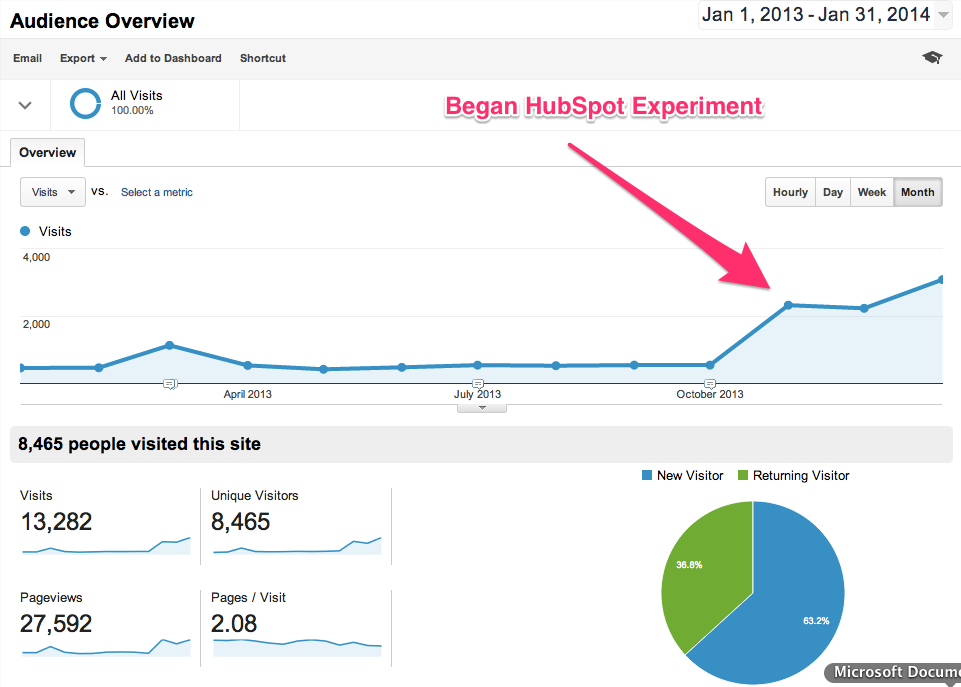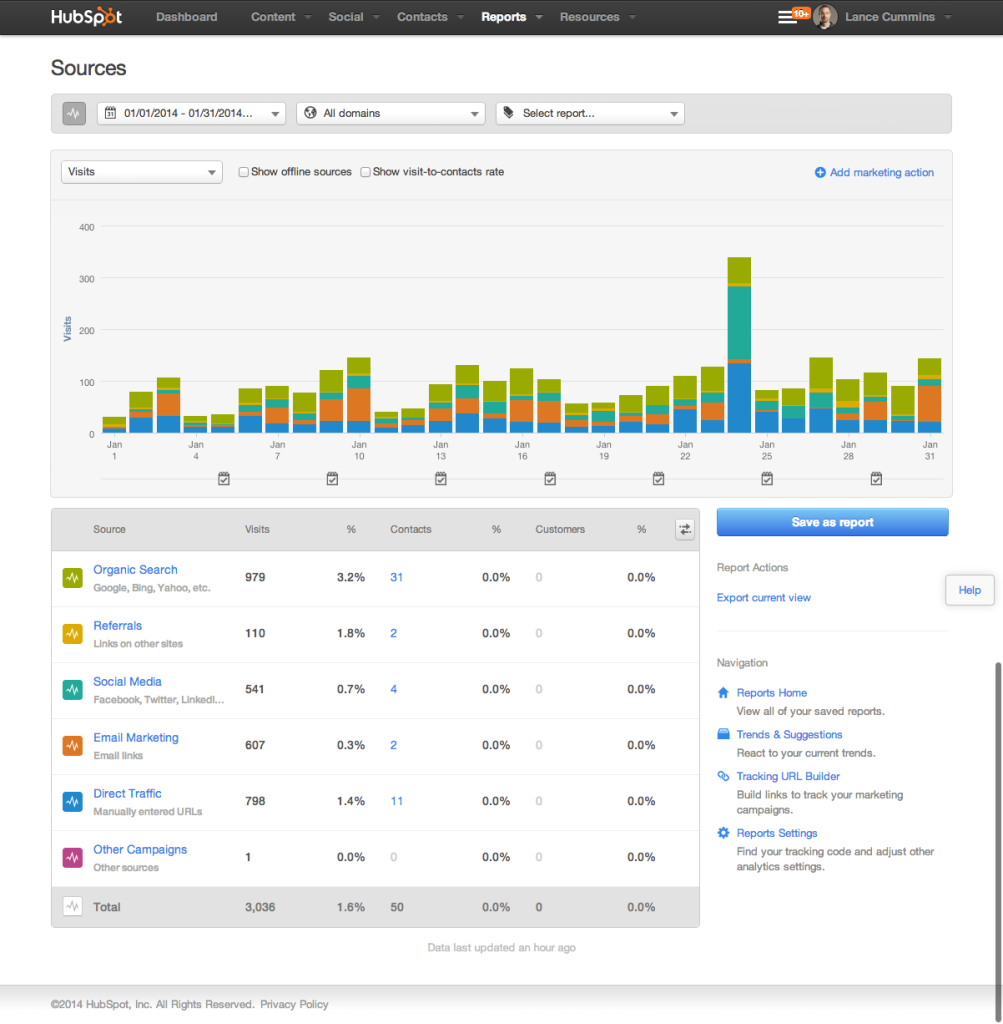 That crazy spike on January 24 was from my, What Is Content Marketing? You're Thinking Of It Backwards, post. Thanks to everybody who shared it out there! That was a fun day to watch the reports. That day, we had our highest visits since we started this HubSpot experiment.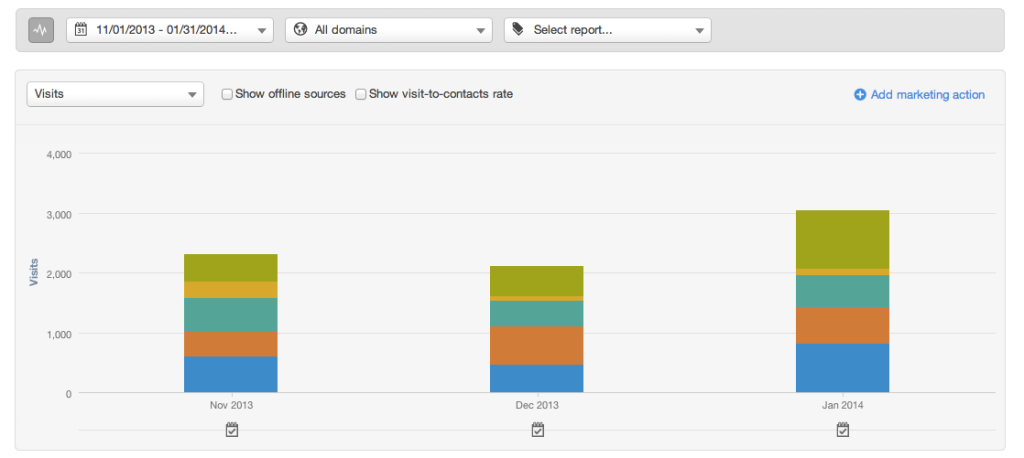 Visits in January 2014: 3,036
Visits in December 2013: 2,095
That's a 45% increase month over month for all visits, and represents 457% growth from the month before we started our experiment.

But here's the exciting part, organic search was up huge! How huge? How about a 95% growth over December?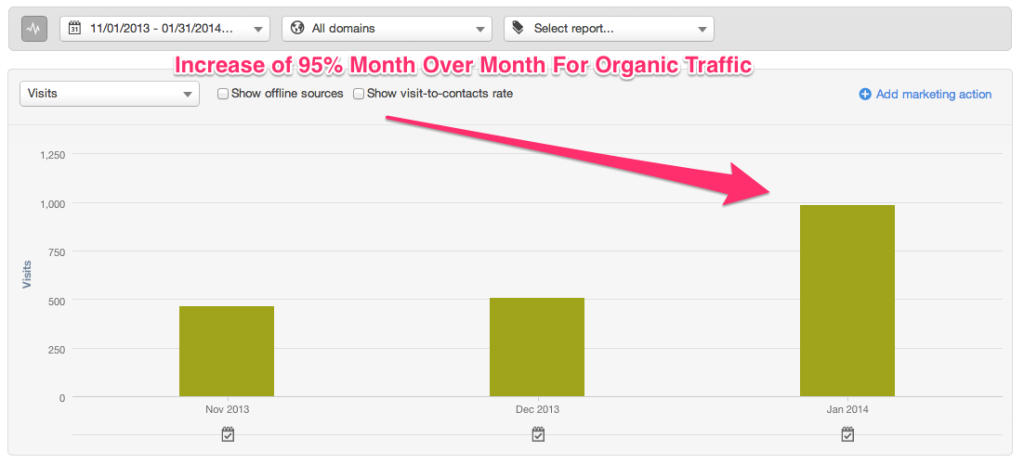 Leads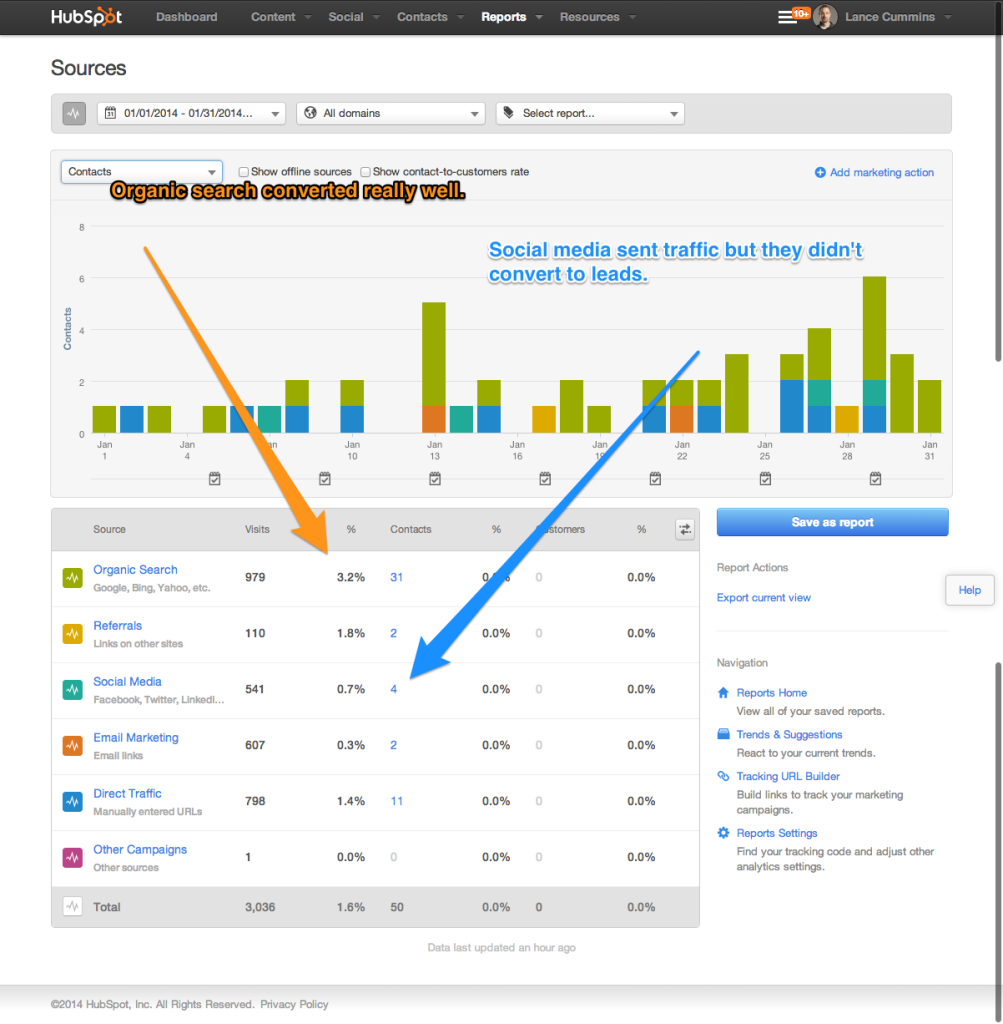 Leads for January 2014: 50
Leads for December 2013: 36
That's a 39% increase month over month. We learned some interesting things about our visits to leads conversion rate when we looked at these reports. Organic search converted at 3.2% while social media converted at 0.7%. That's much more dramatic than it's been in the past months. We're going to keep an eye on that.
Customers
We didn't gain any customers via inbound marketing activity this month. But we did gain customers offline. And all of my marketing is focused on inbound, so I feel like inbound marketing gets an "assist" for any new customer.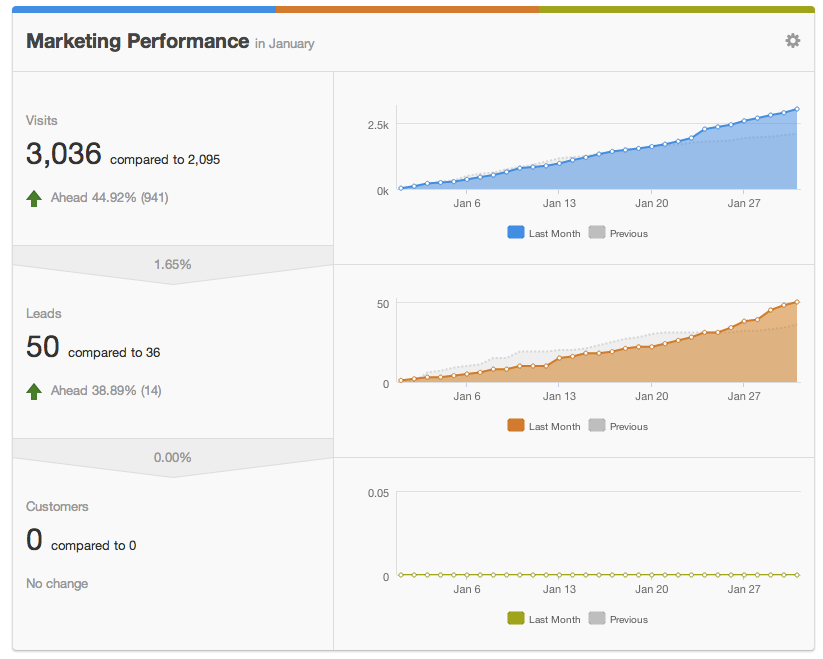 We did, however, gain two customers off-line, and we're tracking that in HubSpot as well. I just check the "Show Offline sources" box, and this is what we show.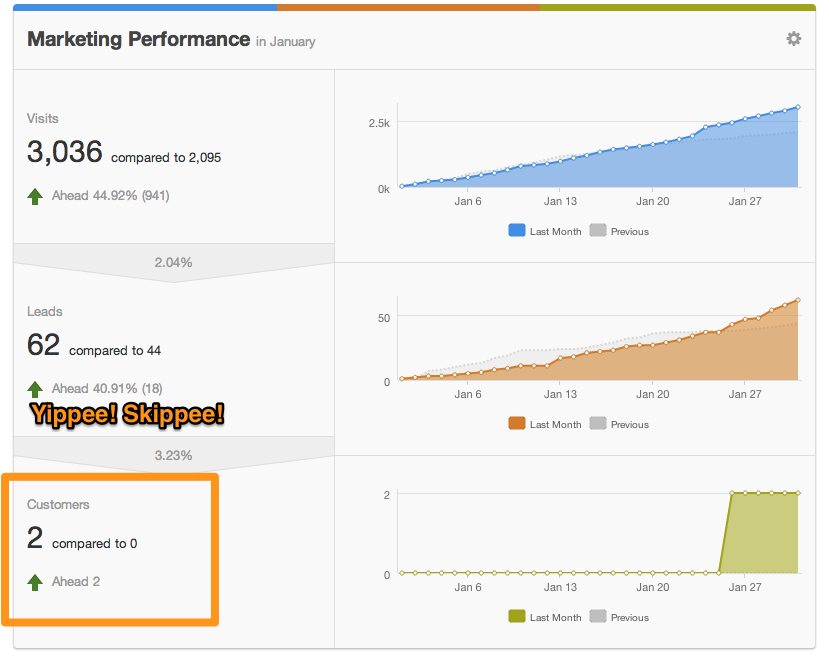 Customers in January 2014: 2
Customers in December 2013: 1
Even though inbound marketing didn't directly convert these customers, I'm pretty pleased with how our pipeline is looking. It's a critical factor to determine how much capacity your sales team and your production team has when you're attempting to onboard new customers. As a small inbound marketing agency, we don't need tons of new customers every month. We just need a steady stream.
More reporting love.
I've already shown in my past posts how useful HubSpot's reporting is. Today, I just want to show off a little email that they send you at the end of the month that's really simple, and very cool. First, as I've shown before, you get a recap email with highlights of your work. (I am just a touch confused why those lead numbers don't match up...but I digress.) But, this month, I actually downloaded the Powerpoint, and I was pleasantly surprised. It's kind of nice!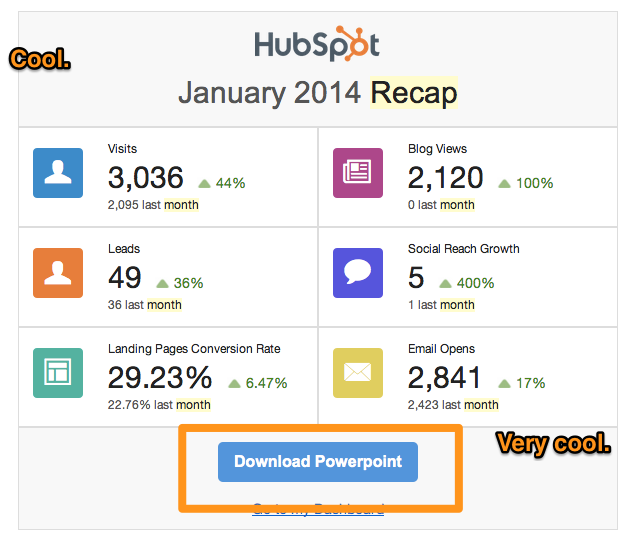 Here are the slides from the PowerPoint.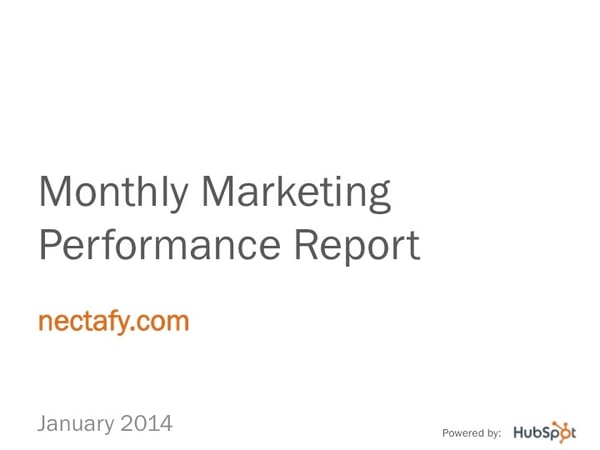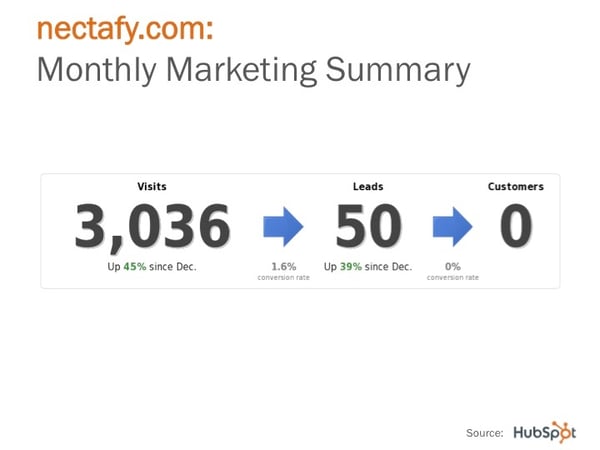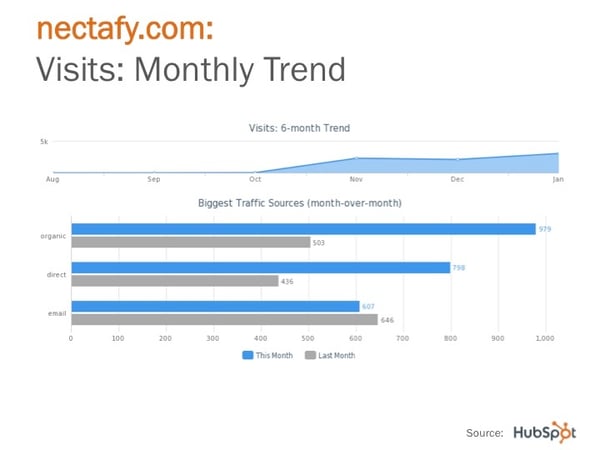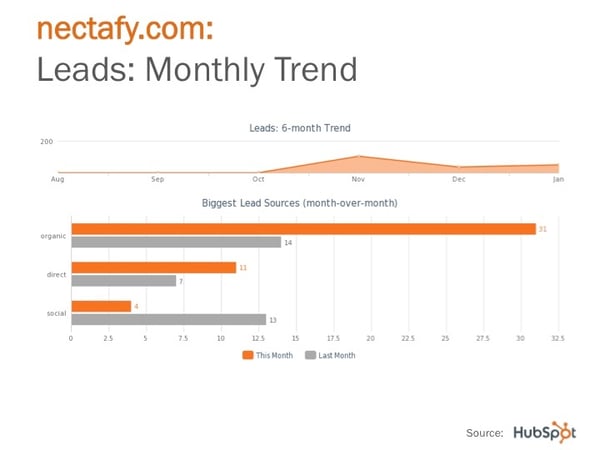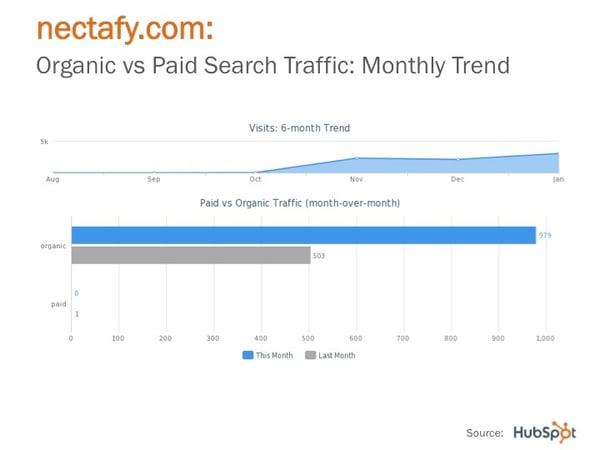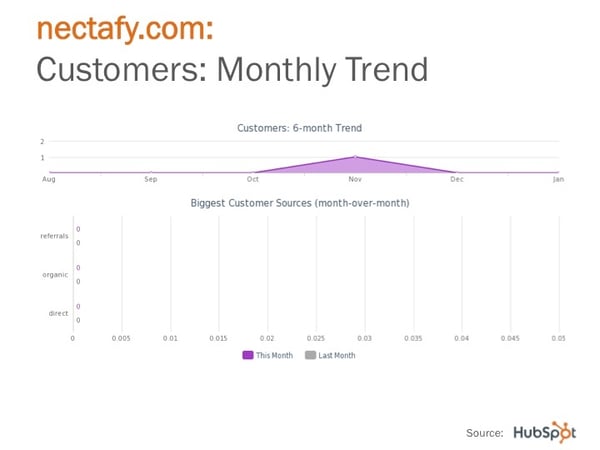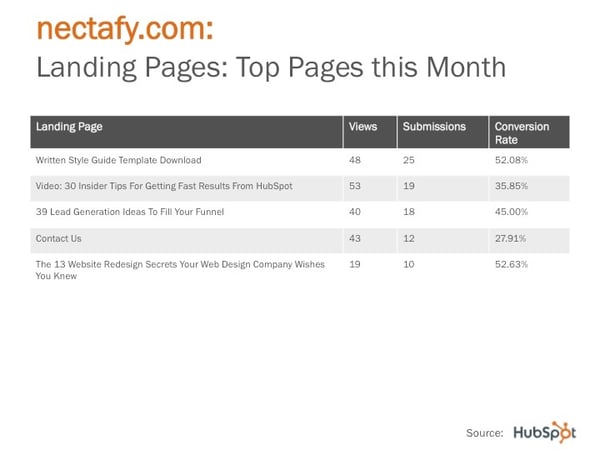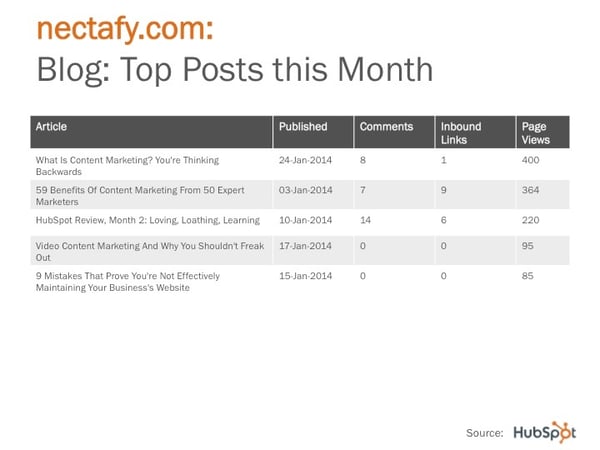 Not a bad little presentation, with zero effort from me!
I really wanted to show off some pretty cool stuff that you can see about contacts, but I'm going to save that for another day.
Yeah, but it can't be all flowers and candy.
Of course, I can't say that my third month on HubSpot has been free from troubles. But really, what relationship can say that?
I am getting more and more concerned with the time delays on reporting. Last month I complained about this, but I think it's getting more serious. I contacted tech support, and they were super helpful. They confessed that they're dealing with very large amounts of data, so updating that data becomes more time consuming. I can understand that. But a company that is all about data needs to take some pretty serious steps to guarantee scalability as more and more people find out about HubSpot. The data is only going to increase. So, as pathetic as this seems, I beg whoever can do something about it there at HubSpot, "Please do something to improve reporting update times. Pretty please?"
Some of my calls-to-action don't seem to be consistently showing the right data. I'm chalking that one up to my insistence on using WordPress as my site instead of the HubSpot COS. Still, I don't think that should be a problem.
There was a snag with reporting on my biggest traffic day ever. It wasn't because I overloaded the circuits or anything, but for some reason, the reporting showed hardly any email response, and instead attributed it to direct traffic. That just means that my email numbers are all off now, which kind of stinks. When I contacted support, again they were very helpful, but the only explanation they could find is that I must have changed some core settings. I did not touch any of the settings, so now I'm a little jumpy.
I had to increase my pricing plan to $300/mo because of exceeding the 100 contacts level. I'm not one to question their pricing strategies, but limiting the basic plan to only 100 contacts seems a little stingy to me. But I probably should just shut my mouth at this point. It looks like based on my traffic volume and email sends, I'm going to be pushed into that $800/mo professional plan sooner than I expected. I guess this traffic is a double-edged sword. I guess if you have to have problems, these are the right ones to have.
I've been really antsy to do A/B testing on our email marketing, but sadly, HubSpot doesn't offer that even if I dish out $800/mo for the professional plan. Aw, man. (Ooh, I have an idea for HubSpot movers and shakers. Could you make email A/B testing a purchased add-on?)
My very brief explanation of why HubSpot works.
HubSpot is a very efficient tool for doing inbound marketing. It's high-quality equipment.
Think about a professional golfer for a minute. Sure, he could use rusty old clubs and still beat me any day. Heck, he could use a baseball bat out there and beat me easily. But you notice that those professionals use professional equipment. It lets them focus on what they need to focus on. That's what HubSpot does. It delivers results because you become efficient in inbound marketing. Yes, you can cobble together tools for cheaper, but the best tools will always work better.
Looking toward the future.
I'm excited to "settle in" with HubSpot and see how I can implement the tools into my ongoing marketing efforts. Plus, I'm working on upgrading our internal sales process so we can help move leads to customers. I know I still have much to do with our website to explain what we do, and make the path more clear. And, we're working like crazy on producing more offers and content that our buyer personas care about.
Month 4 Review: It's Getting Interesting

I'm an optimistic guy. Even with that glaring genetic deficiency, I've found myself mentally keeping my own expectations low for each new month with HubSpot. Every month of this experiment I've thought, "OK, last month things were wonderful, and I can't imagine that this next month will be better. At some point, the joy ride has to stop."
But so far, it has been increasingly more amazing.
How amazing?
I'll show you in just a second. (If you're impatient, jump to the stats you care about most.)
If you don't know about my HubSpot experiment, I'll briefly catch you up to speed. In November 2013, I launched an experiment to see if HubSpot really was all that great. I published all of my existing numbers and swore to follow the HubSpot methodology and be an "A" student. The results have been shocking.
My Disclaimer
Some of the heady intelligentsia have (rightly) suggested that my experiment is flawed because of the interest generated by my experiment itself. In other words, by talking about a topic that many people are interested in and then performing a public experiment, I don't have real, scientific data. I somewhat agree. But as a case study, it's incredibly fascinating. In every industry (yes, even yours), potential customers have real, burning questions on their mind. By tapping into those questions, and then talking about them in an open, honest way, you could experience a similar phenomenon.
Of course, in my case, it helps that the topic in question involves a company that is super-excited about their product and has taken a keen interest in what I'm doing. I've discovered that HubSpot employees are genuinely fired-up about their company, and are empowered to speak individually for their company. I commend the leadership at HubSpot for creating that kind of social environment!
Working with the staff at HubSpot has been an overwhelmingly positive experience for me, from my account reps, Casey and Kelsey, to the training folks like Nick and David, to the product development team who asked for my opinions on a few things and seemed genuinely interested. (By the way, if you want to win someone's heart, ask their opinion on something and then listen. Bam. There's a free inter-personal relationship tip!)
So what happens when you use HubSpot for 4 months?
1. Your website suddenly becomes an integrated, critical component of your business.
Yes, we would all give an emotionless head nod if asked if our website is important to us. We all want more traffic. We want more high quality leads. But, I would almost bet that at this point, your website and its visitors seem like an unknowable, vague entity that both exist in some alternate reality.
Sure, you look at your analytics from time to time, and yes, the phone rings and you can only assume that it was because they saw your unbelievably cool website. But you don't have a tangible, quantifiable grasp on who is coming to your site, what they're doing, and why. Most importantly, you have no idea if they're warming up to you or cooling down. Even if you did, you've got no way to do anything about it.
Well, honestly that's how I felt about my own web presence before I launched this experiment.
I've done content marketing for quite a while, complete with creative blog posts, email marketing, and a so-so effort with social media. But I wasn't connected to my site or my visitors. HubSpot has completely changed all of that. I think there are a couple of reasons it's so effective at connecting me to my web presence. First, it's an all-in-one tool that has (just about) everything that you need to fully integrate yourself with your inbound marketing.
Now, before you roll your eyes at me and tell me that I could accomplish the same thing with a bunch of much cheaper tools from around the internet, just take a deep breath and let me explain. This statement is the equivalent of saying that instead of buying a Toyota Tundra, you can really accomplish the same thing with sheet metal, a set of wheels, and a couple of leather bucket seats. Could you feasibly build your own truck? Absolutely. But only a select few would have the know-how and patience to make it happen. And even then, there would always be annoying issues that just somehow make it not quite right. That's how it feels to piece marketing software together: tedious, time-consuming, and annoying. And it only serves to distance you from your website, not connect you more fully.
2. You begin to obsess about service even more than statistics.
In my first couple of months using HubSpot, I got pretty fired up about the statistics that I was seeing. That's understandable, because the reports are easy to read and are simple to interpret. And, honestly, if you are used to not having much traffic or not generating many leads, it's pretty euphoric. (In complete candor, I still get fired up when I look at these reports, especially on my phone. Their mobile app is a study in simplicity and clean design.)
But after four months of using the tool, my attitude and focus has begun to shift. Because HubSpot enables you to gather lead information so effectively, you quickly begin to think of the visitors to your site as real-live people, instead of statistics. I'm not saying that statistics and numbers and data aren't hugely critical to your success. I'm just saying that after four months of using HubSpot, I am so much more aware of the people who visit my site.
I've talked about this before, but that benefit alone makes my web presence so much more personal and meaningful. As your leads re-visit your site and spend time reading your content, you begin to think more effectively about how to meet their needs with your content and with your services. It's a very powerful customer-service driver for me.
3. You develop a pretty awful sense of dissatisfaction with your current position.
This may sound weird, but I've noticed that after four months of using HubSpot, I find myself becoming more driven to make things work even better. I'm constantly thinking about how to tweak our email marketing, or how to write something more helpful that gets more attention, or how to use the tools to generate better response. Before I used HubSpot, I think I felt like my marketing activity was somehow unrelated to results, as strange as that may sound. Since there was no solid connection from a visitor consuming content to becoming a customer, the process seemed static. Now, though, I get incredibly antsy to try something new to watch what happens. I've become a million times more proactive with my marketing.
4. You still get pretty pumped about numbers.
I can't lie. I love seeing these numbers increasing. So, let's dive in, shall we?
Visits
Here's a shot of our Google Analytics.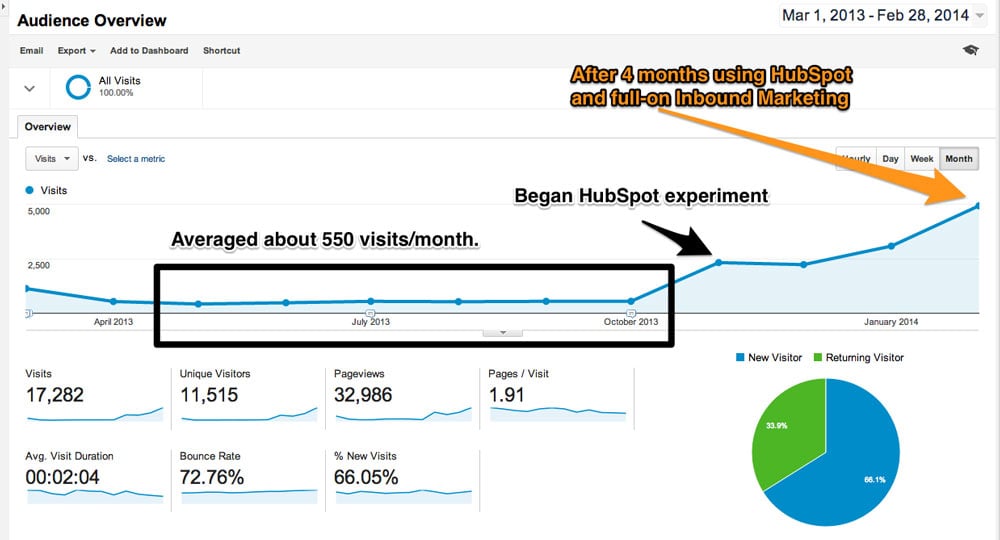 Now, here's my report from HubSpot.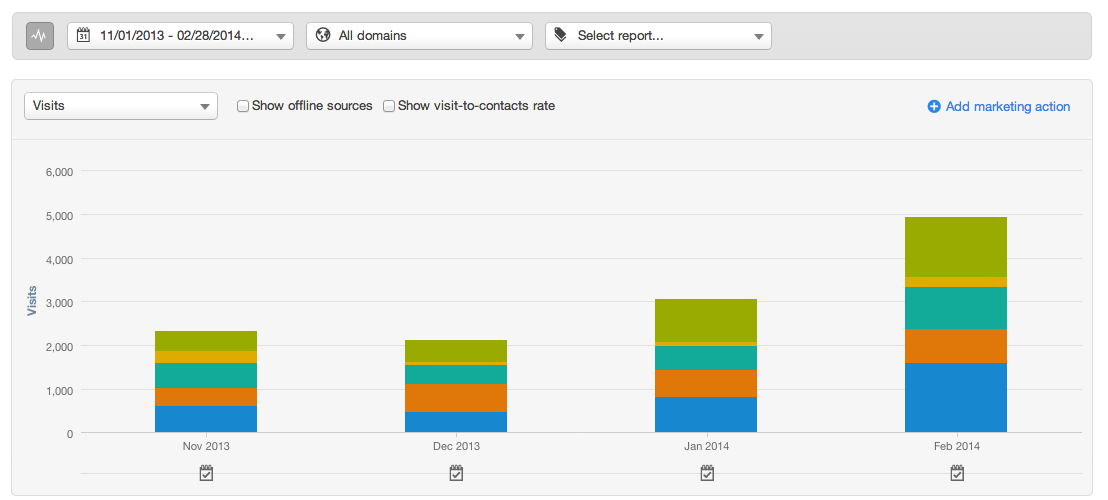 Visits in February 2014: 4,901
Visits in January 2014: 3,036
That's a 61% increase month over month for all visits, and represents 790% growth from the month before we started our experiment.
Wowzas!
And here's how the visits looked just for February 2014.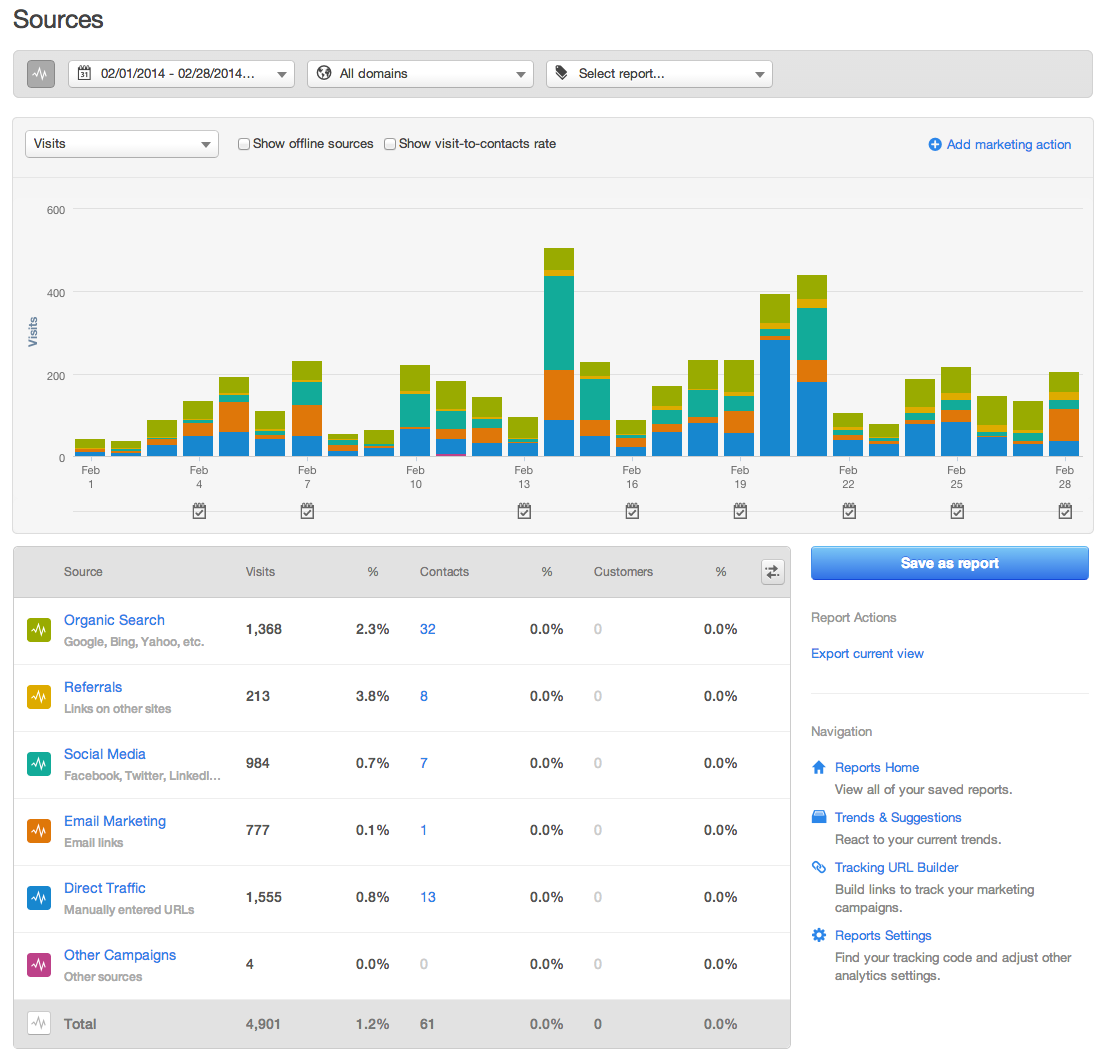 We had a couple of posts that got some attention. We had a good month for social media, but as you can see, increased social traffic didn't necessarily convert to leads. That may be partly due to the content. It was a video of me and my kids singing a parody of Still Haven't Found What You're Looking For. Probably not the best conversion material, right?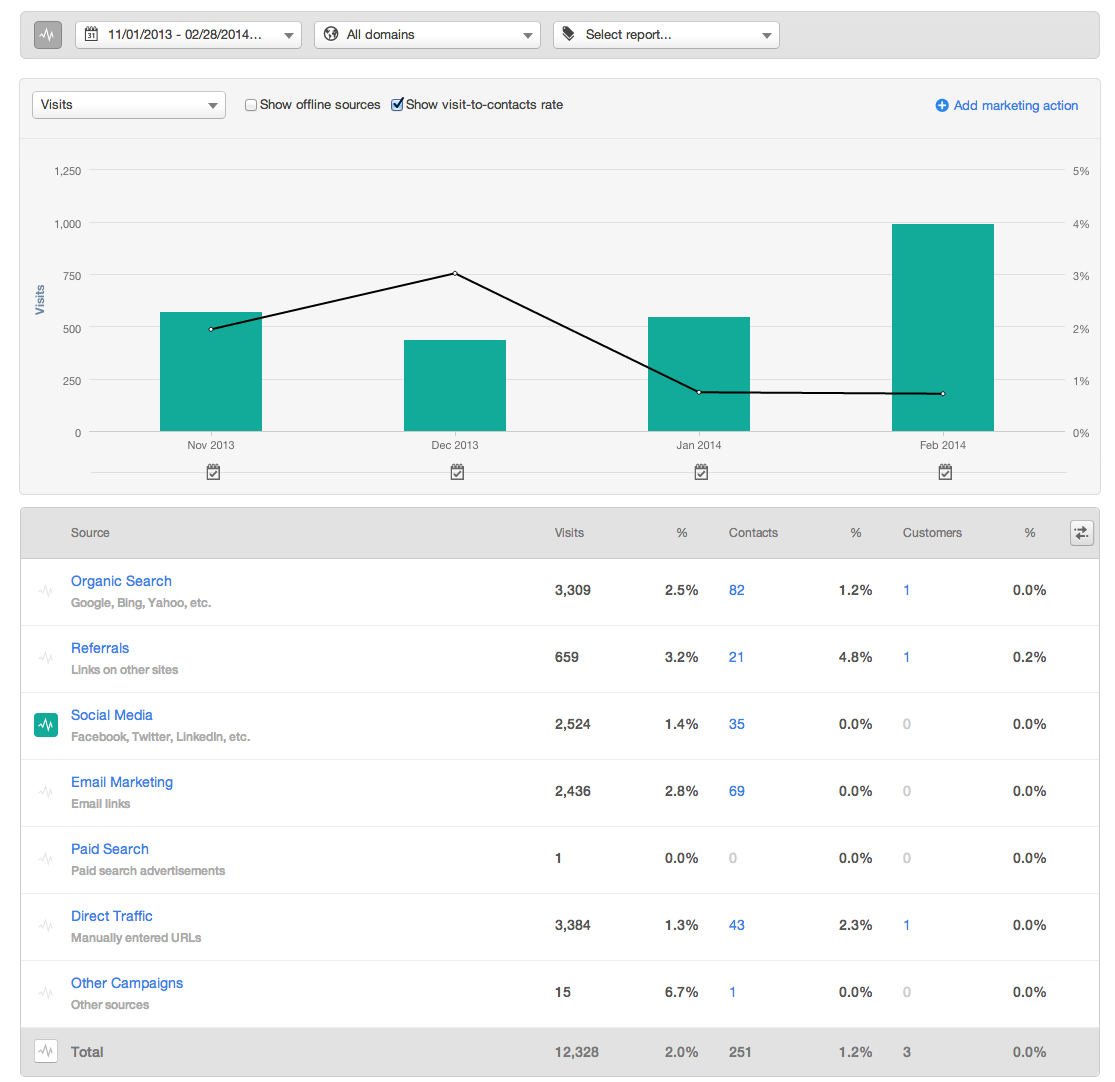 But this final visits report is my favorite, because it shows that organic visits are growing fast!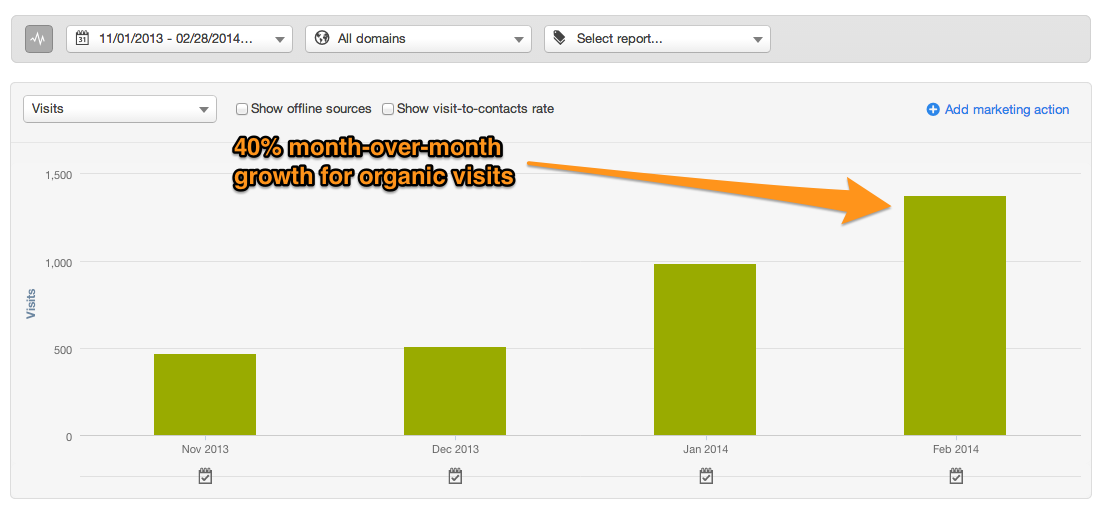 Leads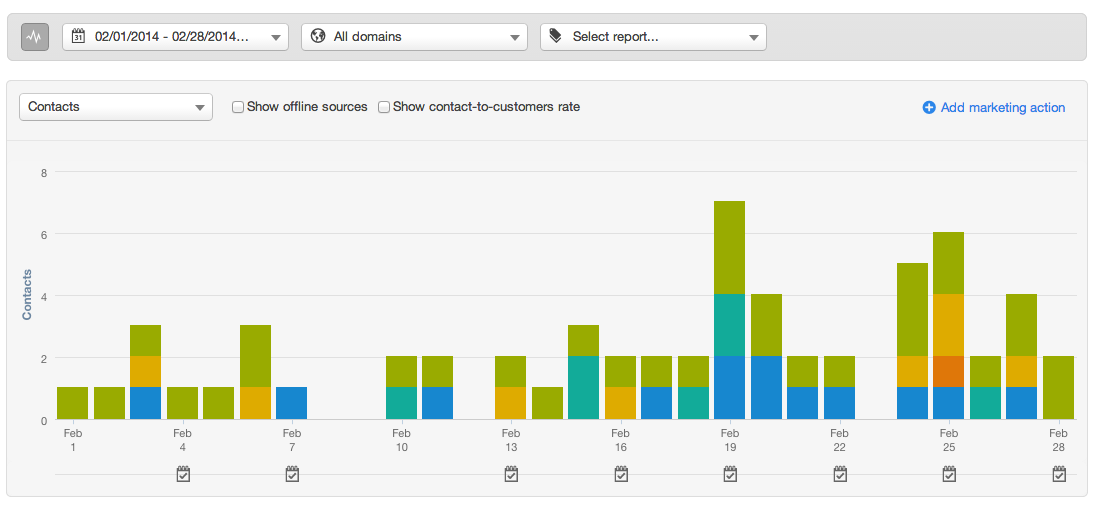 Leads for February 2014: 61
Leads for January 2014: 50
That's a 22% increase month over month. But, hold everything.
One of the grievances I have with HubSpot's reporting is that leads and customers are both reported in the month that they first visited the site. That may be helpful to someone, but it's not to me. Plus, it makes this experiment really crazy to show past months, because at the end of January, we showed 50 leads, but now that we completed February, it's showing 62 for January. Huh?
(If you're a HubSpot influencer, please, I beg you, give me a check box that lets me show attribution either in the month of first contact OR the month of conversion... please. I'm actually on my knees typing this.)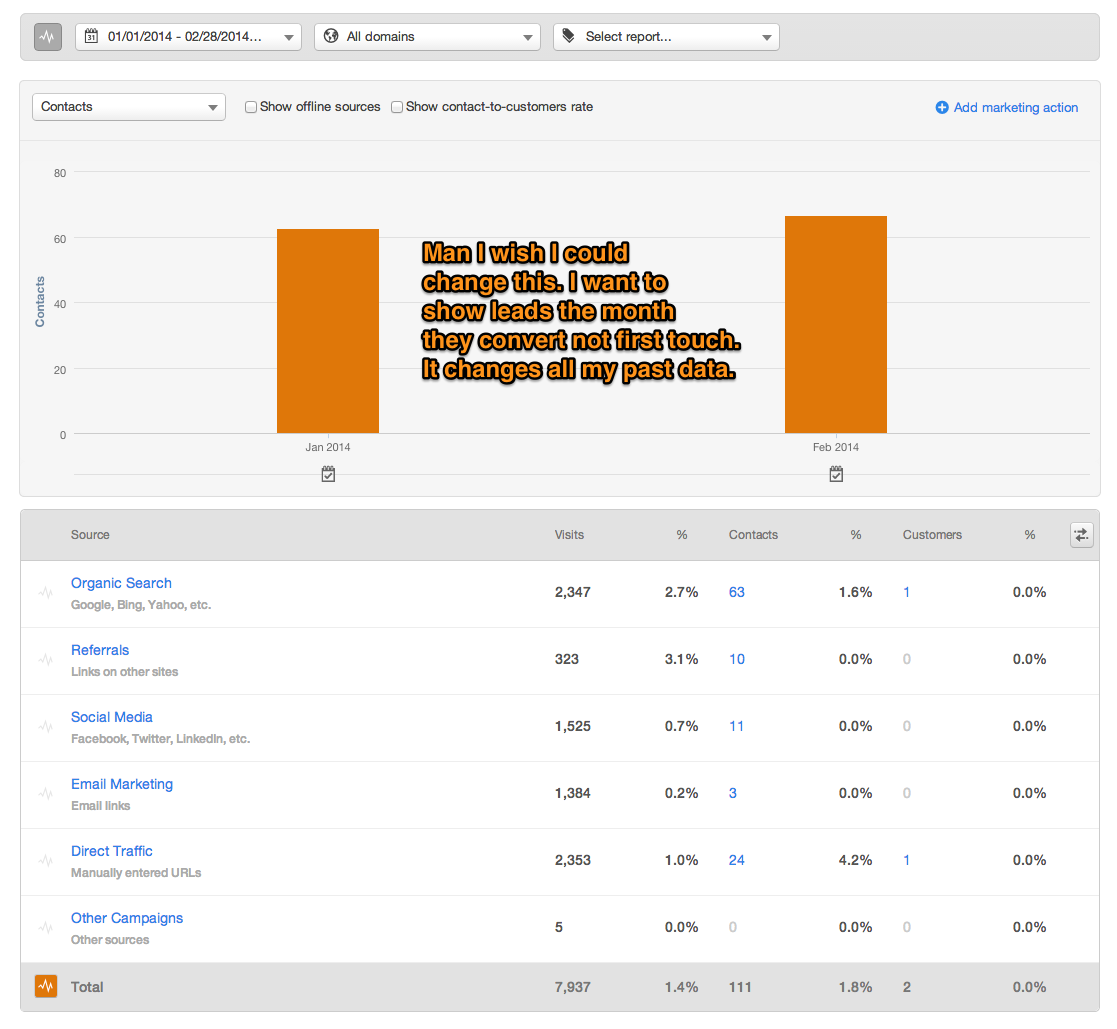 Customers
Not to beat a dead horse, but my customers report feels even more extreme, because there are fewer results. If you remember last month, I showed two customers for January. Well, look at this report for the end of February.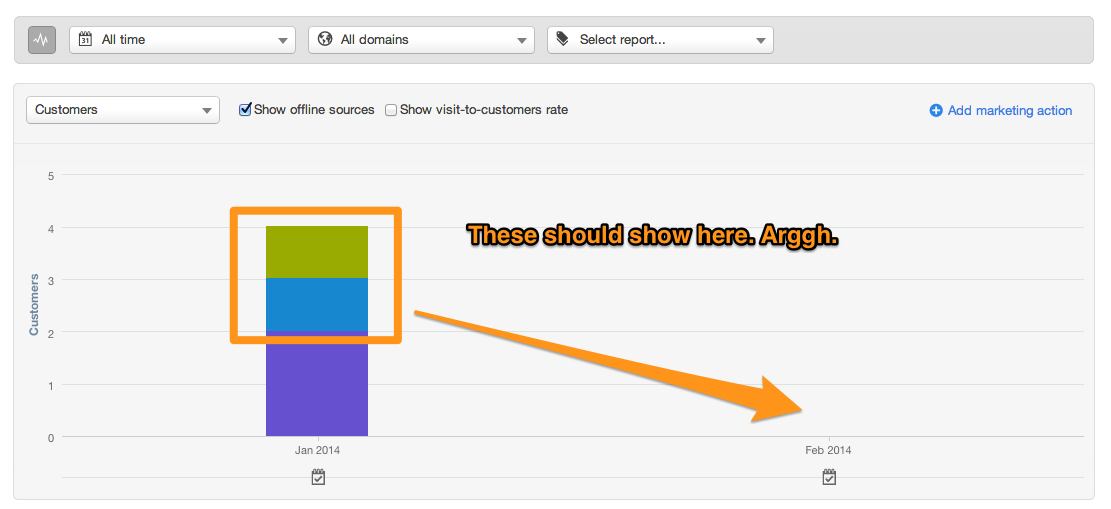 Customers in February 2014: 2
Customers in January 2014: 2
I know for a fact that we closed two new customer accounts. I don't care what this report says! (Sorry, I'll tone it down a little.)
I know that for many businesses, landing only a couple accounts doesn't seem like much, but for our company, we're scaling slowly on purpose. We're trying to maintain our company culture, and provide the best possible service for our clients. Before we began inbound marketing, all of our clients came from personal referrals. Now, we're actually developing client relationships with amazing folks who didn't even know we existed a couple of months ago. And that's what I love!
Additionally, the value of the clients we are dealing with now are many times the value of the accounts we were closing before we began implementing inbound marketing with HubSpot.
What will your results be after 4 months with HubSpot?
Good question.
Am I implying that if you just sign up with HubSpot, magically your numbers will grow like crazy? No way. No how. But I am saying that if you use HubSpot to completely change the way you're using your site, and dedicate creativity, energy, and lots of time to fueling HubSpot, you're going to see real results. Apparently it's not just true for me—here's a chart that shows reported results from HubSpot's ROI page.

So, what happens when you use HubSpot for four months? Why don't you try it yourself and find out? Bet you'll be pleased.
Month 6 Review: Professional Grade
Nobody wants to be an amateur. That's never an athlete's goal. A musician doesn't aspire to be a hobbyist on their instrument. No way. We want to go for the big leagues, no matter what activity we're engaged in, right?
I'm no exception.
That's why one of the most humbling and mildly annoying parts of signing on with HubSpot to kick off my HubSpot experiment was having to settle for the blandly named "Basic" plan. Man, talk about an uninspired name. My guess is that it's some psychological ploy to which I've fallen victim. I don't want to be "basic." I want to be "professional." (And, yes, I realize that I want the "middle" package which is why marketing psychology always pushes for 3 different price points/service levels.)

It seems like ages ago that I signed my one-year contract with HubSpot to kick off my test. I was signing on to spend way more money on my marketing than I ever had before, just to see if it really worked. But, it wasn't ages ago at all. It was exactly six months ago, in November 2013.
Wow, have I learned a boatload of stuff in the past 180 days. Even though I had quite a bit of experience in helping others implement content marketing, I was unprepared for how much differently I would view my online marketing 6 months into this crazy test.
I have experienced a tangible transition in how I feel about my inbound marketing now within the last two months. For the first 3 or 4 months, it seemed like every week something unexpected was happening, and while it was thrilling, I also had this gut feeling that I was riding some kind of temporary wave of enthusiasm that couldn't sustain itself. Now, though, I'm seeing just day to day consistent results. And, thanks to some work on my services pages, I'm now getting to have better conversations with prospects because they can understand how I can help them experience the power of HubSpot for their own company. So, while the last two months have not created the adrenaline rush of the first four, we're actually making sustainable headway in growing our own company through inbound marketing. (In fact, I've intentionally not pursued taking our partner certification exam until I was fully convinced that I can recommend HubSpot for certain companies. Now, it's time. I don't think HubSpot is the solution for every company, but for those companies who are fully committed to intentional inbound marketing, it makes complete sense.)
There has been one very obvious change in the last 2 months, though. All this sustained traffic meant that I had to move from the boring ol' "HubSpot Basic" plan to the "HubSpot Professional" plan.
Yep, I've been called up to the big leagues.
I can imagine the roar of the home crowd. The smell of the grass. The salty sunflower seeds. The spitting. It's a great day for... (Wait a second. I just remembered, I don't even like baseball. Not sure why I even went down that path. Go Sox.)
All kidding aside, the Professional plan is the real deal. The features that are available on this plan make HubSpot a real marketing automation tool. The "Basic" plan was a good first taste (maybe they should call that plan, "Appetizer"), but it lacks the features that actually make inbound marketing an automated lead generation process. Here is an overly-simplified brief explanation of four of the features that are only available on the Professional plan that are critical to truly automating my inbound marketing. (I think each of these probably deserve their own review post at some point.)
Workflows
Basically, a workflow is a sequence of actions that you can have the software take on contacts. So, for instance, if you want to send an email a couple of days after a prospect has downloaded an offer, you can do that, followed by more activities a certain number of days/hours later. You get Smart Lists on the basic plan which is great for organizing and gathering your contacts, but workflows let you actually do stuff with them. And that's a good thing.
Lead Scoring
All of my prospects are either getting closer to working with me or farther away. By assigning points to certain activities on my site, I can kind of see how interested someone is in what I'm saying or what I'm offering. It's a pretty interesting idea. At some number level, you can then send that contact information into a CRM or whatever you use for reaching out to prospects. I'm experimenting with the right numbers both for my own company and for our clients, but it's been fascinating so far.
Smart CTAs
Honestly, I've not taken advantage of this on my site, but we do have it implemented on some client sites. The idea is that instead of showing a call-to-action for an offer your prospect has already seen, you can automatically show a different one. That's cool. It should improve conversion rates, but we'll keep an eye on that.
Progressive Profiling
One of the biggest challenges to getting prospects to complete forms is the "friction" that comes from having too many fields for them to complete. Instead of having to ask for a ton of information on one landing page, you can ask for smaller pieces on multiple landing pages. As your prospects complete some fields, they don't have to answer them again, and instead, get served other questions. It's a very elegant solution to learning more about your prospects without annoying the stew out of them.
Enough blabber. Bring on the numbers.
Since I somehow spaced out last month on posting my review, and since March 2014 and April 2014 had a similar trajectory, I'm just throwing them in together.
Visits (Months 5 & 6, March & April 2014)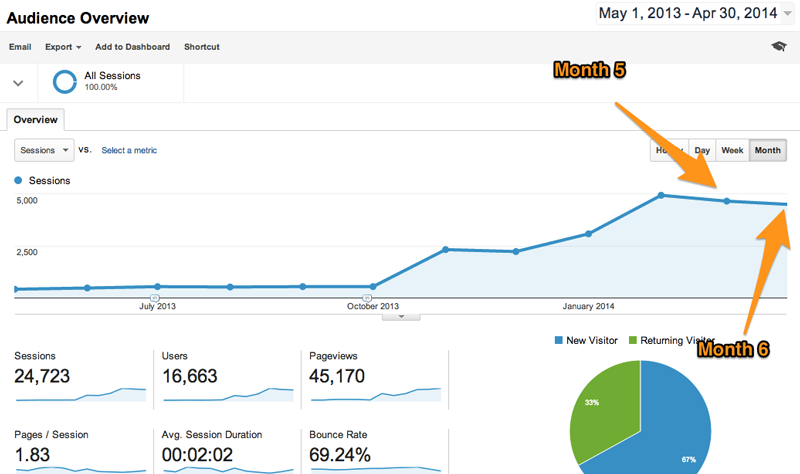 And here's my HubSpot charts from the same period. Remember I'm showing you results from March 2014 and April 2014.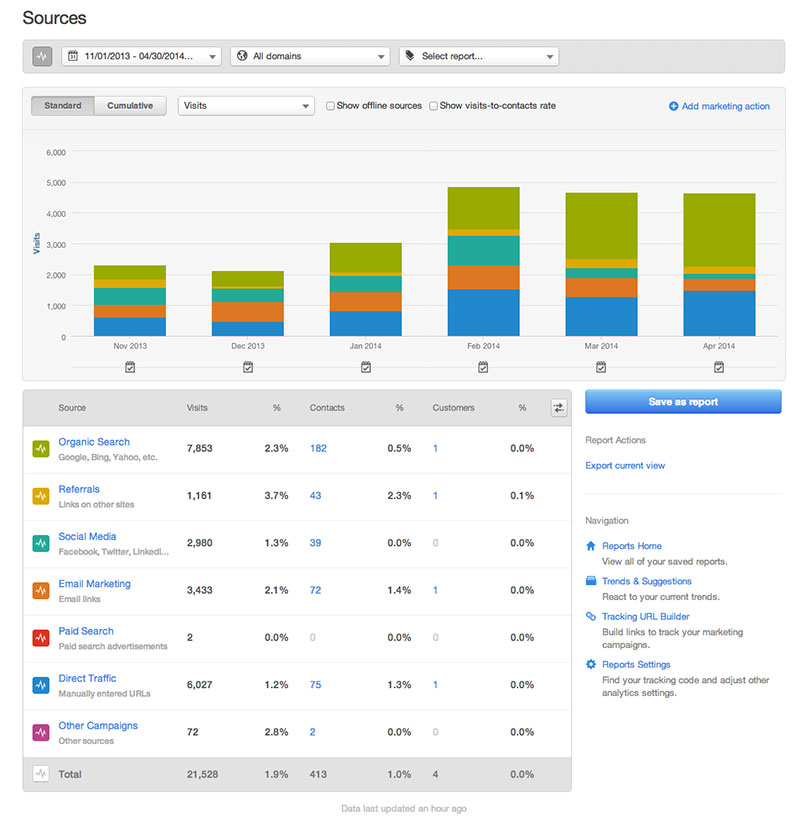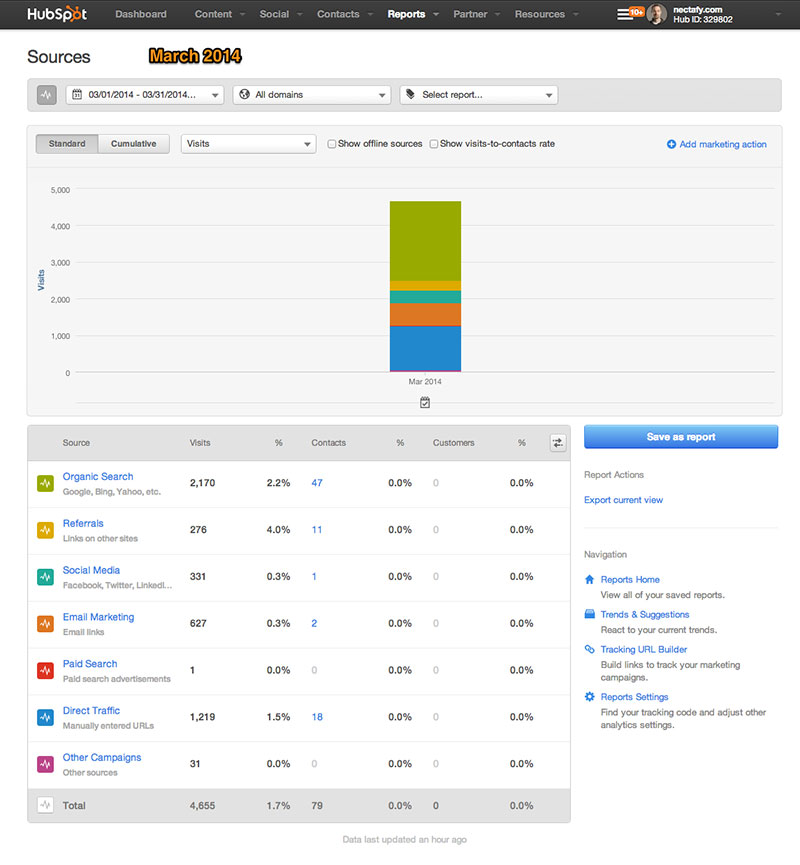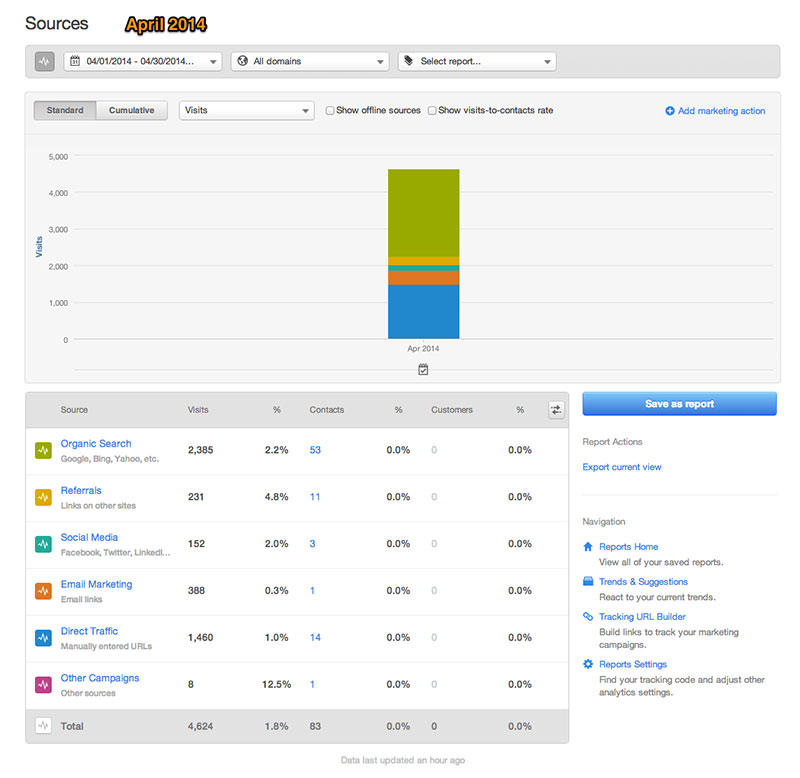 As you can see, March and April are very similar both in volume and sources of the traffic. But they both cooled down from February. I don't feel too bad, though, because February had some pretty crazy traffic from Twitter that I didn't figure would keep coming. Also, we've intentionally slowed down our email marketing as we have had access to workflows to send specific emails at specific times. We're actually recalibrating our email marketing strategy right now.
But, there is some super exciting stuff buried in this report. Take a look at this chart showing visits coming from organic search traffic only. If we can keep growing steadily in this category, we're going to be effective in the long run.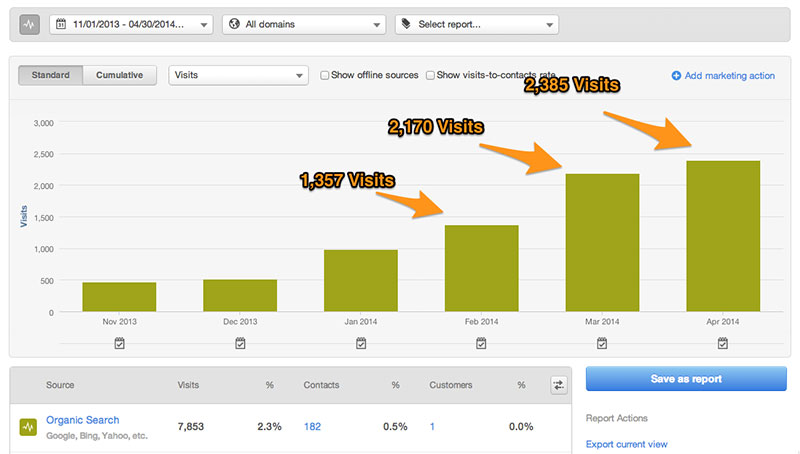 Total Visits:
March 2014: 4,655 (Down 3.4% from February 2014)
April 2014: 4,624 (Just about even with March 2014)
Leads
While our total visits haven't grown much over the last couple of months, our leads have continued to grow.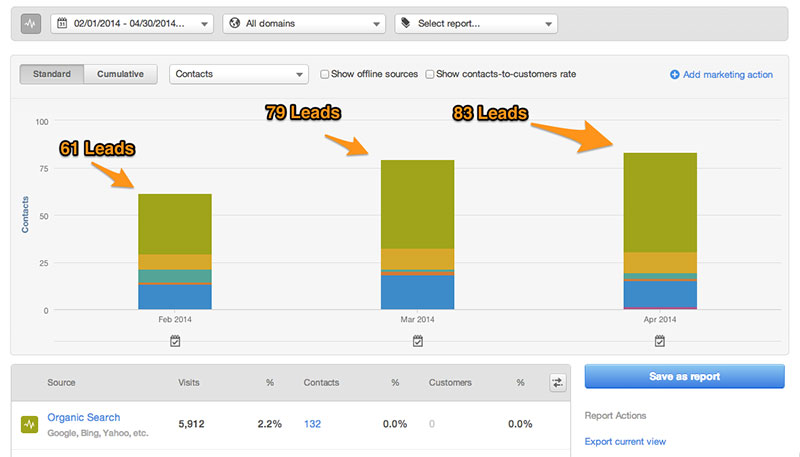 Total Leads:
March 2014: 79 (Up 29.5% from February 2014)
April 2014: 83 (Up 5% from March 2014)
I've been pleased with these results, as they seem connected to two important sources: organic search and referrals. Our organic search traffic has increased and our conversion rate is consistently at 2.2% or so each month. Referrals have picked up and have had a much higher (~4%) conversion rate even though the numbers aren't nearly as high.
Customers
The Bad News:
We were not able to create any client partnerships in March or April. That was both a little discouraging and also enlightening. We are learning the value of having a better sales process to integrate with our marketing. If you want to see strong customer results, you need to make sure that you have your sales process and sales team already in place. Great marketing isn't necessarily a substitute for great sales. They complement each other. So, we're working on developing our own voice when it comes to our sales process, making sure that we provide a ton of value all along the way.
The Good News:
Because we sell a high-value service, our sales process is pretty long. That's come as no surprise to us. We take our time working with prospects to make sure that we're both a good fit for working together. For March and April, we've been moving forward steadily on several potential partnerships. But, they haven't become clients yet, so March and April's customer charts are non-existent. One thing that those charts can't show is additional business from existing clients. And that's been keeping us very, very busy over the last couple of months.
To date, since we started the HubSpot experiment 6 months ago, we've been able to create 6 new long-term client relationships. It's been a huge sea-change for us. Instead of us trying to create a ton of new projects month in and month out, we've been able to partner with companies who are serious about adopting inbound marketing for the long haul and help them succeed with their own HubSpot implementations.
So what have I learned after 6 months?
By using the right tools for the job, and pouring a ton of focused effort into inbound marketing, we are seeing results. It can be done. But it's not the "quick and easy" fix that some may be looking for. Let's face it, there is no "silver bullet," or special potion that's going to bring in leads by the droves. What I've loved about inbound marketing with HubSpot is that I'm able to do marketing in an authentic, helpful way. I've learned that you have to create systems to keep your content and your marketing consistent for the long haul. You can't rely on enthusiasm alone.
And, I've learned that it feels really great to be "professional grade."
Month 8 Review: Lead Generating Machine

Can HubSpot actually help you generate leads?
I don't know. But I do know what it's done for us.
Since we started using HubSpot almost 9 months ago, I committed to making our results public for as long as someone was interested. It's an attempt to be as transparent as possible about whether HubSpot can really deliver more traffic, leads, and customers.
(Of course, secretly, I wish that every month's results would be un-stinking-believable so that you would be thoroughly convinced that Nectafy should become your inbound marketing agency of choice, but I digress. The numbers are the numbers.)
Let's cut right to the chase, shall we?
In past months, I've talked about the different pieces of HubSpot's software and my waxing/waning love for each of them. This month, I'm going to stick with the numbers and keep my rants to a minimum, except to say that I've noticed that over the last 35 weeks or so, HubSpot continually rolls out updates and improvements that are designed to make you more effective. I appreciate their proactive approach to marketing. In fact, just the other day, I got an email from a product manager at HubSpot following up with some ideas about making one of the tools better. It's obvious that they're working hard to make their clients better marketers. Nicely done, HubSpot.
Somehow I dozed off in months 7 & 8 (May and June) of our HubSpot experiment and failed to post an update. Some of that complacency speaks to the human condition. (Cue psychological mumbo jumbo.) As soon as something starts to go well, or becomes predictable, we quit thinking about it. I think it's called adaptation. (It's the same reason your new car doesn't rev you up the way it did when you drove it off the Audi lot.) I've adapted. I'll confess. I've gotten used to things working the way they should, without fooling around with a bunch of platforms. And I like it.
We've embraced a system of inbound marketing that has just become a part of our company. We write helpful articles twice a week, we create offers and drop them on landing pages about once a month, we use email lead nurturing (both automated and manual), we interact on our social profiles regularly, we check our reports daily, and, doggone it, things are just working. (Of course, we're staying agile so we can try plenty of new things, since change is the only constant in online marketing.)
Visits (Months 7 & 8, May & June 2014)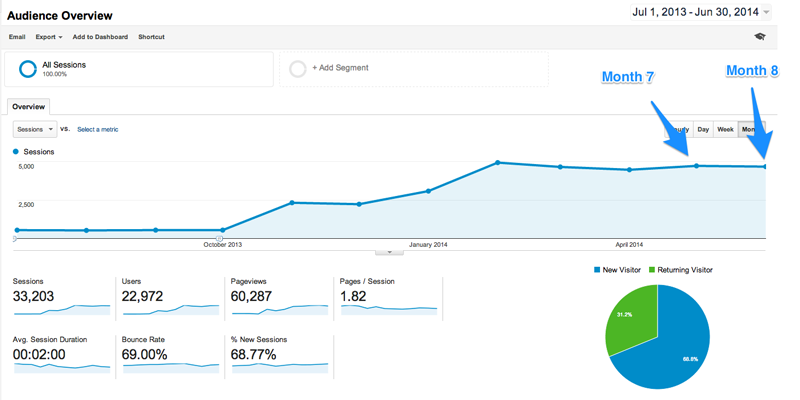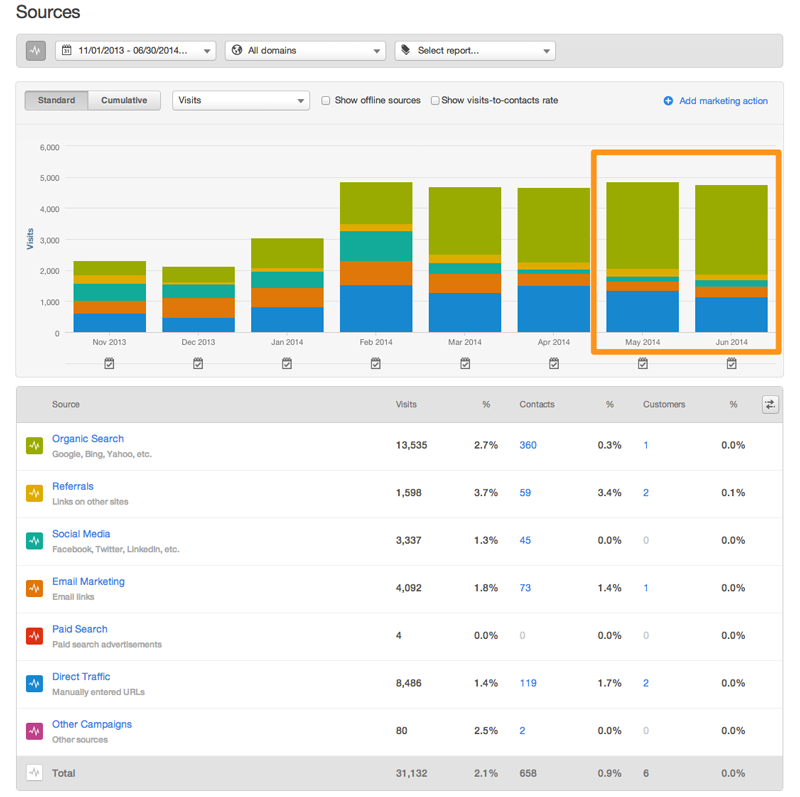 Organic Traffic Is Growing
Are we seeing record setting months for traffic month after month? Well, yes and no. We've sort of leveled off with traffic. We seem to be bumping right up against 5,000 visits each month.
But, the good news is that our organic traffic has consistently grown each month. It seems like some months we'll have an unpredictable spike in one of our other marketing channels, but organic search marches on.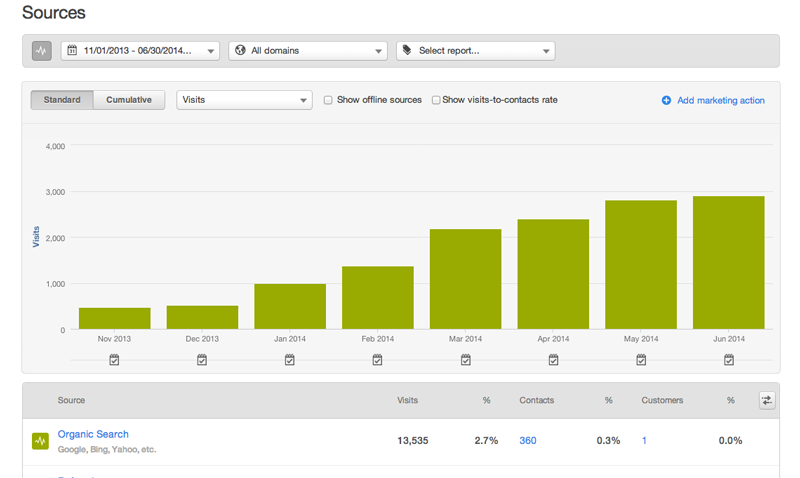 Total Visits:
May 2014: 4,828
June 2014: 4,750
Lead Generation
What has been interesting is that our conversion rates have been steadily increasing, too, meaning that our lead generation has grown steadily over our first 8 months. By the end of June, we're hovering right under 3%. Yay. Here's our conversion rate graph over our visits.

(Our first month was pure craziness, so you can essentially ignore all the fun there.)
Take a look at our lead generation over the last 8 months. Maybe not groundbreaking, but we're pretty pumped about it.

Since conversion rates are growing, and our traffic is growing steadily as well, we're thrilled to see the increase in leads each month. Again, that first month, because it was our first month using HubSpot, we charted leads from existing emails which kind of skews that graph.
Total Leads:
May 2014: 112
June 2014: 132
Customers
May and June were pretty exciting months for us, since we were able to partner with 3 new clients!
That's super exciting!
What's not super exciting is that HubSpot still only gives me an option to show customers on the month when they first became a lead, and does not let me display the customer in the month when they actually converted.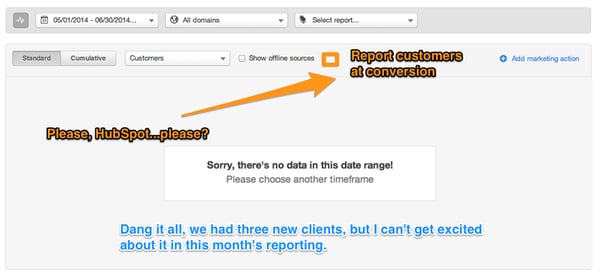 Since we have a long-ish sales cycle, that means that many of our customers have been leads for more than three months. A kind of reporting system that adjusts past data is not very helpful for month to month reporting. In fact, it's downright confusing. I'm hopeful that if I gripe about it long enough, one of HubSpot's product managers who has some pull will give me a way to report customers either when they became a lead or when they became a customer.
***Update on 07/24/2014***
One of the reasons I love HubSpot is how responsive they are. In fact, within minutes of publicizing this article, I was introduced to a wonderful HubSpot product manager who walked me through the reporting capabilities on the Enterprise version of their software. She knew her stuff, and I'll admit the reporting is pretty amazing. You can dig down to about whatever level you want. The good news? HubSpot can deliver reporting like I want. The bad news? I'll have to take the huge step up to the Enterprise package to get it. Maybe someday... (Until then, would you wonderful folks at HubSpot consider just giving this teensie-weensie little capability that I mentioned to the Pro version?)
***
So, can HubSpot generate leads?
I can say unapologetically that HubSpot has delivered on their promise to make it possible to generate leads with their software. If you're not sure if it would work for your company, I totally understand. If you think you'd just like to talk to someone to figure out whether you should even give it a shot, let me know. I'm glad to tell you what I know.
Month 11 Review: Getting In The Groove

It's hard to believe it's almost been a whole year since I got this crazy idea---to see if HubSpot actually works to generate traffic and leads. It was my intention to write monthly about the progress. I only somewhat accomplished that goal. The last few posts have been spaced a little farther apart, I'm afraid.
For you obsessive-compulsive readers, I deeply apologize that this hasn't been a more rigorous and consistent reporting process.
For you attention-deprived readers, I deeply apologize that I've written so much on the same, tedious subject.
For everybody else, I deeply apologize for leaving you out and not making you feel special.
(There, I feel better.)
In the last few months, I've learned some important lessons about how and why inbound marketing works. If you'll humor me, I'll share them. (If you won't humor me, you can click here to skip all the way down to the data...)
Junk I'm Learning
1. Effective inbound marketing takes a team.
I started my HubSpot experiment as primarily a solo effort. I very quickly got Tiffany involved. And she set to work getting the whole team creating content to fuel our inbound marketing monster. In fact, in talking with several of our clients, it's interesting how much this topic comes up. Consistently writing strong content is hard, tiring work. (Even for an inbound agency.) I think probably one of the biggest struggles that companies that buy into using HubSpot face is writing blog posts, offers, emails, and social network content that is interesting, fun, and, most importantly, helpful for their readers. It takes quite an effort internally here at Nectafy to stay on top of it all.
2. The more content you have, the bigger chance you have to be "lucky."
I'm not going to dazzle you with some mind-blowing insight here. It's simple math. The more good stuff you write, the more likely you're going to have a chance for one post, or one tweet, or one offer to get some traction. And it feels really good when you do. We write two to three blog posts a week, and most of them generate a reasonable amount of traffic, but nothing to feel super proud about. But, a little while back, Tiffany wrote an article about how to write a professional bio. It's a practical, helpful post. It got a little attention, but not a tremendous amount. Within the last month, though, it's become the number-one viewed page on our site, because Google decided it was worth showing to folks looking for help with writing bios. I'm not sure why, but I'm grateful. I just know that by writing articles that are in sync with the problems of our buyer personas, we're giving ourselves a better shot at hitting a home run.
3. Don't waste time with content that doesn't answer buyer questions.
In August, Henry joined our team. He immediately set to work helping us get focused on our own inbound strategy. He introduced us to the "buyer question matrix." (It sounds scary and intimidating, right?) In essence, he pointed out that every time we write a post that doesn't address a critical question on the mind of our readers, we're wasting time and effort. Again, a simple concept, but it's one that you can blow right past while you're churning out content. Now that we're writing more intensely-focused content, we're already seeing growth in several key metrics for our marketing, such as prospects requesting assessments and exploratory conferences.
4. Some of your best customers create their own buyer journey.
We work hard to understand the buyer journey. In other words, we want to think through the questions on the minds of our prospects and then anticipate where they'll go next and what content they'll need. That's exactly the right thing to do. However, I'm also realizing that some of our key clients have taken radically different approaches after discovering our content. That makes it tough to analyze, but it's an obscurity I'm willing to live with. The common denominator of all of their journeys is our content.
5. There's a lot of blech out there, so don't be blech. Someone else has that covered.
Since we work on inbound marketing so much, we've become hyper-aware of what others are doing with their own inbound strategies. Unfortunately, I've been shocked by the amount of ho-hum, so-so, voiceless content that I've found. (Now, before you think that we're above such nonsense, I'm totally aware that we've got some junk of our own. But I like to indulge myself by judging my company on our intentions and everyone else's on their actions. Yep, pretty human of me, I'd say.) I'm convinced that the next wave of inbound marketing success will come from those who are willing to have a voice, a personality, an opinion, and a total dedication to actually being helpful.
HubSpot Keeps Improving Their Tools
In the last few months, HubSpot has done a good job of improving their platform. Now that we're in it day-in and day-out for our clients and our own marketing, it's fun to watch the development happen so quickly. Here are a couple of my favorites.
1. "If/Then" Logic In Workflows
By reworking their workflow interface and adding some options for "if/then" behavior in a workflow, you can do much more robust things with automation. (If that last sentence was gobbledygook to you, I'll make it simpler.) Now, when someone takes an action on your site---say, for instance, they answer a form field a certain way---you can actually change what happens next for that user depending on how they respond. They may get a different email or a different offer. In short, it makes HubSpot more powerful than it was.
2. Attribution Reports
I've actually got mixed feelings about this one. HubSpot has added this report that shows you the roles that different pieces of content play in generating a lead, or becoming a marketing qualified lead. The part that mixes my feelings is that I know there are a ton of options available for this report on the Enterprise plan, but the options on my "lowly" Professional plan feel pretty limiting. But, it's not going to spoil my dinner.
My Wish List
Could we give a little love to the Page Performance Tool and the Keyword Tool? Both seem like they're appendages from a different era. My guess is that they're on the drawing board as I type this.
In the blog post window, I'd really like to be able to add a Featured Image without requiring that it show up in the body of the post... kind of like some free content management systems allow. (Cough. WordPress. Cough.)
And, if I can get really daring, if any HubSpot influencers are still reading my posts, I'd love to ask for one super-cool feature. Could we get a way to send an email based on the user's time zone, instead of my time zone? That would be so MailChimp-like (total compliment), it's not even funny. And, thanks in advance.
But, hey, this isn't about me improving HubSpot. It's about testing to see if HubSpot really delivers. Well, I'll let the data speak for itself. (Kinda.)
The Inbound Marketing Data Speaks For Itself (But I'll Still Chime In.)
Visits
(Months 9-11, July-September 2014)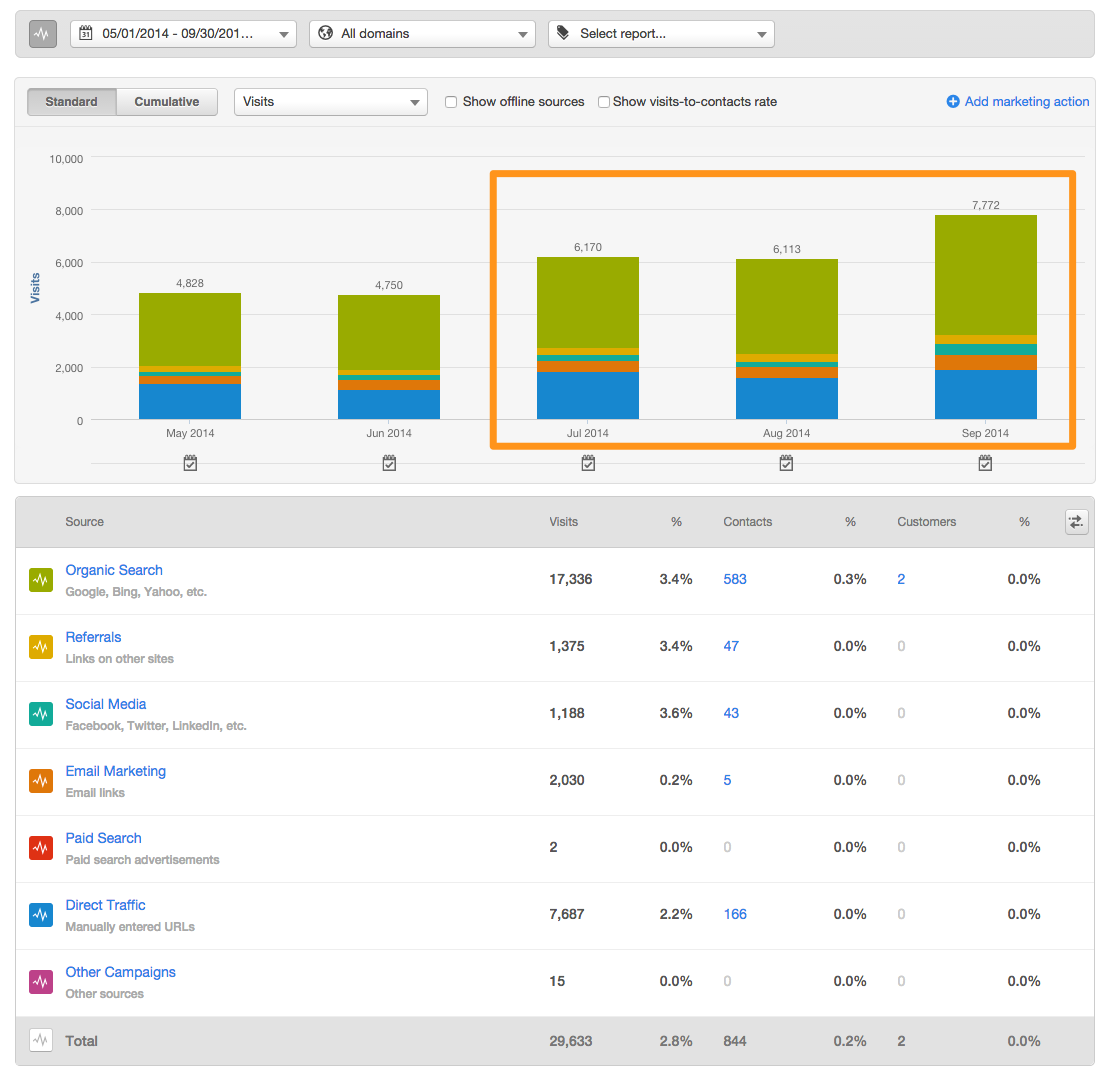 The last three months have broken all previous traffic records for us. I know 6-7K visits per month is not much for many of you reading this, but for our company, it's been huge.
Here's the report showing only organic traffic: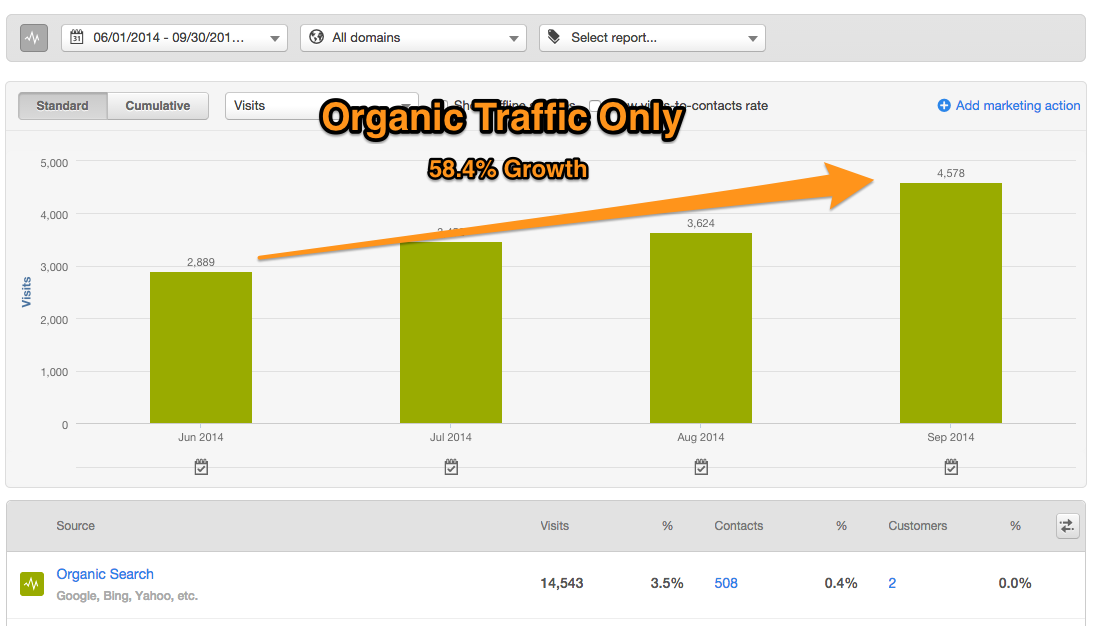 In this period of three months, which are months 9-11 using HubSpot, we experienced 63% growth in visits from all sources, and 58% growth in organic search.
Leads
(Months 9-11, July-September 2014)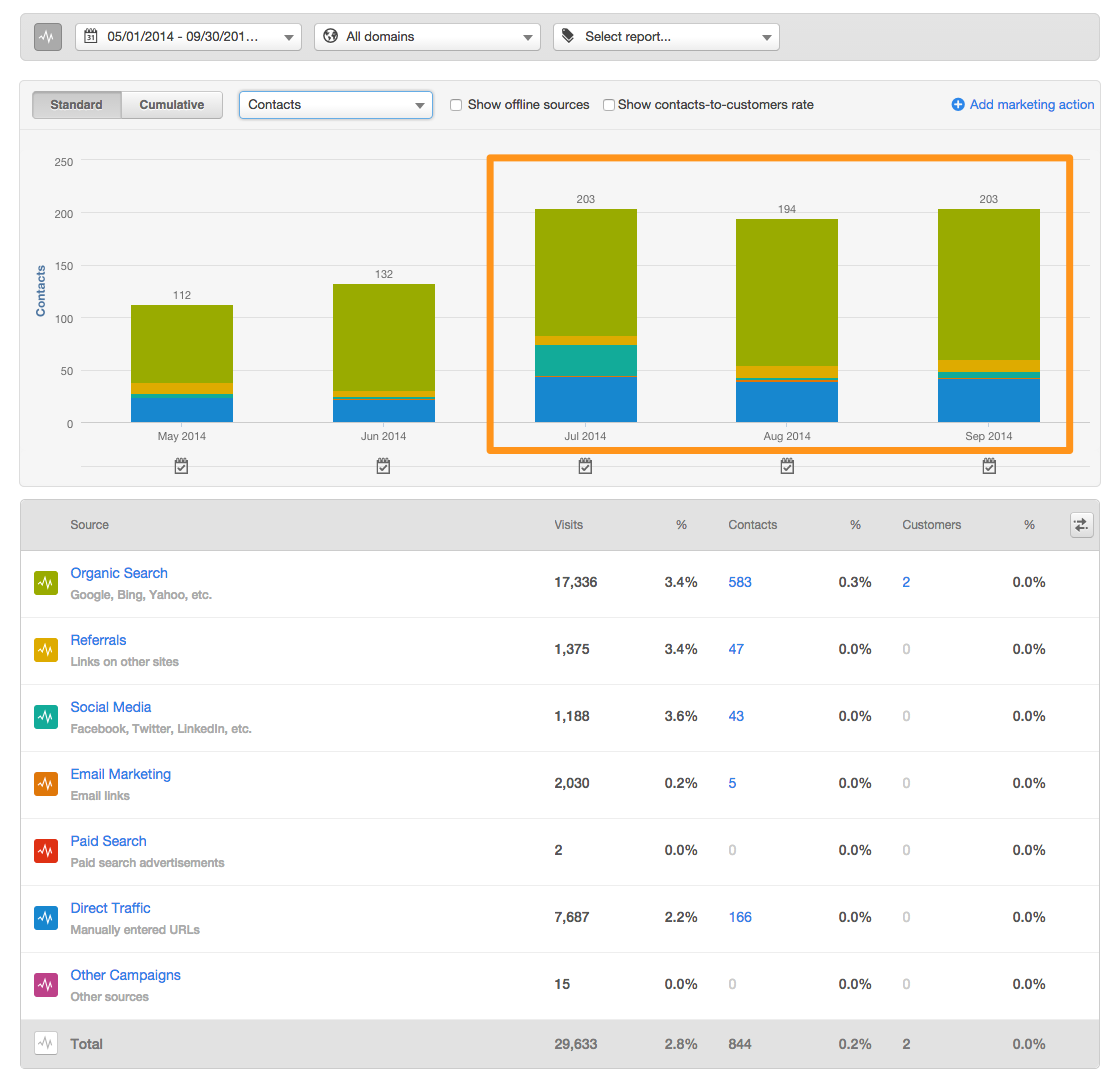 We broke 200 leads in one month for the first time in July, thanks to an onslaught of other agencies downloading our free sample inbound marketing proposal. I'm always glad to share what we have with others, but the "downside" is that it creates an anomaly in our reporting. Once things calmed back down, we managed to approach that number again in August and September with organic leads.
Our conversion rate peaked out at 3%, and that's our new consistent target. We're under that in September, due to some strong ranking for some of our articles that don't necessarily convert well yet. We're going to have to build out better offers to improve that. But overall for the three-month period, we saw 53.8% growth in leads over June 2014. Good times.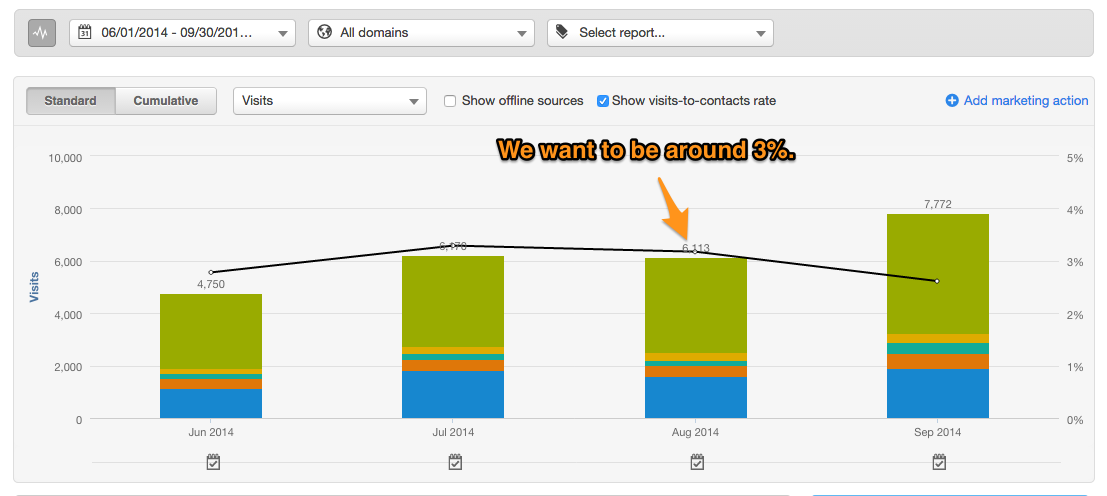 Customers
(Months 9-11, July-September 2014)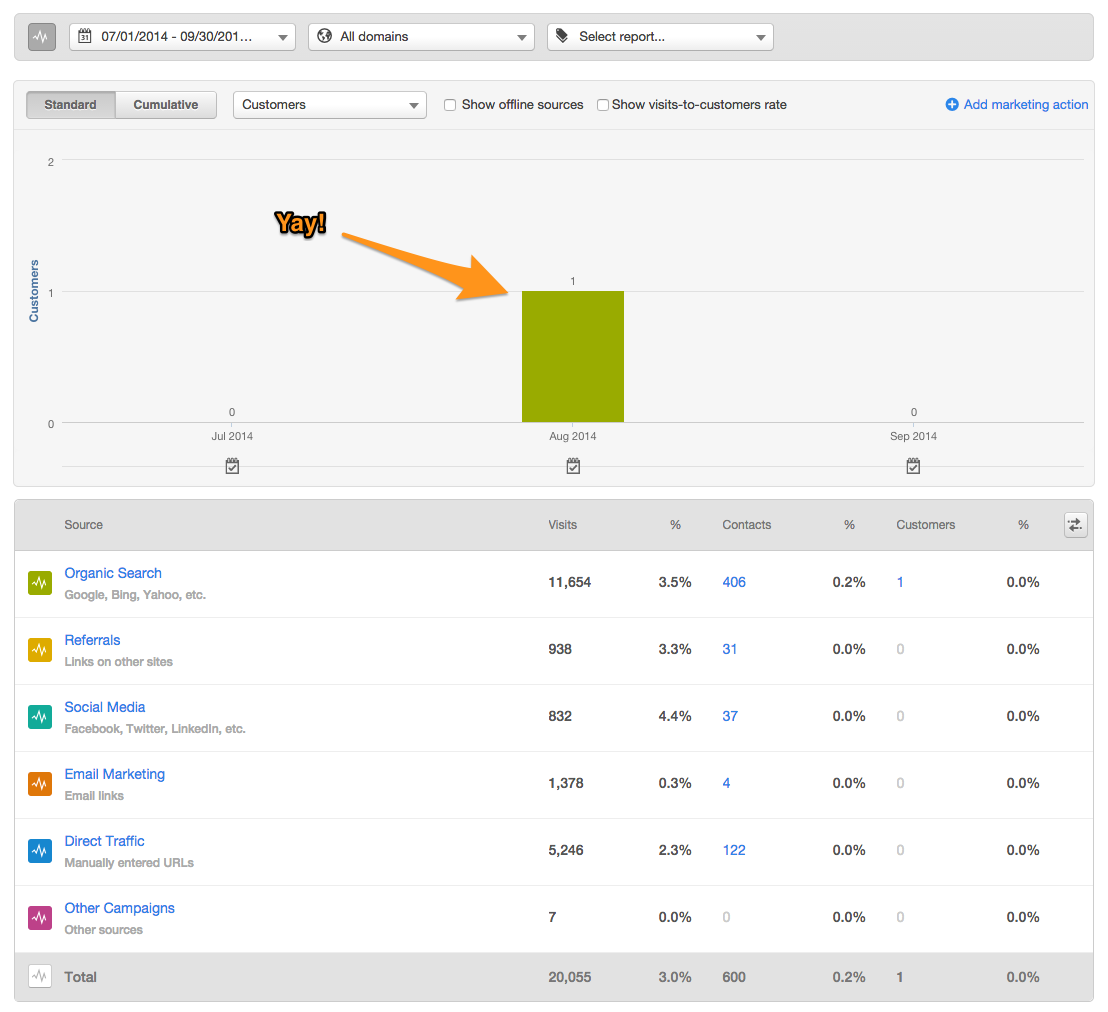 Now, if you're an overachiever, you're utterly unimpressed with our customer reports for these three months. But before you conclude that inbound marketing doesn't actually deliver, I need to remind you that HubSpot reports customers in the month where they first found your website. That's really good for figuring out which piece(s) deliver customers eventually, but really annoying for reporting month-to-month, because the data from previous months is always shifting. Up until now, I've gone back in and figured out which customers converted, and tried to show that with a chart, but I've given up this month. I found out a couple of months ago that flexible reporting is available in the Enterprise edition, so I'll just have to wait until I can afford that fine package. For our next HubSpot review post, I'll be showing the entire year in review, so you can see what's happened.
A second note is that we are a small inbound marketing agency, and we don't need (nor can we support) a ton of clients. We need simple, steady growth in our client base. That's exactly what we're experiencing. Our clients usually partner with us for a long time, because we focus on building great relationships, which in a tangible, revenue-related way, means steady financial growth for our company.
A third note is that we're in the B2B space, and apparently every business in America takes a couple of months off from doing new things in July and August. Note to self: take some serious vacation time in August next year.
The Rearview Mirror
It's so easy to forget where we were 11 months ago as a company. Inbound marketing with HubSpot has completely transformed the way we do business and how we create new customer relationships.
In fact, this exercise of reporting has been good for me, because I quickly forget how things used to be.
The results, reports, and data are awfully compelling.
But, I tend to be fascinated by stories over data. One of my favorite experiences is talking with other entrepreneurs about their own companies and their growth in 2014. They usually say something about how it looks like Nectafy is doing well, and I'm always grateful for those observations. I usually mention how we're growing steadily, and we're finding amazing clients to work with. Then they say, "How are you finding them?" I say, "Inbound marketing. You know, the service we provide for our clients. We just do for other companies what we do for ourselves." My colleagues usually pause for a moment, and then say, "Wow. That's cool." Yeah. It is. That's been my experience so far with 11 months of inbound marketing with HubSpot.
For those who don't care about stories, and just want the data overview, here's where we've been and where we are.
We've got so far to go with inbound marketing. In fact, I learned a couple of weeks ago that there are agencies who are seeing ten times the traffic we're experiencing to their own sites after using HubSpot and inbound marketing for a couple of years. That's pretty amazing. I'm inspired and motivated to keep pushing forward.
Year 2 Review: It Works

It's incredible to think that I started this experiment two years ago. I had no idea what kind of results I could expect using HubSpot for our inbound marketing efforts.
Little did I know how much that one decision would change how we ran our business.
It's funny, but now I can't remember not using HubSpot (double negative alert).
It's just become a part of how we operate business, both for ourselves and our clients. In fact, I had to be reminded that I should write a "two years into the experiment" follow-up post. (Thanks, Henry.)
When I started the experiment, I knew that I wanted to see for myself if inbound marketing with the HubSpot platform would really work. Because, as a company, we are committed to only doing things for our clients that we have firsthand experience in and that have worked for us in digital marketing.
There've been quite a few lessons that we've learned over the last two years around inbound marketing. Some of them were unexpected, and some of them are exactly what we thought would happen.
It's been fascinating to watch HubSpot develop and grow over the last two years, improving the platform and enriching their technology. On one of my tours to the HubSpot mothership (I live about 50 minutes from Cambridge), I even got to see the developers' bullpen and stood in awe as I watched one hundred-ish programmers busily hacking away on new features and updates. Wow. I think that means more good things are coming.
But, let's get down to business here. In every review post I've done, I try to be as specific and objective as possible and, of course, show you our actual numbers.
The cool part about showing you our numbers is that, to this point in our business, inbound marketing has been so effective for us that it's our only form of marketing. No Google AdWords... no digital buys... no outbound sales prospecting. Now, I'm not saying we'll never go there (again with the double negative), but we haven't needed it.
We've talked to hundreds of folks considering HubSpot, and we've gathered a little insight into people's perceptions. Some people have asked if they have to use HubSpot to do inbound marketing. The answer is clearly "no." You can do inbound marketing with a Wix site, a free MailChimp account, and the Twitter app open in one browser tab and the LinkedIn app opened in another. But doing that would probably make you crazy. And you'd never be able to follow a prospect's path to becoming a customer. It's the same reason you don't mow your lawn with nail clippers. It's just not the right tool for the job.
What we've discovered about HubSpot is that because the platform was built around the specific tactics of inbound marketing and not patched together afterward, HubSpot gives us an efficient way to run our marketing without unnecessary complication and with clear insight into what's going on.
If you've read any of my other HubSpot review posts, you know that I try to shoot straight when I talk about HubSpot. This is no exception, but I will say that having one year of things to say seems a little extreme, so I've just isolated it to a few observations.
Here are the things that we've seen HubSpot improve over our time using the platform, followed by a few of the things that make us feel a touch grumpy.
The Improvements We've Seen
Workflow Capabilities
The old workflows felt limiting and a little hard to visualize, so this has been a welcome update. They now provide a really easy-to-understand visualization, and it's simple to click and edit. You can use multiple criteria to enroll someone in a workflow, and you can use Yes/No branches to create even more flexibility. Bravo!
Email Detail Page
While I'm not a fan of the overview page for emails (it's kind of clunky), once you click through to an email, I really like the new detail page. It's much easier to see and analyze opens, clicks, and performance metrics.
Campaign Management
Campaign management has really developed over the last year, so now you can tag landing pages, emails, workflows, and content, so all of the effects of one campaign are trackable.
Content Staging
As we have built on the HubSpot platform, one of the glaring weaknesses we discovered was the lack of a staging area for new development. Recently, they've addressed that weakness, and it looks like they're taking steps in the right direction. There are a few little confusing things to work out, but overall, this is a really well-done piece.
HubSpot CRM
One of the big things HubSpot has added since we started this experiment is the HubSpot CRM.
It has been interesting to watch that tool mature over the last year. Integrating HubSpot CRM with HubSpot's stand-alone product called "Sidekick" has created a nice lead follow-up process for our company. It makes it easy to use both the CRM and my Google Apps email to communicate with prospects.
One big advantage of using HubSpot's CRM rather than a third-party CRM is that it's very simple to move someone out of your automated workflows into your sales process without having to rely on syncing or third-party integration tools like Zapier. (Although, I'm not going to lie, I really, really miss Pipedrive. In fact, more than once a week, I halfway convince myself it's time to go back.)
The Few Things That Make Us A Little Grumpy
MQL Reporting
Like many SaaS companies, HubSpot faces the constant tension between simplicity and meeting the specific needs of its user base. HubSpot has focused on simple reporting and has done that well. Their Sources reports are easy to read and give you nice overview insight into what's going on. But, when you're ready to really understand what's driving the success of your marketing, things become a little cloudier.
Let me just say before I continue that our experience is primarily with the Pro version of HubSpot. Although some of our clients are on the Enterprise platform, my comments will be limited to the experience our company has had on the Pro plan.
One major oversight in HubSpot's default reporting that has left me puzzled is the lack of attention paid to the marketing qualified lead (MQL) stage of leads.
If you're familiar with the inbound marketing funnel, you know the categories that we most care about are visitors, leads, leads who become marketing qualified leads, and the percentage of marketing qualified leads that become customers. There are four categories there.
HubSpot skips the marketing qualified phase completely, which leaves a huge gap in your reporting ability. In my humble opinion, MQLs are the single most important group in a marketing effort. Once a lead becomes an MQL, you're ready to hand them off to sales.
Without reporting specifically around marketing qualified leads, your only option is to use an alternate way (like Excel) to track the effectiveness of moving a lead to become a marketing qualified lead. That defeats the whole purpose of using a single platform. Ack.
Before I continue my brief rant about my frustration with some of HubSpot's reporting, let me note that at Inbound 2015, HubSpot rolled out a reporting add-on that may solve this problem.
The reason I don't know if this update solves this problem is that HubSpot charges an add-on fee of $50 for this very foundational reporting.
Call me a stodge, but when I'm paying $800-900 a month for use of an inbound marketing platform, asking me to pay another $50 a month simply to be able to report on one of the most critical pieces of information is unreasonable at best and scandalous at worst.
(Breathe, Lance. In. Out.)
OK, I'm better.
Before I leave this personally painful subject, let me relate a couple of additional reports that I have so far been unable to figure out (without the $50 add-on that may or may not solve these problems). Again, I could be completely missing something here, but:
What search terms have people used to find a particular page on my site?
How many visitors have come from those terms?
Can I drill down through my Sources report to the page level and see what's driving traffic? I know I can see this with landing pages, but I have yet to find it for site pages or blog pages.
WYSIWYG Editor
I'm all for making things easier, but the latest edition of the click-and-edit editor has created more than a little confusion for me. It just seems to take a little more effort to "get under the hood," which is where I'm used to working.
The WYSIWYG editor seems to be an interesting strategic decision made by HubSpot. It's built to help people without any HTML or module experience. These people, in my opinion, would typically be small business owners rather than marketers at bigger enterprises. Most marketing people who have experience building landing pages are able to get into the code a bit to tweak things the way they want. If you want to do anything beyond some simple text changes, the WYSIWYG is harder to use than the previous version.
So what kind of results have we seen over the last two years with HubSpot?
Visits
When we started this experiment, we were seeing about 500 visits per month. Wow. For October 2015, which marked two years of this HubSpot experiment, we saw almost 14,000 visits. As you see in this screenshot, the rate of progress has slowed, but I suppose that's to be expected. Even a rocket slows down at some point to a nice, healthy pace.

Here's just the traffic generated via organic search:

And here's the graph with all sources:
Keywords
Two years ago, we did not rank for a single meaningful keyword, so we were pretty much starting from scratch.
In the past year, we've moved onto the first page for some important terms. Here's what they are and their position on the page:
inbound marketing consultant (2)
inbound marketing plan (4)
inbound marketing firms (6)
inbound marketing agencies (8)
inbound web design (8)
inbound marketing service (9)
inbound marketing boston (10)
Leads
When we started, we honestly didn't have any leads to speak of really—just a handful of Contact Us submitters and some random other activity.
Now it's pretty typical for us to get five leads each day, which is about 30 times our lead count at the beginning. Here's the graph from the last two years.
Leads generated from organic traffic only:

And here's the chart for all leads:

I'll be candid—I want us to dial this in a little better moving forward. We're actually working on several new offers and workflows that I believe will effectively ramp up our conversion rate and help us get more leads into the pipeline. Our goal is to get the conversion rate up to 2.5% this year. What's really cool about HubSpot and inbound marketing is that two years ago, I wouldn't have even thought that way. I would just shrug my shoulders and say, "Well, we get a few leads from our website." Now we are numbers-driven, and we have total insight into what's driving that traffic.
Customers
In our business, a customer can have a lifetime value to us of well over $100,000, so even connecting with a couple of new customers per month is a huge win for us. I think it's important to mention here, too, that inbound marketing is the only marketing we do. We don't pay for traffic, we don't advertise, and we don't cold call. We are fully invested in inbound marketing and believe that if we have a sales problem, it's actually a marketing problem.

Conclusion
My conclusion hasn't really changed over these last two years. HubSpot is a solid tool for running inbound marketing. That's why it was built. It's not a piece of retrofitted technology masquerading as an inbound marketing platform. I know there are a bunch of great platforms out there, but I'm completely sold on HubSpot.
It takes enough effort in inbound marketing just to determine the right approach, create content, and distribute that content to the right people at the right time. Without HubSpot, it's a bit of a beast. With HubSpot, it's a beautiful thing.
Year 4 Review: Worth It

Written January 2018
Since this page has proven so helpful to those of you figuring out whether HubSpot is a good idea for your company or not, we decided that I should give you a brief update on what our opinions are now, after using the software for several years. Meredith DeSousa, one of our amazing writers, interviewed me about it. We had fun.
If you'd rather read than watch...
Here's what we said in the video. Feel free to scan.
Meredith: So after all this time, we know that you're still using HubSpot, so we know that you still like it, but I thought it would be interesting if we went back and looked at some of the issues you had with it in the early days, and see maybe if you feel any differently about those things now.
You had mentioned the "reporting love" in your first post. You really liked the monthly recap emails. They came with an attached PowerPoint report. You actually labeled them "cool" and "very cool" in your post, so first of all, are they still the same now as they were then, or have they evolved from what they were?
Lance: They are still. As I understand it Meredith, they're still the same, and here's the caveat for some of my comments today, and that is, obviously as we've grown as a company, I have involved other people in our company in getting some of those notifications, so I don't always see them, so something could have slipped past me, so I'm going to go based on what I know, and what we'll do is, if I say something really stupid or something that's not accurate, we will interview somebody on our team who knows accurately and we'll add them in here.
As far as I know, they're still the same, still helpful. I don't look at them near as often, unfortunately probably, but I think it's a really great way, a summarized way, to see a snapshot of what's going on for your company, and if you haven't been on HubSpot or a platform like that before, getting that high level data regularly sent to you will really change your perspective about the traffic, leads activity from your website.
Meredith: Okay, and in that original post, you had mentioned something about time delays on reporting. I don't know if you remember that?
Do you think that's improved at all?
Lance: Yeah, it definitely has improved. When we started working with them 3-4 years ago now, HubSpot was in a rapidly scaling place in their infrastructure, and I found this out, I've talked to some people at HubSpot to understand. Essentially, they onboarded a lot of people and, I'm not going to say the hardware, because I realize it's cloud-based, but literally the things that drive that platform, they were still trying to sort out, so they've done a really good job of sorting that out.
There are still occasional down times, which is true of any SaaS software, but they seem to have addressed that, because obviously it's a critical need. If your whole platform, if your website, all the analytics, all of the reporting and everything is based in the cloud, it better have a really really high up time so it doesn't impact your company, so I think they've worked on that, done a good job of improving it.
Meredith: Okay, and along that line is you had also mentioned something about data inaccuracies, just a little bit, it didn't seem like it was a huge deal, but your calls to action didn't seem to be consistently showing the right data. At the time, you thought maybe it wasn't actually a problem with the software, but maybe just challenges with tracking in general.
Lance: I think we can chalk that one probably up to user error. In the technical world, sometimes it's the software, but 90-something percent of the time, it's the user, so chances are we just didn't have it labeled correctly, or we didn't have it embedded correctly, so I'll have to give them a pass on that one.
Meredith: Okay. That's good of you, all right. How do you feel about the price of HubSpot, the price of using it compared to the value you get out of it?
Lance: Yeah, so this is an interesting one, right? We have been on HubSpot as a company for four years about. I think that's right. It was a huge step financially for us to go onto the platform. We went in on the basic package, which was $200 then. It's actually still the same price as I understand it four years later, so just that concept alone is fairly interesting, that in four years, they haven't raised their rates on the tiers of those packages. Basic was $200, Professional was $800, Enterprise was something, I think it's $2,400 now. I wouldn't even look at Enterprise back then, but even so, at $200 a month, it was a big chunk of change for us.
We pretty quickly moved to Professional, I think probably in month eight or nine, we moved to Professional, and $800 a month, plus paying for your contacts, seemed really really steep, but here's what I've found out since I've written that article, and I've done other research: There are plenty of other marketing platforms out there, and some of them are really cheap comparatively, maybe half the price, but some are ridiculously more, and I don't mean ridiculously because they shouldn't charge more. It's just the way their pay structure is set up, so for instance, Marketo I'm aware of now is actually a much higher priced product. They've got probably more advanced technology in some areas, but for what we're talking about reporting on, having the visibility into your website, seeing lead activity within the timelines, it syncing over to a CRM, I think probably my opinion is now is at that $800 a month mark, you're actually getting quite a bit of value for that price point.
It's expensive still. If you're a one or two person shop, that's a big chunk of change. One thing they did, by the way, that's interesting is they've created a plug-in for WordPress called LeadIn. We'll have to verify this, and I'll take a look before I publish this, but the plug-in itself gives you HubSpot lite capabilities within your WordPress, and it's free, so that would be a really interesting first step for somebody who's struggling with the price point of that platform, but I think once you get to the point where we're at with traffic and the leads, and we understand how that filters down to the bottom line, paying $800, 900, 1000 a month for your marketing platform is probably a pretty good value.
Meredith: One of the things that you requested in your original blog post that I believe has actually come true is the ability to do A/B testing on emails.
Lance: I'm not necessarily sending emails out for our company, but I do know that we have used it, because Gabby occasionally has done an A/B test on a subject line before we send it out to our list, and so that's really cool that they've given us that. To be fair, we are not great measurers of that, because our list is only maybe four or five, six thousand people, so if you were an e-commerce company that had 100,000, it would really be valuable, because basically A/B tests which subject line gets more opens, and then it sends the rest of the email with that subject line to the rest of the list, so that's a really good feature. I'm glad they brought that done to the Professional level.
Meredith: Good. In the comments section of that article, which there are a lot of comments, some people did point out that HubSpot is essentially an analytics tool. Do you feel though that it has actually helped improve business performance since you've been using it, rather than just being an analytical measurement tool?
Lance: The short answer is absolutely, and I think it's because, when you have insight into things that you didn't have insight before, and it's in a really simple to understand, easily digestible format, it impacts how you think and what you value, so I think with HubSpot, I would disagree that it's primarily an analytics tool. I think analytics is a piece of it, but you have the analytics side. You have the actual automation piece, which is sending emails based on user behavior, getting to see user activity, which is on the border between analytics and sales.
I think the entire thing though, having a window into everything that's going on with your website and the communication that you're sending out changes how you think about the content on your site, the emails that you send, how you address a prospect in the sales call, and if you think about that, those are fundamentals of business performance. Changing how you do sales is a fundamental of business health. It's been huge for us, so it's far more than just analytics, and I'm sure there are other platforms that are probably as wonderful. This is our experience with HubSpot is that it has radically changed how we do business.
Meredith: Excellent. Okay, so this is my last question. At the time of the original post, we noted that it was the end of the honeymoon phase kind of thing and the beginning of what you thought would be a longterm relationship, but something always comes up after the honeymoon phase that you didn't expect, like people leaving their dirty socks all over the place.
Lance: I haven't personally experienced that, but I've heard that that's true.
Meredith: It is true. Have you discovered anything about HubSpot since then that maybe surprised you or is a little bit annoying or either way?
Lance: That's a good question. It's a good question.
There's a long answer, and that surprises you, I'm sure. I'm going to say a couple of things. First of all, I have been pleased with what I have experienced in terms of HubSpot's responsiveness to a customer, so we're a HubSpot partner, but we're also a customer. We pay them money to use the platform. We don't get any special breaks on pricing or anything like that, so we're a customer, and what I've seen is, like I mentioned before about the timing of the report data and all of that, I think what happened early on is they achieved success quickly and probably didn't have the infrastructure to match it, and to their credit, I think that they have worked very hard to try to get that infrastructure in place, and I think overall, they've done a really good job of that. They've gotten the right support people involved, maybe the support tiers. Obviously this is above my pay grade. I don't know how to organize a company of that size, but it seems to me like they've put effort into making that happen.
There are still aspects of their platform that I think tend to frustrate me a little bit, especially when I understand where they're trying to go in the marketplace. The challenge with their API is that it's good, it's very easy to use, I don't think it exposes enough data that they have in their database to be super useful, like we're struggling. One client really wants to access certain things, they haven't made it available, but the part that's I think more frustrating to me is that they have certain caps on the number of times that you can hit the API, and obviously they have to have that, because it'll just blow up their API if they don't. I think there should be some way that they can scale that or somehow be more flexible, because we're ending up, especially with one client, that they're hitting that API threshold too often, and it's creating errors, which then just frustrates our client because they're not getting the data that they need and so forth.
To me, that's a mindset that they've got to address, because if you say, "We're opening up this API so that you can build on all these platforms," that needs to be super user friendly and not frustrating to the end user.
Meredith: Do you think that's unusual to HubSpot?
Lance: I don't know that it is. I will say I've not run into this on other APIs, but I'm not sure I've really pushed other APIs to the limit, so I'm not an API expert by any means, but the times that I've used an API, that hasn't been an issue.
And just one other thing real quick, because I think this is important, is I think HubSpot has developed over the years. Henry has written about this. I'm a little concerned that, as a part of their means to monetize, they've got to prove to their shareholders that they're profitable or will be profitable in the future. They're not profitable yet, but they're working on it. They have gone wide rather than deep into the marketing automation piece, so they went to marketing automation, then they added sales which I think is smart, that's good, but now you've got two really huge things and you can't be quite as deep on either one. Then they've added this support side of things, or they're trying to, so they're trying to become an all-in-one manage your business tool.
The challenge there though is, unless you build out every possible feature across those three things, users will still need to have some other platform or two to run it, and then you're dealing with, "I don't have the best in class of any of those three pieces," you know what I'm saying?
Meredith: Yeah, I see what you're saying.
Lance: So that's their business choice, and again, they're way smarter than I am, so I'm not trying to tell them how to run their business. It's just, as a user, that concerns me just a little bit. I had hoped that this was going to become a really laser focused marketing automation platform, maybe with some sales support, but it looks like they're really trying to go wide with it.
---
In some ways, the past five years with HubSpot have felt like forever. HubSpot has become a solid part of what we do here at Nectafy, and we've definitely poured time, sweat, and tears into the "experiment" we began in 2013. But in other ways, I know this relationship is just beginning. There are bound to be more bumps in the road, but hey, what relationship doesn't have those? I just hope that in the months to come, HubSpot will continue to prove itself. What do you say, HubSpot? Shall we make this work?
Want to get our next HubSpot update in your inbox? Drop your email in the form below.