HubSpot CMS Review: A (Near) Tech-Illiterate's Perspective
Blog /

HubSpot CMS Review: A (Near) Tech-Illiterate's Perspective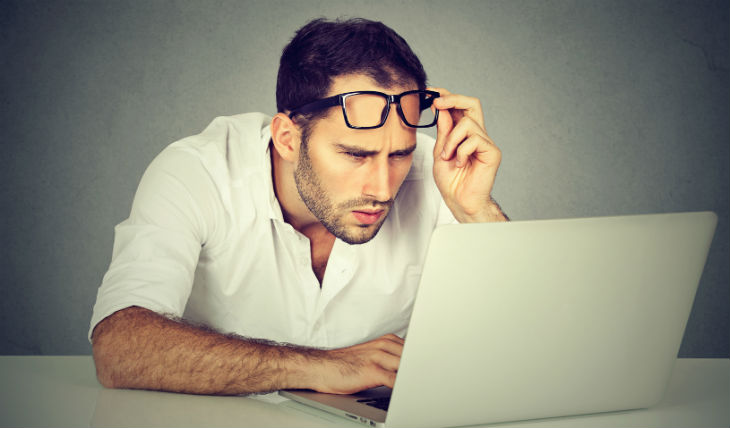 Disclosure: We only review products we use here at Nectafy. Some of the links in this article are affiliate links that may provide Nectafy with a small commission at no cost to you.
HubSpot is known for its powerful marketing automation platform that has revolutionized digital content marketing. But its website platform (known by all the cool kids as a "CMS"), while not quite a showstopper, still deserves a bit of attention. Maybe this article will help you decide if it's just something shiny or potentially a good fit for your company's website.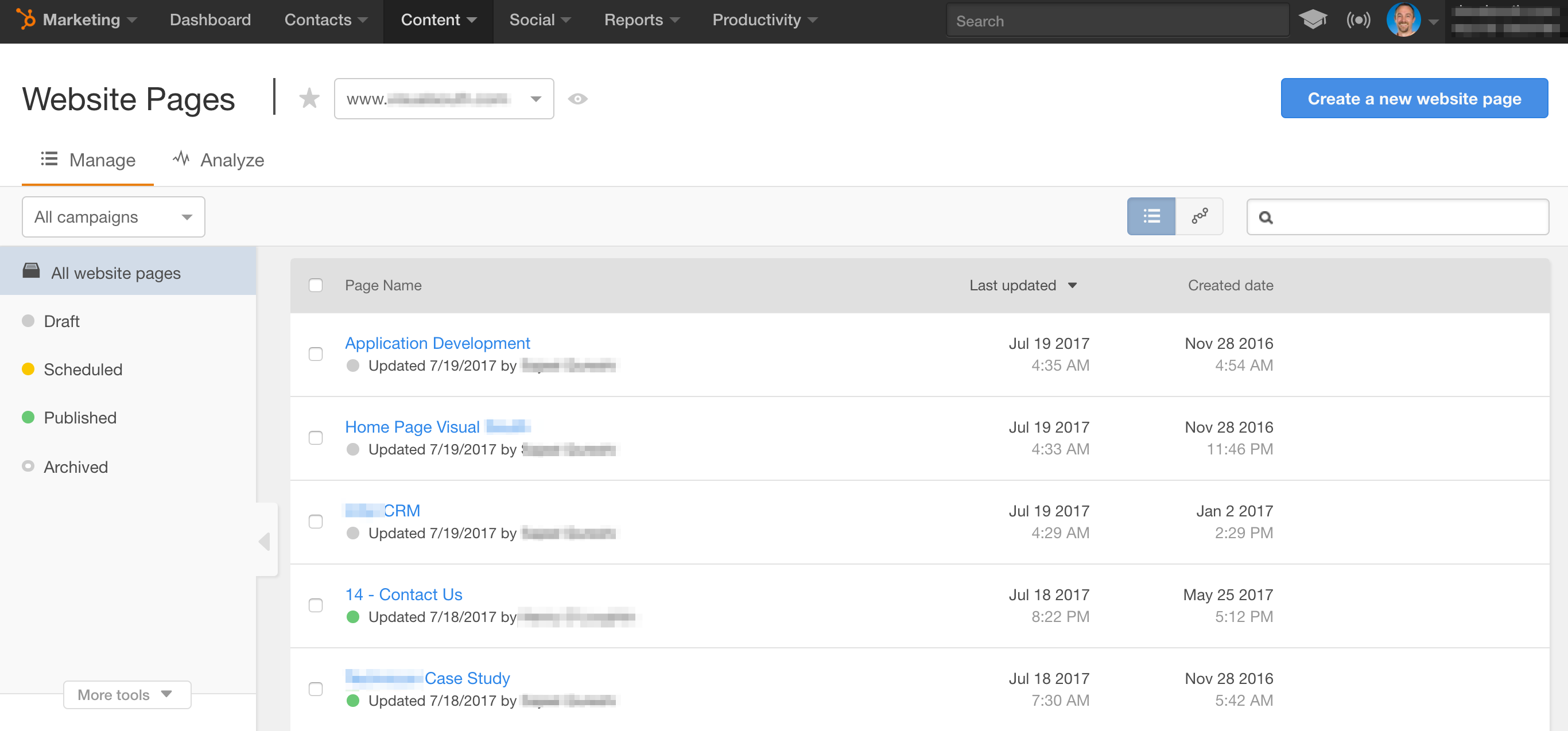 But first, a warning: I was nominated as the "non-techie" to write this HubSpot CMS review (even though I have protested that just because I'm old does not mean I'm tech-illiterate... but I digress), so I'm going to play like I have no interest in all the cool tech stuff happening behind the scenes of their user-friendly interface. Instead, I'm just going to give you a simple-but-helpful perspective on the basics of HubSpot CMS.
So if you're a tech geek, click the back button right now. Or better yet, click this link and go find something else that interests you on our blog.
Still here? Good.
First, let's clarify what I mean by CMS.
COS is so much cooler than CMS
.
Unless you are still working with a website from the 1990s, it's likely that your website is currently managed by software called a content management system, or CMS. If you have to use your browser and enter a username and password to update your website, you use some kind of a CMS.
There are quite possibly a thousand content management systems out there (the most widely known is WordPress), and HubSpot decided to throw its hat in the ring a few years ago. Since HubSpot is a super-hip startup company, they couldn't just call their CMS a CMS. So they initially called it HubSpot COS, which I think stands for content optimization system or click on stuff, I'm not sure which—but both phrases are really good descriptions of the software.
In its CMS, HubSpot has tried to make it as simple as possible for users to publish content to their sites quickly, without a bunch of hacking through HTML or something equally scary.
As much as I like the term, "COS," though, it's a CMS. So, I'll call it HubSpot CMS for the rest of this article. I'm just like that.
Is HubSpot CMS right for your company?
Short answer: maybe. Long answer: it really depends on what you value for your website. Here are a few thoughts that can help you sort that out.
1. HubSpot CMS is integrated with all that wonderful, tasty HubSpot marketing data.
Probably the biggest positive in using the HubSpot CMS is that it's tied in well to all the fascinating information you already get from HubSpot's marketing tool. It's simple to see who's viewing your pages, what actions they took on each page, and how well pages are converting visitors to leads. Honestly, once you start getting curious about this kind of information, it radically changes how you view your entire website.
2. HubSpot CMS is designed to do a few things well.
If your dream is to be able to leave a marketing meeting where the director says, "We really need to update our home page headline to say, 'Our hot dogs are made from recycled tennis balls'" and immediately walk to your computer, log in to your website, type the new headline, and hit "Publish," this CMS might be your dream come true.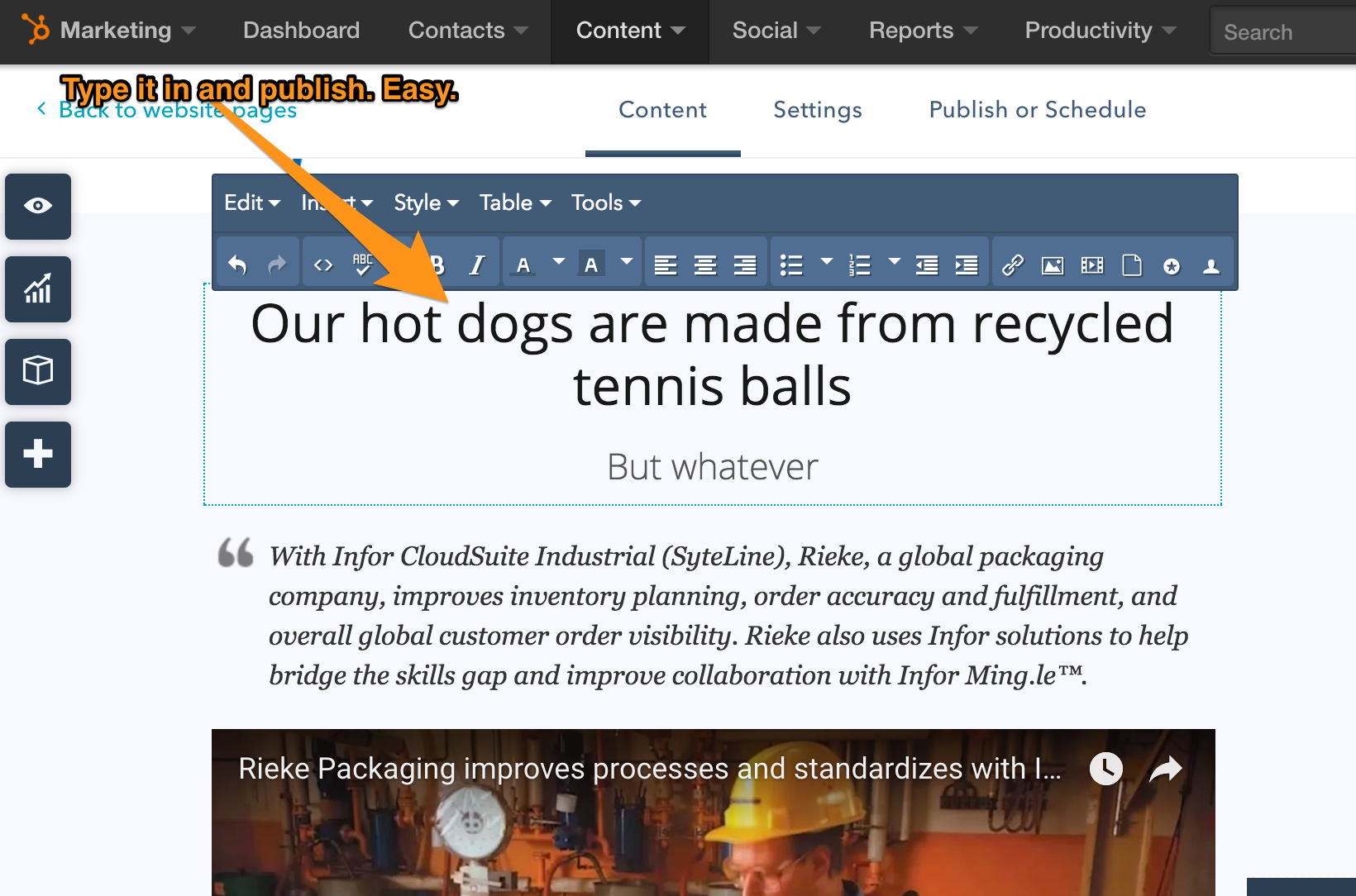 All kidding aside, HubSpot has made the CMS really simple for everyone on your team to use without knowing how to add a <span> tag or figure out what an H3 headline is. (Both of those are HTML terms, so please forget that you heard them here.) But you may actually want to know what an H3 tag is.
Right out of the box, you've got some built in "modules" or pieces of things that you can drag and drop where you want them, and then add the type or images that you want. It's pretty nice.
I will say that with all of the magic going on behind the scenes, sometimes the page doesn't display just how you want it, so you may want to stick with a few tried and true layouts rather than expressing your inner Picasso.
One thing that confuses me is that the CMS doesn't have a search function built in. It just uses Google search. I'm sure there's a fantastic reason for that, but it seems odd that you can't search the stuff on your site within the CMS.
It does, however, have a very powerful function called an API (geek alert, sorry!). That basically just means that, in the hands of some talented programmers, the site talks with other webpages and apps, which leads to some really cool functionality. If you don't know what that means, just forget that I ever mentioned it.
3. HubSpot CMS is designed to make search engines love your stuff.
When you write a page, you'll be coached all the way through on what fields to complete in order to create a page that is loved by all—especially Google. And if Google loves you, there's a good chance that at least some of your potential customers will actually find your page online.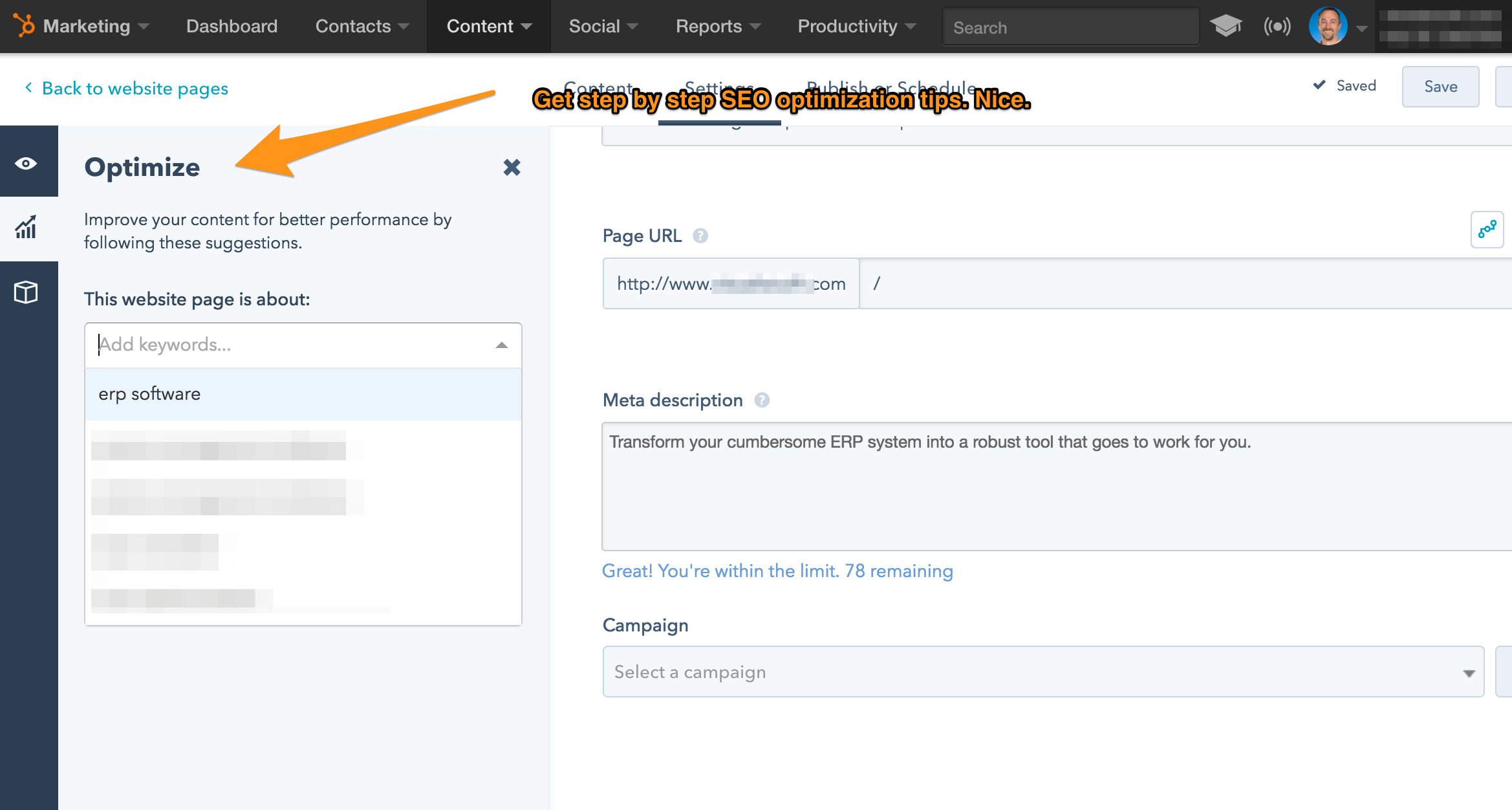 4. HubSpot CMS personalization lets you show different things to different people.
Depending on whether a visitor has registered on your site or been there before, you can show them new data rather than the same stuff they saw before. This means that you can always show just what the user cares about to help move them along the path toward becoming a customer.
In practice, most companies are still struggling with what to say to any user much less craft specific content for specific users. If you're an advanced marketer, this may be just the thing to put a smile on your face.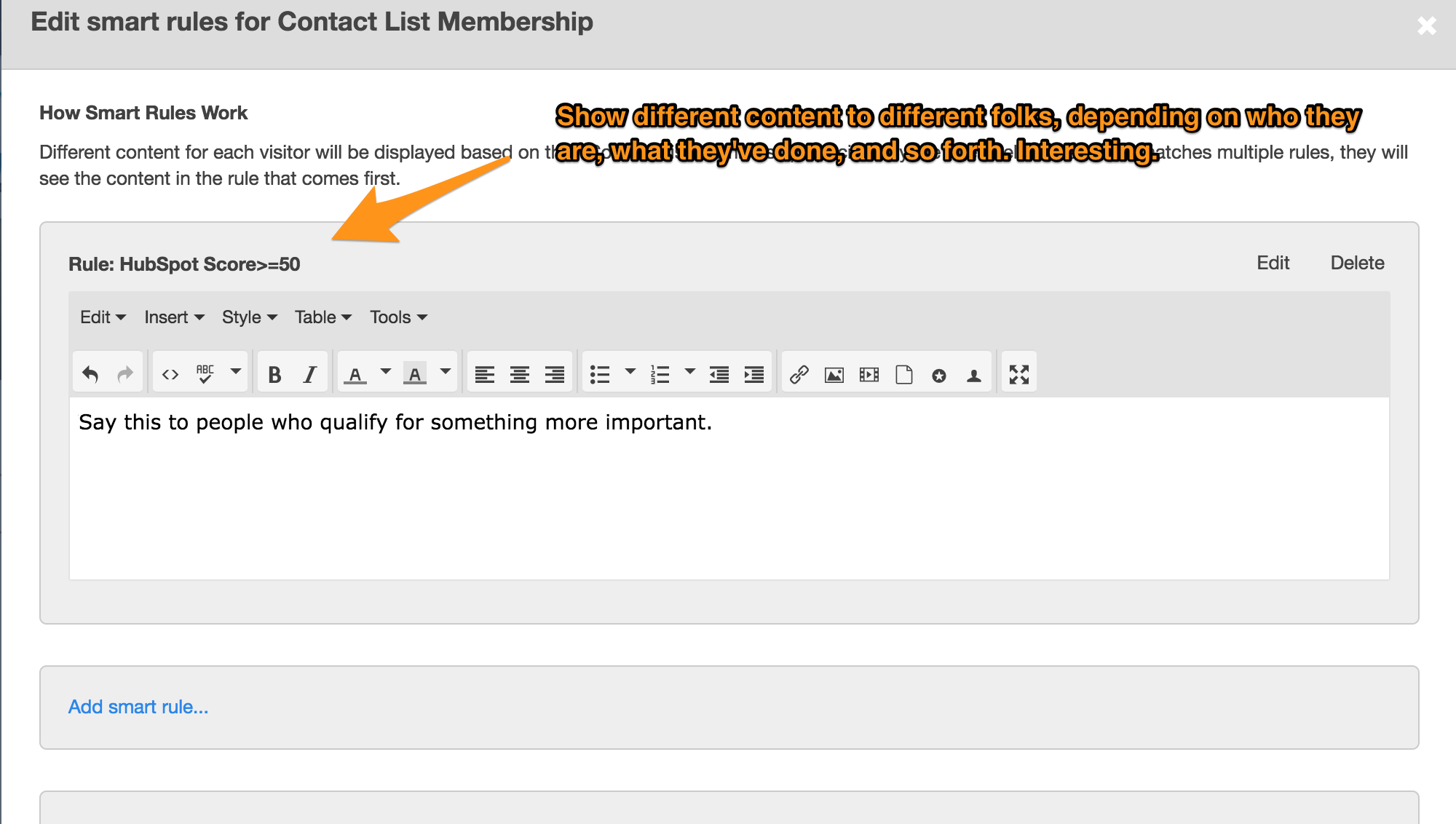 5. HubSpot CMS is built to be worry-free.
HubSpot handles your software updates. They provide excellent support when things don't go your way. They handle your backups. That's a good thing, too, because there doesn't seem to be any way for you to manually back up elsewhere, which makes me a bit nervous. But so far, none of our customers have ever lost data on HubSpot's CMS. So, we'll say this is a plus.
Getting Your Site Built On HubSpot CMS
There are three ways to get going on HubSpot CMS.
1. Have HubSpot move your site.
First, you can have the HubSpot team move your existing site to the CMS and they'll build the templates you need. That works well if you're in a hurry (I think it's usually done in under two weeks), but it also can mean you're missing a good chance to build your site in a way that fits your specific marketing strategy.
2. Buy a HubSpot template.
Second, you can buy some templates in the HubSpot Marketplace and customize them to match your branding. If branding is not super-critical to your company this is an excellent first step to the CMS. It allows you to focus your efforts on writing effective website copy.
3. Find a HubSpot partner for custom development.
The third option for getting your site onto HubSpot CMS is to find a design/development firm that specializes in it and work with them on building a new site from scratch. This is the most extensive investment but often it's a great chance to recalibrate your website to align with your priorities.
We can point you to several HubSpot partners that have built sites on the HubSpot CMS, and we'd be more than happy to introduce you.
Is HubSpot CMS worth the price?
One of the biggest challenges you may face with HubSpot CMS is the price. Even if you're paying $800 per month for the marketing platform, you'll need to spend another $300 a month for the CMS. That's a pretty steep price tag when you could use another CMS, like WordPress or—gulp—Drupal, to drive your website.
Honestly, if all you want is a CMS, there are plenty of others that you should consider. But if it's important for your sales team to have information on user journeys and interactions then the HubSpot CMS is a great option. It will radically change how you view your website.
For many of our own clients, the HubSpot CMS has been a brilliant choice. They can quickly publish content, measure the effect, and trace user interactions, which helps their sales teams close deals.
You can learn more about the HubSpot CMS here. Or, read about our first two years on HubSpot's inbound marketing software (since it's all, really the same thing). If you'd like to know more, just comment below and we'd be happy to help out.