Why HubSpot Will Boot Us From Its Partner Directory
Blog /

Why HubSpot Will Boot Us From Its Partner Directory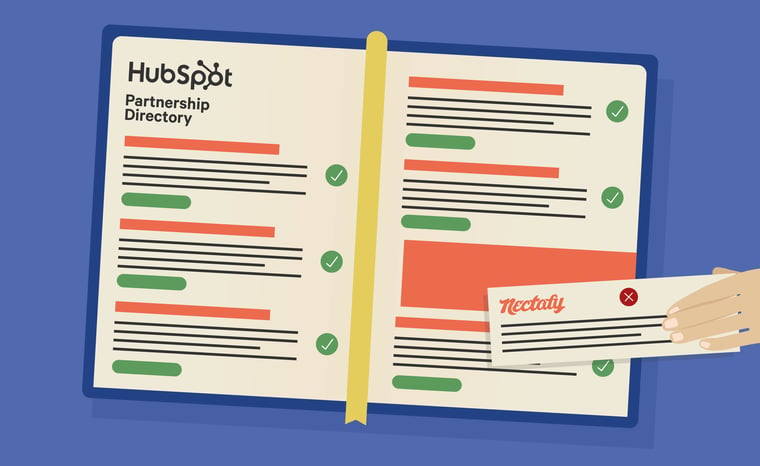 So this is the story all about how our devotion to HubSpot got flipped—turned upside down. Soon, Nectafy will no longer be listed on the HubSpot Partner Directory because we're going to be downgraded to a no-tier standing.
But it's not all about us. This article is also about helping you—businesses looking to grow their inbound marketing leads and conversions—determine which agency is right for you and whether you need HubSpot for your marketing efforts.
A Little Backstory…
HubSpot is a behemoth in the marketing software world, and with good reason. Their inbound marketing, CRM, and support software enables organizations to effectively manage leads, prospects, and clients all in one place.
In some ways it's like a really fancy sports car: If you have the expertise to drive it, it can get you where you want to go fast. But if you've never driven a sports car before, you're not going to be able to take advantage of all the bells and whistles it has to offer; it will just sit in the garage, sad and unused. And no one wants that when you can take your really fancy sports car out for a night on the town.
The essence of HubSpot's Partner Program is to provide customers with a network of marketing experts who can show them how to use HubSpot effectively—how to drive their fancy sports car, so to speak. However, there is a flaw in this plan.
It's really, really easy to become a HubSpot Partner; you essentially just need to be a paying HubSpot customer and commit to selling the software to your own clients, in addition to obtaining a certification. (We wrote a thorough review of that process here.) This means that some of HubSpot's partners may not be marketing experts. They may be good at selling HubSpot to their clients, but they may not know how to help their clients get good results using HubSpot.
Where Nectafy Fits In (And Doesn't Fit In Anymore)
For almost a decade Nectafy has been a HubSpot Solutions Partner, and recommending HubSpot to our clients has been baked into our process. Using our inbound marketing expertise, we've gotten tremendous results for our clients.
Nectafy outperforms companies that only use HubSpot as compared to those that use both HubSpot and Nectafy together.
If a company has 100 visitors per month and buys HubSpot, it can increase its website visitors to 289 per month after one year—an increase of 189%.
If a company has 100 visitors per month and works with Nectafy, it can increase its website visits to 1,706 per month after one year—an increase of 1,606%.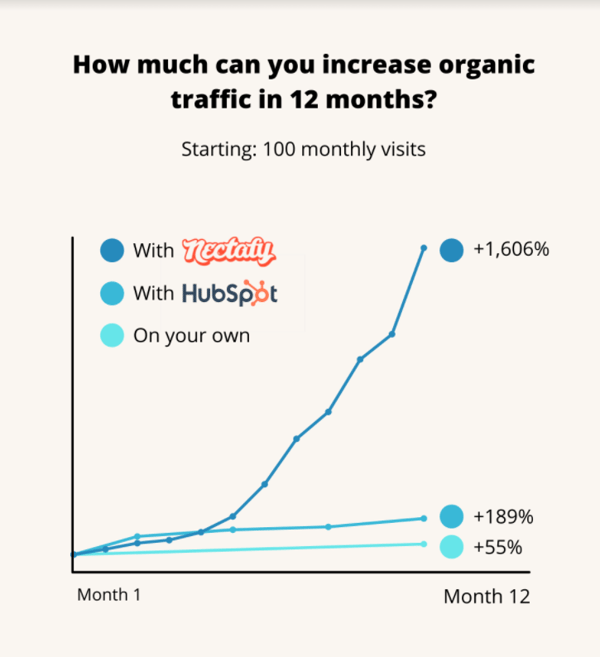 Since 2013, Nectafy has helped HubSpot sell and/or manage tens of thousands of dollars worth of product sales each year. As a proven partner, we were obviously shocked when we received an email saying we were being downgraded to no-tier status in the HubSpot Partner Program.
When we asked why, the reply we received was less than satisfactory: "Nectafy needed about $3,100 in sold credit in order to retain its tier status."
What does this tell us?
The HubSpot Partner Program doesn't evaluate or categorize partners based on their inbound marketing expertise, performance, or results. Their partner tiers are based only on how much revenue the partner can bring HubSpot in product sales.
The incentive in rising through the HubSpot Partner tiers then becomes about selling HubSpot, not about helping customers achieve stellar results.
If you take a look at the HubSpot Partner Directory, you'll see that the agencies in the highest tiers are outstanding sales firms—but may not necessarily be the best marketing agencies for HubSpot's clients.
Source: HubSpot

You may be wondering why Nectafy didn't just sell more of the software in order to stay in a higher tier in the program. While we used to onboard our customers to HubSpot as a mandatory part of our process, we have changed that over the last few years as we determined that HubSpot wasn't necessary for their success (remember that eye-opening chart above?). As a growth content agency, we've found that there are many HubSpot alternatives that work just as well. If a client is already using HubSpot or wants to use HubSpot, that's fine by us, but we no longer require it.
How much could your company grow with growth content?
Calculate your expected growth in organic visits based on the average Nectafy client.
Key Statistics
1,000
Month 1 Organic Visits
10,049
Month 12 Organic Visits
What should you take away from this?
HubSpot has a perfectly good product, and we still use it for our own marketing efforts. However, we think it's important to raise awareness of how HubSpot incentivizes its partners (and the lack of transparency there) so that potential customers can choose the partners they work with wisely.

If you're thinking about working with a HubSpot partner agency, here's what to keep top of mind:

Don't put too much merit in the tier. Gold, Platinum, Diamond, Elite—it has no standing on an agency's expertise with inbound marketing. As we've seen, it's just an indicator of the level of sales that the agency is producing for HubSpot.
Pay attention to the results an agency gets for its clients. Take a look at the agency's website, browse through case studies, read reviews and testimonials, and look at their clients' results. That's how you'll uncover the agency's marketing expertise and how well they know how to utilize HubSpot to reach client goals.
Look at the marketing agency's own marketing efforts. If you don't like how they present themselves or conduct their own marketing, you likely won't be too impressed with what they can do for you. Ask whether they use HubSpot for their own inbound marketing efforts as well.
Get organic leads and conversions—with or without HubSpot.
When it comes to inbound marketing, we know our stuff. We may no longer be on the HubSpot Partner Directory thanks to our no-tier status, but we've been getting our clients exceptional results since 2013.
Whether you're currently using HubSpot, want to try something else, or not sure what kind of inbound marketing software you need—we'll help you reach your inbound marketing goals. Reach out and get the conversation started.
Curious to know more about HubSpot? Check out our very detailed 100-page review right here.