7 Key Items Your Enterprise Content Strategy Might Be Missing
Blog /

7 Key Items Your Enterprise Content Strategy Might Be Missing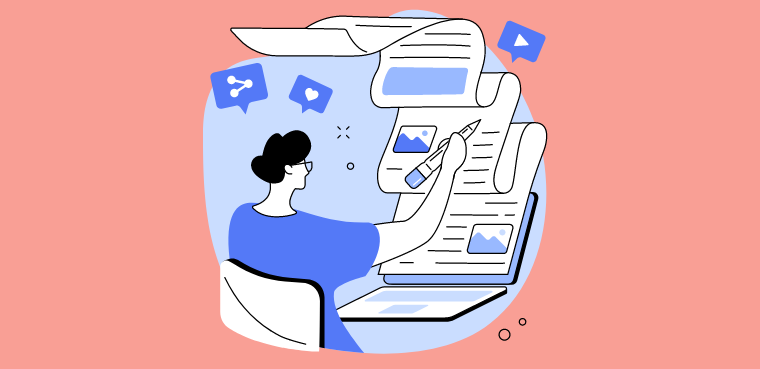 Content marketing continues to be one of the fastest-growing marketing tactics for most companies today.
In a recent Content Marketing Institute (CMI) survey, 71% of B2B marketers said that content marketing has become more important to their organization in the last year.
And as reported by Statista, the worldwide revenue of the content marketing industry has continued to grow over the past few years (with estimates of reaching over $130 billion by 2026).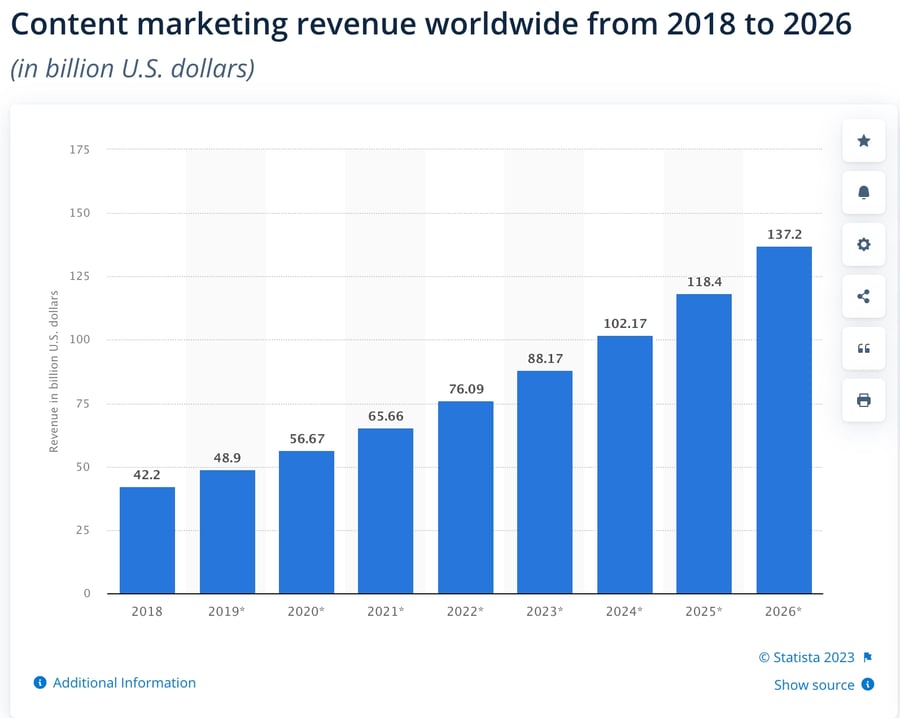 All that to say, content marketing is kind of a big deal these days.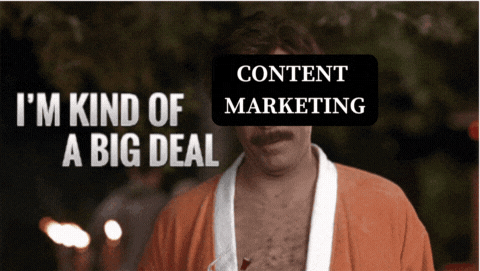 DreamWorks Pictures
If you work for an enterprise, chances are you and your team have already given content marketing a shot to help grow your company's website in the form of traffic and leads.
Have the results been favorable to your business so far?
If not, your strategy may be missing a few key things that need to be implemented before you start plugging away on those blog posts, white papers, and other delicious content assets you're hoping your target audience will eventually gobble up.
In this post, I'll identify those key elements and pass along my top tips for developing an enterprise content strategy that will help drive optimal growth for your company's website. (Note: Even if you're part of a smaller company that's not quite at the enterprise level, these tips will still be helpful!)
And guess what?
These are the same strategies we use across all our clients to help drive the massive results we've achieved for them over the years.
How much could your company grow with growth content?
Calculate your expected growth in organic visits based on the average Nectafy client.
Key Statistics
1,000
Month 1 Organic Visits
10,049
Month 12 Organic Visits
What is enterprise content marketing?
Enterprise content marketing is the practice of producing and distributing helpful content to your company's target audience for the purpose of attracting and engaging them.
Helping them to address their everyday challenges and obstacles simultaneously increases your brand awareness, and ultimately drives business growth overall for your enterprise.
7 Things Your Enterprise Content Strategy Might Be Missing
Carrying out content marketing successfully requires having an overarching enterprise content strategy that you and your marketing team can refer to in order to make sure everyone on your team is aligned with the goals and objectives of your content strategy.
With more moving parts and business factors to consider at the enterprise level of business, building a cohesive content strategy can be like figuring out a highly complex equation.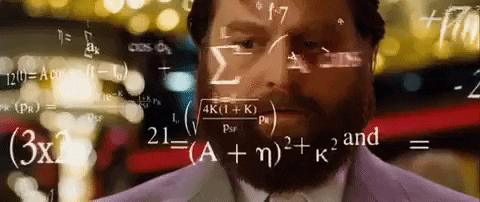 Warner Bros. Pictures
That's why you need to be very intentional with how you document everything that you and your team are working on, and how it all ties back to your overarching business goals.
With that, here are the seven key items that might be missing from your enterprise content strategy efforts:
A Primary Spreadsheet For All Your Strategy Efforts
Measurement Of Your Website's Online Presence
In-Depth Buyer Persona Profile
Realistic Keyword Targets
Planned Content Calendar
A Documented Process To Follow
Monthly Reporting Dashboard
1

A Primary Spreadsheet For All Your Strategy Efforts

As I alluded to above, proper organization is one of the key elements of a sound content strategy.

The reason for this:

Without being able to point to a specific objective for each piece of content you produce, you run the risk of not being able to understand the success of said content.

That's why we set up each of our clients with a dedicated strategy spreadsheet (what we like to call a NectaPlan spreadsheet) that stores all the vital information for their respective content marketing strategies.

With multiple tabs covering all the different components of our strategy (like buyer persona(s), keyword targets, and content calendars), we've found this is one of the most efficient ways to organize an enterprise content strategy, as opposed to hunting down a bunch of different documents to understand how the various pieces of your strategy all fit together.
2

Measurement Of Your Website's Online Presence

If you're planning to grow your company's website, it helps to know where you're starting from.

That's why one of the first things we do when onboarding a new client is measure a few key KPIs around their site to help gauge their online presence.

We like to call this a health check.

Health checks help us better understand which keywords/topics are more suitable for us to pursue within the first few months and which ones are out of reach, in terms of getting keyword rankings and growing organic traffic.

Think of this like a mini site audit, where you're checking to see how your company's website has been performing over the past few months and where you currently stand among your competitors.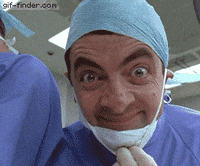 PolyGram Filmed Entertainment
Ideally, you want to capture the following data points in your health check:
Date you recorded your data
Your website's domain authority
Average monthly organic sessions (past three months)
Average monthly blog pageviews (past three months)
Number of total page one keyword rankings (using a tool like Semrush or Ahrefs)
Average keyword difficulty for all keywords on page one of Google (using the same tools as above)
Average keyword difficulty for all keywords on page two of Google
Average keyword difficulty for all keywords on page three of Google
Website speed for both desktop and mobile (using Google's PageSpeed Insights tool)
Once you've recorded all this data, you'll have a much better idea of how your company's website has been performing.
You'll also be better positioned to identify opportunities for improvement.
We also recommend performing a new health check at the start of each quarter to ensure you're keeping track of how your enterprise content strategy is helping to improve your online presence.
3

In-depth Buyer Persona Profile

As a general content marketing best practice, every piece of content you produce should be geared toward a specific target audience.

This targeted approach helps inform the tone and style of your content, as well as the information you need to include.

Without a specific target audience in mind, you run the risk of creating something that fails to connect with anyone due to it being either too broad or too in-depth, depending on who's actually reading it.

Plus, if you're ever having trouble with planning or writing content around a certain topic, you can always ask yourself:

"How would this piece of content best help my target audience and their needs/wants?"

Simply put, think of your target audience as your creative North Star for all your content efforts.

This is where having a fully-fleshed buyer persona comes into play.
What is a buyer persona?
A buyer persona is a semi-fictional representation of your target audience based on market research from your existing customers.
So, how do you create one?
The best way to construct your buyer persona is through conducting short interviews with some of your ideal customers and asking them questions about the daily challenges they face within their roles.
Alternatively, you can send them a Google Form with your interview questions if your customers don't have the bandwidth to hop on a call with you.
Here's a list of 15 sample questions you can use for your buyer persona interview process:
What is your title?
How is your job/role measured?
Who do you report to?
Who reports to you?
What are you responsible for?
What's important to you?
What does it mean to be successful in your role?
What's driving you to change?
Who do you have to convince to make a change?
What skills are required to do your job well?
What knowledge do you possess?
What are your biggest challenges?
How do you learn new information for your job?
What publications or blogs do you read?
What associations and social networks do you belong to?
In addition to your buyer persona, you'll also want to create a buyer question matrix.
A buyer question matrix is a series of questions that reflect what your persona is thinking at different stages of the buyer's journey.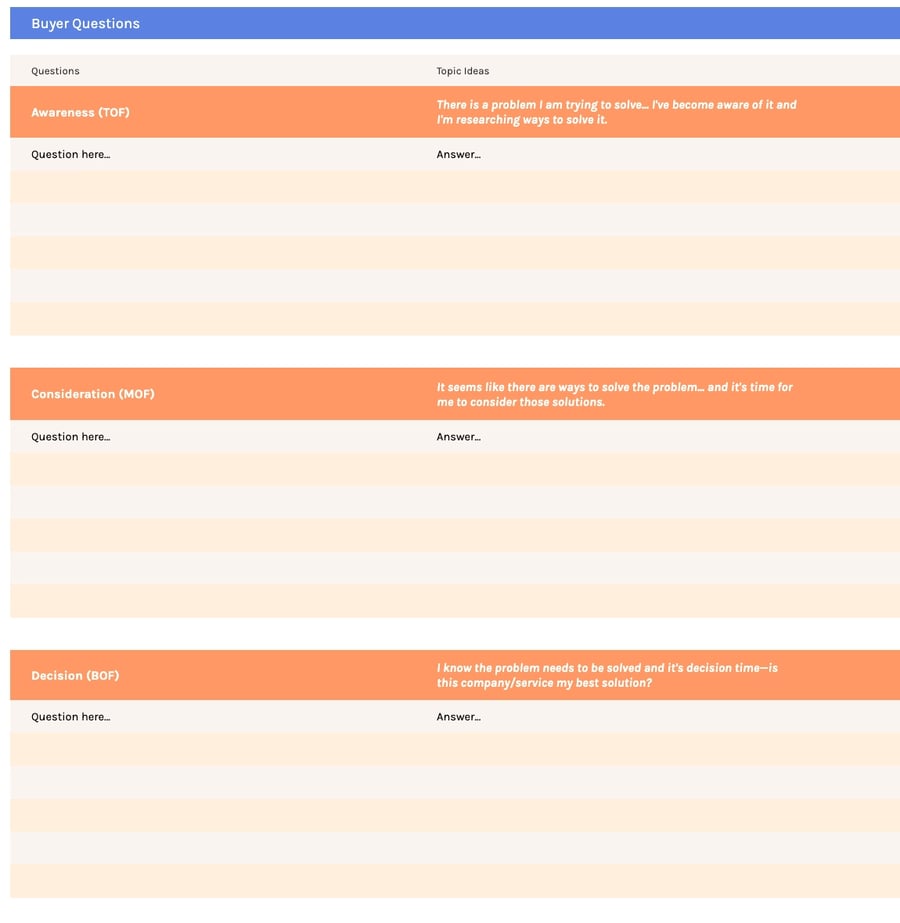 At Nectafy, we think of the buyer's journey as having three stages:
Awareness (aka top-of-funnel): The person has become aware of a problem and is researching different ways to solve it.
Consideration (aka middle-of-funnel): The person has found a few ways to solve their problem and is considering those various solutions.
Decision (aka bottom-of-funnel): The person is vetting your company to determine if it is the right choice.
Now, let's say we have a buyer persona who's focused on getting some help with their content marketing efforts 😉
Below are some example questions that this persona might have across each stage of the buyer journey:
Sample Questions For A Buyer Question Matrix (Content Marketing Persona)
Awareness (TOF)
What is a content audit?
How do you create a content marketing strategy?
What are the best lead-generation strategies for content marketing?
Consideration (MOF)
What's the average rate for an outsourced blog post?
Should I hire an in-house content marketing team or a content marketing agency?
How effective are AI writing tools for scaling up blog content?
Decision (BOF)
How long does Nectafy's onboarding process take?
What are some examples of how Nectafy has helped companies similar to mine?
Can Nectafy help us with other website-related projects?
After you've built out your buyer persona and buyer question matrix, you can move on to the process of keyword research for your enterprise content strategy.
4

Realistic Keyword Targets

Targeting the right keywords with your content is vital to creating consistent organic traffic, especially if you're just starting out with a new blog for your website.

If you try going after keywords that are too difficult for your blog posts to rank for, you could be creating content that never brings in any site traffic past your initial promotion efforts upon publishing it (via email and/or social media).

Blog posts that take up space on your website but don't generate any value are typically referred to as "zombie pages" within the SEO community.

This usually occurs due to a lack of keyword rankings associated with them (or no rankings at all, in some cases).

Be careful in choosing your keyword targets for each piece of content you produce, and don't set your sights on keyword goals that are unobtainable for your website.

There are plenty of different ways and tools to perform keyword research and analyze realistic keyword targets, but here at Nectafy we like to utilize Semrush for most of our research efforts.

They even include a nifty Keyword Difficulty metric in their data that quantifies how hard it would be to rank for each particular keyword in their index.

For more information on how to be realistic with your keyword targets, check out our step-by-step blog post about using Semrush for keyword research.

As you look through your keyword research data, you'll want to keep track of the overarching topics that encapsulate multiple keywords.

These are typically broader keywords with a large amount of search volume behind them.

For example, "content marketing" is a top keyword topic for us here at Nectafy, while something like "enterprise content marketing" would be a sub-topic that falls under it.

Ideally, you should aim for creating a list of around three to five keyword topics with at least 10 sub-topic keywords grouped underneath them.
This is what's commonly referred to as keyword topic clustering.
5

Planned Content Calendar

Consistency is key to a successful enterprise content strategy, and you can't have that without a detailed content calendar.

This is very important because it holds you and your team accountable for maintaining a consistent content production workflow.

To schedule your content calendar, take your realistic keyword targets and plan a piece of content that ties back to each of them within your content marketing spreadsheet.

Here's a quick breakdown of what this should look like in your spreadsheet (each bullet point denotes a new column in your spreadsheet):
Author—Who is the person on your team that will write this post?
Target Publish Date—When this post will go live?
Title—What is the title of this post?
Keyword Targets—Which three to five keywords will this post target? (They should ideally be closely related to one another.)
Content Outline—What are the main points this post should cover? What questions will it answer for your buyer persona?
For more information on planning out each specific blog post, check out this blog post about writing blogs for your business.
6

A Documented Process To Follow

To optimize your enterprise content marketing efforts, you need to create a process that directs how you and other members of your team will move through the content production process.

This includes not only how you write and publish your content, but also how you do your initial keyword research and content planning.

Just like the content calendar and primary spreadsheet mentioned in the point above, these process documents help ensure everyone on your team is on the same page with what needs to be done when it comes to your content strategy efforts.

At the end of the day, it's important that you have a roadmap you can point new members of your team toward so you can be consistent with the quality of your content.

Here at Nectafy, anytime we work on a new project or task we always try our best to document the steps involved. We've even created blog content from these process documents.

Like this step-by-step content editing article we recently published.

An easy way to do this is to simply open up a blank Google doc (or a virtual notepad) and jot down bullet points of all the steps you and your team have taken to get content published on your company's website.
7

Monthly Reporting Dashboard

By tracking the results of your content marketing efforts on a monthly basis, you'll be able to better understand which pieces of content are resonating with your audience, and which ones aren't.

This is important because it helps ensure that you and your team are focused on improving your established key performance indicators (or KPIs) rather than just aimlessly publishing new content each month without relying on performance data.

With a monthly reporting dashboard, you and your team will also be able to easily relay how your enterprise content strategy is impacting your company's website traffic and leads.

This leads to better collaborations between your team and other departments in your company (especially the C-suite of your enterprise).

The KPIs of your enterprise content strategy should align with your company's overall goals, but typically you should be looking at the following metrics on a monthly basis:
Organic traffic
Organic leads
Keyword rankings
Here's an example of what a typical reporting dashboard looks like for one of our client's monthly reporting calls: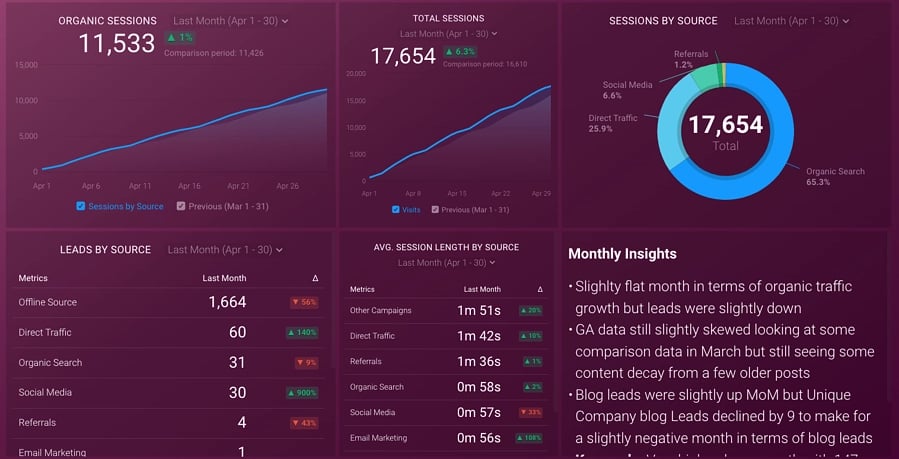 We find that this is where most companies get lost in their enterprise content marketing process—actually tracking the progress of their content efforts.
Mostly this is due to their lack of overall bandwidth, but a monthly reporting dashboard removes the need to constantly crunch data at the beginning of each month because this data is being pulled automatically into your dashboard.
As you start to dig into the data month after month, you'll start to realize which content is resonating more with your target audience; that information, in turn, will inform your future content planning efforts.
For more information on monthly reporting for your content marketing, check out this blog post, which covers how we use Databox for reporting.
For an enterprise content strategy to work, it requires preparation, organization, and consistency.
As the internet continues to evolve and new ways of reaching and educating your target audience continue to pop up, it's clear that content marketing isn't going anywhere as a business tactic anytime soon.
If you're thinking about scaling up your enterprise content strategy (or giving it another shot after failing the first time), make sure you're putting in all the prep work before you start churning out articles to maximize the impact it will have on your company's website.
The same goes for once your content's been published too—you need to make sure you're properly evaluating the results of your content efforts in order to prioritize content that aligns with your buyer persona and has an impact on your website.