Writing A Blog For Your Business: 7 Key Tips
Blog /

Writing A Blog For Your Business: 7 Key Tips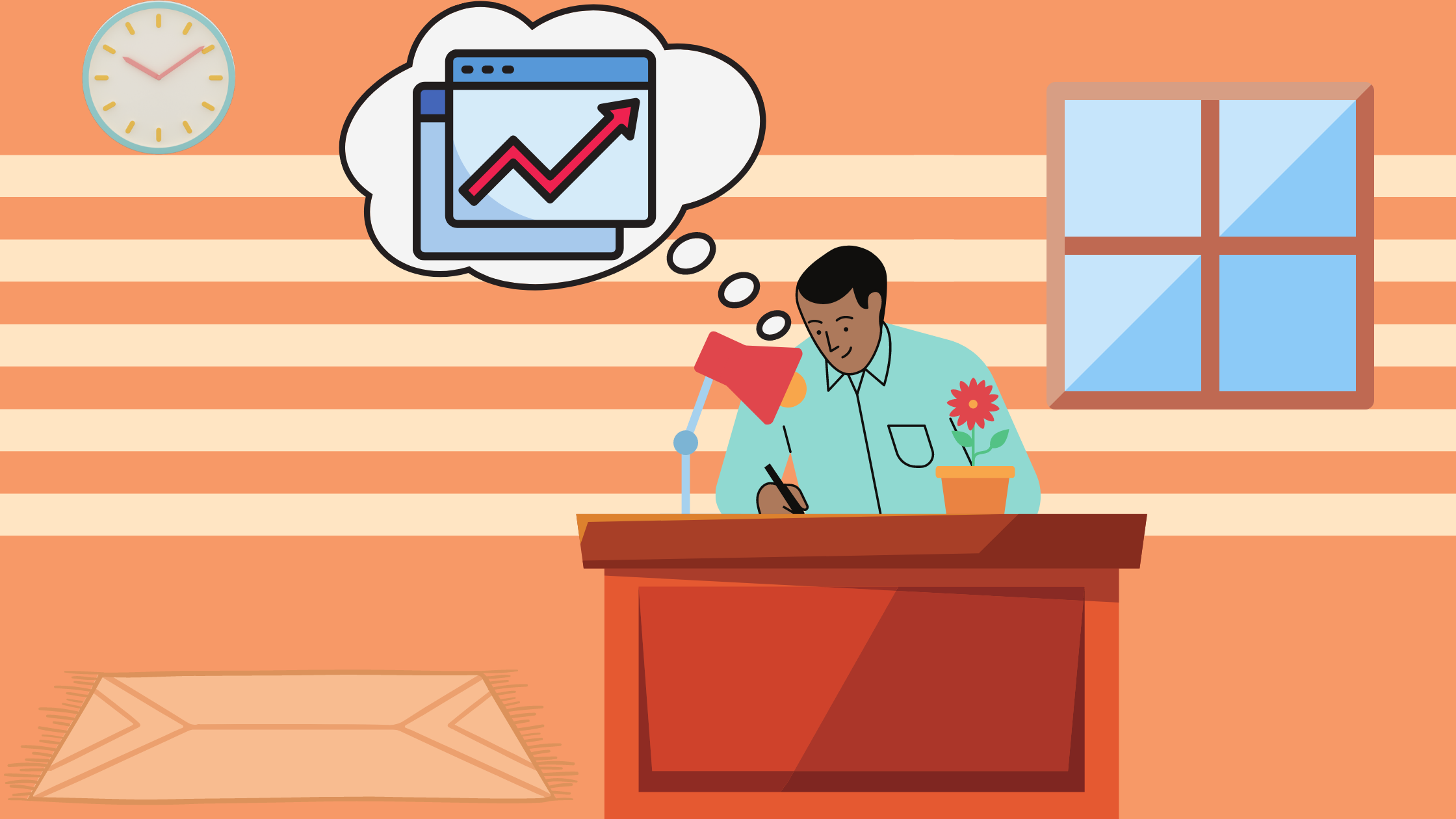 If you're a small business owner, you've probably heard about the many benefits that blogging can produce for your website, as well as your business overall.
But how do you go about writing a blog post for your business?
More importantly, how do you ensure you're not wasting your time with your blogging efforts that could have otherwise been spent promoting your business in a different way?
In this post, I'm going to share with you the most important tips we've learned over the past few years planning and writing content for our clients across various industries.
By using the same key tips listed below, we've managed to generate significant results for our client's websites, including the organic growth seen below from one of our more recent clients that recently launched a new website earlier this year.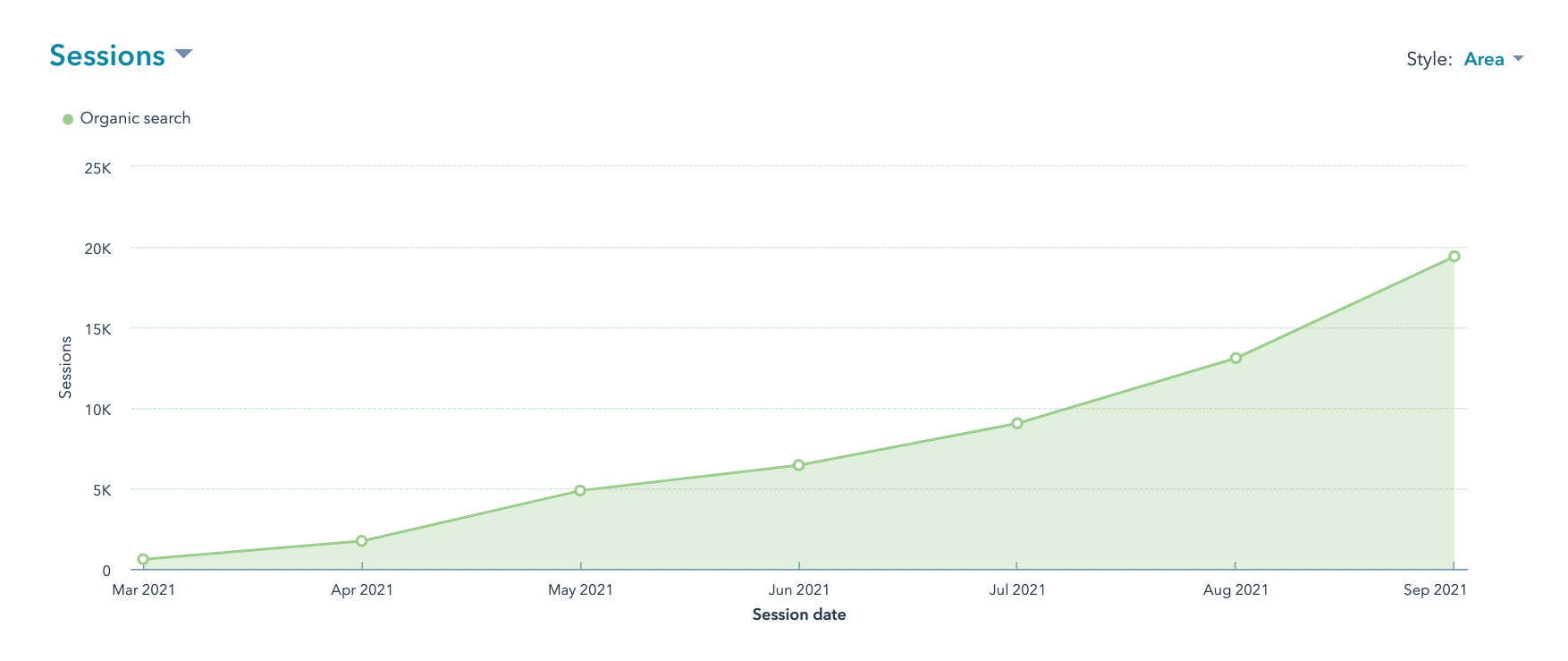 Example of Nectafy client growth
Do you want to find out how to use a blog to promote your business? Follow these seven key tips:
1

Know Your Target Audience

One of the very first things you'll need to do before you even pick up the pen (or keyboard) is gain a better understanding of the needs and wants of your blog's target audience.

This is where the Buyer Persona comes into play.

As defined by HubSpot, a Buyer Persona "is a semi-fictional representation of your ideal customer based on market research and real data about your existing customers."

If your business has different sets of audiences that use your products or services, you'll want to focus on building your first Buyer Persona around the audience segment that best reflects that ideal customer for your business.

A simple way to build out a Buyer Persona for your company is reaching out to some of your existing customers/clients and asking them questions that revolve around their daily tasks and responsibilities, their needs and wants, and any challenges or obstacles they have to overcome in their job or industry.

To help get you started, here's a list of 15 questions we use when building out Buyer Persona profiles for our clients:
Buyer Persona Questions To Ask Existing Customers
What is your title?
How is your job/role measured?
Who do you report to?
Who reports to you?
What are you responsible for?
What's important to you?
What does it mean to be successful in your role?
What's driving you to change?
Who do you have to convince to make a change?
What skills are required to do your job well?
What knowledge do you possess?
What are your biggest challenges?
How do you learn about new information for your job?
What publications or blogs do you read?
What associations and social networks do you belong to?
Once you have a better understanding of this target audience, you'll be able to start planning out content for your blog that aligns with their needs and wants.
2

Plan Out Each Post Before Writing

As you can see from the first tip above, there should be a lot of planning and prep work involved before you go through the actual process of writing out a blog post for your business's website.

The main reason for this? You don't want to blog just for the sake of blogging.

Here's what I mean: If you put in the time and effort to produce blog posts for your company's website, you'll want to make sure they're helping produce positive results in some shape or form (organic sessions, leads, backlinks, etc.).

This is why it's important to plan out each of your blog posts, so you have an idea of what value they can provide for your website before you even start writing.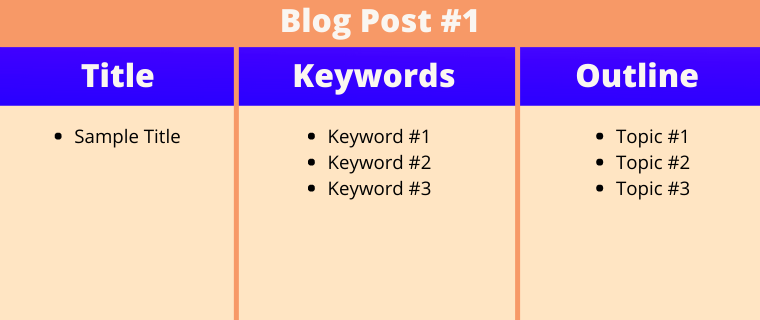 Example of what a planned blog post looks like
One of the first things you'll want to plan out with each blog post is setting your target keywords.
These are the words your target audience would type into a search engine to find more information on a certain topic.
And in order to set your target keywords, you'll also want to perform what's known as keyword research.
While we use SEMrush for our keyword research efforts, there are plenty of free tools available online. Here's a few of them to help you get started with your keyword research efforts:
Once you've identified the keywords you want to go after for each blog post, then you'll want to plan an outline of the topics you'll be covering throughout the post.
Finally, once you have your list of target keywords and a general outline of what the post will be about, you can start writing your blog post.
As you go about your keyword research, keep in mind which keywords are actually obtainable for your website and which ones are out of reach – which brings me to our next tip in this list.
How much could your company grow with growth content?
Calculate your expected growth in organic visits based on the average Nectafy client.
Key Statistics
1,000
Month 1 Organic Visits
10,049
Month 12 Organic Visits
3

Set Realistic Keyword Goals

One of the largest components of good keyword research is identifying realistic keyword goals for your blog.

Not every website is built equal and, trust me, Google is well aware of this fact.

This is why you'll usually see larger websites (like Wikipedia, Forbes, or Investopedia) ranking for larger keywords like "marketing" or "business."

And that's why it's very important to try to set realistic keyword goals for each of your blog posts.

While we use a combination of different keyword metrics and insights to set these realistic goals, an easy way you can start going about this research is to compare your website to the existing websites already ranking for one of your intended keyword targets.

In order to do this, all you need to do is download the free MozBar extension for your browser, look at the Domain Authority for your company's website, and then compare that to the other websites currently ranking on page 1 of Google for your intended keywords.

If you find most of the websites have a much higher Domain Authority than yours, then maybe it's best to target a different keyword.

Now, what if you still want to write about a certain topic but the keywords seem out of reach for it?

Have no fear, long-tail keywords are here!

Simply put, long-tail keywords are keywords that have more words in them and usually have smaller amounts of search volume behind them.

For example, let's say you're trying to write a blog post about blogging for business.

Originally, you thought "business blogging" would be your intended keyword target for this post, but then you found that it's too competitive based on the websites currently ranking on page 1 for this keyword.

But if you look at the keyword "blogging for your small business," you'll see it has a lower monthly search volume, and it has websites with lower Domain Authorities that align closer to your website's own Domain Authority (is it getting a bit meta in here, or is that just me?).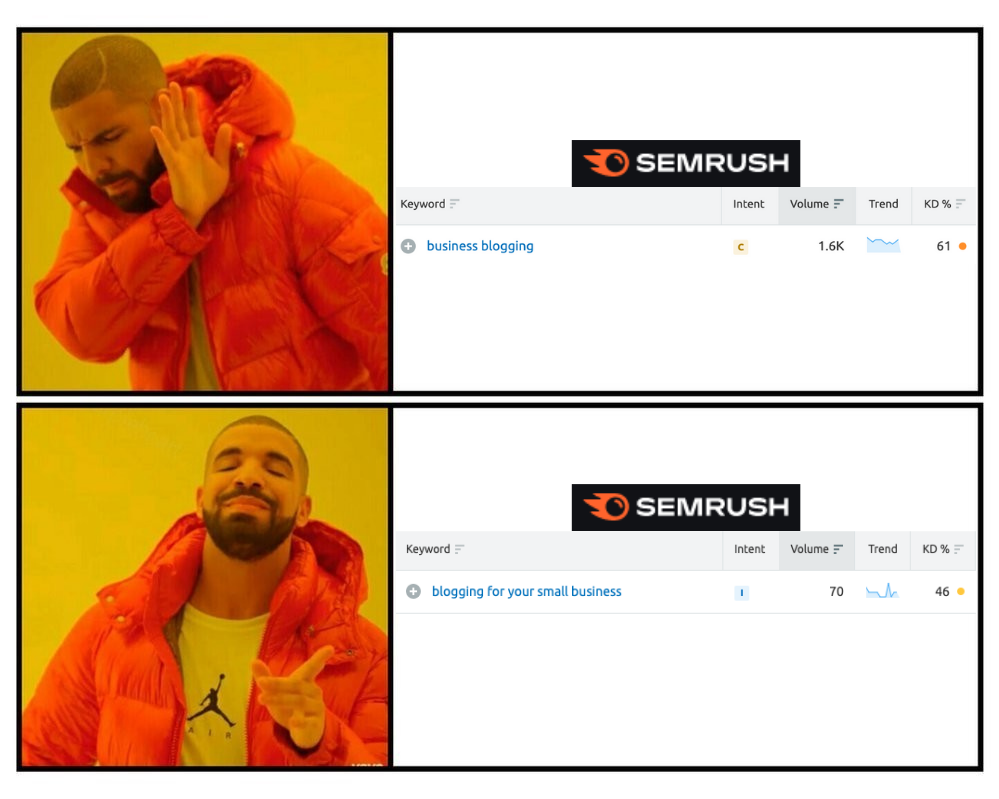 Unrealistic vs. realistic keyword targets for smaller websites
You're still able to write about your intended topic ("blogging for business"), except now you're able to do it with more realistic keyword goals that are actually attainable for your website.
4

Write Longer Content Than What's Currently Out There

Aside from Domain Authority and the actual content included in your blog, one of the most important ranking factors for your content has to do with the following metric: average time on page.

This metric looks at the average amount of time spent on a page by taking the sum of all page view durations divided by the total page views during a given time period, and you're more likely to have a higher number for this metric if your blog posts are longer in length.

So, the next time you're looking at articles from competitor websites or websites with keyword targets similar to yours, think about how you can make something lengthier and address more questions to help your target audience who's searching for those associated keywords.

To drive further on this point, HubSpot released data last year that showed the most common blog post length for their top performers was between 2,100-2,400 words.

Just make sure you're creating helpful content with useful and unique information shared throughout it, rather than repeating the same few points every couple of paragraphs. Not only will your readers notice this clear lack of effort but Google's crawlers will notice it too – resulting in fewer keyword rankings for your blog posts and less organic traffic for your site overall.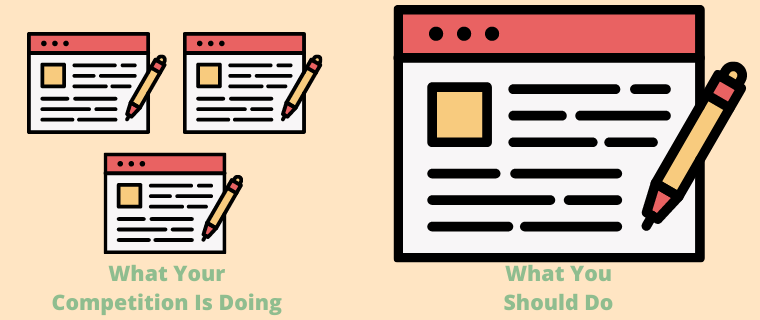 5

Simplify Your Titles And URLs

One of the simplest ways to help your blog post gain keyword rankings has to do with the way you classify it among the other pages and content spread across your site.

To help improve your site's user experience (UX), make sure you're taking the following steps so users can easily understand what each article on your site is all about:
Keep your blog post title short and sweet – usually between 7 and 10 words.
Try to include your primary keyword target in the URL so users know which topic it covers.
Don't duplicate: Make sure each URL and title are different enough from other pages so Google doesn't think you're producing duplicate content on your website.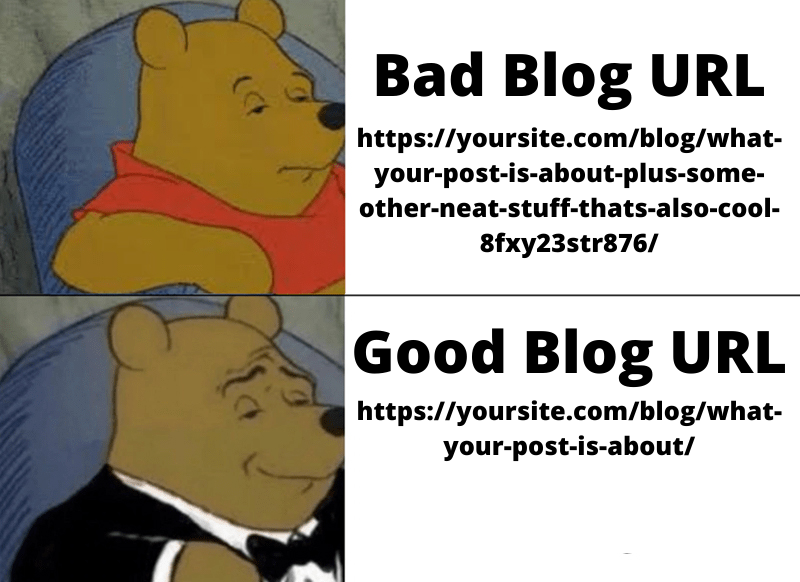 6

Utilize Your Team's Knowledge

This is the part that separates truly great business blogging from mediocre business blogging; the source of your content.

Where some businesses might want to write a topic they're somewhat familiar with, read a couple of articles on said topic, and then write an article regurgitating the same stuff they found online, our approach here at Nectafy revolves around a very necessary component to creating best-in-class content for all our clients: Subject Matter Experts (SMEs).

This is one of the core components behind Growth Content and has helped us generate impressive results like this for nearly all our clients.

You can create the same setup for your business blog too. Just make sure each blog post a writer works on has an SME associated with it so the writer can lean on that person for specific industry knowledge and understanding about how to tie certain topics back to your company.

Using the SME-driven approach to writing your blog posts will not only make your content stronger, but it will also make your business stronger by highlighting and championing the expertise and knowledge of different individuals across your company.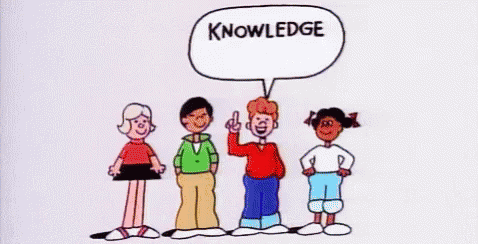 7

Use Offers To Convert More Leads

Inbound marketing offers are defined as pieces of content that you offer your prospects and leads for free, in exchange for information about themselves.

These can consist of various items like Ebooks, Guides, White Papers, Webinars, etc. – simply put, if a user has to input their contact information in exchange for a piece of content on your website, you can consider it an offer.

These offers are one of the driving forces behind converting the organic traffic we build for our client websites because, as I'm sure you already know with your own business, not everyone who visits your website is ready to schedule time for a demo of your software or a consultation call to discuss a quote for your services.

This is where offers come into play: They help you convert the traffic that's not yet ready to discuss purchasing your software or services but is interested enough to learn more about the knowledge and expertise that your company can provide them.

Want to see an example of an offer being used to help convert more leads? Check out our How To Create A White Paper Checklist to see how we do this on our own website (and maybe learn a thing or two about creating your own white paper for your company's site).
Not Enough Time To Write Your Own Blog Content?
Have no fear, Nectafy is here (to help you write content for your website)!
Just schedule some time with our founder, Lance, and he'll discuss what Nectafy can offer for your business to assist with your challenges and goals, as well as practical tips on how to grow your business using growth content.