How To Build A Top-Notch Content Marketing Team
Blog /

How To Build A Top-Notch Content Marketing Team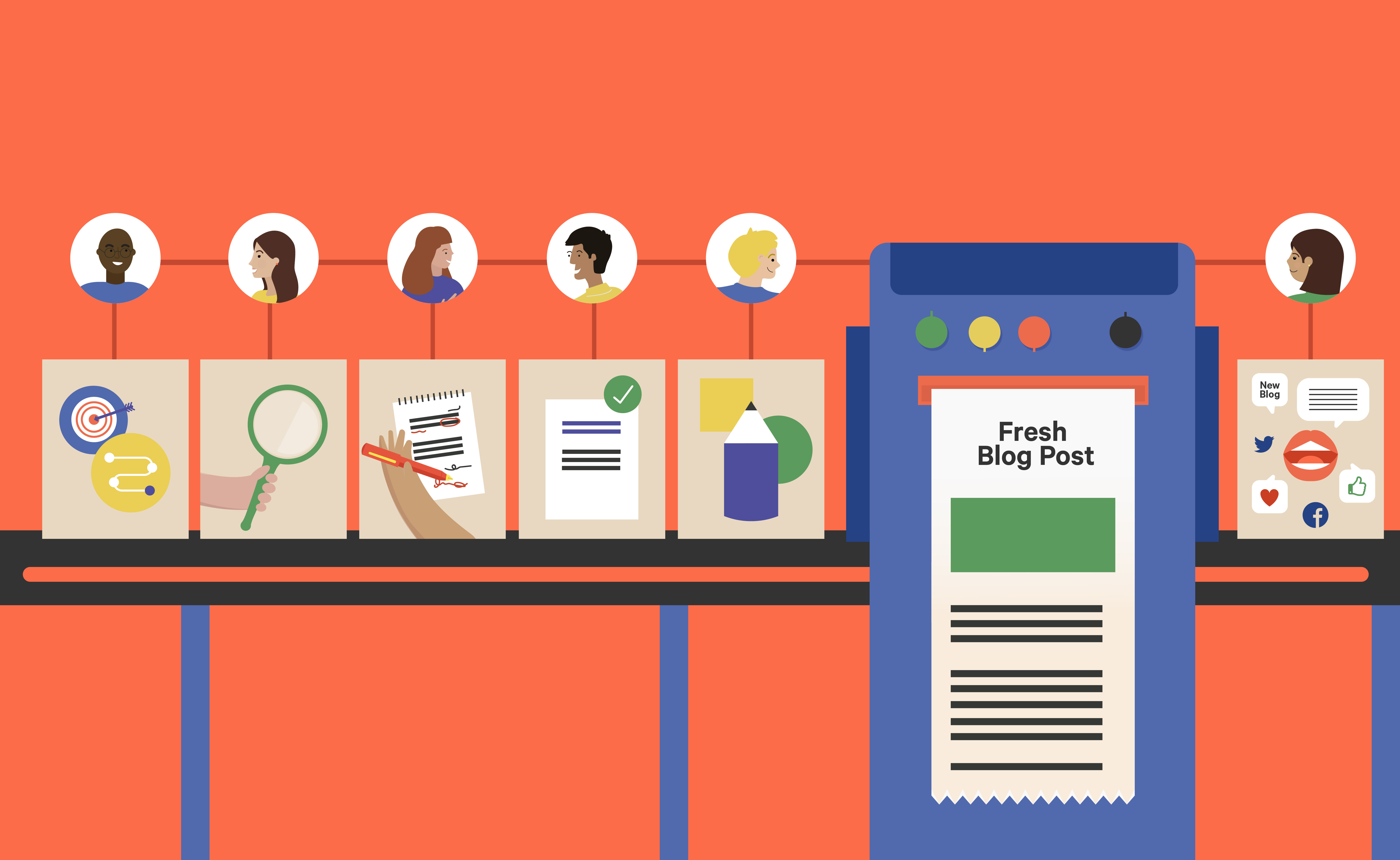 If you'd asked us just a couple of years ago how we produce a top-notch blog post, we'd have said we have a lock on the process: We have SEO strategists research relevant keywords, hire amazing writers, and connect them with knowledgeable subject matter experts (SMEs). Back then, we considered the production of blog posts to be largely the job of the writer, with help from the SEO strategists and SMEs.
Now, we have a substantially different view of the process. Don't get me wrong—all of the above elements are still required. But in striving to create top-notch content, we realized we had to do more—and that it would take a fuller content marketing team to get the job done.
We're still working on implementing what we consider to be the future of content creation, but before we get into that, let me explain what we mean by "top-notch content."
What is excellent content?
For content to rank highly in Google and other search engines (which is, of course, the point), Google's own John Mueller said one factor was most important: "awesomeness."
Sounds a little vague, eh? Thank you, Google.
That leaves you and me to make the determination, and most likely everyone has a slightly different view of it. (Check out the survey responses we collected on this topic below.) Here are the elements we think need to be present to create top-notch content that meets search engine criteria for high ranking:
It has to be helpful. Google's goal is to deliver results that will answer people's questions; we agree that your content must meet this criterion in order to be helpful.
It has to be original. Articles that are simply a rehashing of content that's already out there on the internet are less helpful. Custom data presentations and original content forged from fresh perspectives, thorough research, and dedicated expertise are the keys to excellent content and visibility on search engines.
It must be well-written. If your content isn't clearly written, easy to understand, and error-free, you'll attract fewer readers.
It must be well-formatted. The content must be easy to follow and scannable. Google's search algorithm, for its part, mimics the habits of astute human readers: It uses headings to understand and rank content.
It must have a visual component. Visuals help people process information, a concept that's especially useful for tech companies whose products may be complex.
It must be substantially lengthy. Time on page is one of the most important ranking factors for Google, because it implies that readers are engaging with your content.
All this sounds great, but raises a salient question: Can a writer be expected to provide all this on their own?
As a writer, I can tell you that the answer is definitively no.
That's what brought us to the realization that we need to look at content creation differently. Rather than assigning a writer an article by rote, we began thinking about a team of people.
The Ideal Content Marketing Team: Roles And Responsibilities
To ensure each post hits all the above-mentioned bull's-eyes, a content creation team should consist of nine people: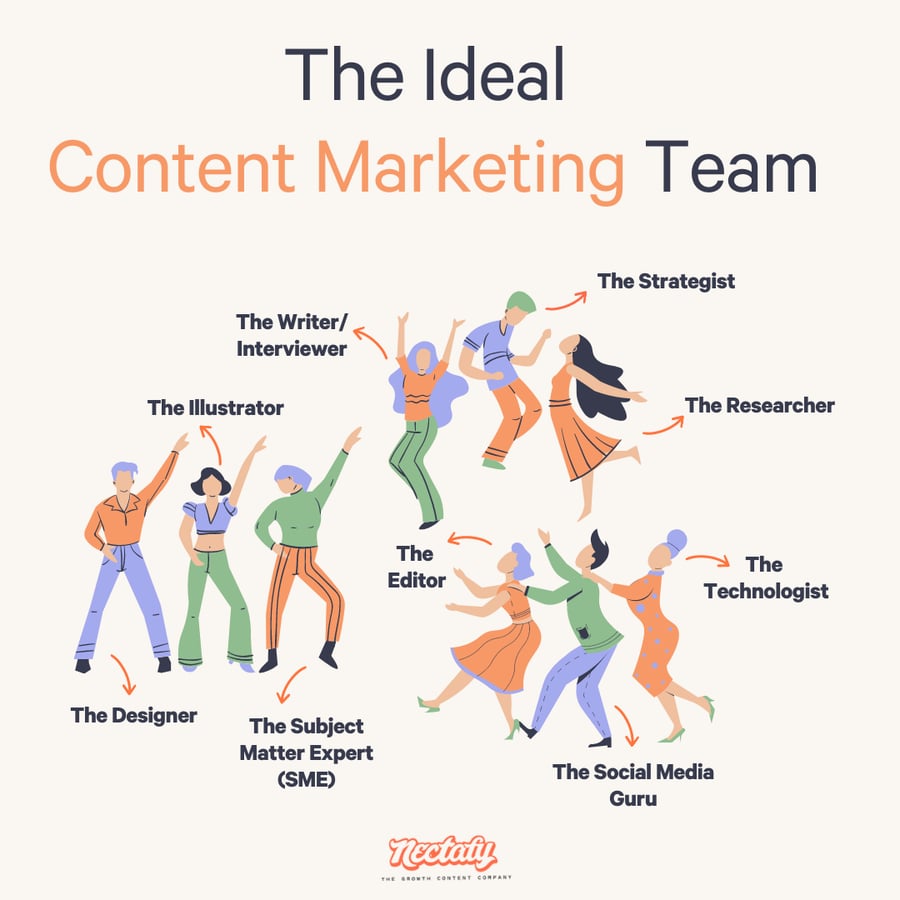 1

A Strategist

The main job of the strategist is to plan content that expressly addresses the needs and desires of a target audience, ensuring it's helpful and that it will reach the audience. In that interest, the strategist also does buyer persona research and applies SEO knowledge and skills. The research will determine what you'll publish monthly to get keyword rankings that will draw more of your target audience.

What The SEO Expert Contributes (In The Words Of Our Survey Respondents):

"[Familiarity with the target audience.] There are a surprising amount of blog posts that fail to connect with their intended readers. Consider who you're writing for at every step of the process, from pre-planning to post-editing. First and foremost, consider the big picture. Is there a topic you'd like your readers to focus on? If so, what do you want them to take away from your article? Your writing will be more effective if you know who you're writing for and what you want to achieve."

—Jason Ball, Director l Considered Content

"[Keyword research.] If you want to get seen on search engines, you'll need to include relevant keywords in your blog posts. It's no longer acceptable to cram your post with the same two or three words or phrases repeatedly, as this was never how keywords were meant to be employed. Be natural when using keywords. Write for your readers, not for the internet's sleuths. You should include four to eight keywords in your post, but only if and when they appear naturally in the material — never try to push one, and never repeat a keyword over and over. In Google's perspective, you'll be viewed as spammy. Titles and subheads, where keywords are more prominently displayed, are very beneficial for SEO purposes. But here, too, good writing comes first, and keywords follow."

—Kevin Lindquist, Founder/Creator | Healthy Dad Days
2

A Researcher

Presenting a relevant set of statistics or industry-related data is an excellent tactic for growing a blog—we refer to these posts as "database posts." These articles have the potential to instantly become one of the best resources on the internet for any given topic. It's a researcher's job to conduct exhaustive primary research, making sure their facts are both helpful and accurate, and that all external sources are linked to.
3

A Subject Matter Expert (SME)

A subject matter expert is someone whose expertise in their particular field is rooted in seasoned knowledge and on-the-job experience. SMEs play a central part in crafting original, informative content because they don't simply regurgitate widely available information; they speak from first-hand knowledge and experience. They usually have their own take on relevant subjects, which makes their perspective all the more valuable, and certainly not something readers can get anywhere else. Subject matter experts are crucial for producing helpful, original content.

What The SME Contributes (In The Words Of Our Survey Respondents):

"[Expert insights.] Blog posts are often intended to provide new information to your audience while also persuading them from the perspective of a subject matter authority. Consider seeking insights from people who are experts on the topic you are writing on, either by sending interview invites to them or posting queries on platforms such as HARO, especially if you aren't a subject matter expert yourself. Furthermore, it's always a good idea to cast a broad net to see what other people have to say about the same topic. It may also provide you with insights around gaps in your own message, as well as the opportunity to compare and contrast your theories with those of others in your field of expertise. Make sure to provide credit where credit is due if you decide to use content from a third-party source."

—Josh Pelletier, Chief Marketing Officer | BarBend
4

A Writer/interviewer

Writers do double duty in our content creation process: They interview subject matter experts and then translate that information into a coherent, easy-to-understand, engaging blog post. In our approach, writers must also be good interviewers; they not only need to know how to dig to get relevant information but also how to synthesize that information for the target audience. Our writers aren't experts in any particular topic other than content writing (and in many cases, journalism as well), but this makes them an effective proxy for the reader, and they don't hesitate to ask for explanations that the audience might need. The writers' broad-based objectivity also makes them more likely to write about a topic in simple, direct terms. The writer is indeed key to producing helpful, well-written, and well-formatted content.

What The Writer Contributes (In The Words Of Our Survey Respondents):

"[Clarity.] Make concise, unambiguous points. You could go on and on about your passion as an expert in your area. However, keep in mind that not everyone has the time to devote to your issue. As a result, compressing your content into digestible bits for the reader will result in a better post. Provide engaging headlines and short blurbs to keep your reader interested. You may always elaborate on the facts on click-through sites, or better yet, provide a means for the reader to contact you to seek your expertise. Similarly, unless your specific audience is already well-versed in technical jargon, utilize straightforward, layman's terms while writing. Being overly technical or verbose may dull and turn off your reader."

—Dr. Frederik Lipfert, Founder & CEO | VPNCheck.org

"[Compelling copy.] You need an enticing first paragraph. When it comes to the internet, where people's attention spans are even shorter than in print, your first paragraph is critical. Don't squander it. Journalists are aware of this. It's instilled in them. Do not bury the lede, they advise. If you don't hook your readers right away, you'll lose them for good. Begin with a quote, a question, or a daring, audacious statement. You only get one chance. Make the most of it."

—Samuel DeCroes, President | Stock Trend Alerts

"[Substantive, useful information.] Useful supplementary content is crucial—this is the article's main body. It's the post's meat, and what will support your core topic or argument. Every tale you tell or notion you discuss should have a supporting rationale that readers can get their teeth into. They don't all have to fit neatly into a three-point argument or a seven-step method, but they can't be scattered. Consider what you want to say and how you want to support it. Making a list of bullet points is an excellent approach to organizing. Then, using them as your primary divisions, compose the body of the piece. (If appropriate turn the points into subheads). If your blog article is a road, these are the street signs that will direct your reader to the end."

—Tiffany Payne, Head of Marketing | Replace Your Docs

"[A call to action.] If you've piqued your readers' interest with a catchy title, drew them in with an intriguing lead paragraph, and then steered them through with engaging ideas, it's time to tie it up. Don't be evasive. You don't want your readers to question why they bothered to read your piece in the first place, do you? Give them something to take with them. Do you want your audience to think about something specific? To take action? Whatever it is, be specific. This is the section of your post where you invite your readers to respond to a question, make a comment, or share your content. Make it understandable and actionable."

—Anthony Mixides, Managing Director | Bond Media

"[Personality.] Nobody enjoys reading dull writing. That is why textbooks are never on the best-seller lists. People enjoy reading content that has style and flair—content that reveals the writer's personality. They want to feel as if they have a personal connection with the writer after reading their piece, as if they know a little more about them. And you don't get to know someone by listening to them recite information or give advice. Put your unique stamp on your work, whether it's through humor, emotion, or simply a conversational tone. Make your writing sound like it's written by you. Don't be scared to come out as unprofessional; on the contrary, allowing readers a glimpse into your true nature will go a long way toward establishing your trustworthiness."

—Marc Stitt, Chief Marketing Officer | FMX

"[Organization.] Using bullet points is a good method to [organize material visually]. Lists with numbers and subheads are also useful. Reading comprehension is improved by using short sentences and brief paragraphs. Whether a post should be 250 words or more is still up for debate, with some arguing that shorter postings are more effective than longer ones of 1,500 to 2,000 words. A typical length for a blog post is between 500 and 600 words. Regardless of how lengthy the post is, viewers will find it more approachable if it is divided into reasonable portions."

—Harry Hughes, CEO and Co-founder | Dangler

"[Interest.] An excellent blog post should stimulate discussion, placing the author's own opinions and character explicitly into the narrative. People want to understand the humans behind the story, even on a company blog. An excellent opinion piece should stimulate diverse discussions, opening up the conversation to new ideas and perspectives."

—Hannah Orde, Content Marketing Specialist | Proofed
5

An Editor

It goes without saying that readers who encounter grammatical and spelling errors won't stick with an article for long. But a good editor does more than just fix mistakes; they also ensure the material is presented logically and the text is clear and understandable. And they double-check that all the necessary information and elements are in the post before it gets published. (Are the keywords present? Does it use the most relevant call to action, or CTA? Are the headings as helpful as they could be? Are the links correct?) An editor thus works to make sure all content is helpful and well-written.

What The Editor Contributes (In The Words Of Our Survey Respondents):

"[Clarity and accuracy.] Before publishing, make sure you've gone through and edited your piece thoroughly. Take a look back at your original goals; make sure the content you've created is relevant to your target and has the right call to action. Pay attention to the fine print as well as the big picture while revising your message. If you're writing a blog post on behalf of your business or organization, it's important to adhere to proper language and punctuation. Using a dictionary or thesaurus and reviewing grammar rules will give your article credibility."

—Alex Constantinou, Managing Director l The Fitness Circle
How much could your company grow with growth content?
Calculate your expected growth in organic visits based on the average Nectafy client.
Key Statistics
1,000
Month 1 Organic Visits
10,049
Month 12 Organic Visits
6

A Designer

Including visuals makes a post more memorable, adds variety to the page (offering more than just a wall of text), and helps draw readers' attention to important points. Done well, visuals also have the potential to increase your readers' time on site, which positively impacts SEO. The value of visuals in blog posts is rarely disputed, but not all writers have the skills (or the time) to craft interesting visual elements. That's where a designer—or at least someone with some basic Canva skills—comes in. Most blog posts should have an eye-catching visual element.

What The Designer Contributes (In The Words Of Our Survey Respondents):

"[Visual appeal.] Use eye-catching pictures (or videos). A picture, in my opinion, is worth a thousand words. This is especially true in the case of blogging. Captivating photographs are frequently the thing that draws people to your page. High-quality photos and graphics help to break up dense writing, while videos let you communicate your idea with fewer written words. However, make sure that your photos are appropriate; the right image will compliment your content, whereas the wrong one may confuse your reader."

—Rameez Usmani, CMO | WebHostingAdvices

"[An alternative way of conveying information.] Images are another important component of a successful blog post. Make sure to include a variety of photos and/or graphics in your content. If you have a food blog, a craft blog, a DIY blog, or any other type of blog where images can convey so much more than words, this is especially important. Images help your audience understand what you're talking about, and they also help to break up the text, making it easier to read. If your topic doesn't lend itself to photos, consider including an infographic or a screen capture that can clearly illustrate what you're talking about…. Also, give your images an alt description to ensure they are SEO-friendly. Your alt description serves two purposes: It informs visually impaired people about what's in the image, and it informs search engines about what the image is. A good alt description can help you rank in image searches, so make sure you use it in at least one of your alt descriptions. But don't overcrowd your blog article with photos to the point that it gets uninteresting or slows down your site (both are bad for SEO AND your readers)."

—Gerrid Smith, CMO | Joy Organics

"[Enhancement of the text.] Regardless of what you are writing about, images can help make or break how successful that post is, so ensuring you select carefully the visual side of your story can be just as important as the words you put in the piece. It is about picking the images that are right for your post—they could be aspirational, funny, or informative infographics, but they should help piece together the story, while also allowing for breaks between sections of text. The reason for this is it allows readers that space to breathe and take each section in, while also helping to prevent a reader from feeling overwhelmed by just a page full of text (even if relatively short, this can turn someone away fairly quickly.)"

—Jeremy Scott Foster, Founder & CEO | TravelFreak
7

An Illustrator

To further enhance the visual aspect of a post, you might consider using an illustrator as well as a designer. While in some cases a well-chosen stock image will do the trick for illuminating visuals, you might occasionally need an original illustration to help explain a concept more fully. You can also benefit from original header images that will draw people in. The illustrator we use at Nectafy has a unique style that reflects our company's personality; this visual element helps our content stand out.

What The Illustrator Contributes (In The Words Of Our Survey Respondents):

"[Originality.] Use your own images. There's nothing more off-putting than a blog that has generic pictures. If possible, create your own images so readers can relate. For example, instead of adding an image of milk for a dairy story, display pictures of the dairy."

—Jerry Han, Chief Marketing Officer | PrizeRebel
8

A Technologist

In the early days of Nectafy, writers also did double duty as publishers—we took each finished post and "wired it up" on the client's platform of choice. But as our number of clients grew, this task became too time-consuming, taking away valuable writing and research time. Now, we use a technologist to wire up blog posts. Because someone is now giving this task their full attention, our blog posts are published more efficiently and without errors, which makes them more helpful for readers.
9

A Social Media Guru

As evidenced by this list, content takes a lot of effort to produce, but the challenge doesn't end there. To make the most of it, you need to amplify each post via social media. This strategy works well if you're fortunate enough to have a skilled social media guru on hand, who is constantly working behind the scenes to build a large and engaged audience on a particular platform.

This role isn't a necessity—you can grow a blog and attract readers without the help of social media—but when you have a great strategy and skilled people, social media can help maximize your results.

What The Social Media Guru Contributes (In The Words Of Our Survey Respondents):

"[Engagement.] Make sure to include social sharing icons on your blog posts for social media sites such as Facebook, LinkedIn, Google+, Twitter, and ShareThis on every post, and encourage your followers to comment. You want to catch people's interest and encourage them to share your content. The greater the ease with which they may share your content on social media sites, the better; the greater the number of times a piece of content is shared, the more important it becomes in the eyes of search engines. Make sure to provide links to your social media profiles so that people can connect with you on those platforms."

—Sumit Bansal, Founder, and CEO | TrumpExcel

"[Social proof.] When new visitors gauge the worth of your blog, they tend to look at social proof first. And second. And possibly third also. Social proof can be roughly summarized as: the amount of people referring to you; the amount of likes, +1s, RTs, shares, etc.; and the number of comments on your posts. New visitors don't have the time nor the motivation to gauge the value of your writing by the content itself, thus in an attempt to shortcut this evaluation process they tend to look at peripheral cues like these."

—Sarah Ross, Cofounder | CocoLoan

"[Distribution.] Invest more time on distribution: With tons of blog content being uploaded on a daily basis, the biggest challenge your audience faces is finding your content. Invest more energy and resources in distribution than in content creation; as they rightly say 'Content is king, but distribution is the queen'."

—Mayank Batavia, Head, Marketing and Partnerships | QuickEmailVerification
Need more skilled people to help you create excellent, business-building content?
In our view, when you're building a content marketing team you must include all the aforementioned talented people if you are to make great content that ranks well on Google and other search engines.
Whatever content marketing roles your team is missing, Nectafy can fill in the gaps. We have a team of top-notch content production specialists who work in tandem with your subject matter experts to consistently create quality content for you. You won't have to worry about finding skilled writers and editors (we've got 'em), putting together an SEO strategy (we'll handle it), or creating and sticking to a publishing schedule (we'll take care of that, too). All we need from you is your expert industry knowledge, and we'll handle the rest!
Sound intriguing? Take a look at our Growth Content formula and read about some of our actual client results. If you think Growth Content will work for your business, get in touch with our founder Lance Cummins—he'd love to chat!