How We Grew Monthly Organic Traffic By 30,000 In 9 Months [DATA]
Blog /

How We Grew Monthly Organic Traffic By 30,000 In 9 Months [DATA]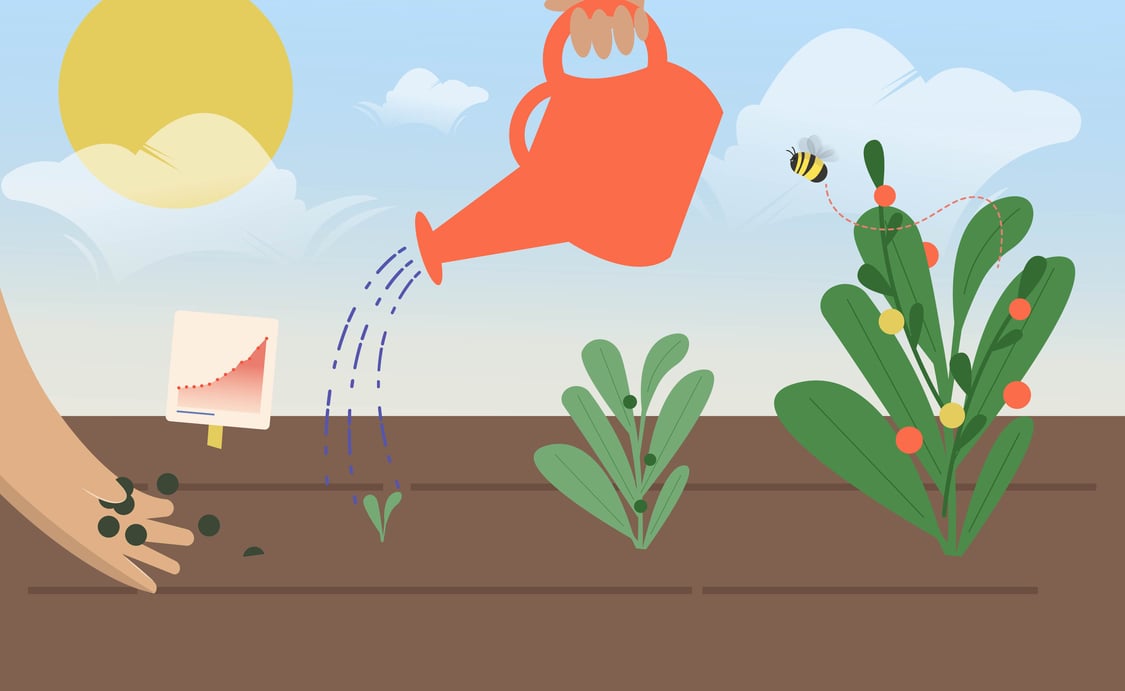 Launching a new website for your B2B business can be a tricky endeavor filled with various questions and strategic decisions, such as:
What should the site be called?
Where are we going to host it?
How are we going to structure it?
Aside from those technicalities, one of the most important questions you need to ask yourself is:
HOW DO WE GROW THE SITE?
In this content marketing case study, we'll take a look at this same question posed to us by one of our clients.
Using the strategy, tactics, and content developed by Nectafy, this client managed to grow by 30,000 monthly organic sessions within nine months of site launch.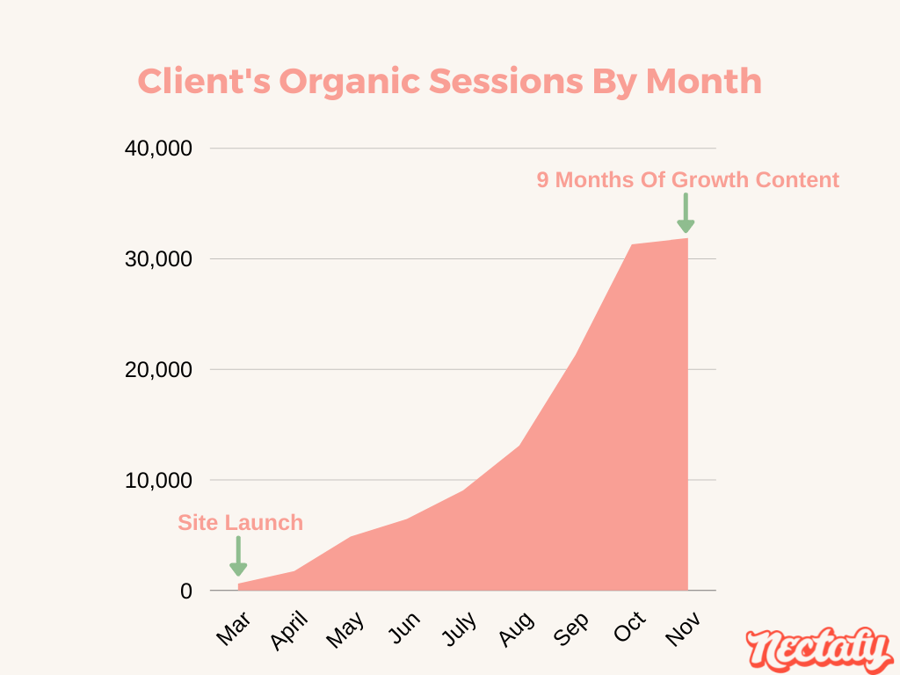 The Scenario
This client (within the B2B SaaS industry) was already seeing substantial site traffic to their website, averaging around 200K organic sessions per month over the past few years.
However, they wanted to shift their attention toward growing a different side of their business, with a whole new target audience in mind.
To emphasize this different target market & audience, they decided to build a new website altogether.
First, they worked with a team of designers & developers (outside of Nectafy) and came up with an approach for building out the new site.
Next, they turned to the Growth Content experts here at Nectafy with the main goal of driving organic traffic growth to their new site once it launched.
The Results
As I mentioned in the intro, a little more than nine months after launching the website their monthly organic traffic grew to over 30,000 sessions!
That's over a 50x increase in organic traffic!
All 👏 In 👏 The 👏 Same 👏 Year 👏
How much could your company grow with growth content?
Calculate your expected growth in organic visits based on the average Nectafy client.
Key Statistics
1,000
Month 1 Organic Visits
10,049
Month 12 Organic Visits
Additionally, we managed to double this client's domain authority during the same time frame.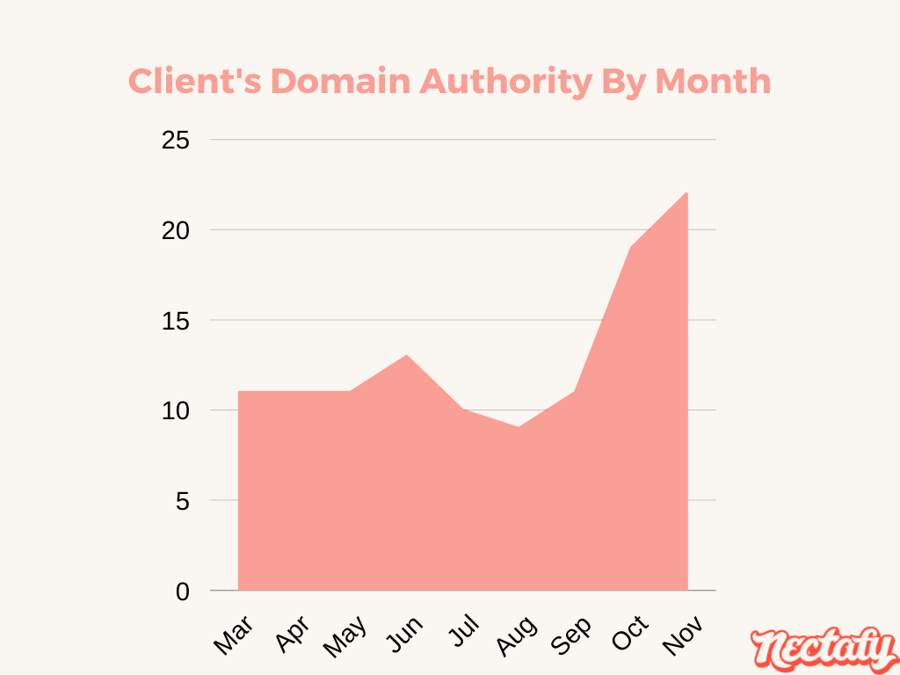 Finally, we grew this client's number of page one keywords by nearly 500!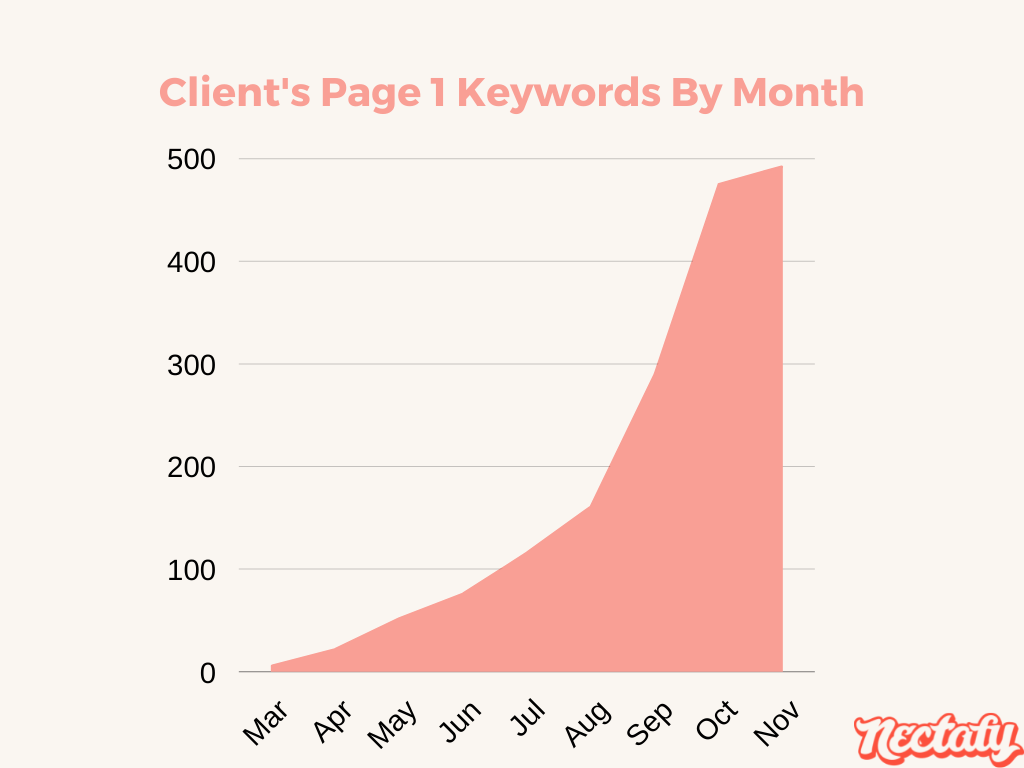 So, how did we help this client achieve all these massive improvements?
The Process
First off, I'd like to clarify that Nectafy does not specialize in building out websites for our clients. (Although, if you're looking for someone to help with website design & development, we can point you in the right direction by recommending a few great partners to work with.)
On the other hand, we do specialize in growing organic traffic & leads using what we call Growth Content. But what does Growth Content mean exactly?
Simply put, Growth Content is a data-backed marketing strategy that leverages search engines (like Google or Bing) to attract quality leads to your business by writing & publishing high-quality, authoritative content to your website.
So when this client asked for our help to grow the site they were planning to launch, we knew exactly what to do.
Using our proven content strategy and NectaPlan approach, we came up with a list of keyword-researched blog posts that would be published to their new site upon launch.
With the client's site still waiting to launch, we got to work on these data-rooted blog posts, managing to write out the equivalent of 21 articles over the course of six months.
Once the website went live in March 2021, we published this backlog of blog posts to the site, as we continued to write new articles for them on a monthly basis.
With the stacked addition of our high-quality & authoritative content, this client managed to see an accelerated form of organic website growth, compared to the organic traffic growth our clients typically see.
This just reiterates the power of creating high-quality & authoritative content for one's website, while also underscoring the importance of patience using this approach of organic traffic growth.
We understand that not every business is willing to wait six months before publishing an article on their website, but you have to admit; it doesn't hurt to have an inventory of content at your disposal as you prepare for the launch of a new website.
Finally, remember to keep this in mind: Growth Content is a long-term strategy, not a quick fix.
How can Nectafy help you?
If you're interested in learning more about the power of Growth Content, schedule some time with our founder, Lance, to see how Nectafy can help your business grow.