20 Examples Of Beautifully Strategic SaaS Website Design

Right now, the world is SaaS-happy. Software review site Better Buys predicts that 78% of businesses plan to expand the number of software-as-a-service (SaaS) platforms they use over the next three years. To support all that use, new SaaS offerings and startups are popping up quickly—1,400 of them over just the past five years.
The number of SaaS websites, then, is also skyrocketing, making it harder than ever for businesses to stand out. But that's clearly what needs to be done. In a world full of platforms "built for global scale" that can help customers "grow every part of their business" (and more of the same with a slight turn of phrase), how are you any different?
For SaaS companies, it's crucial to design a site with a great user experience as well as lively, attention-getting copywriting.
Of course, the most important element of a website isn't beauty or humor—it's the ability to convert visitors into leads. And since we don't know how well these particular sites are doing in that area, we can't say definitively that modeling your own site similarly (but geared toward your own buyer personas, of course) would work. What we do know, from having worked with many SaaS clients, is that these sites have certain elements that have proven to be successful in the past.
So without further ado, here are 20 of what we believe are the best SaaS website designs, and the reasons why.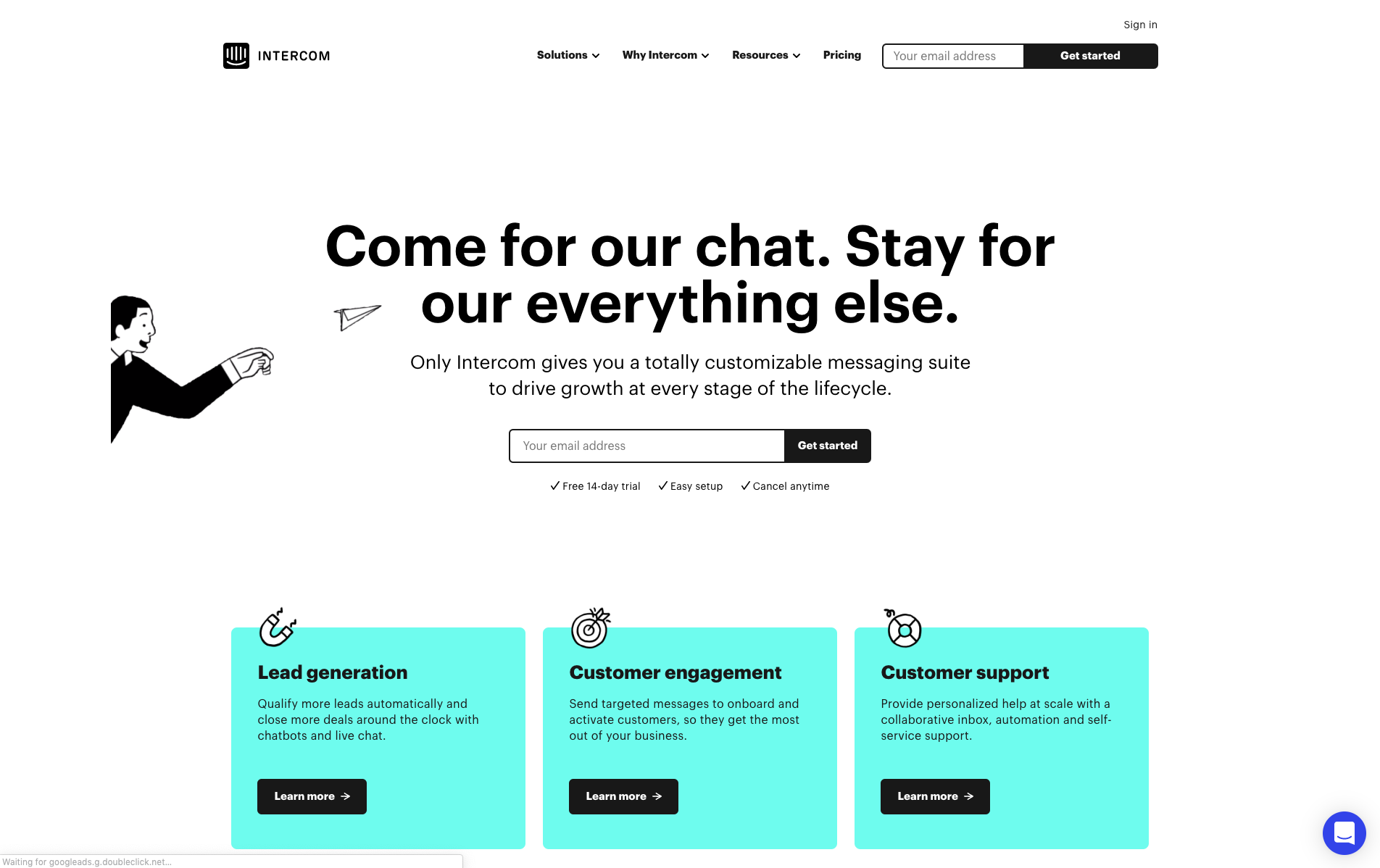 For context, we'll share some high-level statistics about each website gathered from SEMRush (see below). For transparency, we are an SEMRush user and affiliate. If you choose to click through and sign up for SEMRush, Nectafy may receive a small commission at no cost to you.
SEMRush Stats:
Authority score: 67/100
Estimated monthly organic visitors: 73,000
Referring domains: 20,000
Aside from the fun paper airplane animation, there's much to be said for the visual component of this site. As if they could read your mind, they've made it easy to see how their product compares to those of their competitors, with a separate section of the site dedicated to outlining their advantages—complete with scribbled "Don't do this… Do this, instead" directives.
The copy writing throughout is fun yet persuasive:
"Let visitors chat with your team like they would with their friends..."
"We ❤️ emoji. Live chat doesn't have to be boring. Why type it when you can show it?"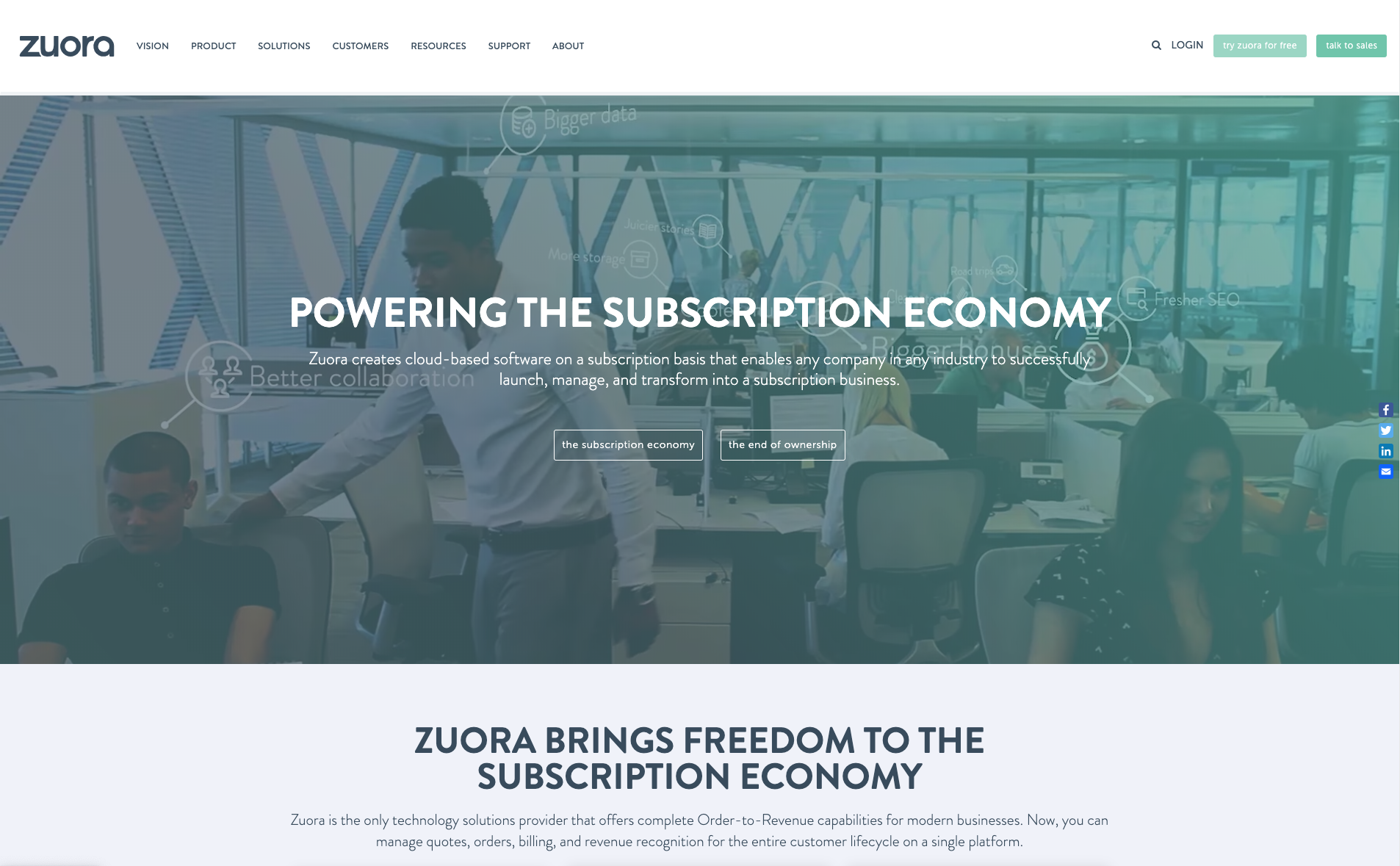 SEMRush Stats:
Authority score: 59/100
Estimated monthly organic visitors: 41,000
Referring domains: 5,600
Visitors to Zuora's website will be drawn in by its diverse content—videos, graphics, and even illustrations. One of the best things about the Zuora website, in my opinion, is the Customer Stories section. Rather than the traditional (yawn) case study, these stories are told in an interesting narrative form, show pictures of actual customers at work, and sometimes let the customers do the talking with short video testimonials (in fact, this seems to be a trend in most of the websites listed here).
The overall impression: It's a trustworthy company, it has a great product, and I'm maybe even a little jazzed up about the possibilities it presents.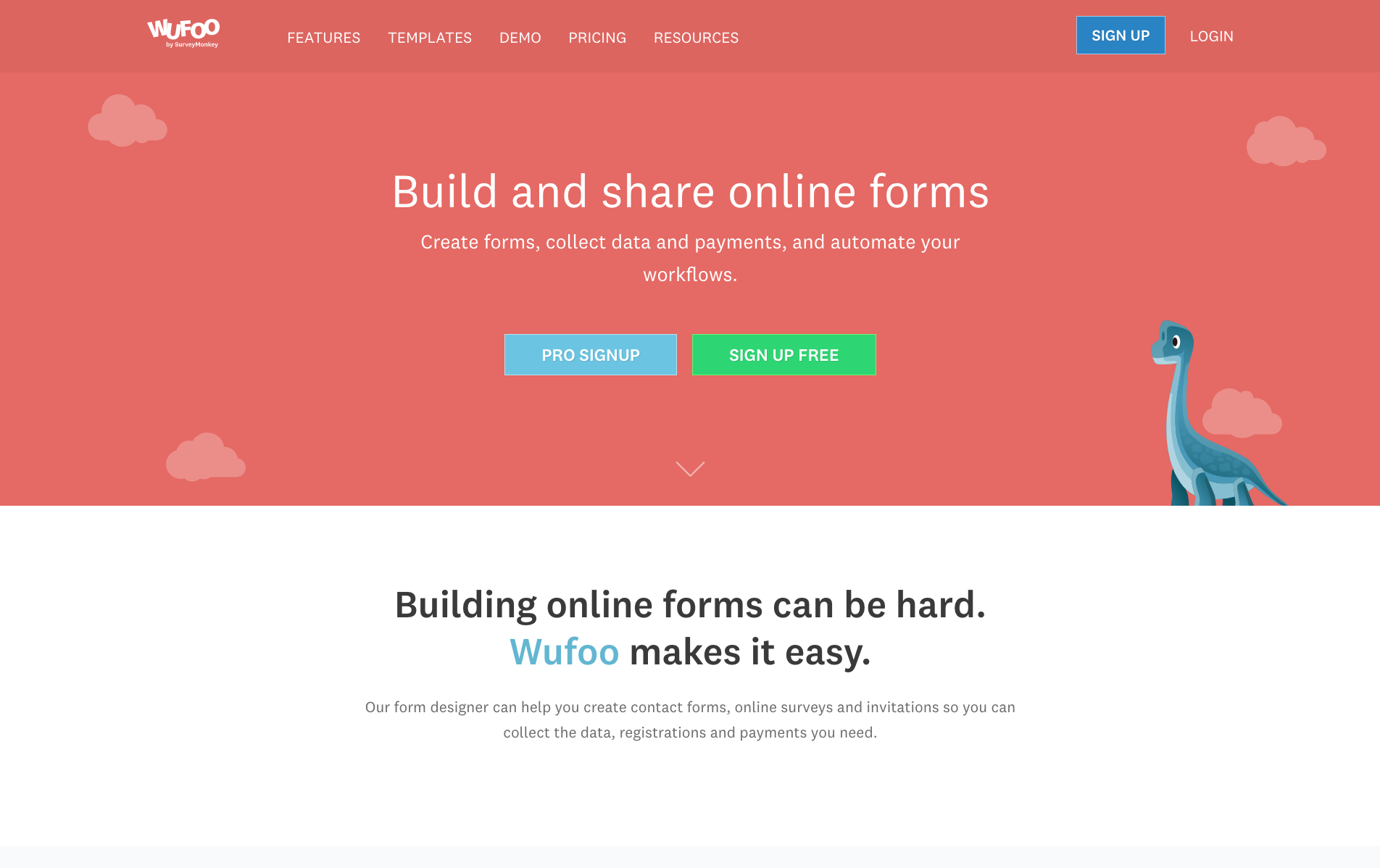 SEMRush Stats:
Authority score: 83/100
Estimated monthly organic visitors: 51,000
Referring domains: 182,000
Right away we can tell that Wufoo has personality. Part of the site's charm is its simplicity—the information about this online form-building tool is presented simply and directly. The features of the product are clearly outlined on the homepage, and there's absolutely no confusion about what it does. I'd be willing to bet that most visitors will scroll all the way to the bottom of that page where—surprise!—if "you've made it all the way down here… you deserve a reward."
Examples of engaging, personable copy are everywhere, especially on the Partners page (where they'd love to chat with you about "joining forces to use [your] powers for good"). I'd want to have this crew on my side any day.
SEMRush Stats:
Authority score: 68/100
Estimated monthly organic visitors: 7,200
Referring domains: 85,000
Woo-hoo! The language all over the website for this online giveaway tool generates genuine excitement about the product, and maybe that's partly because of the product itself—after all, "Everyone loves a giveaway." But there's also some welcome straight talk that makes us want to partner with them: "We run Rafflecopter the way we wish other companies did business. We're not into shady gimmicks or nickels and dimes."
Aside from clever copy, it has a fun, clean design, and everything visitors need (and want!) to know is above the fold on the homepage—what the product is and how incredibly easy it is to use… "srsly!"
It's a refreshingly happy site overall.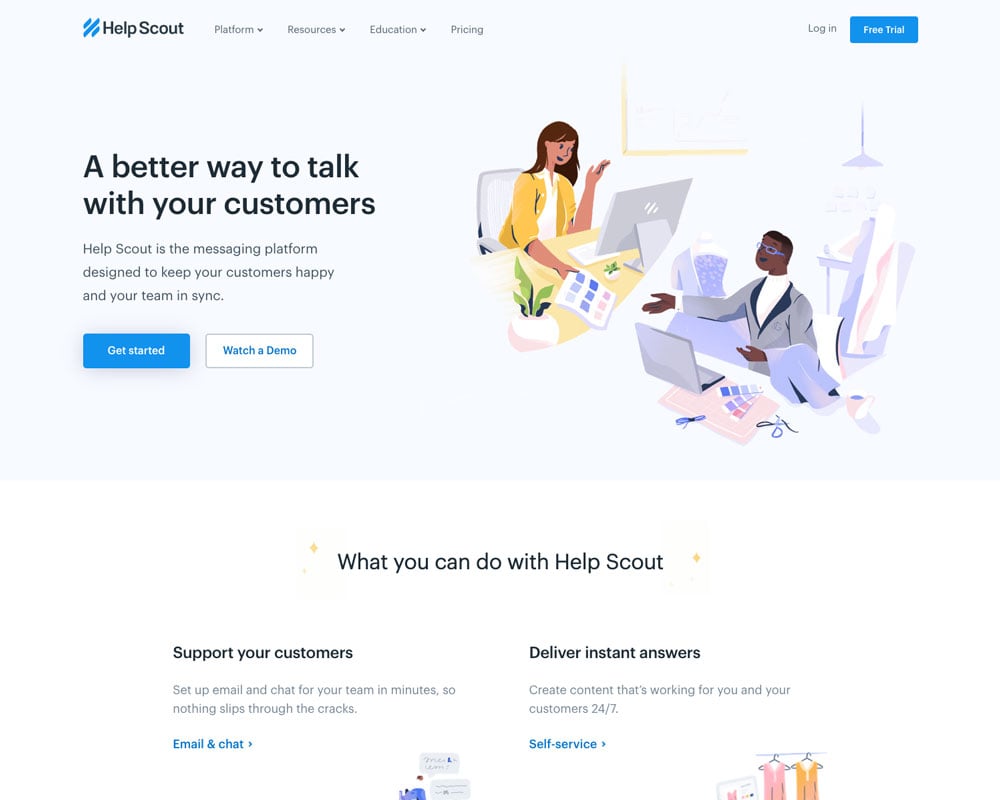 SEMRush Stats:
Authority score: 61/100
Estimated monthly organic visitors: 166,000
Referring domains: 13,000
While not as obviously warm and fuzzy as some of the previous sites on our list, Help Scout's website for its customer support tool is equally as engaging. From the friendly visual on the homepage to the many videos, product shots, and customer quotes throughout, there's no shortage of diverse content to draw visitors in.
The About page talks about the company's work environment in a way that makes you wish you worked there, too:
"You won't find any ping-pong tables or kegerators here. Instead, you'll be surrounded by driven, supportive teammates who will push you to be better."
And their mission is stated simply yet powerfully—"to help you build a company people love." Who wouldn't want help from Help Scout?
SEMRush Stats:
Authority score: 66/100
Estimated monthly organic visitors: 1,100,000
Referring domains: 16,600
This website is attractive overall and has a good layout. I love the heading—"Save money, time and trees"—because it calls out the benefits of the product right away. The subheading is also strong, specifically calling out the ability to "deliver great experiences to your customers and employees." The social proof comes a short bit down the page, where it notes that Forrester Research is already calling "Docusign" a verb. And the addition of a good, short explanatory video shows exactly how it works. Navigation on this SaaS website is also clear and easy.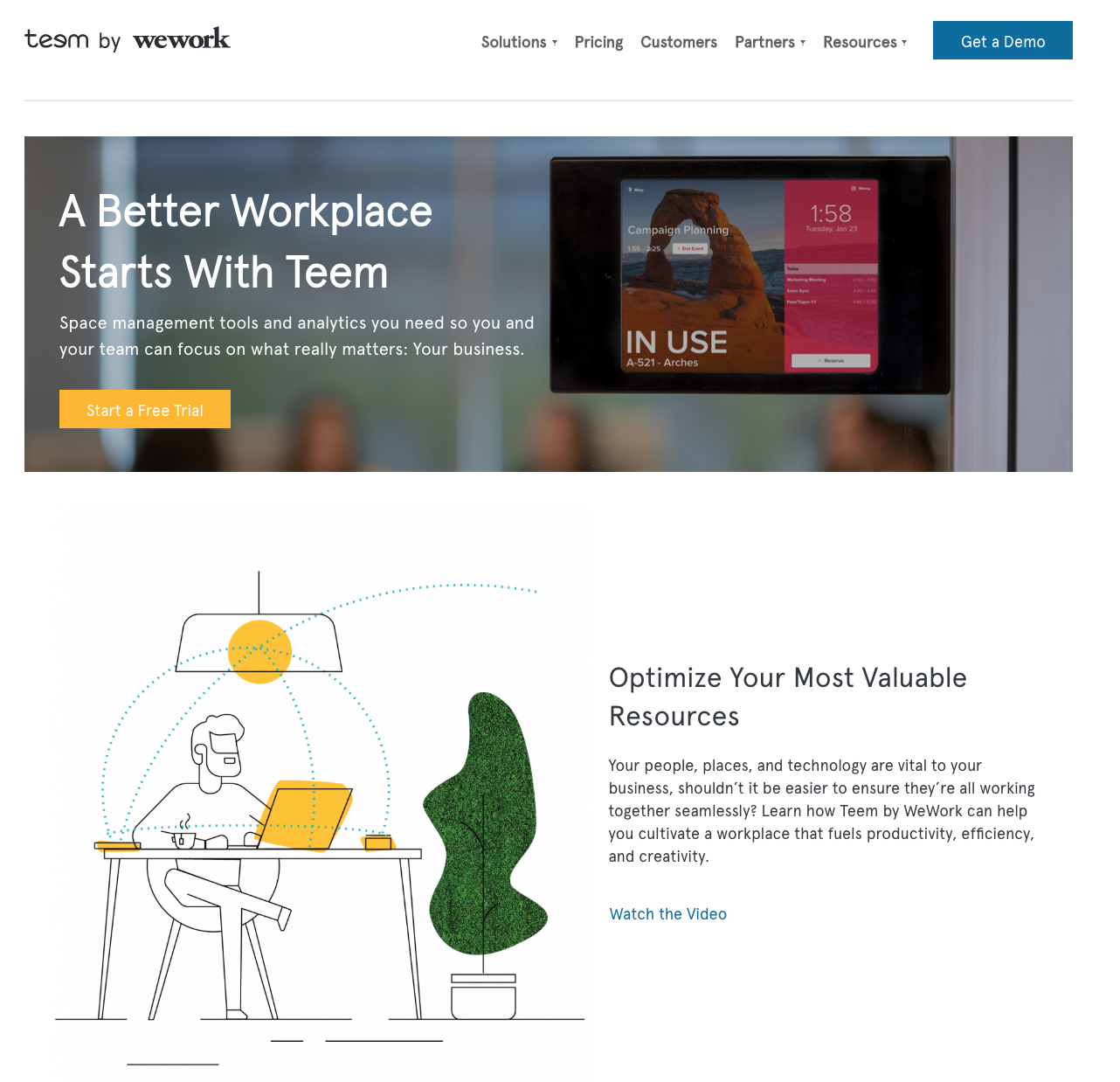 SEMRush Stats:
Authority score: 46/100
Estimated monthly organic visitors: 10,000
Referring domains: 1,000
This workplace tools & analytics site is so simple, clean, and well-organized it makes you want to manage your office spaces more simply and efficiently. (You didn't know you were having "zombie meetings," did you?) The photos of beautiful workspaces and a nice site design make this SaaS product seem especially attractive. The quotes connected to videos and case studies are a good addition, as are the "thousands of happy customers" boxes. I also like the way they call out the four main product features in the dark boxes midway down the page. Great page design for easy scanning.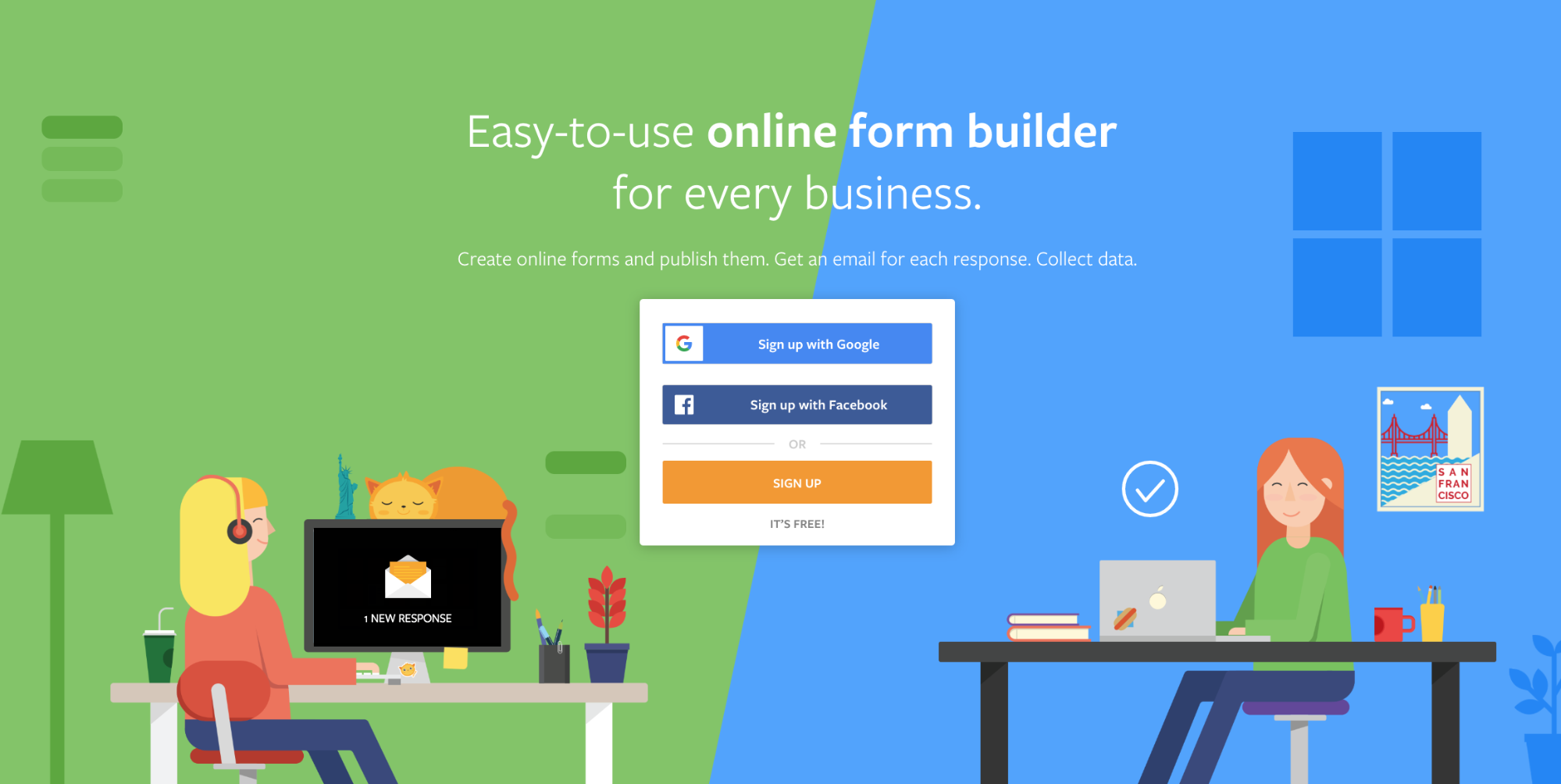 SEMRush Stats:
Authority score: 81/100
Estimated monthly organic visitors: 760,000
Referring domains: 164,000
JotForm's website accomplishes two goals really well:
The site clearly explains the service and value provided. Many SaaS companies get caught up in being too creative or relying too heavily on benefits that obscure the description of the service. JotForm makes it clear right away.
It offers a number of easy ways to get started with the free version, there is a "My Forms" tool that allows you to jump right in, and templates and themes to choose from. This site is a lead machine.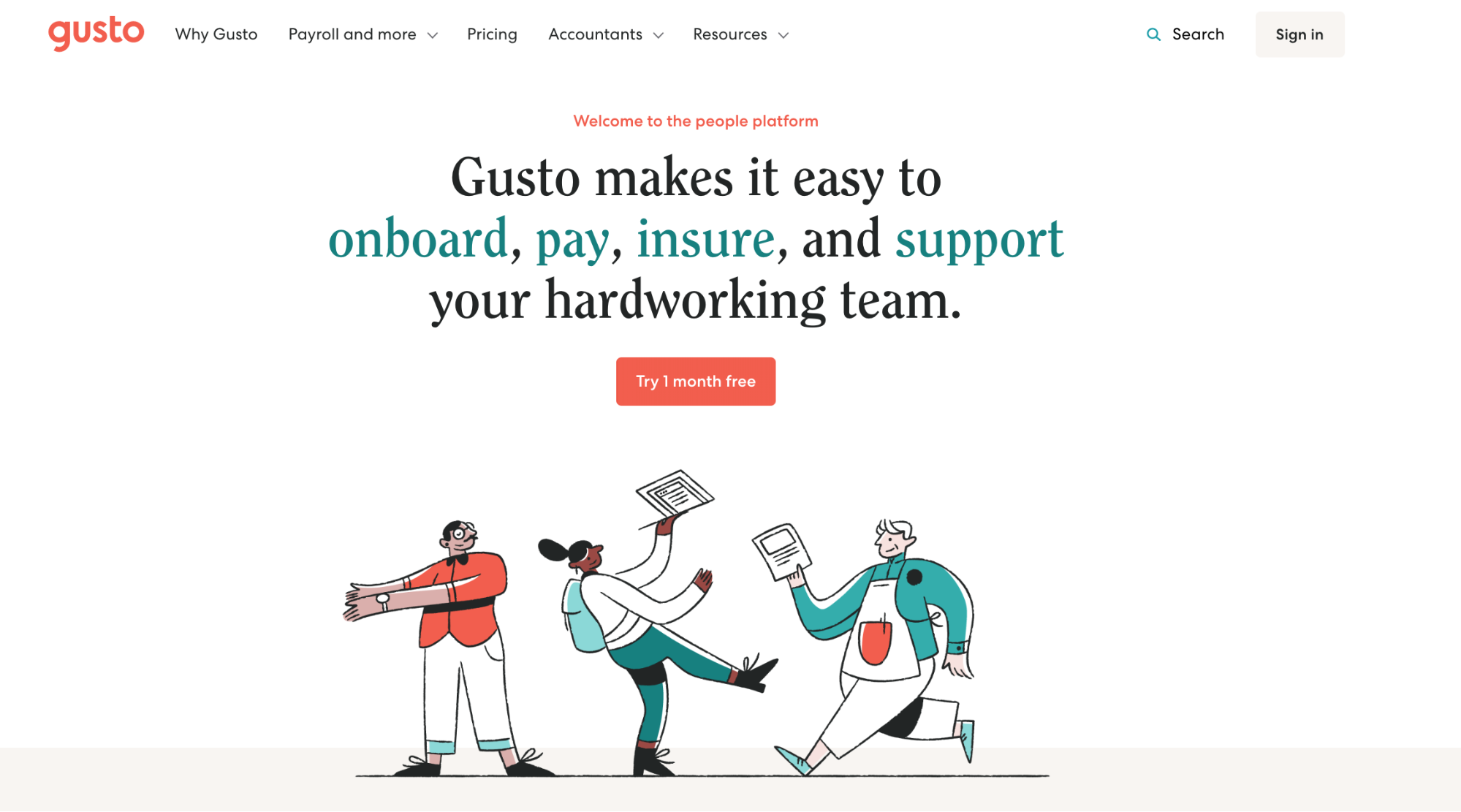 SEMRush Stats:
Authority score: 66/100
Estimated monthly organic visitors: 655,000
Referring domains: 8,700
Gusto's desktop version of the homepage is a non-scroll landing page. The amazing part is that they communicate everything—the service, benefit, price, how to get started, and call to action ("try 1 month free")—in just 26 words and a button! Of course, through the navigation and footer, Gusto offers more information, but the homepage is extremely descriptive in a tiny amount of space. With attention spans of about the same size, Gusto may be onto something with this approach.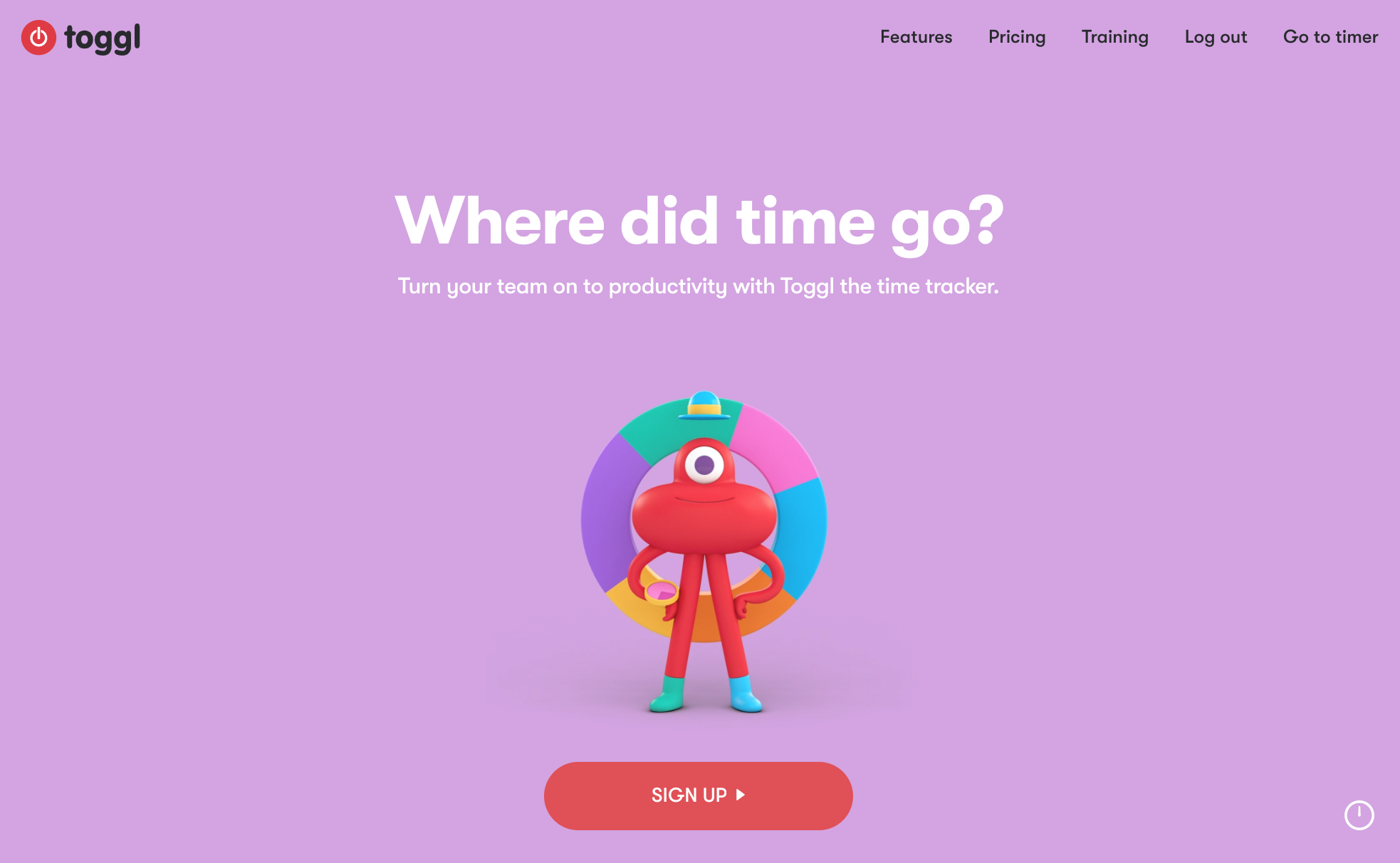 SEMRush Stats:
Authority score: 64/100
Estimated monthly organic visitors: 250,000
Referring domains: 19,000
Toggl is an example of SaaS website design done right. Anything but boring, simple, whimsical illustrations and animations are placed strategically to draw the viewer's eye down the page. Yet there's plenty of space for concise, easy-to-read copy. The white space and bold colors help keep the viewer engaged without overwhelming them, making for a breathable, interesting user experience. The pages are also interactive; when the viewer clicks on a switch (like on the Features or Pricing pages), the animations below it do something fun, giving the site a feeling of movement and energy.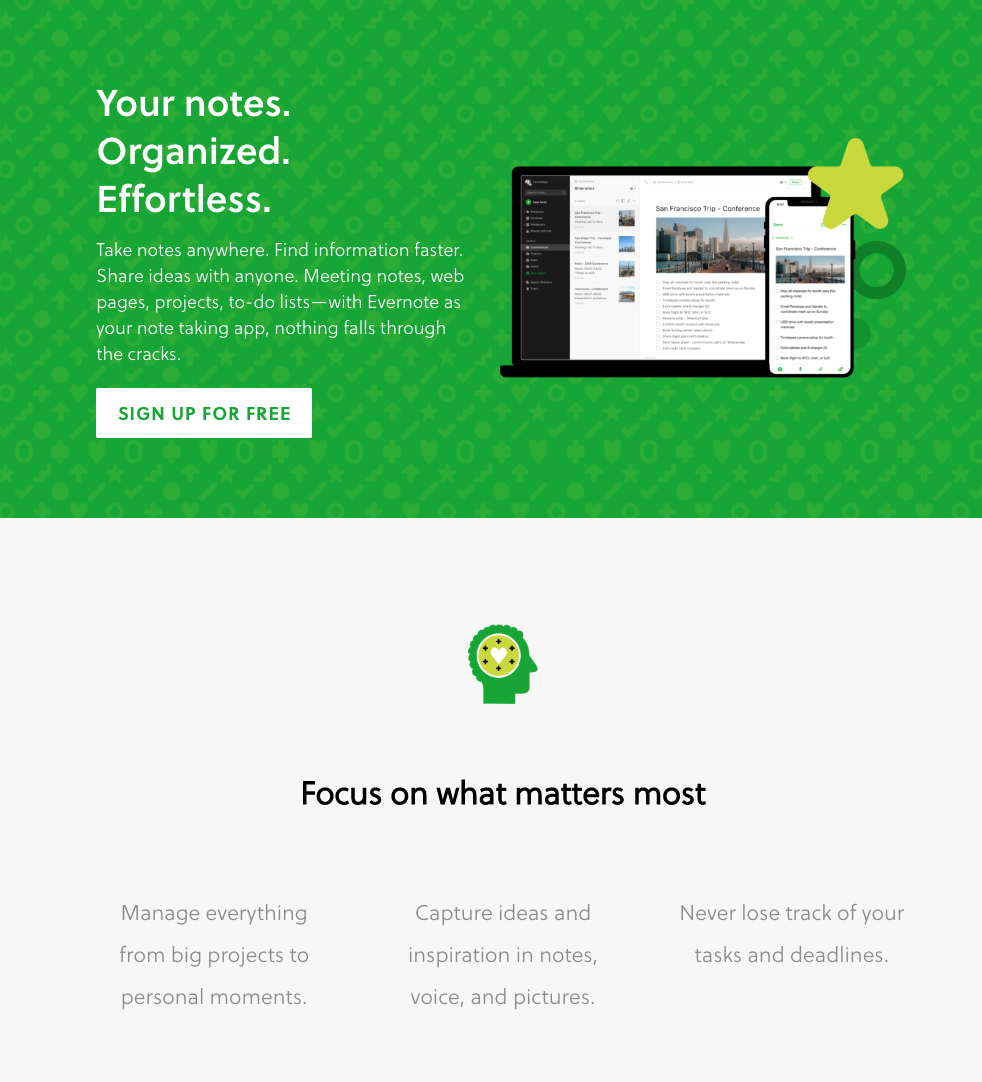 SEMRush Stats:
Authority score: 83/100
Estimated monthly organic visitors: 444,000
Referring domains: 222,000
The first headline your eyes are drawn to on Evernote's main website page states "Your notes. Organized. Effortless." That sums up the brilliance of their site. Evernote's value is written in five words, and that short-and-sweet copy style is followed down the rest of the page, with large, minimal text and clean graphics. It takes work to make copy speak for itself, but Evernote has done a stellar job of letting the copy stand out, giving it space to shine. The very top section has a clear, easy-to-follow call for visitors to take the next step and sign up for free.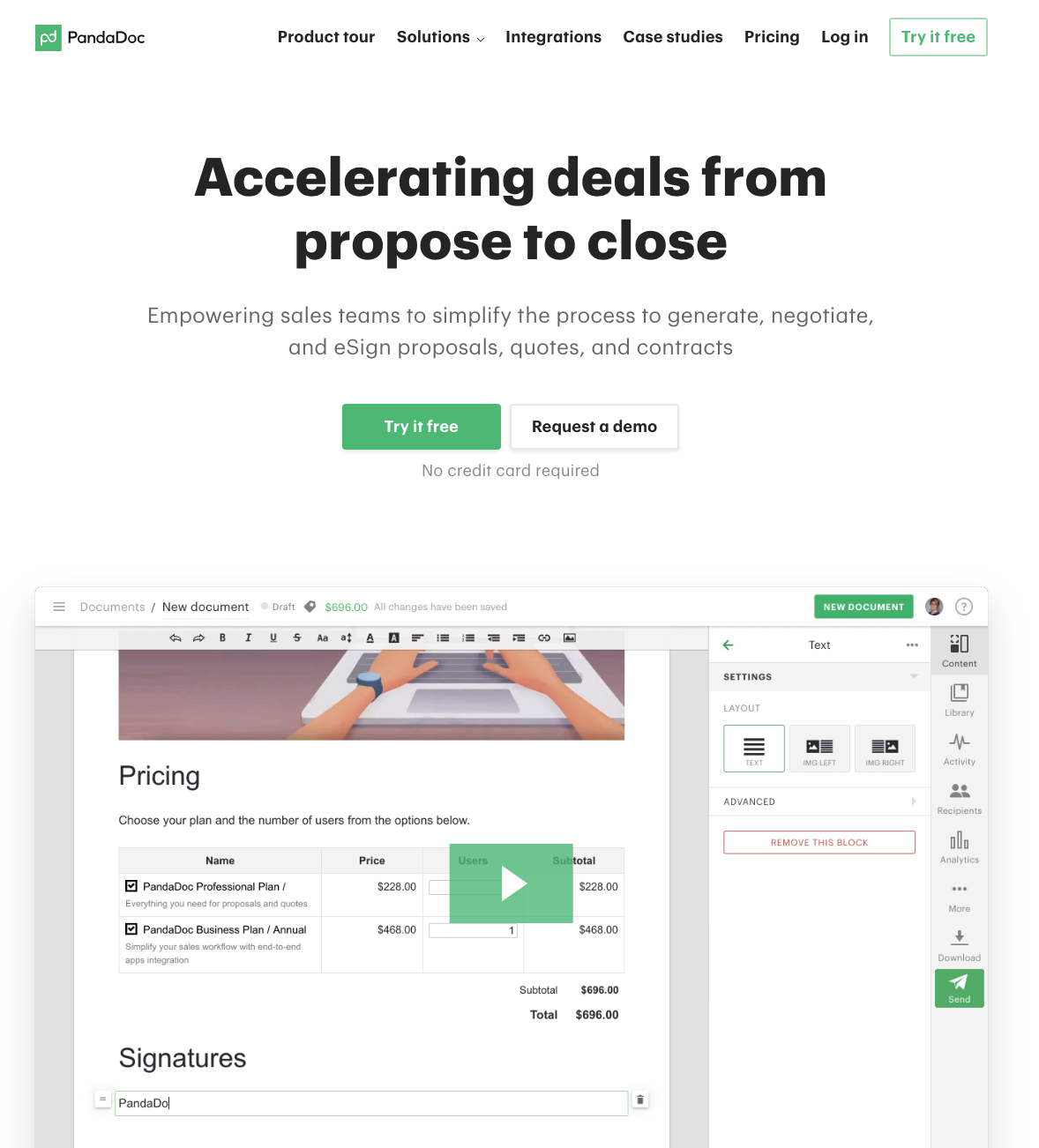 SEMRush Stats:
Authority score: 56/100
Estimated monthly organic visitors: 195,000
Referring domains: 5,400
Immediately, the main headline on the PandaDoc website catches my eye as a clear benefit. There's also a clear CTA, in context, on every page, that helps the reader understand how they will benefit from taking action. I like that the "Product Tour" page lets the user see real screenshots, not just illustrations, for those who want a taste of the product before requesting a free trial. A few other specific examples of the PandaDoc site I like:
The pricing page reiterates some of the product benefits.
An integrations page that lets users find their own software quickly.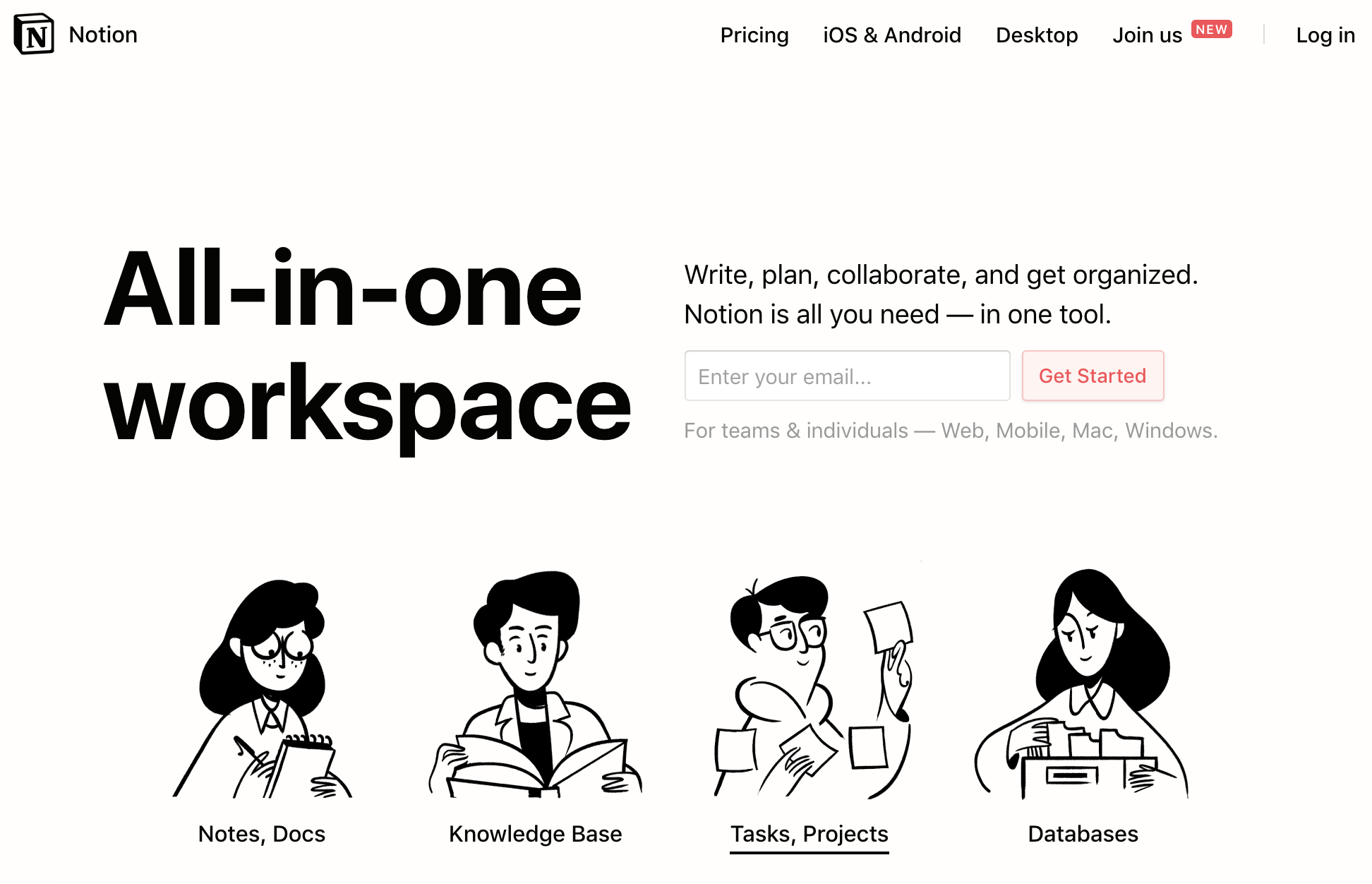 SEMRush Stats:
Authority score: 73/100
Estimated monthly organic visitors: 150,000
Referring domains: 50,500
In addition to Notion's memorable, quirky, black-and-white illustrations, which immediately won me over, the lightweight "live" demo embedded in the middle of the home page is really cool, and a great way to get users interacting with the product immediately. We also dig the super-simple bottom-of-funnel call to action on the home page: "Enter your email... Get Started"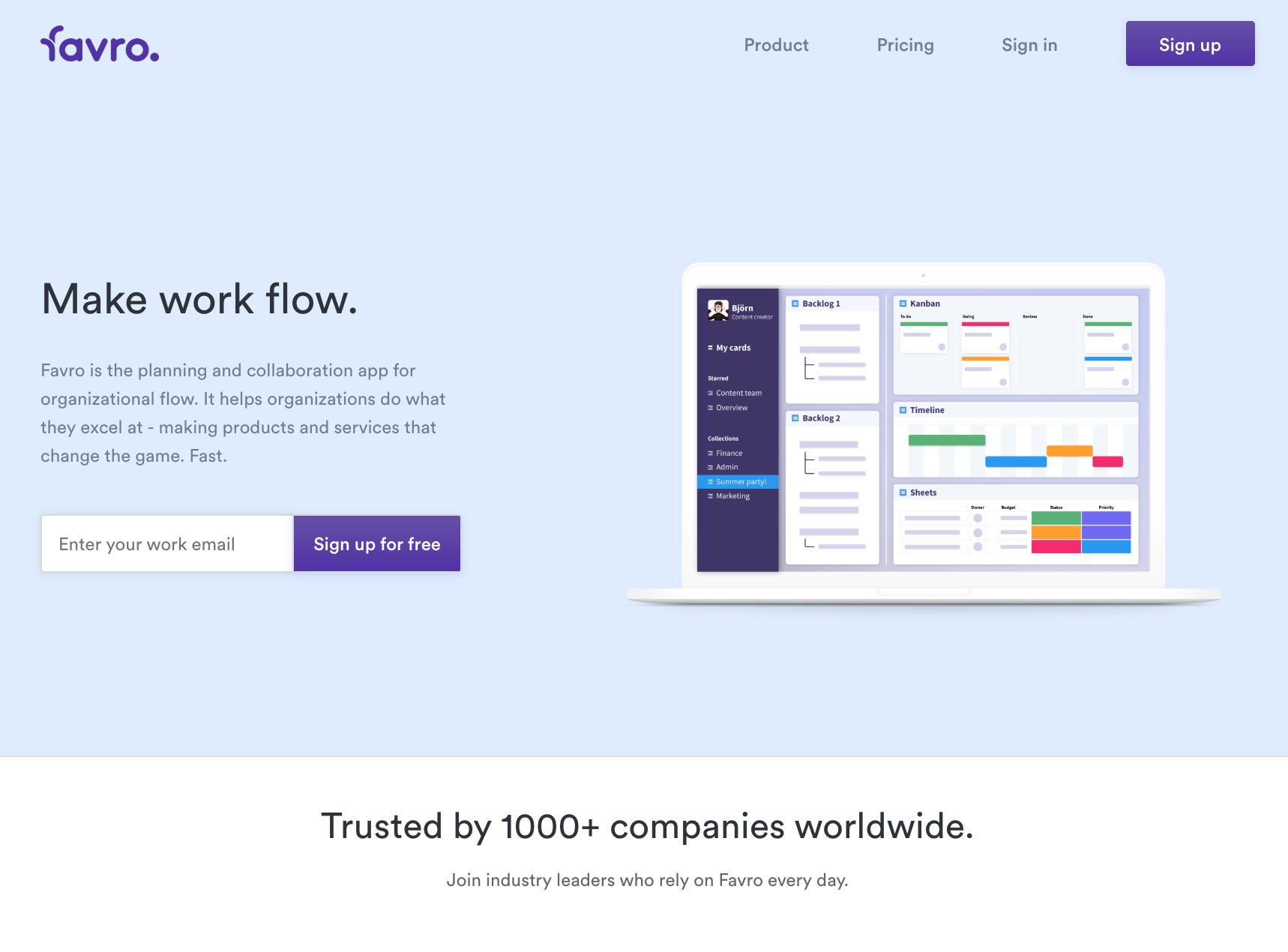 SEMRush Stats:
Authority score: 43/100
Estimated monthly organic visitors: 2,700
Referring domains: 800
We use (and love) Favro at Nectafy, so we were already sold on their product—but for those who aren't there yet, Favro's SaaS website design serves as a good introduction to the benefits of the platform. Headlines down the main page are benefit-centric and clear, and their simple main menu doesn't overwhelm the reader, instead giving them specific direction for what steps to take if you don't want to "sign up" for Favro immediately.
In addition to our team's favorite sites, we also spoke with the experts at Checkmate Digital, who specialize in product strategy and design for B2B companies (and as a result knows what it means to have effective SaaS website design). Their team gave us the six examples of stellar design that follow—you should definitely check them out!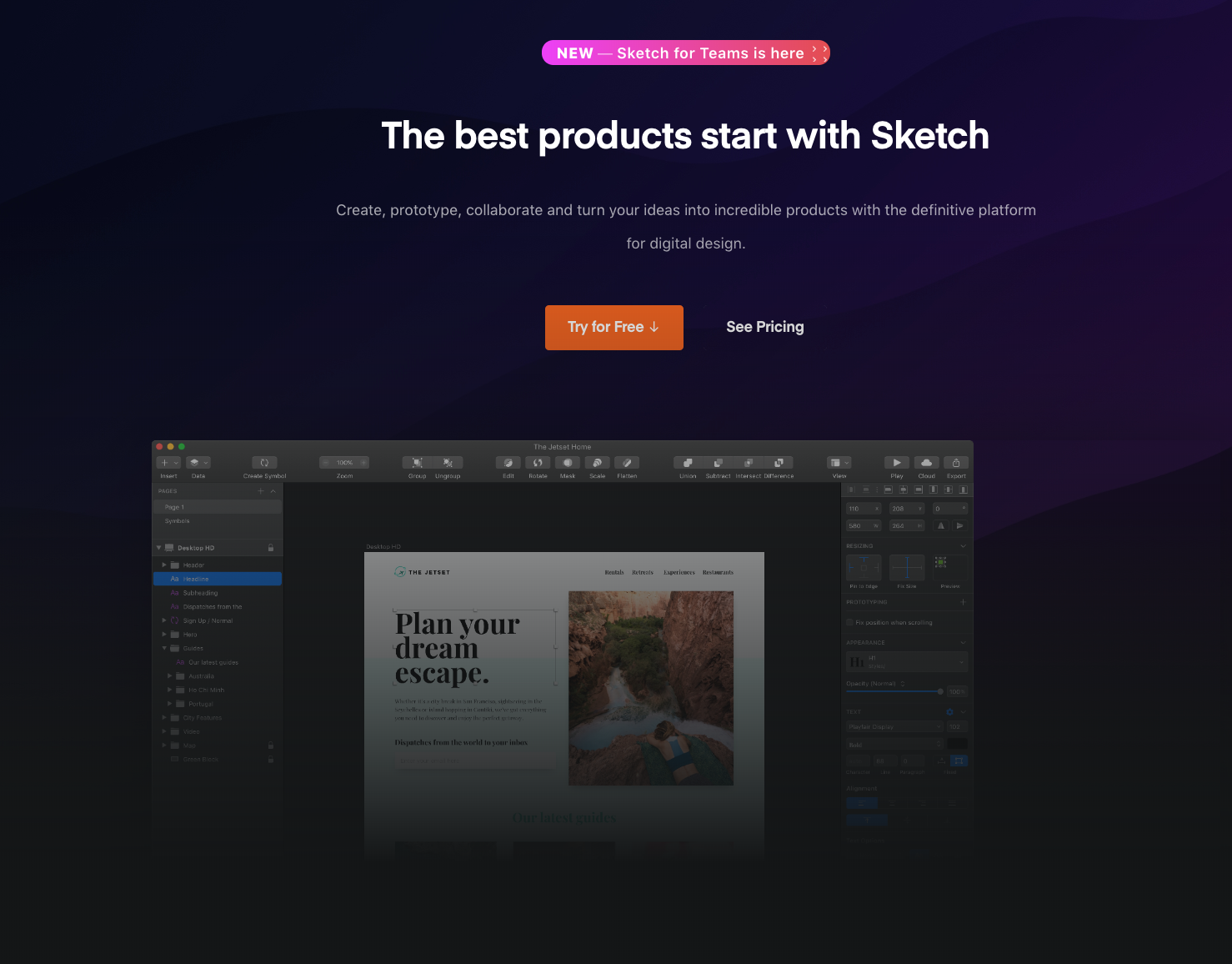 SEMRush Stats:
Authority score: 55/100
Estimated monthly organic visitors: 271,000
Referring domains: 6,700
It only makes sense that a tool used to create beautiful designs has a beautifully designed website itself. Sketch uses a combination of high fidelity mockups and aesthetically pleasing wireframes to hint at the platform, while also showcasing important features such as speed, plugins, prototyping, and much more. The final call to action at the bottom of the page is both beautiful, and attention-grabbing.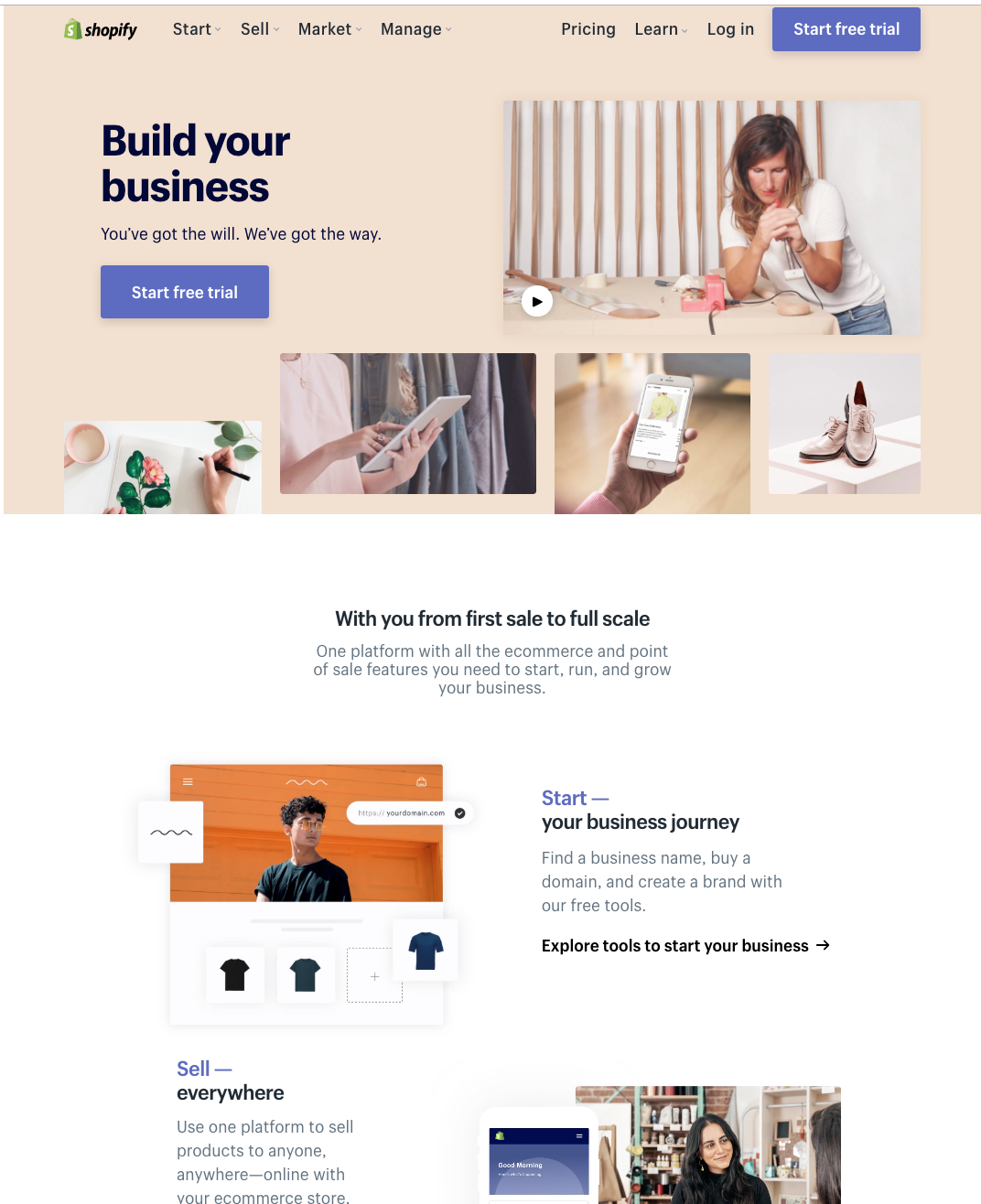 SEMRush Stats:
Authority score: 87/100
Estimated monthly organic visitors: 6,000,000
Referring domains: 2,400,000
Shopify's website design is all about the end user. This company understands its audience—people just beginning their online marketplace—and makes it clear that the Shopify platform encompasses the full scope of their needs, from startup to marketing to selling. So smart!
The site gives visitors a sneak peek of the interface, while also showcasing its global network of happy customers. Finally, it encourages users to continue to explore the platform by educating them about specific areas of the e-commerce industry.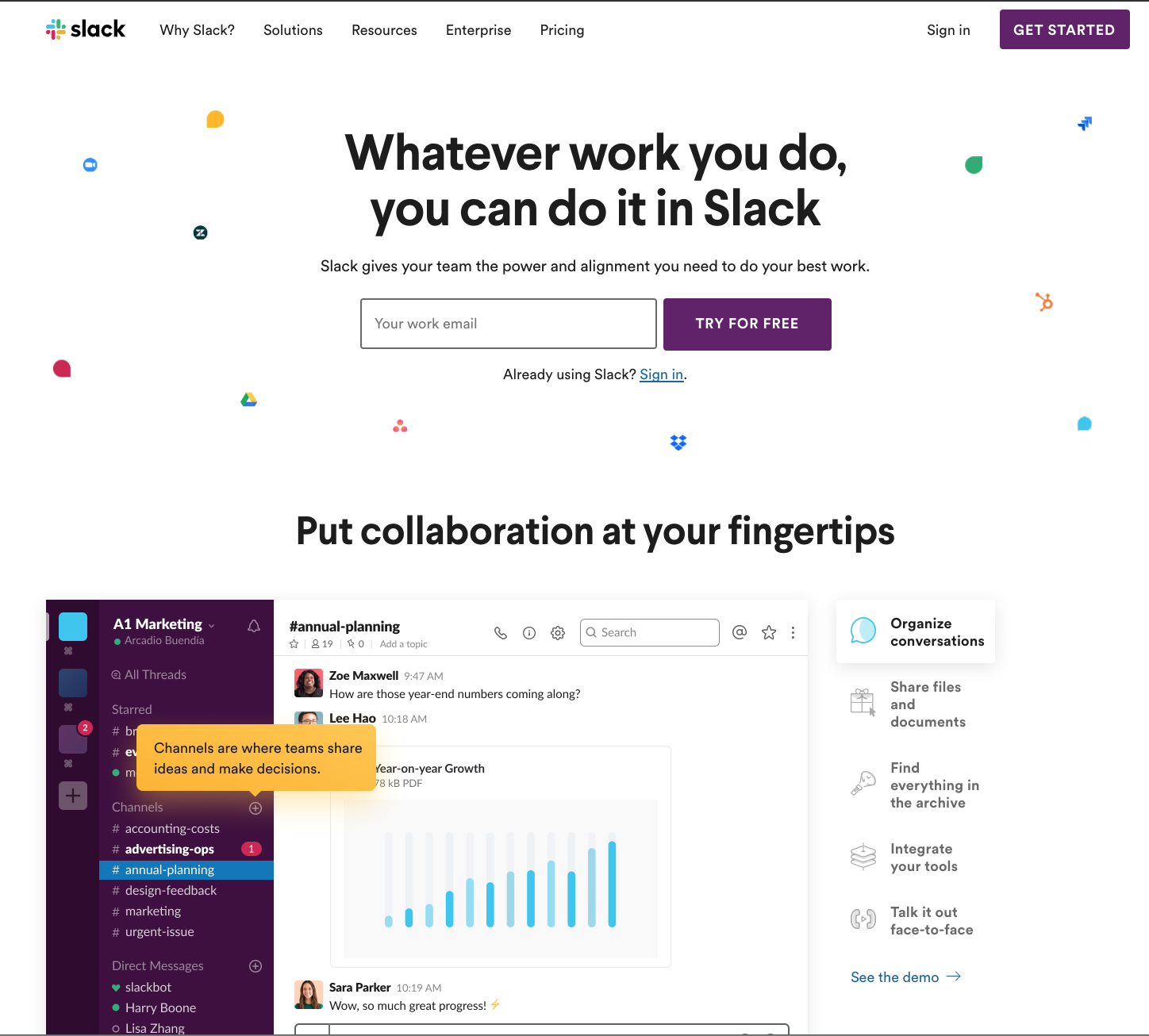 SEMRush Stats:
Authority score: 81/100
Estimated monthly organic visitors: 1,600,000
Referring domains: 110,000
We love the use of colors emulated throughout the site—it really highlights the product immediately after scrolling, so the user can get a feel for the application. The typography and messaging is sweet and to-the-point. The plentiful use of images, logos, and other subtle graphics help visitors to fully digest the website in an easy manner.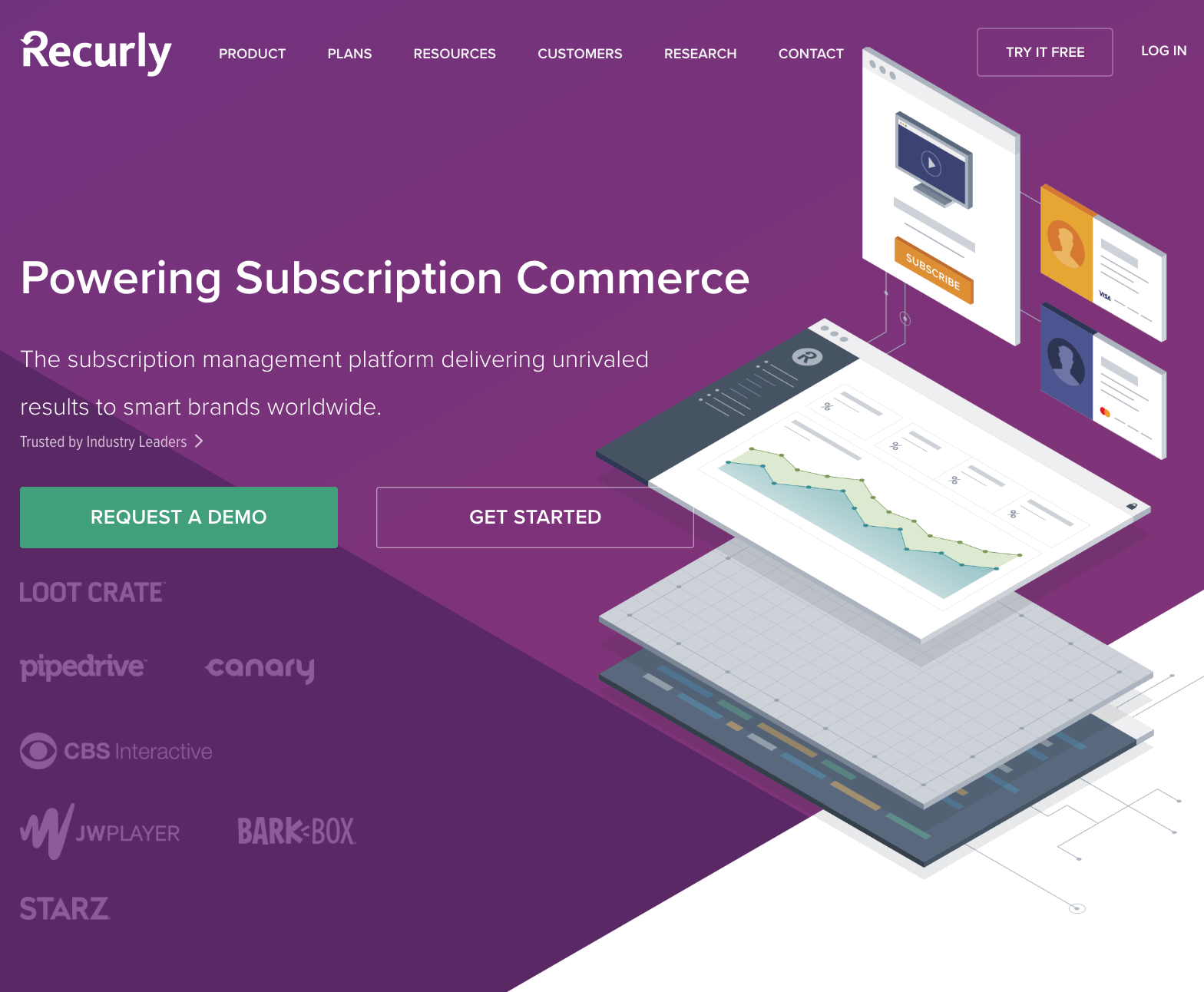 SEMRush Stats:
Authority score: 59/100
Estimated monthly organic visitors: 9,500
Referring domains: 4,000
This SaaS website makes great use of color and messaging. It has a tranquil yet bold color palette that works well. You can get tastes of the brand by the illustrations, iconography, and sections throughout the page to illustrate the core concepts and features of the product.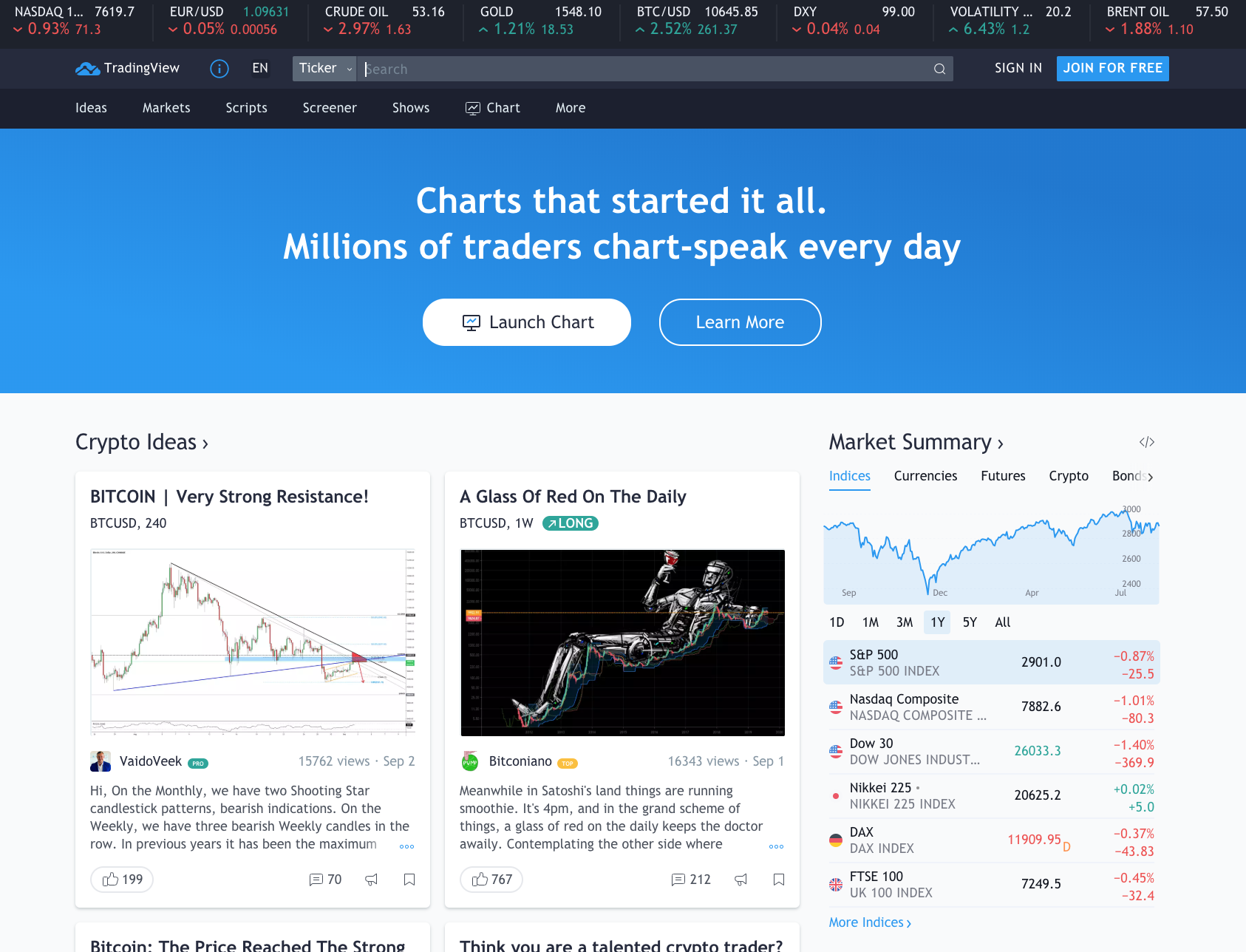 SEMRush Stats:
Authority score: 77/100
Estimated monthly organic visitors: 2,400,000
Referring domains: 39,000
Some of our own team members use this SaaS tool on a daily basis. We love the site because it says what the product does in 11 words—the rest of the page is data, ideas, and a market summary, complete with interactive tickers and a logical navigation structure. The color palette and typography go very well with this product, and it encourages the user to immediately start using it to see what it is about. Another bonus: Visitors can use a number of features immediately, without signing up.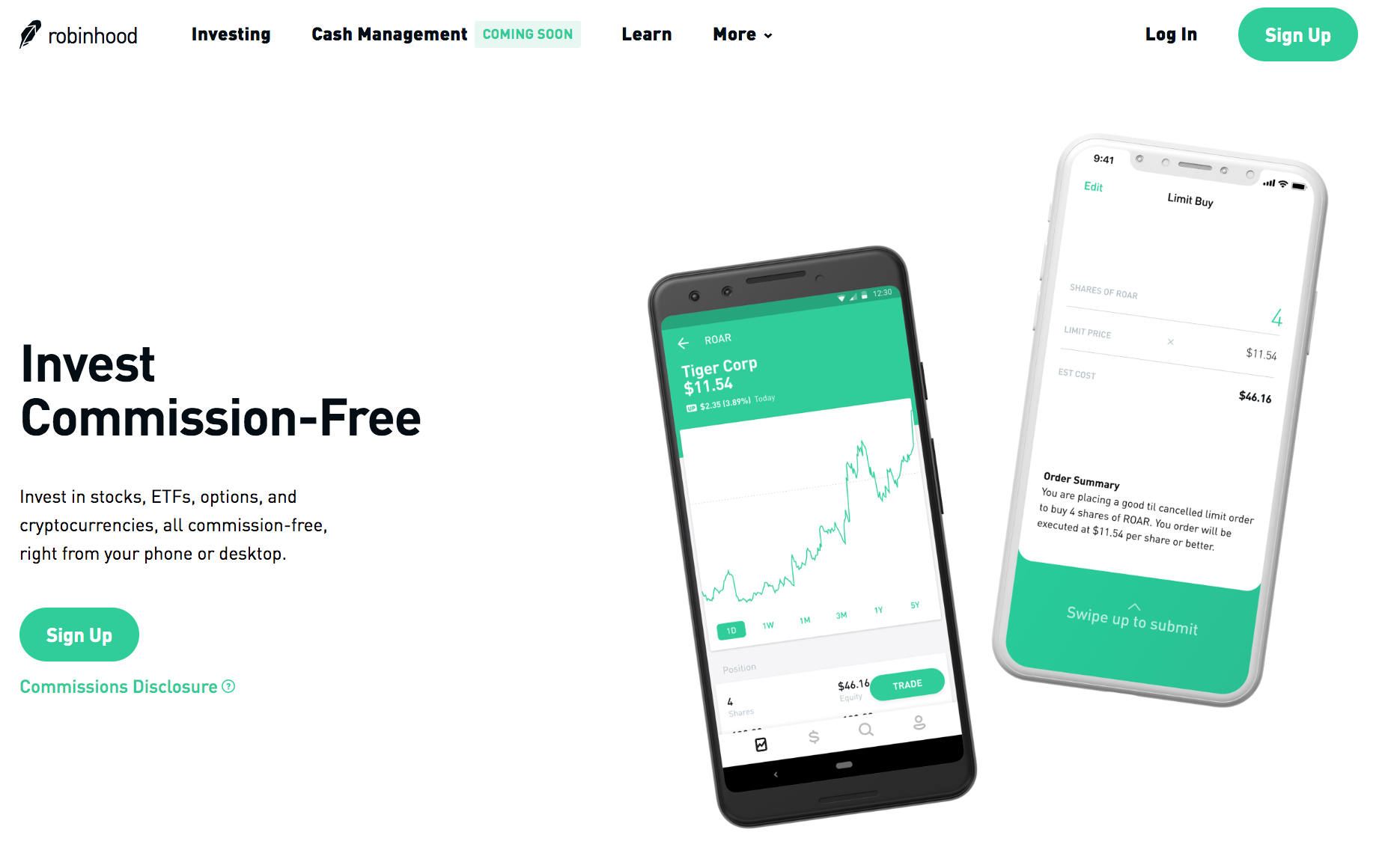 SEMRush Stats:
Authority score: 69/100
Estimated monthly organic visitors: 4,300,000
Referring domains: 15,800
Yet another tool we use on a daily basis, Robinhood is one of the most beautifully designed experiences we know of. The use of light and dark elements is very pleasing to the eye, while highlighting greens and red to be corresponding with the performance of the stock or account. This use of color and typography Robinhood is able to articulate exactly who they are and what users can expect from the software.
Is your website generating leads?
The websites you just read about are at the top of their respective industries. But you can close the gap with your SaaS website. Here are seven issues that may be holding you back.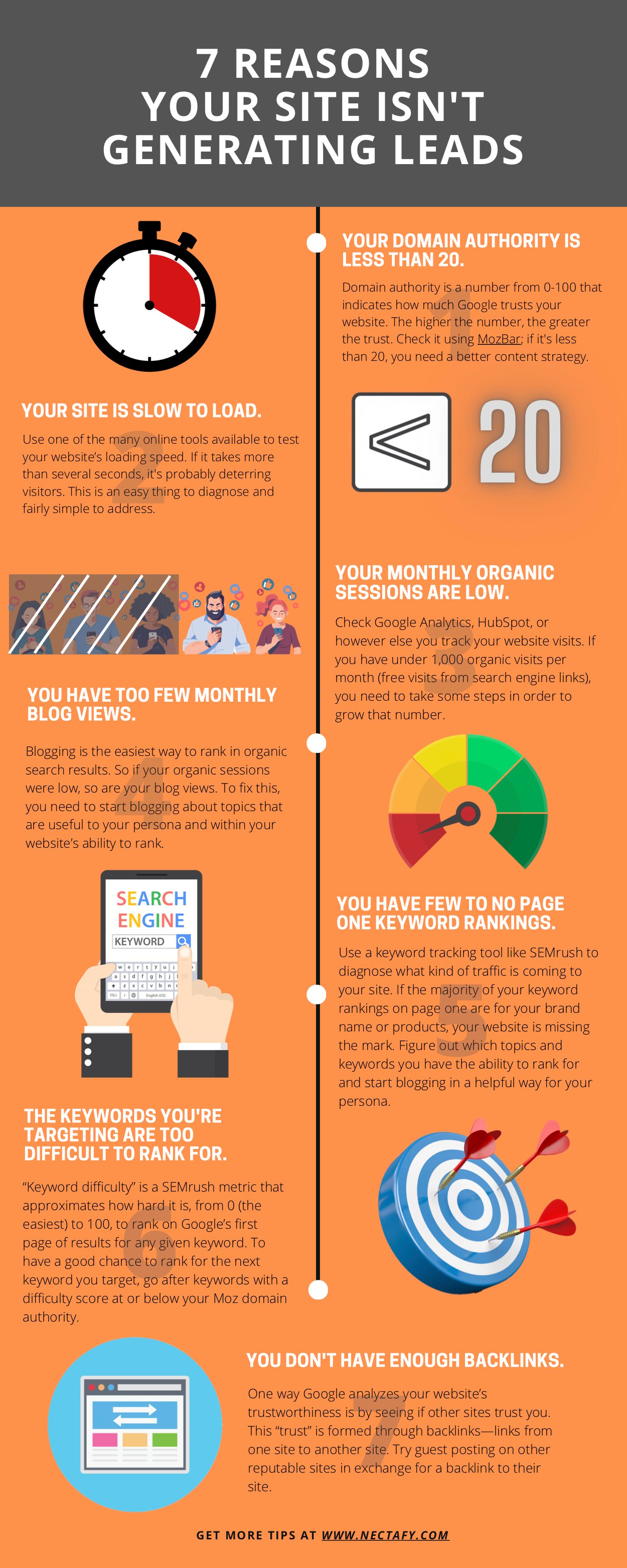 Sites are constantly updating, so tell us if you see an outdated screenshot (just leave a comment below, or tweet us @nectafy).
One final thought: Great design can be a huge factor in your company's success, but even more important is attracting the right people to your SaaS website—and converting them into customers. That's what we do! Download the offer below to find out how we do it.