6 Obstacles Every HubSpot User Must Overcome (& How To Do It)
Blog /

6 Obstacles Every HubSpot User Must Overcome (& How To Do It)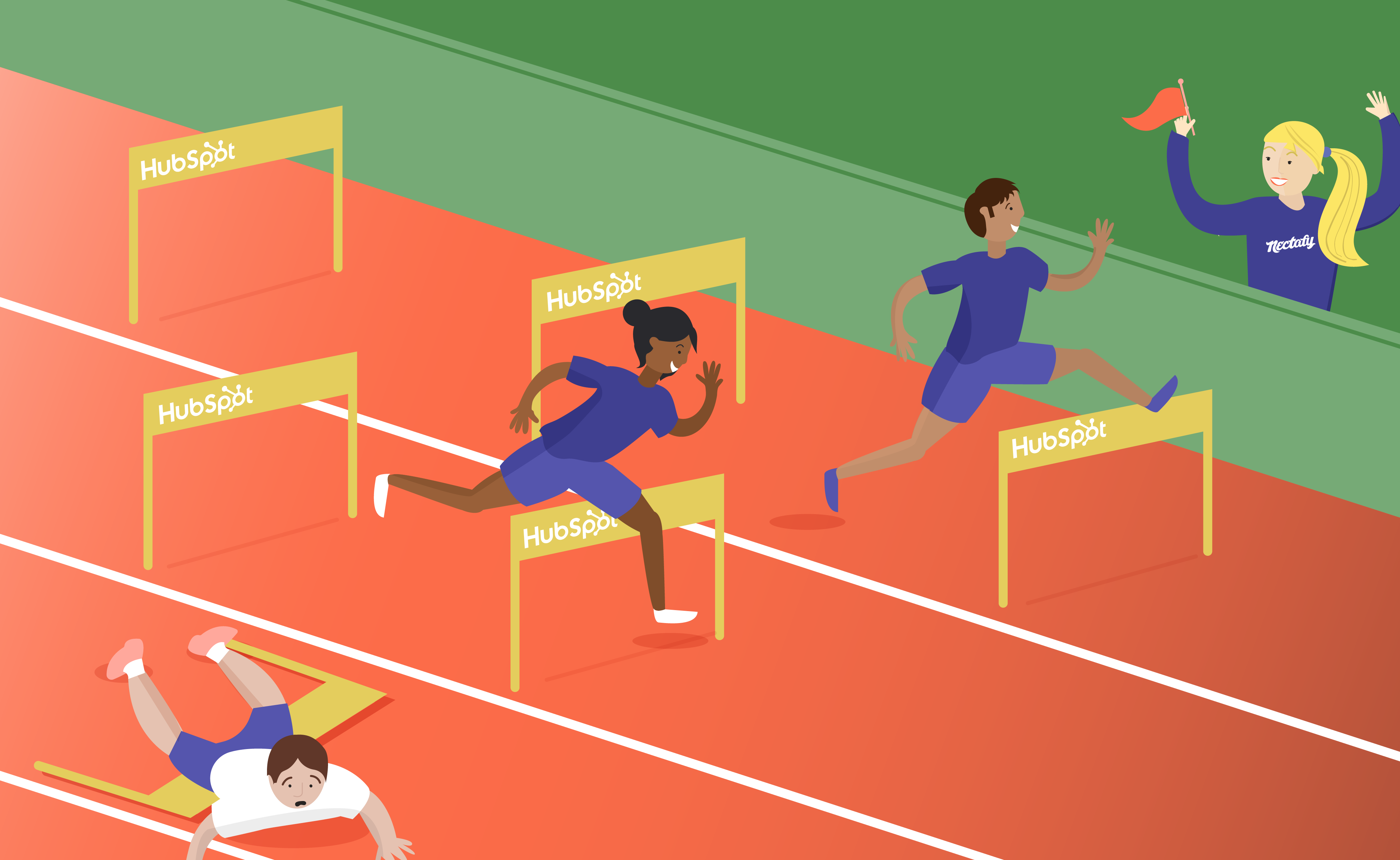 When you signed up for HubSpot a few months ago, you probably dreamed about the success awaiting you. Traffic would flow in. Leads would hungrily devour your content offers. Your sales team would cheer every time you walked into the office out of sheer gratitude for keeping their sales pipeline full. The future was brimming with possibilities.
Ok, maybe I'm exaggerating. (But I bet not by much!)
Now, several months in, maybe you feel a bit disillusioned with the process, and even with HubSpot.
I've talked to dozens of HubSpot users, so I have a bit of perspective. From what I can tell, everyone starts with high expectations of HubSpot, but after a few months, reality sets in when they realize that success comes only with extreme effort, planning—and time.
So, if you only read this far, maybe you'll feel encouraged just to know that you're not the exception to the rule... you're normal!
While I've spoken with dozens of HubSpot users, I wanted to get a bigger picture of the challenges they face. So, I decided to go to the source. I interviewed three senior customer service managers at HubSpot, Hadar Duek, Renee Hrabak, and Meghan Lowell. Together, they've worked with thousands of HubSpot customers, coaching them on how to get the most from their platform.
In our interviews, I asked them to share with me the most common roadblocks they've seen that keep their customers from succeeding. Here are six challenges that, if not addressed, may drive you to the brink of quitting HubSpot.
Six Obstacles Every HubSpot User Needs To Overcome
1

Lack Of Buy-In

Meghan Lowell, a customer success manager for HubSpot's enterprise team, identified lack of external buy-in (buy-in outside the sales department) as the leading reason customers struggle with HubSpot—and delivering value with content marketing—over the long haul.

"You can have a marketer or a handful of sales users who are on our sales products, who are excited about the tools, but unless there's buy-in in other places in the company, such as the CEO or an executive who knows what HubSpot is and the metrics we show, renewal is hard and success in the tool is even harder."

To make content marketing work effectively on any platform requires a significant degree of cooperation among individuals and departments in your company. Whether company decision makers have other priorities or simply don't see the vision to lead the charge for content marketing, not having alignment throughout an organization can create enough friction that it becomes difficult to run content marketing using HubSpot.

Whereas other forms of marketing, such as purchased media, trade shows, and ad campaigns, may be handled efficiently by the marketing team alone, it takes a village, so to speak, to create effective content marketing.
You need the sales team to convey their deep knowledge of both the customer and product, and lend a hand as subject matter experts. At first, they may be eager to give their opinions and time to someone writing an article or a download that may potentially help them get more sales. But over time, their interest could be difficult to sustain because they make their money selling things, not giving opinions.
You need some of your leadership team to weigh in on the direction your industry is going and provide some insight for good content.
Getting this buy-in is probably one of the key differentiators between successes and failures with HubSpot.
My team & I actually wrote a book for leaders about implementing growth content (our term for the intersection of high-quality content and inbound marketing) at their company. Here's what we tell them:
"If you provide visionary leadership and energy, you can actually transform your company into an organic lead machine. Your team should do the work while you provide the vision, energy, and resources to make it happen." –Nectafy Team
Perhaps at one point you had buy-in, but over time, folks outside the marketing team lost their motivation to cooperate.
Maybe the point person on your team in charge of HubSpot and content marketing was reassigned or promoted, and the new team member didn't have the same drive or heart for content. Renee Hrabak says she has seen this scenario a lot with her HubSpot Enterprise customers. And even if the new team member does have the motivation, there is such a loss of tribal knowledge about what's going on that the company loses momentum completely.
That's where getting your company's leadership on board (or back on board) becomes critical. If they provide the "air support" that makes your content important, suddenly, it will no longer be as difficult to get access to other team members to help make your content credible, authoritative, and effective.
2

Too Few Resources

"A lot of people come on board because they're excited; they say, 'We're going to make the time, because we know this will lead to business growth,' and then when they get down to it, the reality hits of all the stuff they need to do, that it requires you to do more than your prior job. This leads to, 'Hey, I didn't budget for another head!'" –Hadar Duek

For smaller companies, one of the biggest roadblocks to success with HubSpot is simply getting enough resources to make HubSpot work. Most HubSpot Marketing Pro users are running the marketing program solo. They've brought leadership on board and are eager and ready to "make the time" for making inbound work.

But, as a solo marketer, there is a limit to your time and resources. Usually, content marketing is just one of the roles tacked on to the marketer's job description. If the company hasn't budgeted money for additional team members or hasn't budgeted for outside HubSpot partner help, things can go downhill quickly.

In larger companies, the roles are more defined, but the roadblock often comes in needing help from other departments, such as graphics or IT, and not being heard, or waiting in a queue for help.

Across the board, companies often fail to realize that the expense for HubSpot is just the beginning. You're going to have to hire internally or bring on a HubSpot partner or external agency to actually make your content work.
3

Ineffective Content Strategy

The promise of inbound marketing through HubSpot seems so straightforward and clear that it's easy to assume all you have to do is get the right software and start turning leads into customers. If only it were that easy!

Unfortunately, that's just not how it goes.

Inbound marketing is a long-term approach that takes investments of time, money, thought, and patience. Even still, you should be seeing some indications of growth even very early in that effort.

If you're not growing and seeing results from your content, you will eventually give up on both content and HubSpot.
Many companies are not generating meaningful traffic because 1) they're writing about themselves, 2) they're writing about topics their persona doesn't care about, or 3) they're writing articles that have zero chance of ranking given their current domain authority.
You may believe growth content simply won't work for your company, and in a very few select instances, you may be right. Typically, though, if you're doing growth content effectively, you'll see results. You'll see organic traffic increase, leads increase, and the quality of those leads get better over time. (Here's proof!)
What do you do now?
Follow a proven content strategy based on your website's current performance.
Get some strategic help with your content calendars by finding a growth content partner.
4

Vague Goals

Back when we first signed up with HubSpot, I remember HubSpot's Academy training emphasized creating SMART goals for your content marketing. I don't know if HubSpot still uses that verbiage now, but that acronym stuck with me.

SMART goals are Specific, Measurable, Attainable, Relevant, and Timely.

SMART goals are the paragon of goal setting, but I'm not sure you have to have every box ticked to make goals work for you. The biggest challenge in that framework is to know if something is attainable. (Really, they might have thrown in the word "attainable" just so they could have a vowel in their acronym. I kid.)

When you're stepping into a new endeavor, it's very difficult to know what's possible, what's likely, and what's extremely rare.

"It's shocking how many businesses operate without any goals at all for their marketing team, except to blog more and try hard. In the Pro segment, 20-30% of companies may have organization and structure around what their targets are, but the other 80% are flying blind." –Meghan Lowell

Having worked with dozens of clients, it has become clear that having some kind of goal, even a movable one, results in much greater success than just taking what comes as a result of your efforts.

We know this intuitively, but creating and then updating goals for your marketing is time consuming, and, let's face it, pretty subjective.

Many companies, once they've signed up with HubSpot, sit down and create some kind of a measure of success. Unfortunately, because they didn't really know what to expect, they may have overestimated outcomes and wildly missed their goals. At that point, it feels senseless to set new goals, and, further, it feels like goals aren't even worthwhile.

Your content marketing efforts disintegrate into "blogging more" and "working harder" without any clear goals.
What do you do now?
Seek out some external advice on what is possible, likely, and rare with content marketing results. Make sure you temper the "success stories" with challenging cases where results aren't quite as exciting as you'd hope. (We're glad to share our experiences, both good and bad.)
Evaluate the expected results and see if content provides the necessary ROI for your company.
Set some simple, clear, and reasonable goals for long-term results. Then set a reminder to revisit them every six months or so for updating.
5

Unrealistic Expectations Of HubSpot

Renee pointed out that one of the big challenges for HubSpot customers is they may have unrealistic expectations of how HubSpot will integrate with their bespoke systems.

HubSpot is a beast. It can do so many things, and it can do them well. However, if your company has bespoke technical systems they want to integrate, it's easy to think, "HubSpot has an API, and we'll make it all work together," without really knowing what the tool can and cannot do. Unfortunately, this isn't always the case—I've actually experienced that in the past. It's a frustrating feeling to be so close to tying an integration together, only to miss the singular piece that would make it happen.

Each component of HubSpot is powerful, and can radically improve how you do business, but be willing to give a bit of ground on your own processes—especially tracking—to make the platform work effectively.
What do you do now?
Make a list of critical integrations and decide if you really do need HubSpot. It may be better in the long run to simply get your content marketing running well with a connection for your sales team.
6

Inconsistent Content Execution

Inconsistent execution happens because of one or more of the roadblocks we've already listed. When you don't have buy-in from leadership or other departments, you can't get the resources you need, have a vision for setting goals, or a budget to hire help, your content efforts start, stop, sputter, and die.

When this happens, it's easy for your company to fall back into old, comfortable patterns (even though everyone knows that it wasn't effective). If this is a persistent problem with your company, and you're ready to make a change for the better, there is a solution that works.
What's Next?
If this article has opened your eyes to the fact that maybe it's not really a HubSpot problem, we may be able to help.
Read On: How Our Company Put HubSpot To The Test
If you need a partner you can trust for your content marketing efforts, schedule a call with Lance. We'd love to show you how our team at Nectafy, partnered with your company's experts and HubSpot, can help you attract leads that reach your content marketing goals.