Want To Make Content That Converts? Try This! [Data Included]
Blog /

Want To Make Content That Converts? Try This! [Data Included]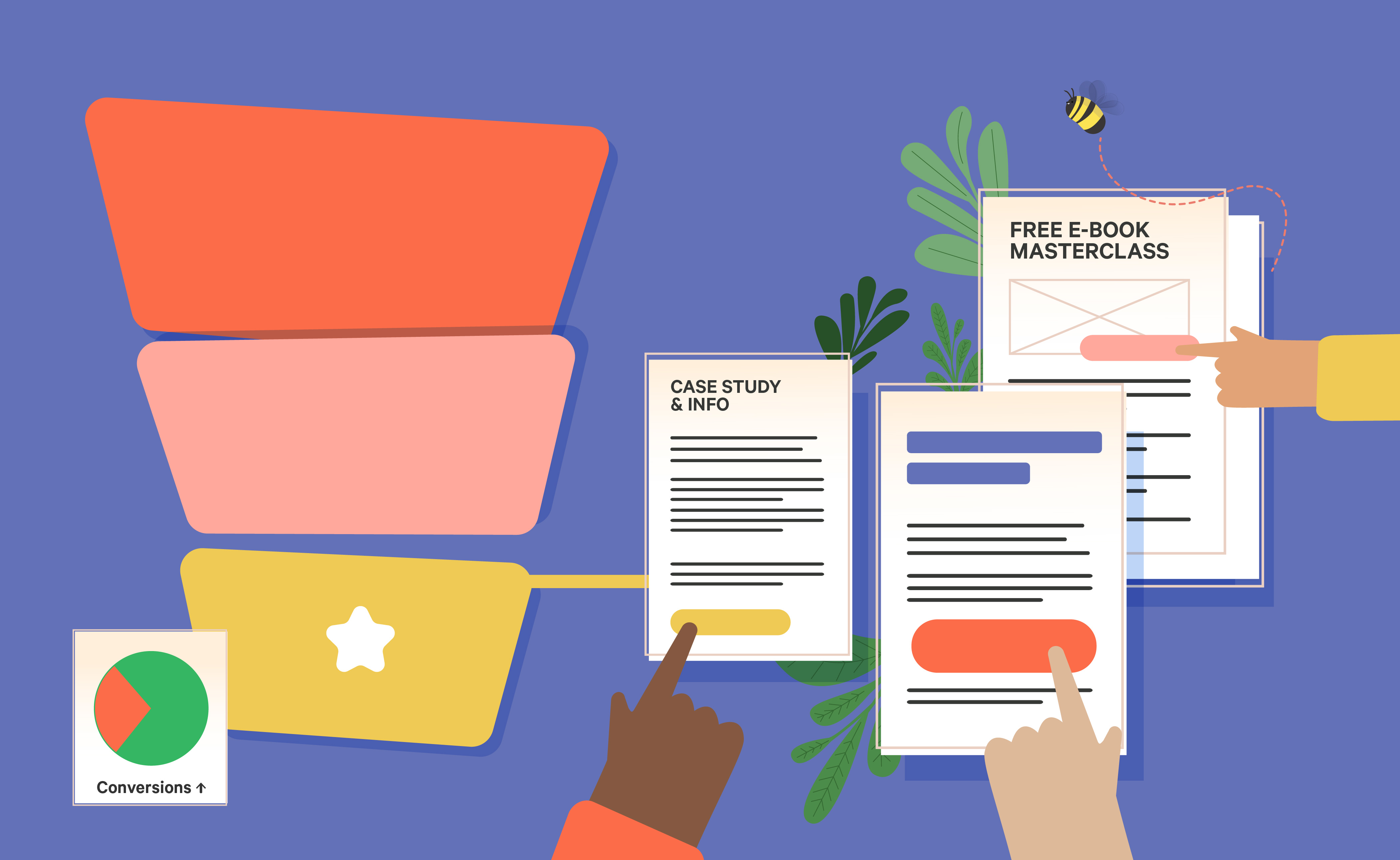 One of the common pain points we see with new clients trying to scale up their content marketing efforts has to do with producing content that converts qualified leads from their site traffic.
Producing high-converting content for your website is a tricky process that may be disrupted by multiple factors, including:
Landing page layout
Search intent of keywords bringing in your site traffic (whether paid or organic)
Number of fields in the contact form
There are plenty other factors that need to be considered along with this list but I think you get the overarching point here: Content conversion for websites is no simple task.
Now, what if I told you there was an easier way to improve your website's content conversion efforts?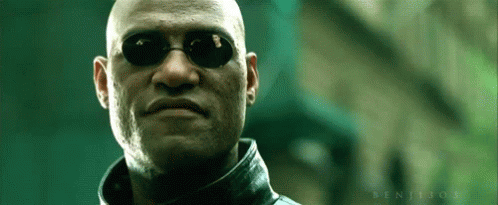 In this post, I'll introduce you to the concept of a bottom of funnel (BOF) Landing Post and show you how one of these high-converting blog posts has helped generate over $17K in total revenue for one of our clients since it was first published to their blog in March 2021 (an average of around $1,300 in generated revenue PER MONTH!).
What is a BOF Landing Post?
A BOF Landing Post is an article written to specifically attract readers who want to get in touch with your company. These posts are planned for seemingly bottom-of-funnel keywords—phrases that include words like solution, platform, company, provider, firm, services, etc.).
These posts should be written more like web copy than a typical blog post; they also have a contact form at the top of the page to help convert interested readers into leads.
Simply put, think of it like a hybrid between a blog post and a landing page, targeting prospects who might be closer to purchasing your product than others. These are what's known as bottom-of-funnel prospects.
At the top of the page you have your contact form with a few key selling points (that's the landing page section), followed by content to inform the reader and answer their questions (that's the blog post section).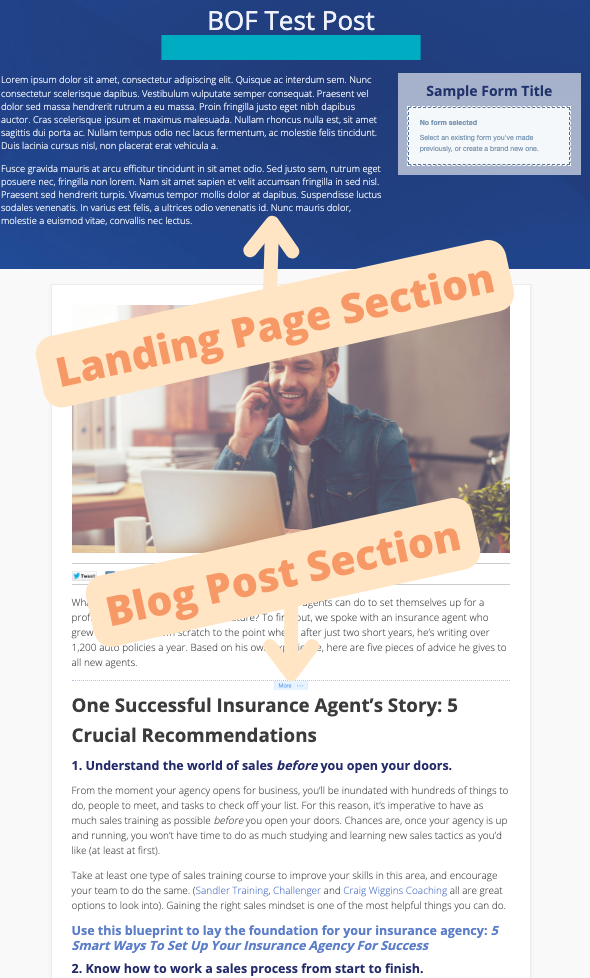 BOF landing posts have proven to be successful in not only generating more organic traffic to our client websites but also more organic leads (which also helps improve our overall conversion rate across these sites).
How do you create a successful BOF Landing Post?
If you're thinking about creating a BOF landing post, here's an easy-to-follow process that you can use to plan it out:
Identify the keywords you want to target.
Write a high quality piece of content that targets these keywords.
Insert a contact form at top of your blog post (with an intro paragraph).
1

Identify the keywords you want to target.

As mentioned in the section above, a BOF landing post is a piece of content that typically targets BOF keyword searches.

These are keywords that tend to consist of the following words or phrases:
solution
platform
services
company
provider
firm
As you research potential keywords to target, make sure you're also searching for these keywords yourself by looking at the search result pages (or SERPS) to understand what type of content is already ranking at the top of Google.
This is what's known as researching the search intent behind your keywords.
If you see results on page one of Google that showcase landing pages from other websites, then the search intent behind those keywords is more than likely associated with purchasing some sort of solution or service (see screenshot below for an example).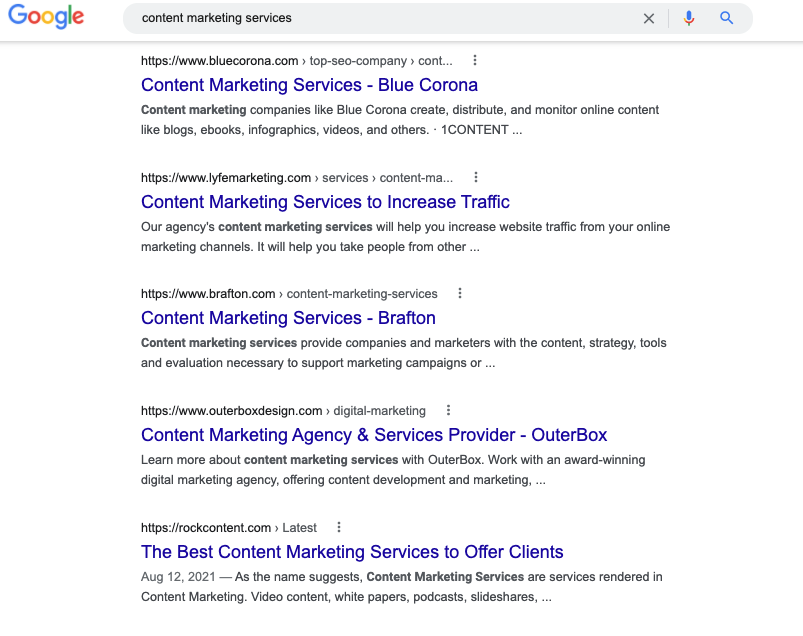 If you see results on page one of Google that showcase "ultimate guides" on topics, or pages that revolve around defining topics and listing different resources, then the search intent behind those keywords is more than likely associated with education or clarification around a topic (see screenshot below for an example).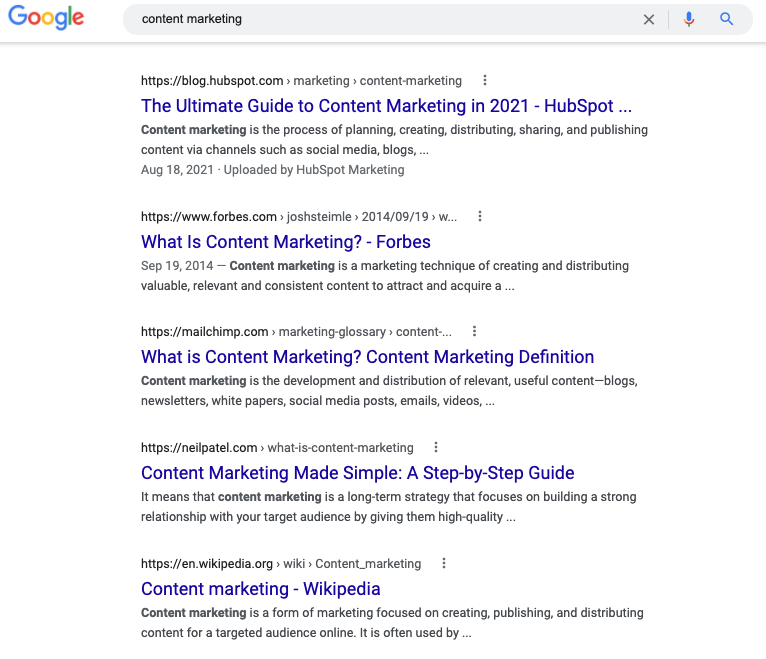 Be sure to research the search intent around your keywords before writing a single word of content.
If you don't, it could lead to a massive disconnect between the users searching those keywords and the content you're producing—which ultimately leads to fewer keyword rankings and less organic traffic for your content.
2

Write a high quality piece of content that targets these keywords.

We understand that it's challenging to find the time to write a blog for your business amid all the other tasks and responsibilities in your day-to-day work activities. It's the top factor for most clients who decide to work with us. They simply don't have the employee bandwidth necessary to produce high-quality content on a consistent basis.

However, it's very important that, if you do end up deciding to write your BOF landing post, you give it the proper time and dedication needed in order to create a valuable asset for your company's website.

A couple years ago, we conducted a study that found the average time it takes to write a high-quality blog post is four hours and 24 minutes. You'll want to make sure you're dedicating a similar amount of time to your content in order to maximize your potential for organic traffic and lead growth.

If not, your post will go down the drain along with most of the other 7.5 million posts published that very same day.
3

Insert a contact form at the top of your blog post (with an intro paragraph).

The last thing you need to keep in mind when writing your BOF landing post is to include a contact form at the top of the page with the ideal BOF conversion you'd like to see them perform across your website.

With our clients, this usually consists of a demo request or a free consultation form.

Another aspect of this part of the post has to do with putting your contact form next to a brief intro paragraph that not only introduces the subject of your blog post, but also emphasizes some of your company's key selling points in relation to that topic to help encourage users to fill out this form.
How much could your company grow with growth content?
Calculate your expected growth in organic visits based on the average Nectafy client.
Key Statistics
1,000
Month 1 Organic Visits
10,049
Month 12 Organic Visits
Where's the proof? A Real-life Example Of A BOF Landing Post [DATA]
As mentioned at the beginning of this post, we created a BOF landing post for one of our clients in March 2021 to help them bring in more targeted and qualified leads from their organic traffic.
Thirteen months after publishing this piece of content, here are some of the key results it's helped generate for our client:
| | |
| --- | --- |
| Total Attributed Revenue | $17,093.26 |
| Total Organic Page Views | 2,102 |
| Total Organic Form Submissions | 215 |
| Total Organic New Contacts | 146 |
| Total Organic New Customers | 19 |
| Organic Page View To Form Submission Rate | 10.23% |
| Organic Page View To Contact Rate | 6.95% |
| Organic Contact To Customer Rate | 13.01% |

Notice how the total number of organic page views seems pretty low compared to all the other metrics? Across thirteen months, this post only averaged around 160 organic page views per month and around 16 organic form submissions.
Typically, a post with these low numbers wouldn't be considered "high performing," but since we're exclusively targeting BOF leads this is what leads to our high revenue and contact to customer conversion rates.
Comparing these numbers to benchmarks within their industry (B2B Services), the average organic conversion rate within this industry is 7% (or 3.5% across all channels).
That means our BOF landing post is overperforming compared to most other web pages within the industry. (Remember, our organic page view to form submission rate is 10.23%.)
Furthermore, this page is converting just slightly under the top 10% of all PPC landing pages (across all industries)—which comes out to 11.45%.
The most important thing to remember with BOF landing posts is that if you are able to target the right keywords with a fair amount of monthly search volume, these posts have the potential to consistently pay off for you months after originally publishing them.
Now that's what I call a solid ROI!
Need help creating more content that converts?
Interested in putting the BOF landing post concept to work on your site, but don't have the time to dedicate to it?
Schedule some time with our founder, Lance, to discuss why you think your company would be a good fit for growth content!