11 Items To Check On Your Website To See Why It's Not Generating Leads
Blog /

11 Items To Check On Your Website To See Why It's Not Generating Leads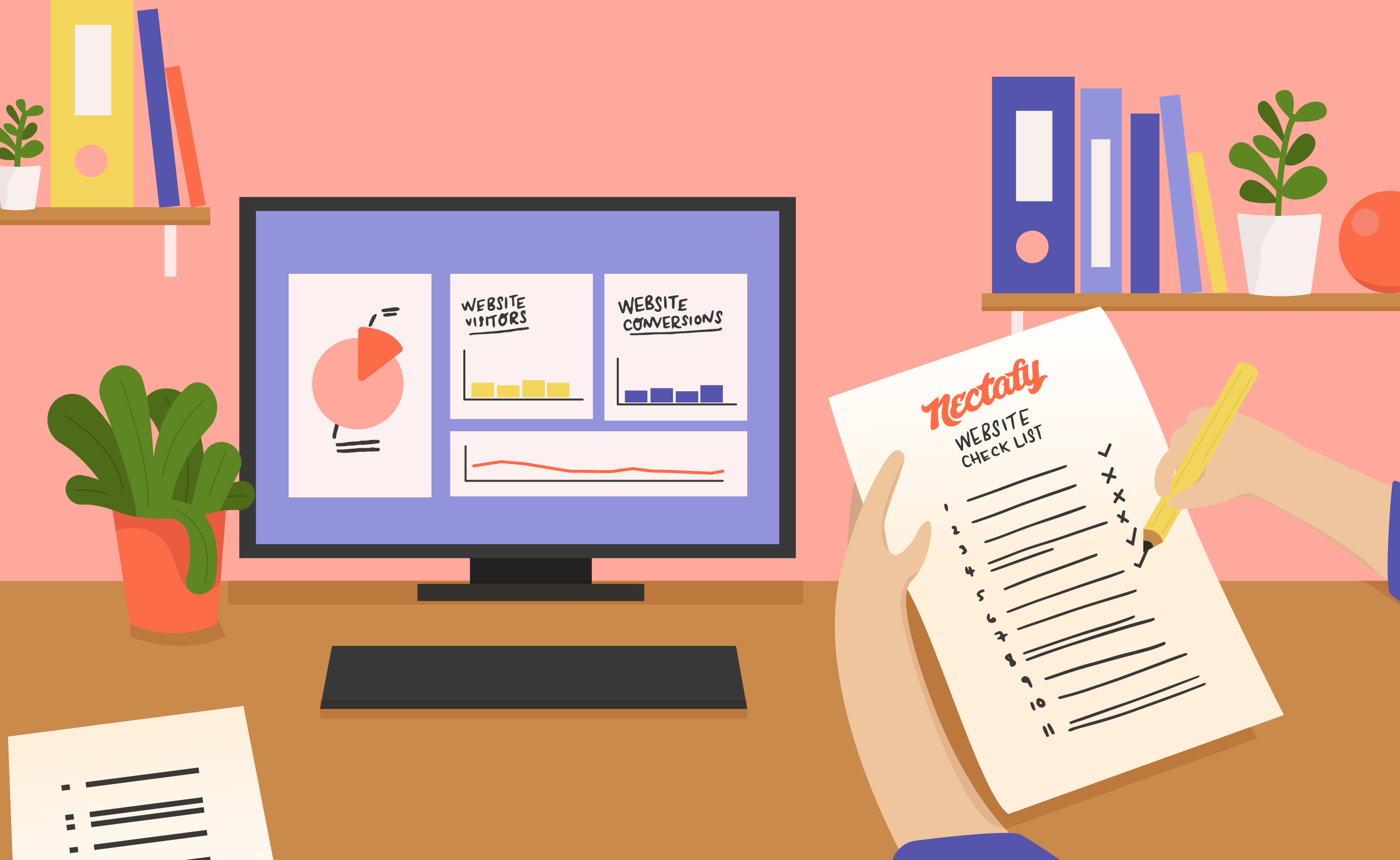 I am a list person.
Whether prioritizing my day, grocery shopping, or recapping the day's events in my journal, what I'm writing is probably going down in list format. The clarity of what to do first, second, etc., is freeing for me—perhaps that's why the list I'm sharing today is something I'm excited about.
But enough about my lists—if you're reading this, you're in need of a very specific type of list—one that will help you diagnose why your website is either a) not getting enough visitors or b) not converting those visitors into leads.
If you've attempted to make some changes to your website and nothing is budging, the following list of 11 questions will help you evaluate what might be going wrong, so you can start turning things around. Let's get started.
A Diagnostic Checklist: 11 Questions To Ask To Find Out What's Wrong With Your Website (And Fix It)
1. What's your website's domain authority?
Domain authority is a number from 0-100 that indicates how much Google trusts your website. The higher the number, the greater the trust—which means Google is more likely to send visitors your way. When you buy a domain for the first time ever, your Domain Authority is zero; Twitter, on the other hand, has a score of 99. You can determine Domain Authority by downloading MozBar.
2. How quickly does your website load?
Slow-loading websites are penalized by Google. If your website takes a while to load, it's frustrating to end users, who are more likely to return to Google and click on a different result.
Fix
If your website takes several seconds to load, use one of the many online tools available to test your website's loading speed. We recommend PageSpeed Insights by Google. This is an easy thing to diagnose and fairly simple to address.
3. How many average monthly organic sessions do you get? &
4. How many average monthly blog views do you get?
There are only six ways to get people to visit a website:
Organic Search: A free visit from a link in a search engine.
Direct: The visitor directly puts in your website URL into the browser.
Email: A visit from a link in an email.
Referral: A visit from a link on a different website.
Social: A visit from a link on a social media website.
Paid: A visit from an ad (in Google results or on a banner, etc.)
Organic search is the most consistent way to bring good traffic to your website. And since blogging is the easiest way to rank in organic search results, blog views and organic traffic are often highly correlated. If you start to blog with the intent of getting keyword rankings, both #3 and #4 should rise together.
Fix
Check Google Analytics, HubSpot or however else you track your website visits. If you have under 1,000 organic visits per month, you need to take some steps in order to grow that number. Follow the steps in this blog post for a full plan. To summarize, you need to start blogging about topics that are useful to your persona and within your website's ability to rank (based on website authority and keyword difficulty - covered in #6 below). If you commit to that plan, you'll increase organic sessions and blog views.
5. How many page one keyword rankings do you have?
Look at the individual search terms that your website shows up on page one of Google for. (To do this, you can use keyword tracking tools like SEMRush, Ahrefs, Moz, or Google Search Console.) This will help you diagnose what kind of traffic is coming to your site. If the majority of your keyword rankings on page one are for your brand name or products, your website is missing the mark. Essentially, you're not showing up in Google for what you want people to find you for.
Fix
If you don't have a blog, you've written only a few blog posts, or your blog posts are all self-serving (think: press releases) you need to address your content first. The best solution to this problem is to start blogging in a helpful way for your persona. Figure out which topics and keywords you have the ability to rank for and start writing. This post is a practical guide to help you get started.
6. What's the average keyword difficulty of your page one rankings?
"Keyword difficulty" is an SEMRush metric that makes an educated guess at how hard it is to rank on Google's first page of results for any given keyword. SEMRush assigns a number 0–100. If a keyword has a difficulty score of 100, it is extremely impossible to rank for. If the keyword difficulty is 25, it's much easier to rank for.
Fix
Since Moz's domain authority (#1 above) and SEMRush's keyword difficulty are both scores from 0-100, you can use them together. To have a good chance to rank for the next keyword you target, go after keywords with a difficulty score at or below your Moz domain authority.
In other words, if you have a Domain Authority of 20/100, pick keywords that are between 0 and 20 out of 100 and write about those topics. As your domain authority increases, you can begin to write about topics with a higher keyword difficulty.
7. Do you have backlinks?
One way Google analyzes your website's trustworthiness is by seeing if other sites trust you—this "trust" is formed through backlinks—links from one site to another site— from those sites. Backlinks (from reputable sites) increase your authority across the board and increases your website's ability to rank for keywords.
Fix
Guest posting on other sites in exchange for a backlink to their site is a good tactic we recommend— and one we used ourselves at Nectafy. Start by Googling "best guest-blogging opportunities" and your industry name to find other companies you may be able to write for. You should also ask your network of friends, partners, and industry contacts if you can write for their website (if it's a good fit).
There are many more ways to build backlinks, but guest blogging is one of the most accessible and genuine.
8. Do you have meta titles, descriptions, and headers?
What may seem like small things—your website titles, descriptions, headers, etc.—are actually the building blocks of your content, and they are crucial because they show up in your Google results. If you buy a template to kickstart your website or have it designed, you may be omitting the most basic information Google requires to "trust" you, which means you're less likely to show up in search results (and fewer people will visit your site).
Fix
Use a tool like Website Grader to evaluate your website's technical and SEO structure, and then make any necessary updates to the flagged items.
3 Diagnostic Questions To Ask If You Want To Convert Visitors To Leads
If you have success getting people to your site organically—meaning you get between 1,000 and 25,000 organic visitors per month (or in that general ballpark)—but aren't having success converting those visitors into leads, you need to ask yourself the following questions.
1. What are your conversion rates?
Once you start to get people to site, you need to turn them into something useful (contacts or leads) and then nurture them into opportunities for your business to grow (customers). The number of leads divided by the number of visitors is called your website conversion rate.
Fix
According to Impact, the average landing page conversion rate is around 2.35%; the top 25% of sites convert at 5.31% and above, and the top 10% convert at 11.45% and above. If you're converting at 2% or less, you have lots of room to grow.
Basically, you need to be tracking these numbers at minimum:
Visit to lead
Lead to MQL/SQL (you choose the qualification)
MQL/SQL to customer
To improve low conversion rates, you have several options:
Make sure you have clear navigation to important places on your website.
Make sure you have landing pages, and that those landing pages are easy to read and pointed directly at a single call to action (CTA).
Make sure you have CTAs, including the following:

Bottom-of-funnel CTAs. Bottom-of-funnel CTAs beyond contact pages are important to drive visitors to a contact—for example, a consultation, analysis, discussion, or free demo. Here's one of our bottom-of-funnel CTAs: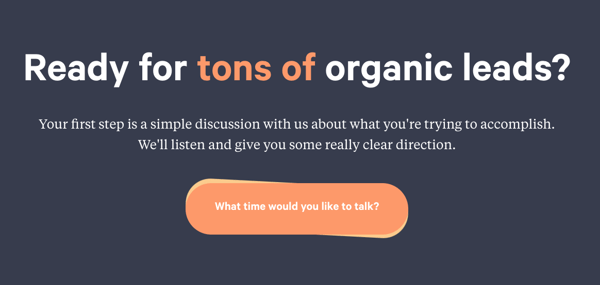 If you have blog posts but not clear calls to action within and at the bottom of your posts, you're missing out on chances to convert. In addition to a "comment" or "contact" CTA, you should also offer something useful behind a landing page. Here's one we use: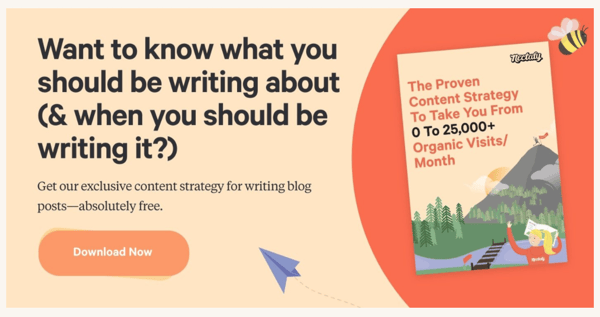 2. How many pages per session do you have?
This metric shows you how many website pages on your site are viewed on average by each visitor. Your goal is to have visitors come to your blog or website for one thing and have them stay, looking around through multiple pages.
If you're getting one page per session, you may have content that doesn't match what your persona is looking for, or you may have a navigation issue.
Fix
Make sure you have downloadable content your persona(s) are interested in. To start with, create just one CTA that's not a "contact us" form. If the only options your site offers for engagement are to talk to someone on your team or leave your website, you're missing a lot of opportunities to create helpful content that solves your personas' problems or answers their questions—in exchange for an email address or other contact information.
3. What is average time on site?
The more high-quality, extensive content you can provide, the longer people will stick around to read it. Time on site is the second most important factor to Google because it indicates quality—the longer someone spends on your site, the higher caliber it is deemed to be. Your goal is to increase average time on site because the longer someone stays, the more likely you are to rank high in Google results and the more likely the visitor is to convert into a lead. Two minutes is a good number to indicate someone is interested in what they're reading on a page.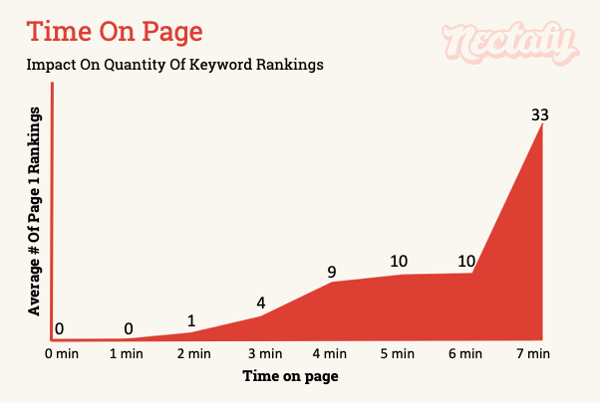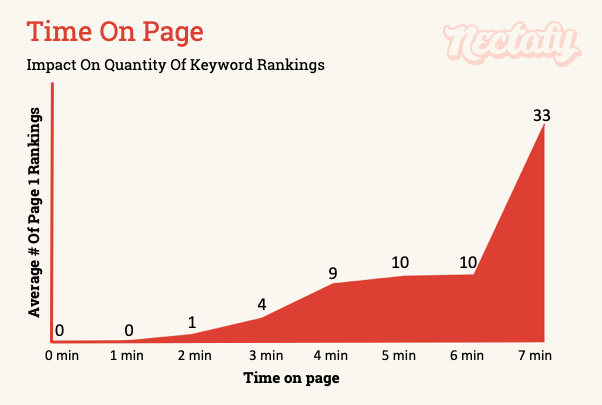 Fix
Two main factors for increasing session length are word length and quality. Longer content length is correlated to higher rankings in Google, because the more high-quality, extensive content you can provide, the longer people stay around to read it. That means you should be writing at least 600-word blog posts; for more difficult keywords, you should be writing even longer articles.
Infographic: 7 Reasons Your Site Isn't Generating Leads
Prefer to learn about your website in visual form? We paired down this post and turned it into an infographic.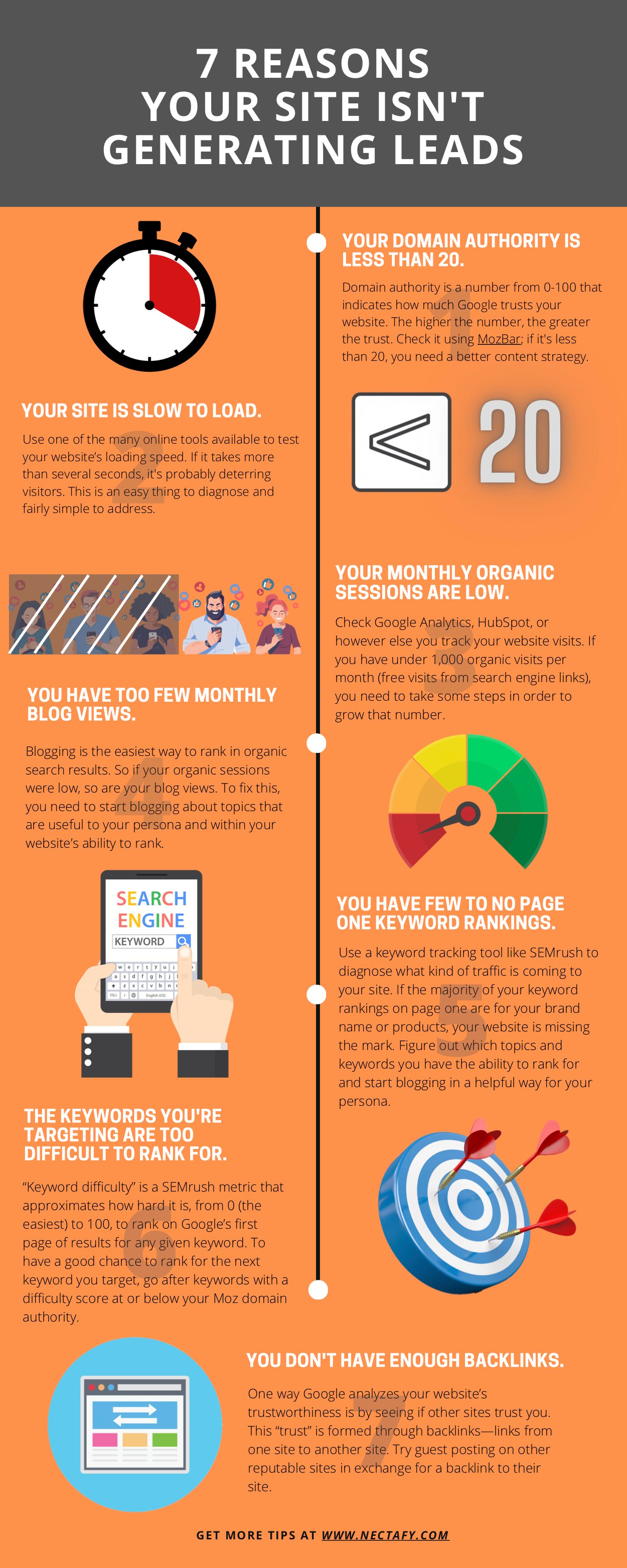 Take Action
Now it's up to you (or someone on your team) to ask these questions and do what you can to address any issues. You will see improvement over time! If you need some help with figuring out what your game plan should be and executing it successfully, let's talk about how we can help!