22 Popular Copywriting Tools To Consider In 2022
Blog /

22 Popular Copywriting Tools To Consider In 2022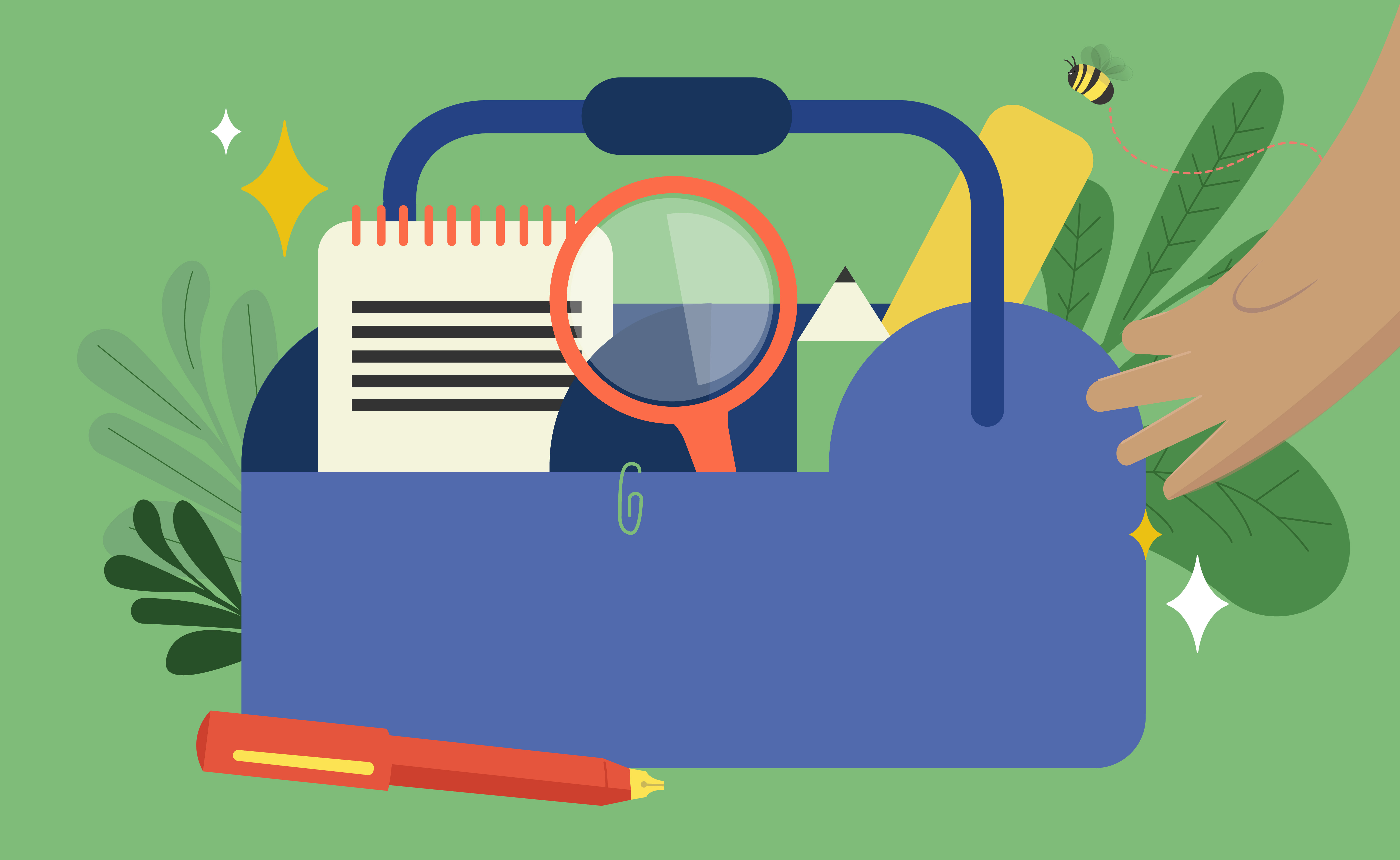 Make no mistake, even professional copywriters are sometimes daunted by a blank page, nevermind the rest of us. But hopefully that isn't stopping you from writing altogether, and doing your best to create compelling content for your business. If it is, this article is for you.
We asked business owners and copywriters to tell us about the copywriting tools they find most useful. Wherever you need help—grammar, spelling, search optimization, or even idea generation—this list of copywriting tools has you covered. All are easy to access and use from anywhere. (One note of caution, however: Some AI writing tools are included in this list, but we wouldn't recommend their use… you can learn more here.)
If tools won't do the trick and you want a team of people to create excellent content, reach out to us at Nectafy. Our high-quality growth content has gotten amazing results for our clients—and it can do the same for you!
22 Reader-recommended Copywriting Tools
1

WordCounter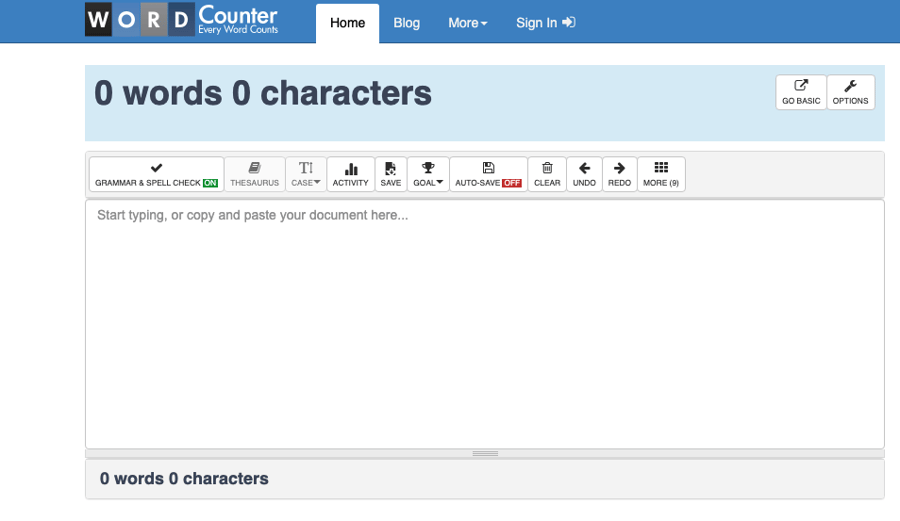 "WordCounter is the tool I use most often and find to be the most helpful for copywriting. Check out WordCounter if you are looking for a program that will enable you to check the number of characters and words in your writing in a flash and with very little effort on your part. WordCounter not only displays the current counts, but it also advises on how your writing fits within the character constraints of big sites such as Twitter, Facebook, or Google. All this while making sure you also use proper grammar and spelling. Additionally, there is no cost associated with using this service."

—Hannah Dworkin of USScrapYard
2

CopyAI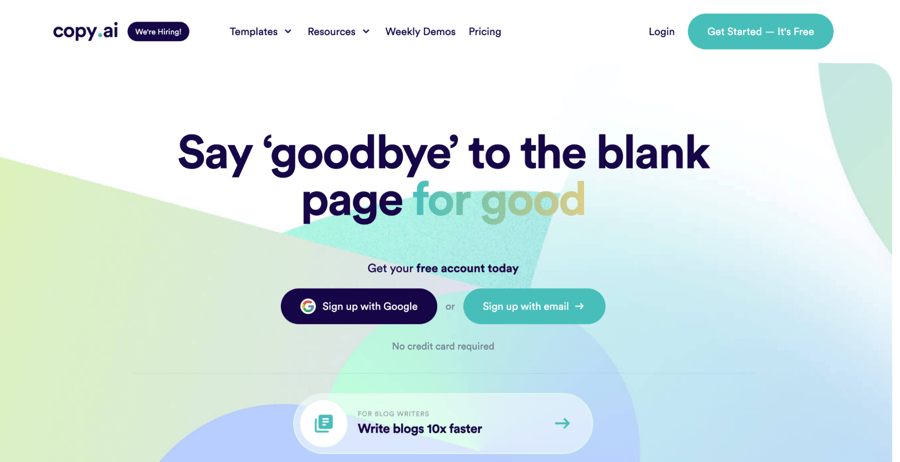 "CopyAI is an intelligence-based software that I use to write blogs, social media posts, introductions, and listicle-type articles. This copywriting tool helps me generate professional content, which has increased my website ranking."

—Ricky Lui of YoYiPet
3

AWAI [American Writers & Artists Institute]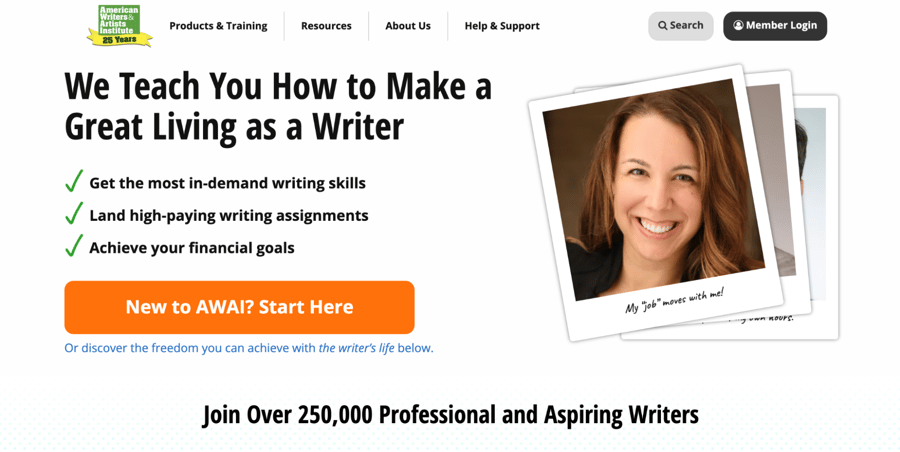 "An amazing tool to use for copywriting is the AWAI website. AWAI is a writing forum/ educational website written by writers, for writers. There are so many free tools and tips on the website, and you can sign up for courses and become certified! Check it out next time you're looking for a little inspiration."

—Mario Cacciottolo of SBO
4

Frameworks AIDA and PAS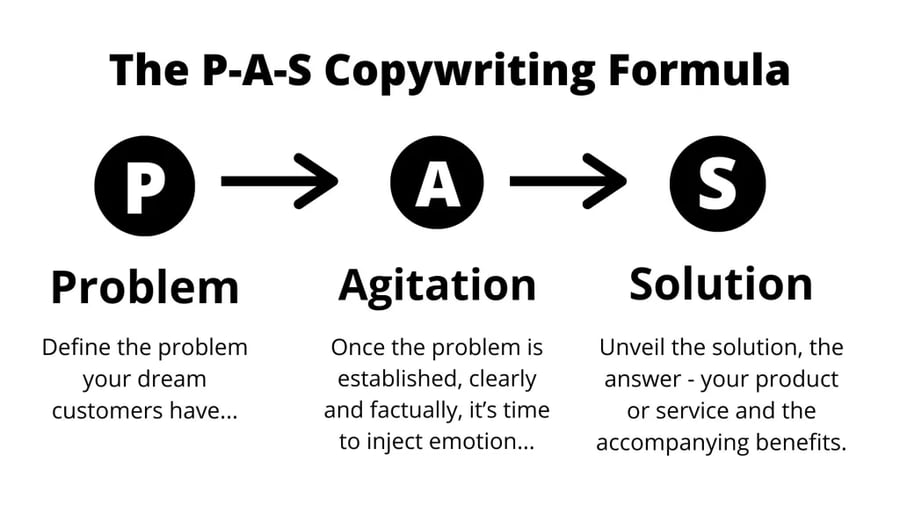 "I use AIDA for sales emails and meta descriptions, as it closely resembles the buyer's journey. PAS is a copywriting tool I use for some sales page and website copy as a way to enhance the solution/product by highlighting the problem."

—Elna Cain of Elna Cain
5

Clearscope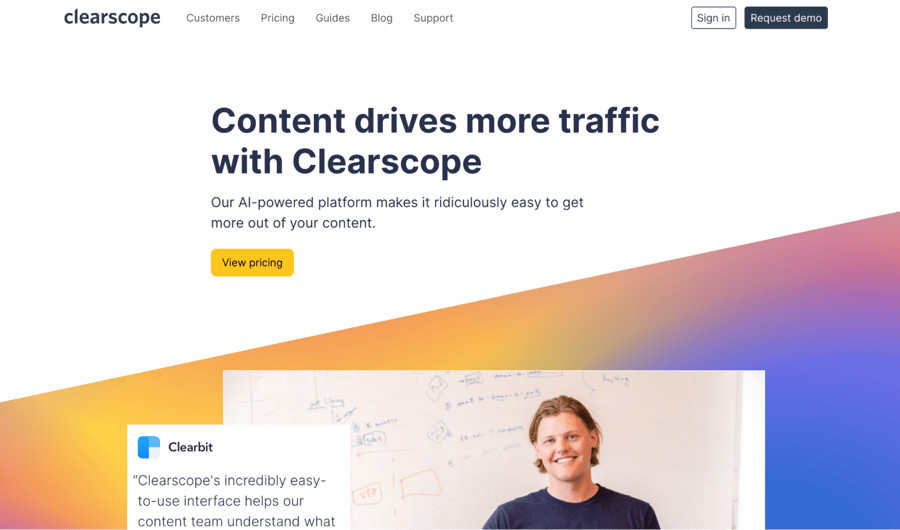 "Our team uses Clearscope to write blogs and articles on our eCommerce website. This tool not only helps you figure out the best keywords based on your topic but makes recommendations for content length and structure, and compares the competition. It uses a very intelligent AI to make these recommendations. It has allowed us to get some very high positioning in search engines for many of our content pieces."

—Jeff Moriarty of Supplement Warehouse
6

Jasper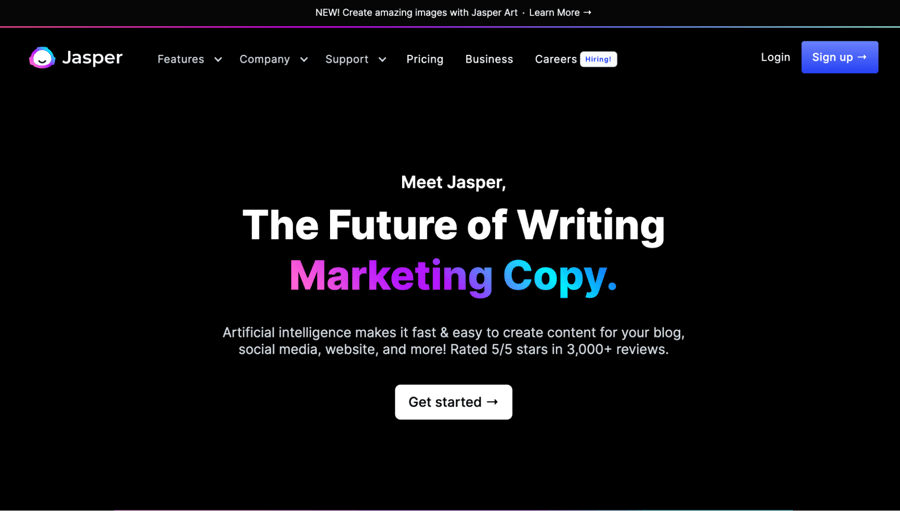 "This AI writer is my favorite tool for creating rough drafts of sales letters. While you can't replace the human mind with a piece of software, Jasper does a good job of coming up with ideas that I can then fill in to take my sales letters across the finish line. Hands down it's my favorite tool for creating the first draft quickly."
—Jonathan Green of Serve No Master
7

Automatic Script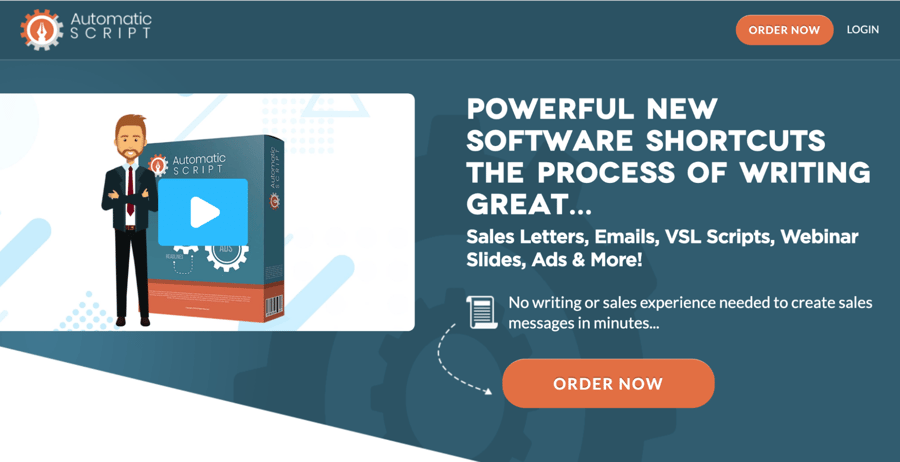 "We use Automatic Script for copywriting. The beauty of the tool is that it has several copywriting templates ready to be used according to your situation. From sales pages, emails, and follow-ups to advertisements, Automatic Script allows you to change your templates through text fields with guidelines on what you need to write to make your content more persuasive. It is a paid tool and has great value for the money spent, with many features and functionalities such as ads, CTAs, headlines, etc."

—Ronald Williams of BestPeopleFinder
8

Surfer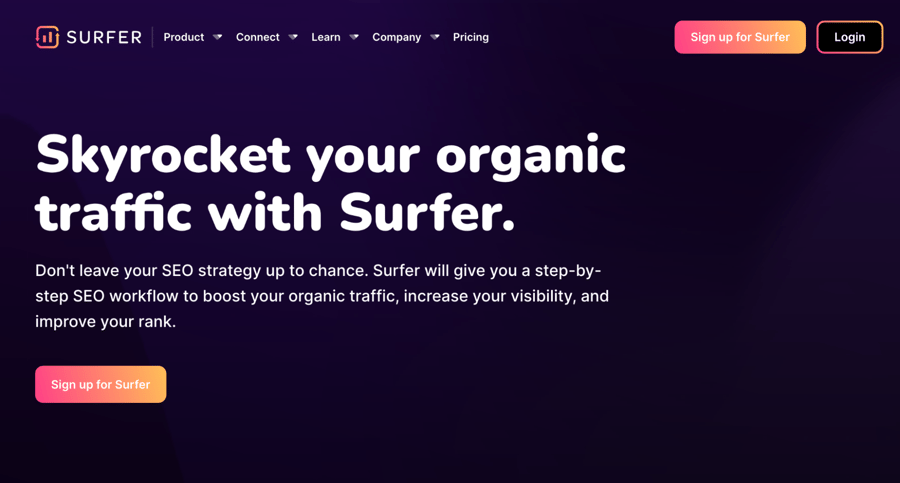 "Surfer takes the guesswork out of planning a new article by providing guidelines to follow for headings, keywords, and content structure in order to rank an article as fast as possible. They have a great user interface that updates your article's SEO score as you write content, and I use it for every article that I write for my blog."

—Jordan Fulmer of Momentum Property Solutions
"The copywriting tool I'd like to recommend is Surfer. This tool is great as it gives an estimated word count and provides examples of headers and questions you can use in your article. It also suggests related keywords. After using Surfer I found that my articles were ranking higher and my traffic volume increased."

—Abi Latham of Cat Care Checklist
9

OneLook Thesaurus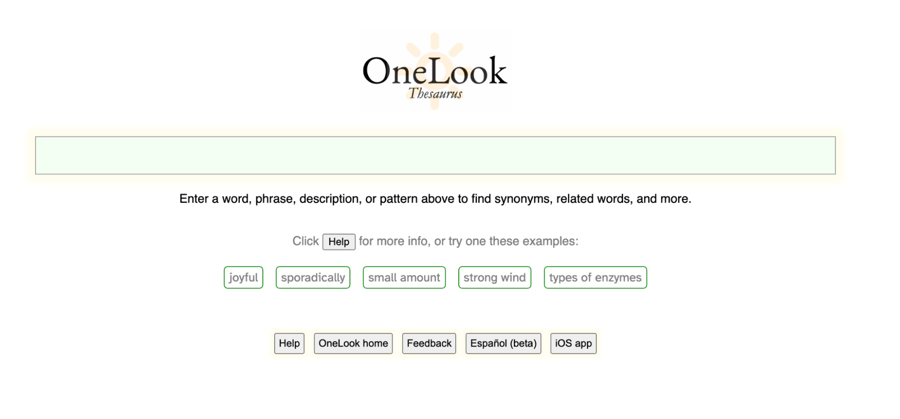 "OneLook Thesaurus is the saving grace when you run out of words. It's a tool that allows you to find synonyms of words and phrases. Personally, I'm obsessed with this tool since it's packed with power words that you can use to level up your copy. Power words add some spice to your copy, since they are words that grab attention and can efficiently fuel a reader's emotion. So if you are looking for a tool that will definitely help you upgrade your copywriting, OneLook Thesaurus is a total game-changer."

—Arvie Narido of Gift Rabbit
10

Grammarly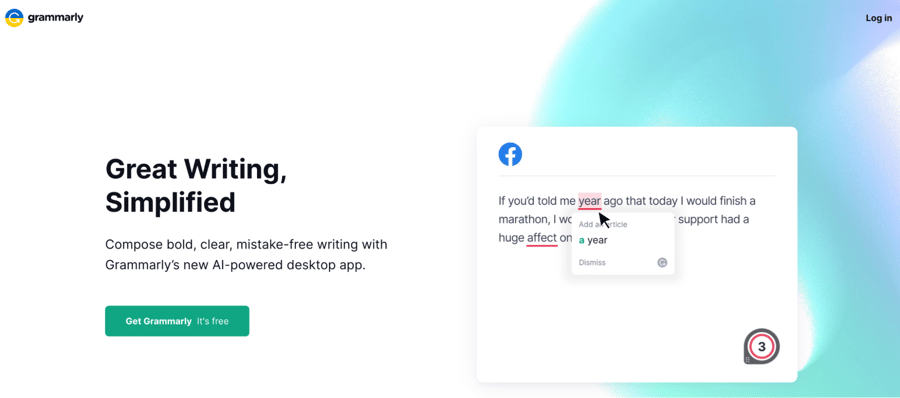 "Grammarly keeps me from rambling and making redundant sentences, while also correcting my spelling mistakes and grammar."

—Geninna Ariton of Trendhim
"Using Grammarly gives me the confidence that my writing is not only error-free but uses the right style and tone. Using the plagiarism feature, it's easy to spot common phrases, which means all my copy is guaranteed to be 100% unique."

—Matt Jackson, SEO Consultant
"I have been using Grammarly to create great copy for many years. The Grammarly premium account enables me to check for any errors and plagiarism. The fast, easy-to-use app allows me to set goals, gives a grammar score, and rates vocabulary and readability, along with reading time."

—Eliana Levine of FindPeopleEasy
"A free tool that I always use for copywriting is Grammarly. I have it downloaded on my Chrome browser, which means that it automatically detects any spelling/grammar mistakes on my Google Docs. This is incredibly useful because it accurately points out all my mistakes for me, which means I don't waste hours proofreading my content!"

—Jim Campbell of Honeymoon Goals
"Grammarly Premium is the copywriting tool that I use. Although it has a free version, I prefer the premium version because of the additional features such as a plagiarism checker. Grammarly evaluates our content automatically for grammar, spelling, vocabulary, conciseness, and readability. One of the best things about the tool is the Grammarly extension for web browsers that gives real-time feedback on anything you type, like when using Google Docs or even sending emails. The tool has helped ensure my quality of work is error-free, and just to be sure, I proofread everything once more before submitting it."

—Charles Ngechu of EasyPaydayLoan
11

Facebook Ad Library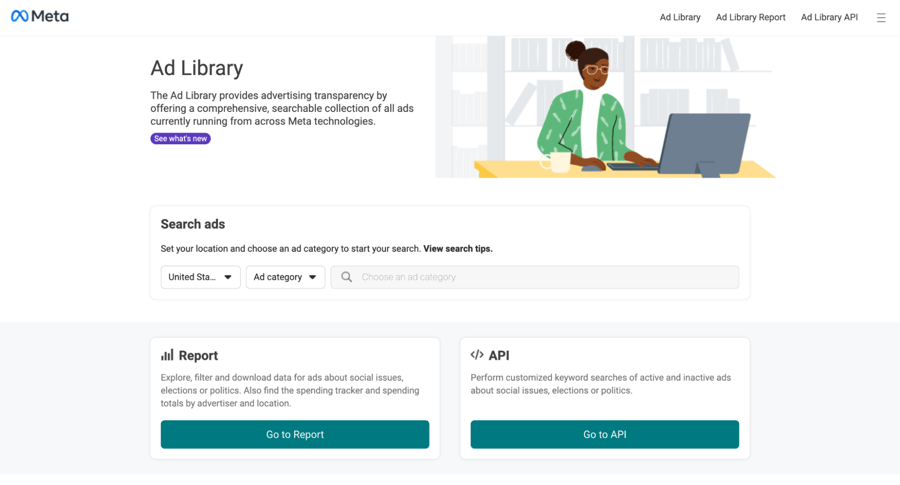 "The Facebook Ad Library is an online repository of ads that run in real-time on the Facebook social media platform. Key features: Gathering inspiration and competing insights are essential to copywriting. Marketers can search the Facebook Ad Library for ads by keyword or advertiser name. This makes it easy to find your competitors' historical advertising data, where you can research their information and see how they use copy to market products similar to yours."

—Andy Hao of OurPCB Tech
"Facebook Ad library lets me search for ads that have run by keyword, which is a great source of inspiration. Understanding what others in the education field are doing helps me stay ahead of the competition."

—Mark McShane of Skills Training Group
How much could your company grow with growth content?
Calculate your expected growth in organic visits based on the average Nectafy client.
Key Statistics
1,000
Month 1 Organic Visits
10,049
Month 12 Organic Visits
12

ProWritingAid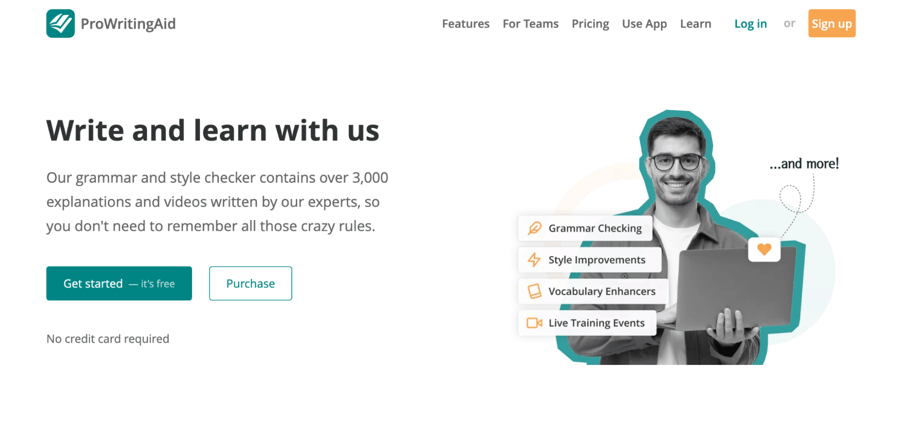 "ProWritingAid has a selection of copy styles to choose from, gives suggested improvements in real time, and [produces] detailed reports that clearly show where your writing needs improvement. It's simple to use and significantly speeds up the writing process."

—Amy Bos of Mediumchat Group
13

Copywritely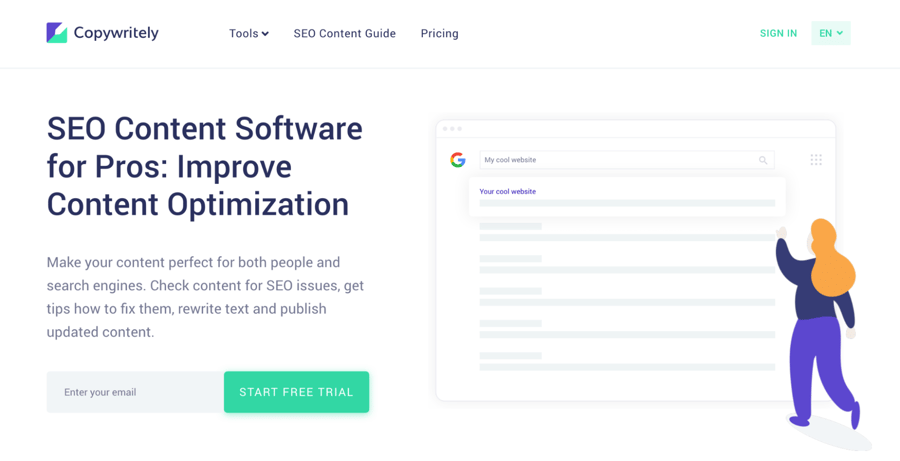 "Copywritely is useful to create content for search engines and readers. It identifies duplicate content and detects keyword stuffing, and its readability checker calculates how easy-to-read the content is for readers. With Copywritely, I can check content for SEO issues, delete low-quality content, show improvement tips, and rewrite and publish updated content."

—Angus Chang of Iupilon
14

Copyscape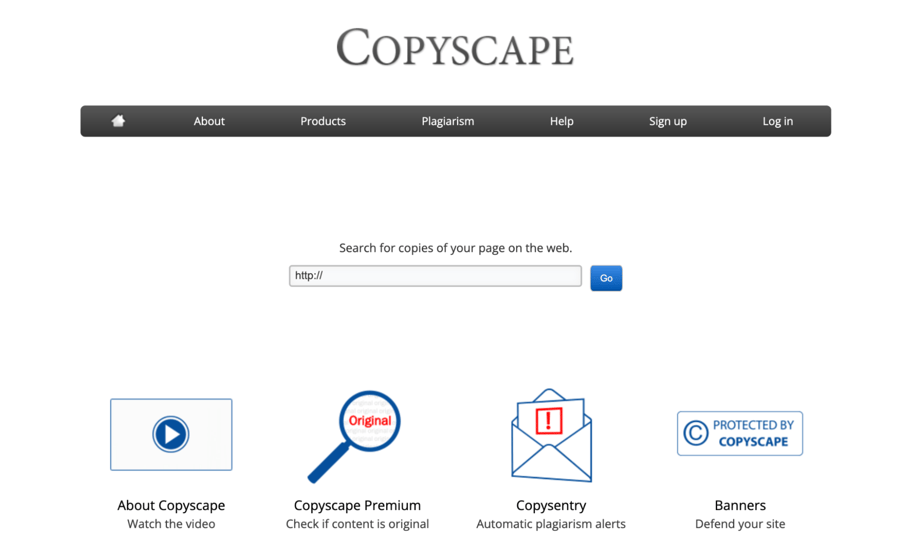 "Copyscape checks your copy to make sure it's 100% unique and plagiarism free."

—Amy Bos of Mediumchat Group
15

The Hemingway Editor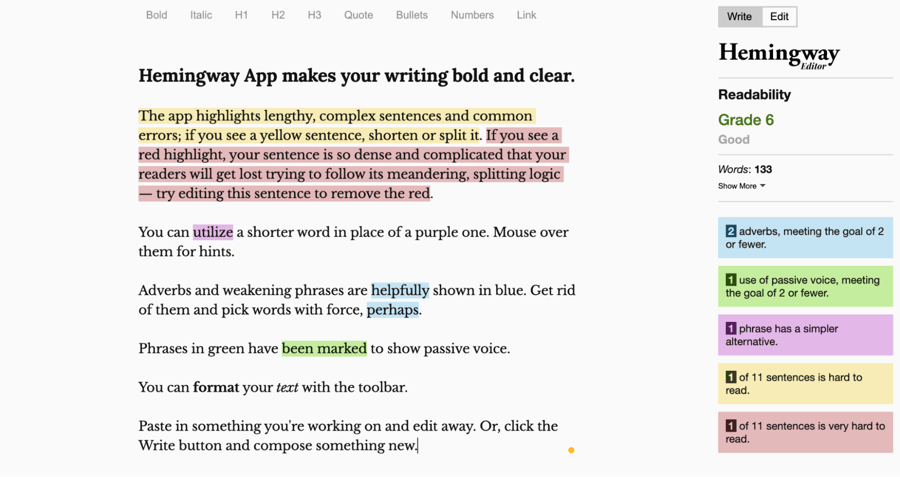 "The Hemingway Editor is an in-browser tool that evaluates the quality and reading difficulty of what you write. It uses helpful color coding to bring your attention to sentences or phrases which need revision, making your writing more accessible for people of every ability."

—Max Wesman of GoodHire
"The Hemingway Editor App highlights places in your text to revise down to a sixth-grade reading level or lower. Confusion hurts a sale; use this tool so everyone has a clear understanding."

—Jonathan Hartman of SmugPelicanCopy.com
"The Hemmingway App, much like Grammarly, my second favorite, offers alternative sentence phrasing for sentences that may be challenging to read. The app also tells you the number of adverbs you use, how many times you use passive voice, and offers a number of improved grammar suggestions."

—Zach Blekinsopp of Digital Roofing Innovations
16

NeuralText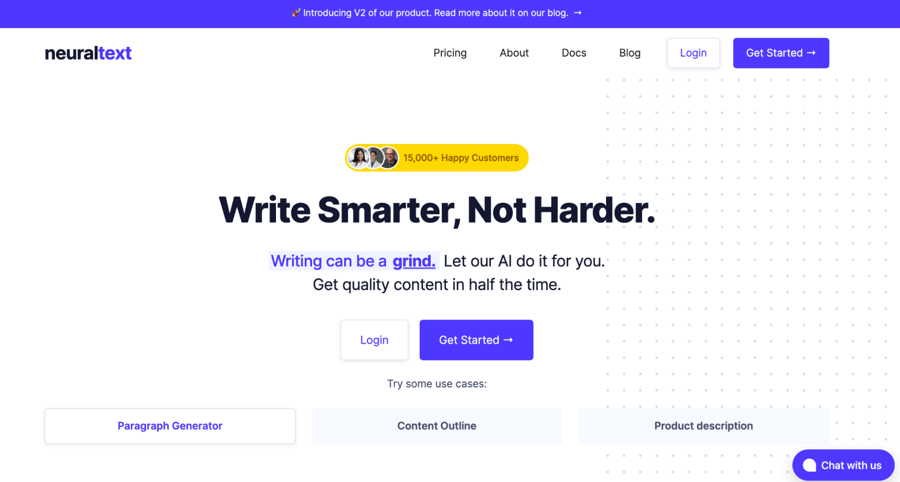 "NeuralText is an AI that's simple to use and shows all the information needed to write excellent copy. It gives you insight into what other sites incorporate into their copy and enables you to create content that'll rank."

—Amy Bos of Mediumchat Group
17

WordHippo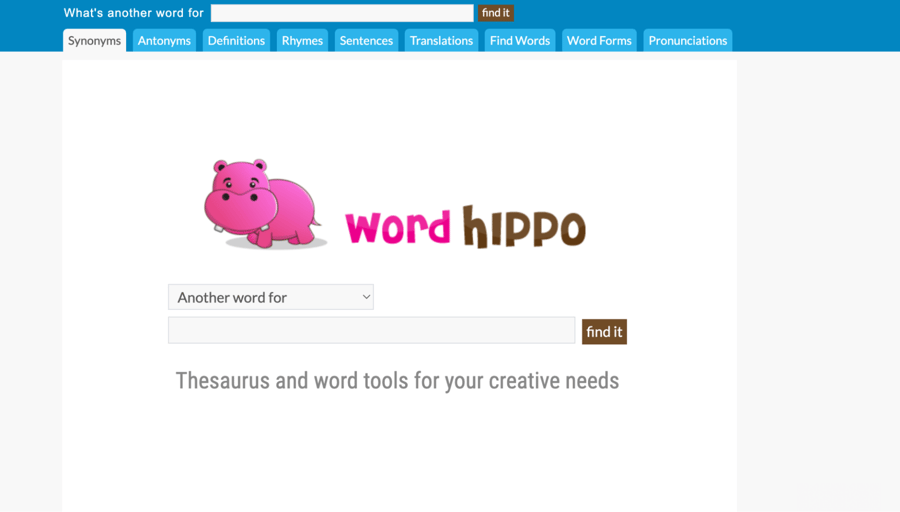 "WordHippo is a great online thesaurus that can help writers avoid using words repetitively. Variation is important when writing, and using a thesaurus can make the difference between a good piece and a great one."

—AJ Silberman-Moffitt of Tandem
18

HyperWrite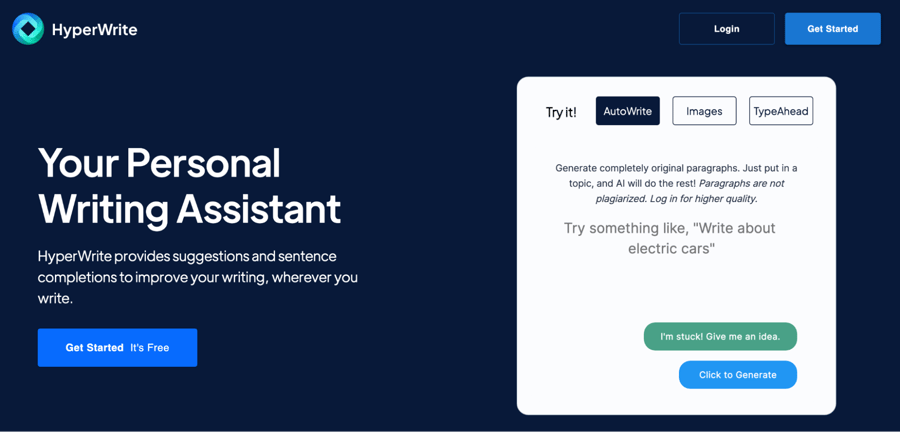 "I tend to write long sentences and HyperWrite helps me shorten the text, and makes it easier to read and more engaging. I find this really helpful, and it also saves me a lot of time during copywriting."

—Daniel Wirtz of Facilitator School
19

SpyFu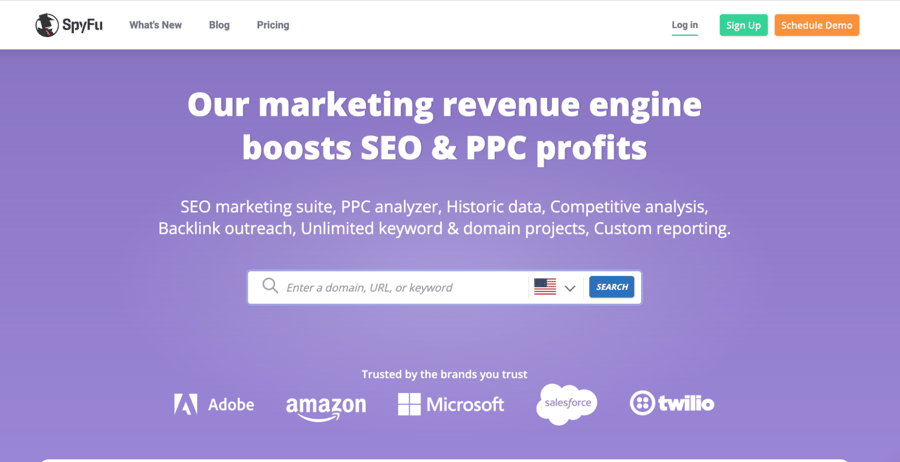 "SpyFu simplifies my competitor analysis process. You just enter the site into the search bar and it brings up all the ads they have run in Google plus top-performing content and more."

—Tom Bruzek of Selling Land Fast
20

AnswerThePublic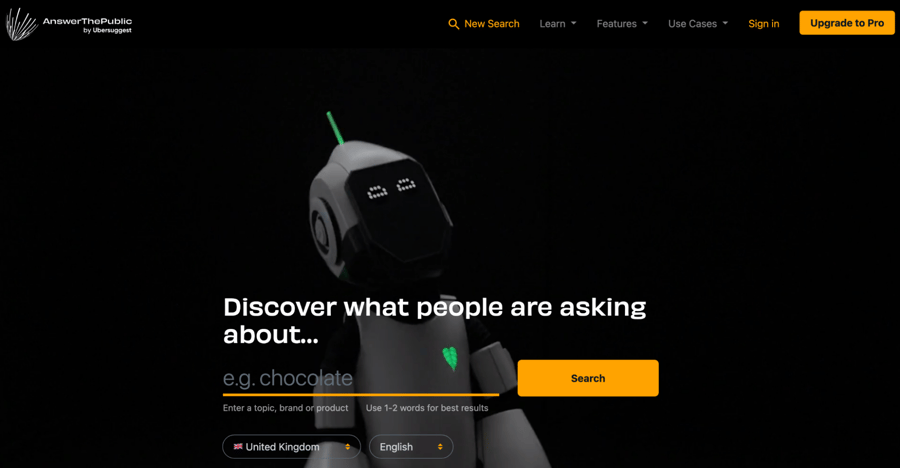 "AnswerThePublic helps me understand what questions home buyers are asking right now and produce relevant and timely copy. I just enter the keyword and the most searched-for questions are displayed."

—Catherine Mack of House Buyer Network
21

Copysmith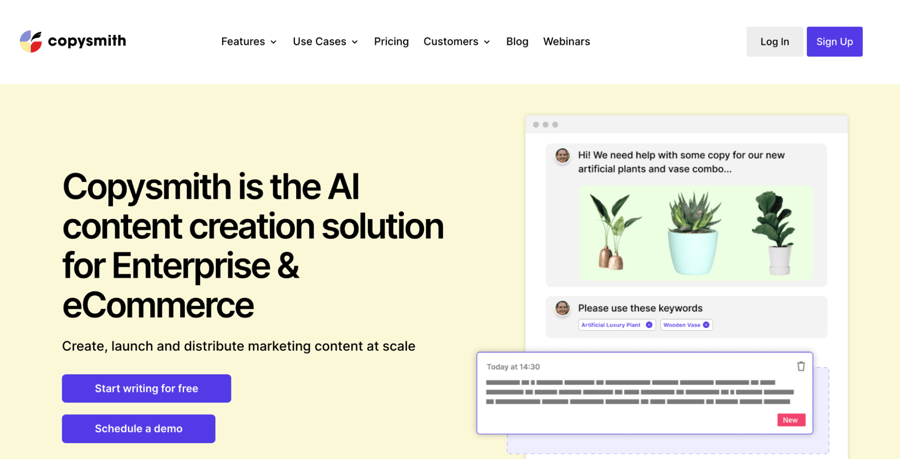 "I use Copysmith to create ads and get ideas for blog posts. Using Copysmith to write introductions to copy inspires me and speeds up the process."

—Andrew Porwol of Garden Centre Shopping
22

Google SERP Optimization Tool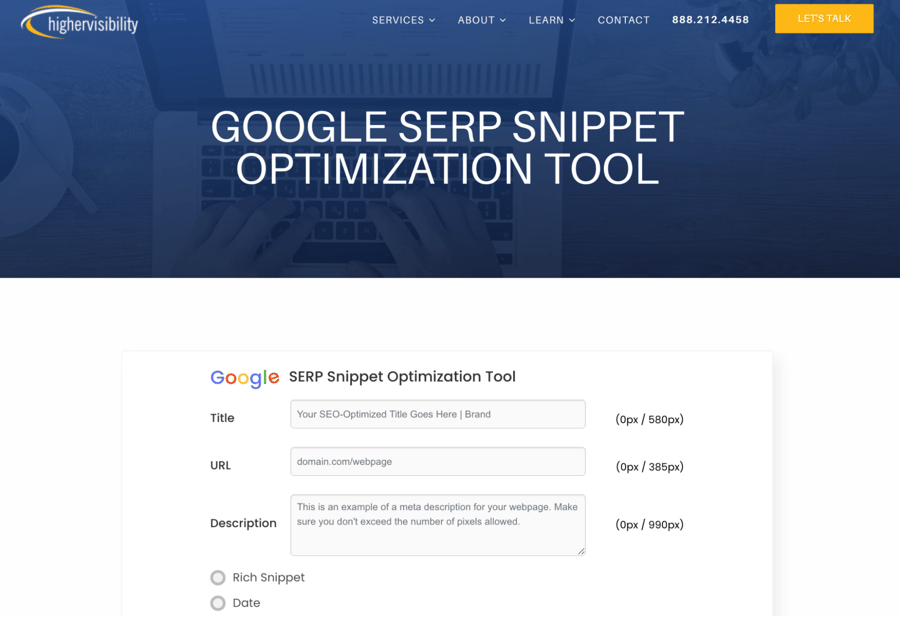 "We use HigherVisibility's Google SERP Snippet Optimization Tool to check headline length and meta description appearance. It's a handy way to see if we need to make any adjustments in order to get the best information to searchers."

—Devin Schumacher of SERP
Happy writing!