How To Track Content Marketing ROI For Your Business
Blog /

How To Track Content Marketing ROI For Your Business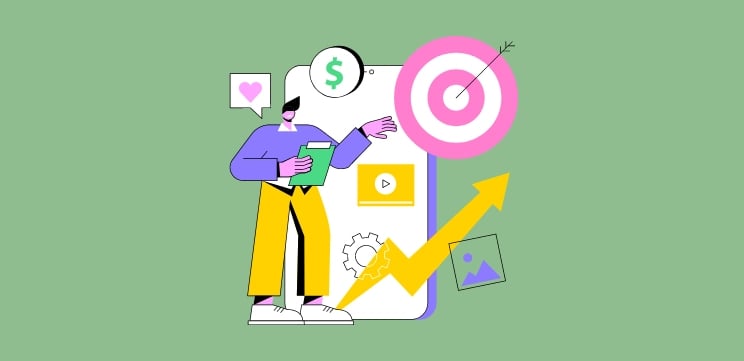 Measuring the ROI of your content marketing efforts isn't easy.
Between all the different costs associated with creating each piece of content and the various channels you're publishing across, determining profitability can seem as murky as navigating through a swamp.
And other content marketers agree too.
A recent 2023 study from Semrush found that 46% of the marketers and business owners they surveyed didn't even track their content marketing ROI. We'd be willing to bet that's because the exercise is so darn… fuzzy.
That's why we decided to create a step-by-step guide for your ROI tracking efforts.
So let's get into it.
Tracking Your Content Marketing ROI: A Step-by-step Guide
Before we get started, the first thing you need to understand is that evaluating the ROI of your content marketing initiatives isn't an overnight process. Rome wasn't built in a day, and your organic search rankings and associated web traffic volume are no different.
That being said, this doesn't mean you should fly blind.
There are three steps to successfully tracking your content marketing ROI:
Below we'll break down each of these steps in detail to give you a better understanding of how to track your content marketing ROI effectively.
Step 1: Calculate all your content marketing spend.
First, take a hard look at all the associated costs your campaigns incur.
This can include:
Internal labor costs—the calculated hourly business expense associated with assigning part-time or full-time in-house staff members to work on content
Freelance or outsourced work—fixed fees or hourly compensation given to independent contractors or services to support your marketing efforts
Tools and software—any annual or monthly subscription costs for tools or software used in conjunction with your content creation process
Stock media—licensing or subscription costs used for stock photos, videos, or music content in your campaigns
Advertising and promotion—additional spend used in paid advertising or promotion of your content
Use a simple spreadsheet or Google Sheet to add up and track all of these costs over time. It's a great way to make sure you're capturing any incurred expenses associated with your content campaigns and helps you to easily identify where your break-even point is as you track your ROI.
Add all these costs together and divide them by the total number of content pieces that are generated in a given period of time (monthly, quarterly, or annually).
This will give you the average creation cost of each piece of content.
How much could your company grow with growth content?
Calculate your expected growth in organic visits based on the average Nectafy client.
Key Statistics
1,000
Month 1 Organic Visits
10,049
Month 12 Organic Visits
Step 2: Track your content marketing leads.
The next step to take when calculating your content marketing ROI is to track all your content marketing leads. While this can seem like an intimidating task, there are a number of great tools available that you can use to make the process more manageable, including HubSpot, Google Analytics, and content-specific CTAs.
Use HubSpot To Better Understand Your Lead Sources
By using a tool like HubSpot and integrating it with a CRM solution, you can create custom contact lists that you can use to track all the new leads your content marketing campaigns generate each month.
This is one of the most effective strategies Nectafy uses to monitor and report on lead generation performance for our own clients.
Start by creating campaigns for each of your marketing funnels, such as webinars, ebooks, and blog posts.
Then use HubSpot's reporting and tracking tools to capture any newly acquired leads that come in as a result of these campaigns.
Once you start organizing each new content lead, you can then start tracking how much revenue each of them generates for the business over time.
Create Custom Reports In Google Analytics To Track Lead Conversions
Google Analytics is another powerful tool that simplifies the process of tracking content marketing leads.
Its custom reporting features allow you to easily track which landing pages are leading the most bottom-of-funnel (BOF) conversions.
This information can prove invaluable in helping you to identify which content pieces are providing the biggest return on your content marketing investments.
Check out this article for more information on creating landing page reports in Google Analytics 4.
Create Actionable CTAs To Capture Lead Sources
It can be challenging to accurately track all the leads that are generated as a result of people reading a blog post or viewing a shared social media post.
One way to address this is to include a direct call-to-action (CTA) at the end of each piece of content you create.
CTAs can be configured in a number of ways and don't necessarily have to involve a direct purchase or sign up.
For example, you can create CTAs that are specifically designed to nurture leads through the sales funnel, such as asking them to join an email list, request additional information on your products and services, or even download a whitepaper from your website.
For example, here's a relevant CTA that might appeal to you as you're reading through this specific blog post:
You should view CTAs as a way to measure the success of your content.
The more people you can get to take action after consuming your content, the better chance you have of converting them into paying customers down the line, and the easier they will be to track.
As long as you're trying your best to track which type of content is generating new leads, you're on the right path to understanding your content marketing ROI.
Step 3: Evaluate ROI and adjust.
Once you've determined how your content is performing relative to your goals, it's time to calculate the return on investment. This will provide valuable insight into whether or not your content marketing efforts are actually delivering tangible results.
Use the data you compiled from steps 1 and 2 by plugging them into the following ROI formula:
The total revenue gained from your leads (Step 2) minus the total investment costs (Step 1) divided by the total investment costs (Step 1).
The result is your ROI percentage for each piece of content you produce—simple as that!
It's important to realize that not all your content pieces will generate a positive ROI when using this formula.
However, this doesn't mean the content isn't worth anything.
Not all of your content marketing efforts are easily attributable on their own, and they shouldn't be viewed as an independent investment.
Looking at the whole picture (total revenue gains and costs over a specific time period) is a much more effective way of gauging your content marketing success.
Even if you don't see directly attributed revenue coming from a specific content piece, you should still use other engagement data—such as number of impressions, time on page, and engagement rates—to better understand how your efforts are performing overall.
A great way to visualize your overall content marketing performance and relative ROI is to bring all your data under one unified platform. We use Databox regularly to take all the important data points we track and turn them into easy-to-understand visuals for our clients.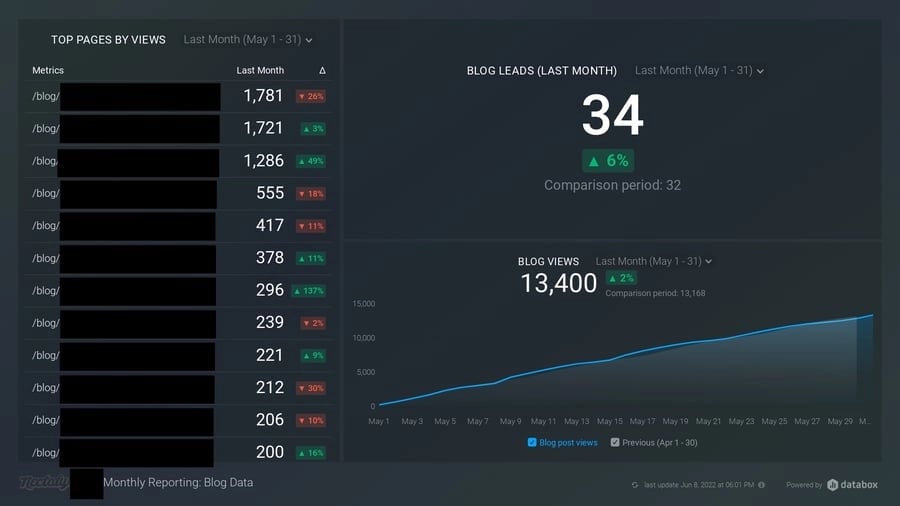 Data visualization is incredibly valuable when determining the effectiveness of your content strategy while reducing the time and energy it takes to make sense of the data.
BONUS: Real Insights From External Experts
To help us better understand the tricky nature of content marketing ROI, we decided to reach out to some experts outside of Nectafy to gather their thoughts around this topic.
Here's what they had to say on various aspects of ROI:
What's your biggest challenge when measuring content marketing ROI?
What are your top tips for measuring content ROI?
Can you show us how you track content marketing ROI?
Thank you to our external experts!
Hopefully those bonus insights sparked some new ideas for you to consider when thinking about how to track the ROI of your content marketing efforts.
We would like to thank the following experts that contributed their insights to these videos:
AJ Silberman-Moffitt from Tandem (Senior Editor and Buzz Ambassador)
Juliana Frisoli from ROAR to Rich (Founder & CEO)
Maurice Harary from The Bid Lab (CEO)
Set Up Your Content Marketing Strategy For Success
At Nectafy, we not only specialize in showing you how to accurately measure your content marketing ROI, but we also have industry-proven techniques you can apply to significantly improve it.
Whether you're looking for help with a specific content project or want to create a long-term strategic plan to scale your campaigns in the future, we have the resources and expertise to help you see it through.
Book a call with us today to talk about how we can work together to reach your content marketing ROI goals.