12 B2B Content Marketing Examples You Need To Check Out
Blog /

12 B2B Content Marketing Examples You Need To Check Out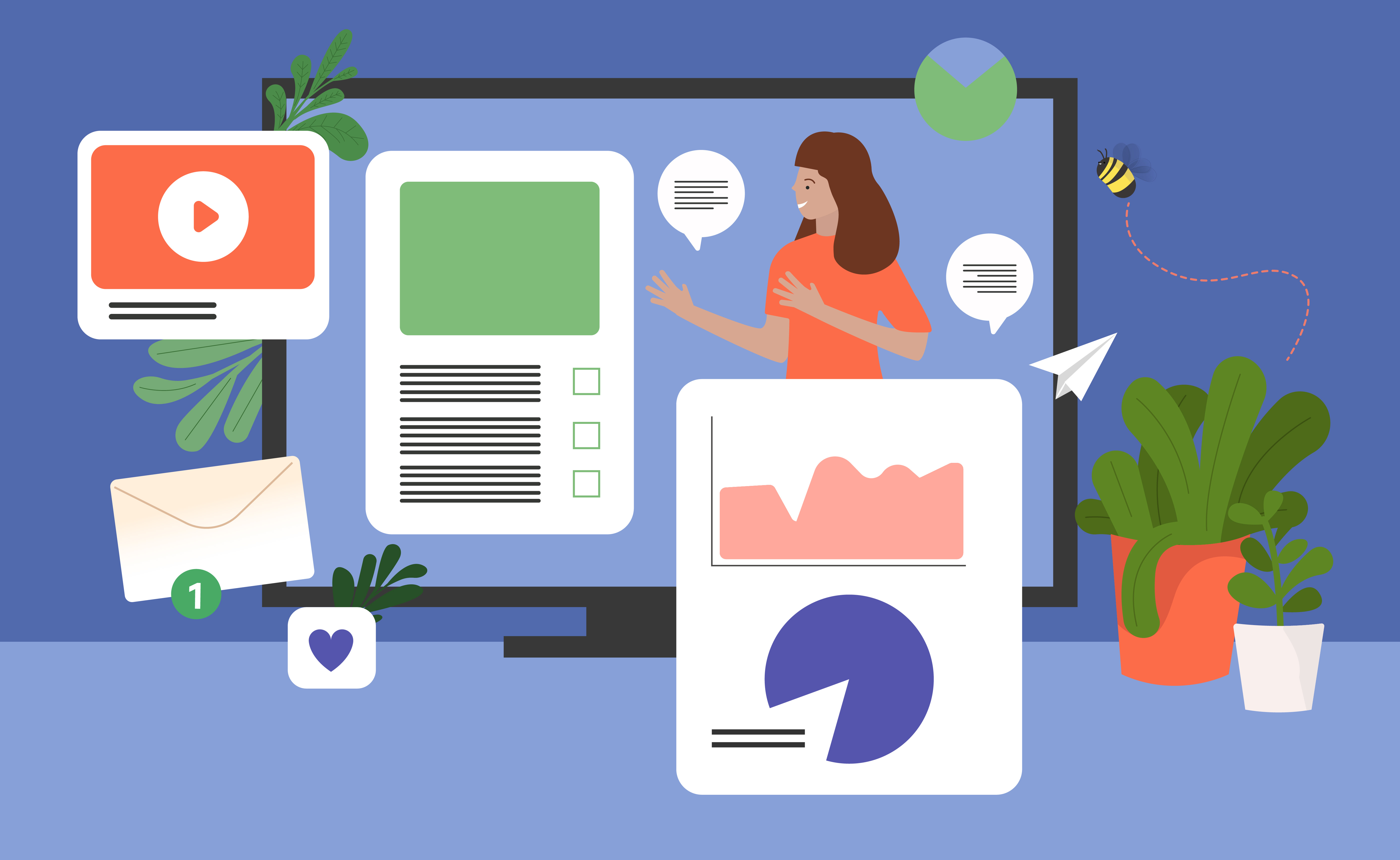 Did you know that 93% of B2B companies believe that content marketing generates more leads for them than traditional marketing strategies?
Compared to other marketing tactics such as PPC, social media, or cold email outreach, content marketing gets to the heart of your audience. It is designed to build loyalty and trust among your target demographic, creating what will hopefully turn into a long-term relationship.
What exactly constitutes B2B content marketing, and which brands are doing it right? To find out, we asked a group of industry professionals to share their best B2B content marketing examples and gathered their responses here.
12 Impactful B2B Content Marketing Examples
1

Webinars

"Webinars stand out to me as the program that most exemplifies a good business-to-business (B2B) content marketing effort. You can promote new products or services, introduce your workers, invite CEOs to share their experiences, or have a round of questions and answers during a webinar. To create leads, Semrush capitalizes on the power of webinars and frequently hosts instructional events that are led by the industry's most prominent digital marketers."

—Ellie Shippey of EZContacts
2

Positive Reviews

"Asana figured out how to put their positive reviews in the spotlight and also allow their customers to take center stage. It was clever and original. Their customers loved being noticed and telling their stories, and others liked reading about them. Also, it could have linked some of those businesses together, even though they had no prior connection."

—Baruch Labunski of Rank Secure
3

Gated Content

"In my view, gated content is the best B2B content marketing example. Your mailing list can grow with gated content. You can publish limited-access white papers, checklists, data, case studies, research reports, ebooks, and templates. Shopify uses gated content efficiently, despite offering many free materials as well."

—Gerrid Smith of Joy Organics
4

Video

"Video content marketing is my favorite B2B project. Videos are a fascinating content format. It can help showcase top management and staff, present product overviews, explain work processes, detail customer success stories, and announce new features or services. SurveyMonkey excels at B2B content marketing. They offer short courses and invite industry professionals to discuss trends."

—Robert Warner of Virtual Valley
TIP: Stop being so serious!
"There is a misnomer in B2B content that you must be serious when speaking to a corporate audience, yet this ignores an important buying trend: Humans buy emotionally first and then rationalize logically. This means you must look to provoke an emotional response that is memorable, so incorporating humor is ideal. Todd Clouser from Refine Labs is the best example of this done well."
—Patrick Ward of Rootstrap
5

Newsletters

"I think newsletters are a successful B2B content marketing technique. B2B companies use newsletters to communicate. Your prospects' email inboxes are usually open at work, so send them popular articles, industry trends, and new product and service announcements. Taco from Trello, a goofy dog, recommends this week's best stories in the Trello newsletter."

—Travis Lindemoen of Nexus IT Group
6

The Data-driven Case Study

"One of the reasons I enjoy data-driven case studies is because data cannot be argued with. Using statistics eliminates the need for rebuttals from those who disagree. And, essentially, everything in an article like this should support the main point and what you're selling."

—Lachlan de Crespigny of Revelo
7

SEO-focused Content

"I would claim that SEO aids B2B web marketing. Online research enables prospects to make informed decisions; if your product or service does not rank among the top search results, you may not qualify as a vendor. Content marketing can improve your rankings in search engines through search engine optimization. Content marketing builds brand credibility with search engines and users."

—Alex Uriarte of 1-800-Injured
8

Content-rich Learning Center

"Checkr's learning center contains a wealth of content that is designed to educate our clients on the best practices for using our product. This is a good way to introduce who we are and what we believe in, not only to our existing clients, but also to anyone who may be considering using our product. It's a great place for potential clients to get a taste of what Checkr can do for them and allows us to show that we're the experts in our field and that we're committed to helping them succeed."

—Linda Shaffer of Checkr
9

Podcasts

"Include podcasts in your B2B content marketing strategy to improve customer engagement and increase sales. The podcast format has gained prominence as a type of content that can be consumed while people are performing routine tasks. Recently, we generated a series of podcasts for one of our marketing campaigns, and the result was outstanding. The campaign got 16% customer engagement as compared to the other campaigns without podcasts."

—Ronald Williams of Best People Finder
10

Social Media

"According to my expertise, social media has become a qualifier. Your absence from social media may result in lost customers. Purchasing managers evaluate your organization using social media and cultural markers. This is especially true for industries involving creativity, such as marketing and professional services."

—Edward Mellet of WikiJob
11

Product Reviews

"Since my blog aims to be the one-stop-shop for all things gardening, the most effective B2B content marketing for our setup is writing opinionated product reviews for the best gardening brands. We write in-depth blogs dissecting each product, explaining in detail what we like or don't like about it, then we make recommendations based on our expert experience with said brand, and link to them on our site."

—Jason White of All About Gardening
12

Travel Recommendations

"With my website being a travel authority for trips to the Caribbean, my best B2B content marketing strategy is to make travel recommendations to act as a guide for travelers looking to make the most of their trip. Other than producing reviews of beaches and resorts, I also partner up with other brands to write travel features."

—Jim Campbell of Epic Caribbean
Best B2B Marketing Examples: Brands That Are Doing It Right
John Deere
"I believe that John Deere pioneered B2B content marketing. John Deere, a blacksmith, provided farmers with New England-style plows. "The Furrow" magazine taught farmers about new technology and problems—farmers' problems, not John Deere's products. It's B2B marketing gold."
—Chris Smith of Compare TV
Shopify
"The Shopify blog is full of content. They post a blog every day, and customers value and respect the in-depth writings. It produces a popular podcast, Shopify Masters, that interviews store owners. It also has customer-friendly encyclopedia pages. Customers find the brand's website using SEO; Shopify scores high for "what is retail?" Shopify is the go-to ecommerce platform."
—David Janssen of VPNoverview
HubSpot
"HubSpot's content marketing is so strong that it defined the phrase "inbound marketing." Most likely, HubSpot's material will appear near the top of any search results linked to marketing or sales. For small and medium-size firms, they offer comprehensive tools and templates as well as best practices, illustrated examples, and a captivating visual identity."
—Scott O'Brien of PPC Ad Lab
Salesforce
"Salesforce has a good B2B content marketing plan in place to maintain its position as one of the world's leading CRMs. Salesforce has a comprehensive blog that provides small business owners with information on sales, marketing, IT, and customer service. In addition, the company has a YouTube channel where it posts interviews, how-to videos, demos, and other video content."
—Steve Elliott of Restoration1
SAP
"With SAP's industry-specific material on digital transformation, companies can begin their digital journeys with practical and easy recommendations. SAP uses email, social media, virtual and in-person events, outbound calling, and account-based marketing methods to reach the relevant decision-makers for their products and services. By utilizing personalized content marketing methods, SAP was able to reach industry leaders and influencers and establish a robust lead-generation cycle."
—Kavin Patel of Convrrt
Close
"As an internal sales software, Close has a commendable B2B content strategy that tackles and simplifies even the most complex subjects. In addition to standard formats such as how-to and listicles, the company's blogs include in-depth guides, thorough interviews with industry leaders, and targeted material that addresses the most fundamental questions that decision-makers may have."
—Max Whiteside of Breaking Muscle
Moz
"Moz, a renowned provider of SEO tools, has a creative method of engaging new and existing audiences by consistently producing great material. The "Whiteboard Friday" initiative requires one of the cofounders or an SEO professional to delve into one facet of SEO every week. The organization gives concise, actionable, and easily-digestible information in short movies ranging from five to fifteen minutes in length. The format is straightforward because the subject is demonstrated on (you guessed it!) a whiteboard, and the transcript and other materials are provided. The high quality—plus the fact that this began in 2007 and has been ongoing for more than 13 years—makes this strategy a proven winner."
—Robert Smith of Psychometric Success
WP Engine
"WordPress's hosting platform exists in a very competitive and price-sensitive industry. WP Engine chose to target marketers, agencies, and individuals after realizing they could not promote their products and services in the typical manner of a web hosting company. They accomplished this by describing their product's features, establishing an open-source community, and producing a ton of useful information. By showing how existing organizations and individuals are enhancing their online presence with WordPress, WP Engine engaged an audience that was less tech-savvy and eager to begin their digital journey immediately."
—Jake Dickson of BarBend
Looking for help producing best-in-class B2B marketing content?
With so many B2B content avenues to explore, it can be easy to get lost in the options. As a business owner, focusing on building your brand while forming relationships should be your number one priority. As a marketing agency that has tried every content type, our favorite is Growth Content Marketing.
How much could your company grow with growth content?
Calculate your expected growth in organic visits based on the average Nectafy client.
Key Statistics
1,000
Month 1 Organic Visits
10,049
Month 12 Organic Visits
What is Growth Content Marketing? It's a B2B marketing formula that we at Nectafy have workshopped to perfection, and is proven to drive traffic, leads, and future customers. The secret "sauce" combines SEO, high-quality content, industry expertise, and a tried-and-tested process.
And it works! One client invested $145,000 in Growth Content marketing and directly returned $1,100,000 in sales over just three years.
B2B content marketing engages with the audience by building trust and loyalty. Growth Content Marketing amplifies that relationship by going even deeper. We have a team of skilled writers—the best in the industry—that gather your company's expertise and translate it into informative, high-quality content. By doing so, we're able to produce original pieces that stand out from much of the cookie-cutter content that's currently available on the web.
If you're interested in learning more about B2B content marketing and Growth Content Marketing in particular, feel free to reach out to us at Nectafy.