Looking For An Effective SaaS Marketing Idea? Write About KPIs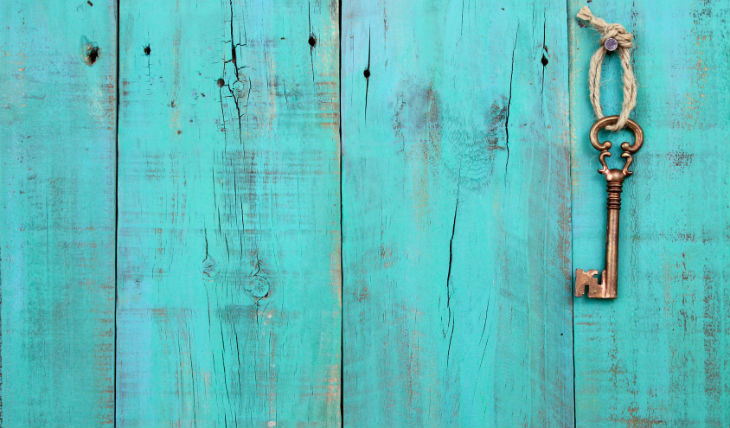 Software-as-a-service (SaaS) companies sell useful software (say that five times fast!) to a buyer persona within a company. That persona likely has internal key performance indicators (KPIs) or metrics they have to hit—and your software may help them reach those goals.
Does that simple description sound about right for your organization? If so, we've found an inbound marketing niche that might work very well for you.
We've noticed that prospects are interested in looking for KPI examples in their industry—and not many companies are writing about them. What's more? A lot of keywords that include "key performance indicator" (or "KPI," "measure," or "metric"—however people refer to them) are not competitive in Google, yet they generally have good search volume. All these things combined create a perfect formula for SaaS companies to capitalize on today. We'll walk you through two methods you can use to find the right KPI keywords in your industry and then highlight a few examples where this SaaS marketing strategy really worked for our clients.
How To Find KPI Keywords In Your Industry
Method #1: Google Keyword Planner
We've talked many times before about how Google's "Multiply keywords" tool in Keyword Planner is underutilized and underappreciated. It's an awesome tool for keyword research, and it will be extremely helpful as you look for KPI keywords relevant to your industry.
Keyword Planner gives you the ability to multiply keyword lists so you can get new keywords. Google will cross reference two lists of phrases you provide and match up each possible combination.
Here's how to do it, step-by-step:
Go to the

Keyword Planner

.

Click on "

Multiply keyword lists to get new keywords

."

Enter the roles and industries of your buyer persona

(like "project management," "local government," "advertising," "finance," etc.) on the left side, and

enter all of your keywords

(like KPI, KPIs, key performance indicator, metrics, measure, etc.) on the right.

Click "Get search volume"

(instead of "Get forecasts").
When you do this, the Planner cross-references all of the combinations possible between the two lists and shows you which keywords (based on searches and traffic) might be ideal.
Here's what this should look like: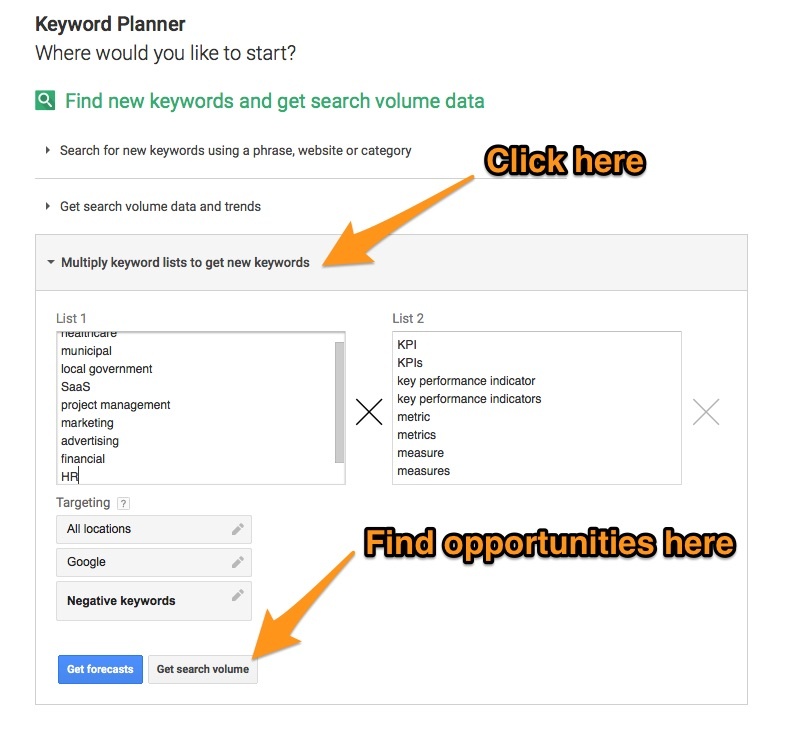 Method #2: The Google Search Hack
Brainstorm all of the roles of your buyer personas and Google their roles, departments, and industries followed by "KPIs" or "metrics."
For example, let's say your software caters to those in the customer service industry, so "customer service KPIs" is a pretty safe keyword bet. Enter the search term into Google, and you'll be able to find keyword ideas in two places:
Google Suggest

: As you're typing, Google will recommend similar searches that will likely have search volume. Record those ideas.

Related Searches

: At the very bottom of the results, you'll see related searches. Record all of those as well.
After that, continue to repeat this process for all of your brainstormed keywords like "customer service KPIs," "support center KPIs," "customer support metrics," etc. Record all of the recommendations that Google provides, and plug that list into Keyword Planner: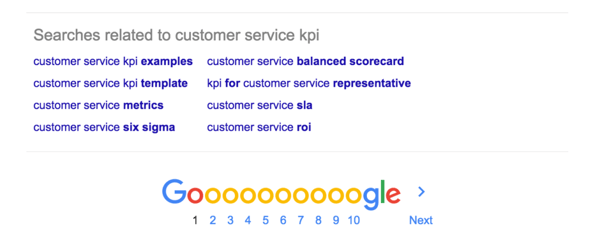 Many of the related keywords—for example, "customer service KPI examples," "customer service KPI template," and "customer service metrics"—may be worth targeting.
3 "Key" Examples
As we mentioned, we're not just guessing this SaaS marketing idea is effective—we know firsthand. Below are three examples—all three from different clients—that exemplify how well this works.
Example #1
One of our clients has a KPI article that has seen staggering results: It attracts tens of thousands of visits per month, ranks on the first page of Google for 42 KPI-related keywords, and even ranks on the first page for the keyword "KPI" itself!
The page authority (PA) of the website was below 40 (out of 100) at the time we wrote the article. This rating means the site had some authority at that time, but that it wasn't a "powerhouse" that was easily able to rank for any keyword we tried to target. So these are some pretty impressive results!
Example #2
For another client, we had just launched a brand new website, as the company had just launched a new product. The site at the time, therefore, had no authority at all—Google barely knew it existed.
We targeted "sales KPI examples" for a blog post, which perfectly fit with the client's persona. That article now ranks on the first page of Google for that phrase as well as a handful of related keywords, bringing in targeted visitors (without any website authority!).
Example #3
For a third client—whose personas include a chief information security officer (CISO)—we targeted "cybersecurity metrics" and were able to get onto the first page of Google. This client also ranks on the first page of Google for four additional KPI keywords.
An Idea To Get You Started Today
If you're pumped to write about KPIs in your industry and need an idea to get started with right away, try this one:
Write an introductory blog post to rank for the KPI keywords you're targeting. For any SaaS company out there, we'd consider a KPI and metrics article like this a foundational blog post for your site.
Then, create a downloadable offer that is directly tied to this topic, and add a call-to-action for it to the blog post

. For example, you might create an offer called, "35 Project Management KPIs (Polled From PM Experts)" or "How To Set & Track Your Project Management KPIs."
Not only will you rank for the keyword via your blog post, but you'll also convert a good percentage of your blog visitors into contacts.

If you have any questions about SaaS marketing strategy, tweet us @nectafy or give us a shout here—we'd love to hear from you!