Is Inbound Marketing Useful For Manufacturers?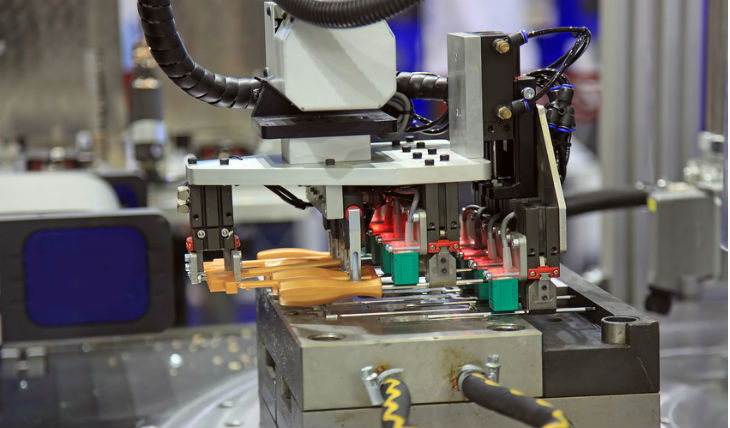 We talk to companies who are interested in inbound marketing on a daily basis and have been doing so for years now. Any guesses about two things we regularly hear from them?
"Our industry is, well… kind of boring to talk about."
Our answer: "People in every industry are trying to solve daily challenges at their job—and you can help them."
Inbound isn't just a type of marketing for companies who do "fun" things—it's for virtually any company that wants to meet their prospects where they're at in the buying funnel and nurture them accordingly. (Don't worry, we'll get to all of that!) It deals more with creating helpful content that answers questions and solves challenges and less with whether the industry is exciting or glamourous. In fact, I'd say the majority our current clients wouldn't use the word "fun" to describe their industries or what they discuss on their blogs—so you're in good company.
"None of our prospects use Google to find what they're looking for."
Our answer: "Actually, they probably do!"
There are over 100 billion Google searches every month—which is over 3 billion searches every day. There's a pretty high likelihood that your ideal customers are using Google (or Yahoo or Bing) to find a solution to a problem they're facing. (I bet you wouldn't guess that 2,400 people search "plastic injection molding" on Google every month. That might sound "boring," but people need help and they're looking for answers.)
With these things in mind, let's talk about manufacturing. You may have heard of inbound marketing but are wondering what it actually is—without the jargon-y mumbo-jumbo. And that's a great question. (And that link will explain it pretty darn well, so give it a read.)
Further than that, you're likely wondering if it's useful for your organization and in your industry. In short? Yes! If you're thinking about taking the plunge, here are four important steps you'll want to get started on right away.
Inbound Marketing For Manufacturers: 4 Important Steps
Step #1: Identify your ideal customers.
In the marketing world, we refer to these individuals as "buyer personas." These are members of your target audience—the "semi-fictional representations" of your target audience. This list shouldn't be huge; in fact, it's best to only have two or three ideal customers, created based on their similarities.
Here's the more detailed process, step-by-step:
1. Think about who buys from you in terms of demographics.
Who typically purchases from you? Let's say you're a B2B plastics molding manufacturer. You may manufacture a wide variety of products and applications, but you're probably able to narrow it down into a few broad categories:
C-level automotive clients

that require plastic fenders or vehicle panels.

Medical company sales managers

that sell speciality dental or surgical products.

CEOs of packaging companies

that specialize in food-grade household tupperware.
2. Ask yourself, "Is this who we want to target?"
If you're in a transitory phase or aren't happy with your current clientele, spend some time thinking through your strategy during this step. Now is the time to target a new buyer persona if that's important to you. And in the same light, if there's a customer or client base you're targeting now and you don't think they're furthering your company goals, remove them from your persona list.
3. Narrow down the number of customer categories to as few as possible.
If you ended up with a list of 10 ideal customers, you need to cull your list. Again, you should only have two or three ideal customers. Look for similarities and combine them at a higher level.
For example, if you do injection molding for both food packaging and consumer electronic packaging, consider targeting a broader persona that embodies all thin-wall plastic injection molding.
4. Turn your "customer categories" into "personas" with names.
During this step, you need to name your buyer personas. You may arrive upon something like the following:
Automotive Allison

Medical Monica

Packaging Pete
5. Gather insights about your personas.
How old is your persona? What is their family life like? What about a day-in-the-life at their job? Answering these questions (and as many more as you can think of) will help you see life through their eyes.
6. Write a description about each persona.
This may seem like an odd exercise, but it serves an important purpose. You need to know what motivates your persona to wake up in the morning. What does their day look like at work? At home? What are their goals and their challenges?
When you've brainstormed through this, you may end up with around a paragraph about each of the following sections:
Who the person is on a personal level

, including age, marital status, children, hobbies, likes and dislikes, where he or she lives, etc.

His or her job requirements

, how they like their job, what they're responsible for in their role, etc.

The problem(s) they need to solve and why they're searching for a solution

like the one your organization offers.

How the persona prefers to find his or her information

or search for a solution.
Step #2: Conduct keyword research.
The first thing you'll want to do while searching for keywords to use on your website is ask your current clients or team members what terms come to mind when they think about your product or service.
It's important to realize that your customers won't necessarily type "thin wall plastic injection molding" into Google and find your company. Rather, they may search "plastic molds medical devices" or "plastic manufacturers." If you use these keywords in your content, you can lead them to your website.
We suggest you go through a process where you brainstorm every term you, your management team, and your customers and clients can think of, and then follow these steps:
Open Google Adwords' Keyword Planner

and click on "Search for new keyword and ad group ideas." (You'll have to create an account first, if you haven't already.)

Add in your list of brainstormed ideas under "Enter one or more of the following."

Click "Get Ideas" and you'll see all of Google's recommendations for keywords that relate to your list.

Click "Download" to get all of those keywords dumped into an Excel file for you. (It's my personal preference to work in Excel.)
Name this "List A." Following these similar steps, you'll create "List B" for keywords your competitors are using. Now, you'll have a master list of keywords you can use on your website to attract your buyer personas.
Delete any terms on the master list that are either duplicates or are terms that won't help bring the right people to your site. Following our "plastic injection molding" example, here's a list of keywords with varying competition:
Keyword
Avg. Monthly Searches
Competition

injection molding

8100

0.87

plastic sheeting

3600

1

pet plastic

3600

0.06

plastic injection molding

2400

0.9

plastic molding

1900

1

HDPE plastic

1600

0.63

custom plastic bags

1300

1

pp plastic

1300

0.14

PETE plastic

1300

0.06

acrylic plastic

1300

0.48

plastic manufacturers

1000

0.91

plastic bags wholesale

880

1

PVC plastic

880

0.27

polypropylene plastic

880

0.22

bpa free plastic

720

0.26

wholesale plastic bottles

720

1

plastic suppliers

590

0.54

injection molding process

590

0.5

industrial plastics

480

0.3

plastic injection molding
companies

480

0.91

LDPE plastic

390

0.33

plastics manufacturing

320

0.78

industrial plastic supply

320

0.13

plastic products company

320

0.28

ps plastic

320

0.02

custom plastic molding

320

0.99

plastic bag manufacturers

260

0.91

container packaging

260

0.48

plastic manufacturing

260

0.83

plastic injection molding process

260

0.54

engineering plastics

210

0.16

plastic products manufacturers

70

0.78
(See, people really do search for "boring" industries!)
The "Avg. Monthly Searches" section shows you how many times that particular phrase is searched in Google—and the "Competition" column shows you a number between 0 and 1. A zero isn't competitive at all, and a one is the most competitive. If you have a newer site or a low MozRank, you'll only want to focus on terms in the 0-0.5 range.
(This is a pretty detailed process, and we didn't cover it all here. Take a look at this in-depth article for a better understanding of keyword research!)
Step #3: Create blog content and ebooks to help your buyer personas.
You now have a much better idea of who your buyer personas are and the keywords you should use in your website to attract them. So it's time to put all of that knowledge to good use!
Consider these tips before you start writing:
What questions are my buyer personas asking, and how can I answer them?
How can I take a complex topic and make it simple?
Will this topic drive someone to my website?
Will my buyer persona want to read about this?
How much content is available online about this topic?
Step #4: Make your leads sales-ready.
Don't stop after step #4!
Here's the thing—inbound marketing as a whole entails a lot more than these four steps. There are loads of other things you'll have to take into consideration before, after, and in between each step for the inbound marketing process to run smoothly.
For more information, you'll want to check out our 19,000-word, step-by-step inbound marketing plan. It sounds daunting, but we've broken it down into seven steps and a number of substeps—and if you're serious about the inbound marketing process, it's absolutely vital (and free!) information.
But if you're in marketing, business development, or sales for a manufacturing company, you need to keep in mind the lifetime value of a customer. What if these practices resulted in a great lead landing on your website and turning into a customer? How much would that be worth to you? No, inbound marketing isn't for everyone—but there's a pretty high likelihood that it could give you some great results.
Questions? Comment below or give us a shout—we want to hear from you!