The 100-Lead Experiment To Stop Wasting Inbound Leads: Week 1 Update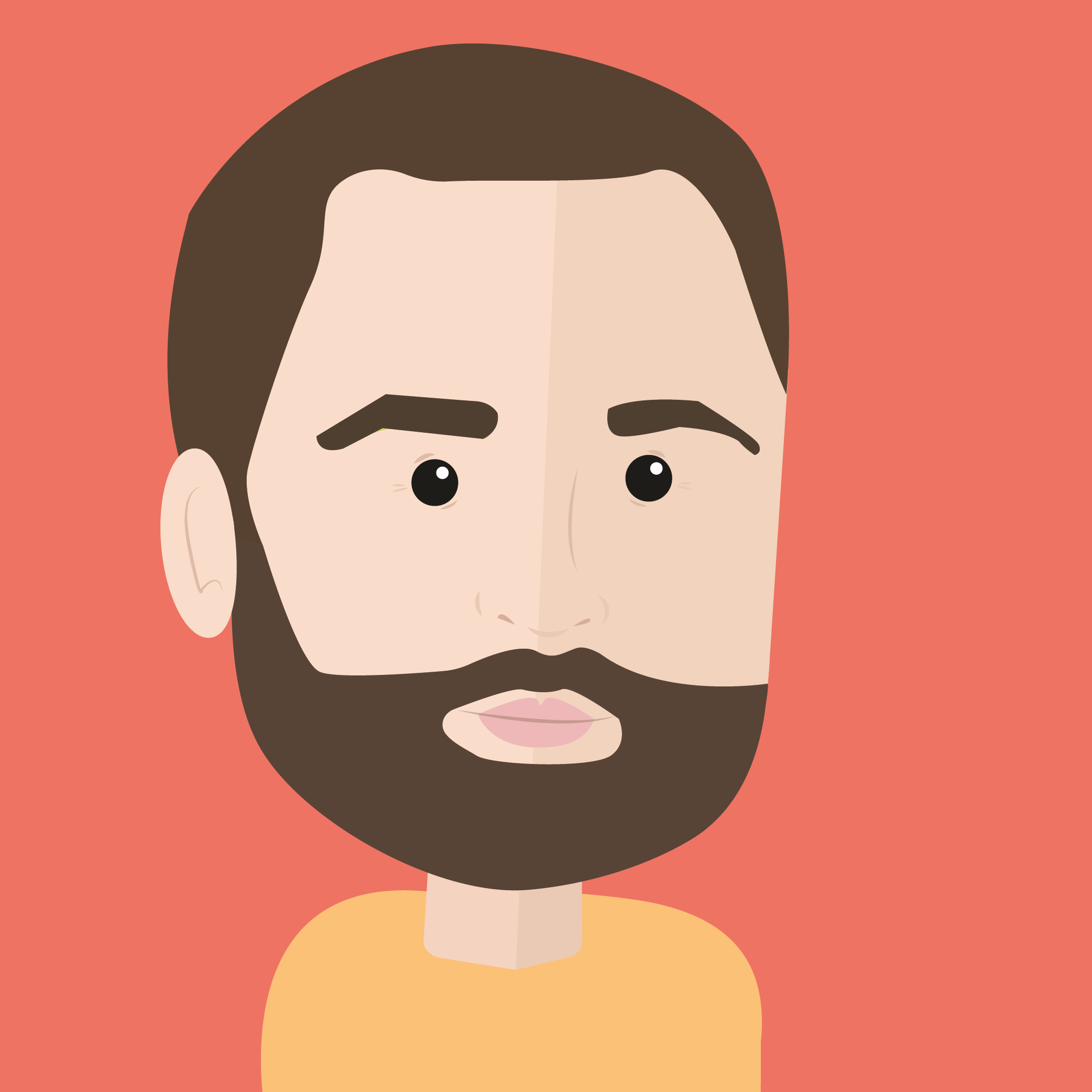 by Henry O'Loughlin • 1 minute read • June 22, 2020
Experiment Introduction
What We're Trying To Fix With Nectafy's Inbound Leads
We're on a mission to stop wasting our own inbound leads. And the way we're going to do it is by experimenting with a simple new sales process, and then publicly sharing all our sales data. Follow along while we work on the next 100 leads, then share the results with you each week.

Good inbound leads can be missed—or left to languish—for a number of reasons. Here's some insight from Lance (our founder, and our one salesperson):
"I'm the sales guy for Nectafy. I'm the guy that's supposed to be not wasting high-value inbound leads. However, I know I've been wasting inbound leads. I have lots of thinly veiled excuses:
They're not great leads.
It's working well enough.
Marketing just sends us junk leads.
I don't have the time.
If those are good leads, they'll contact us.
We don't have a simple, clear, repeatable process.
We only want to work with people who really want to work with us."
We need to fix the issue.
To make it fun, we'll be sharing weekly updates on our progress for the next 100 leads that come through Nectafy.com (through our HubSpot portal). We'll track and share our results from form submission (contact) to customer and revenue. Here are the sales activities we'll track:
Contacts: A form submission on Nectafy.com (not just a subscriber to our blog or a previous contact who is filling out another form)
Qualified: Contacts who work at a B2B company (not marketing agencies), have a website, and communicate in English
Contacted: Contacts who we have gotten in touch with
Meetings: Contacts who we've had a sales meeting with
Proposal: Contacts who have received a proposal from us
Customer: Contacts who have signed the proposal and become a Nectafy client
Monthly recurring revenue (MRR): Monthly revenue for new customers
Benchmark Data
Here's what happened with the 100 leads that came in before our experiment started. These are the numbers we need to beat over the next 100 leads that come in.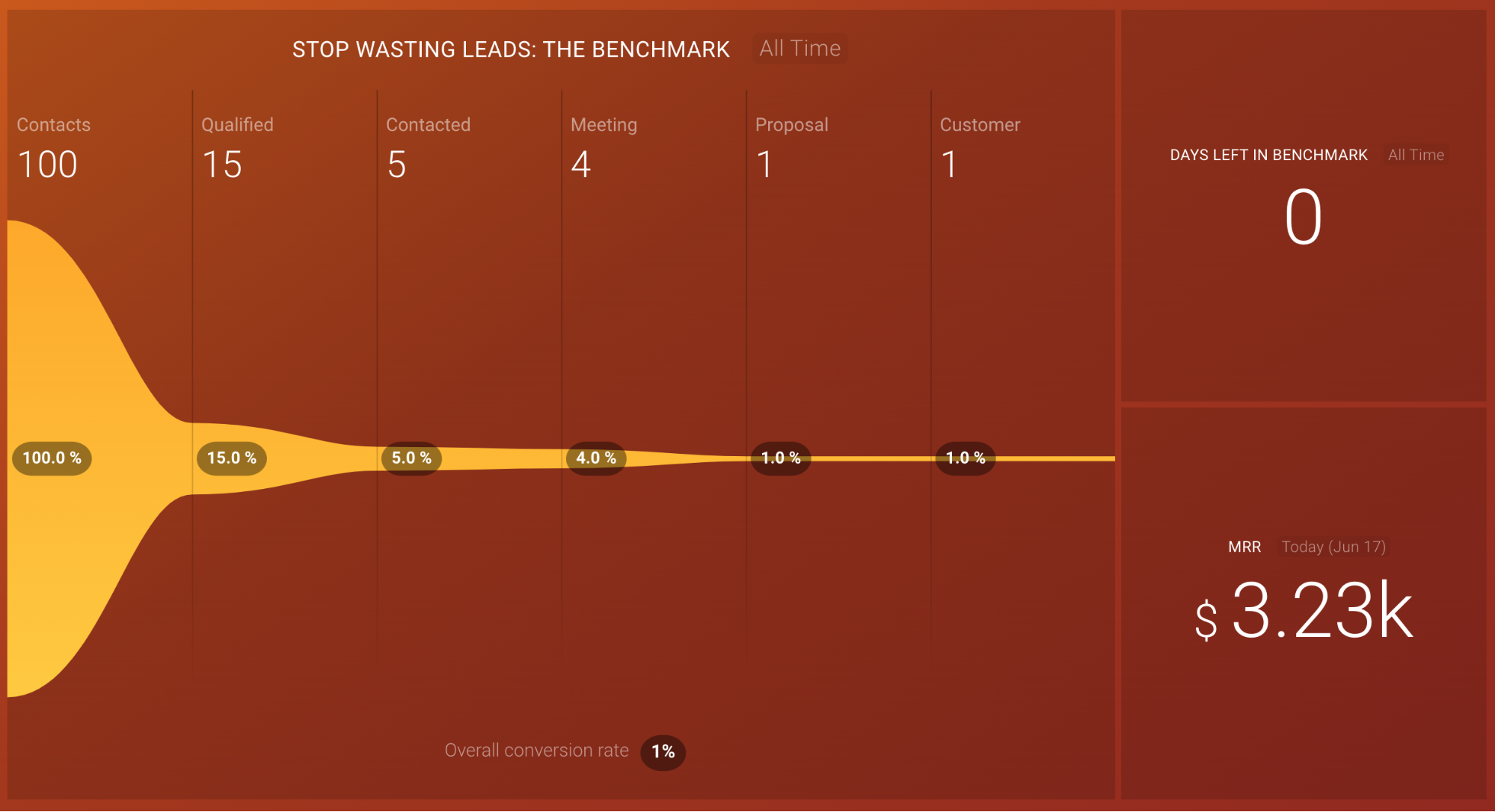 Click here to view the live databoard online.
The Simple Sales Process We'll Use
To avoid wasting good inbound leads, we need a simple, consistent sales process. Here are the steps we'll take with each lead:
Qualify each lead using this criteria: The contact works at a B2B company but not a marketing agency, the company has a website, and they operate in English.
Send a personal email to each qualified contact that includes a personalized video of under one minute.
Send a follow-up email and LinkedIn message three days after the video.
The goal is to set up a meeting. When a meeting takes place, the next goal is a proposal, and then a client.
Week 1 Results: Through 18 Leads
The Data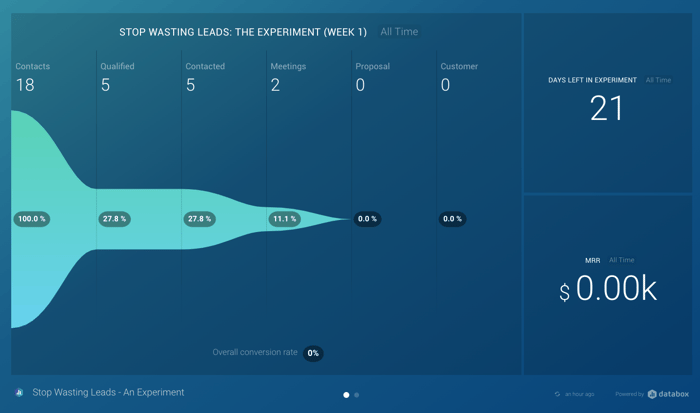 Week 1 Takeaways
All of the important numbers at the top of the sales cycle have increased dramatically in the small sample size of week one. However, that has yet to turn into growth in the bottom of the funnel (new customers and revenue). Here are the details.
Qualified: The percentage of qualified contacts as a percentage of total contacts has gone up (28% through week one vs. 15% in the benchmark), but that's randomness. We're not doing anything in this experiment to impact that number.
Contacted: In the benchmark, we contacted just five out of 15 qualified contacts (33%). Through week one, we contacted 5 out of just 18 leads (28%). The experiment has forced us to absolutely get in touch with every qualified lead, and the improvement shows.
Meetings: In the benchmark, we had meetings with just four out of 100 total contacts. Through week one, we had two meetings out of just 18 total contacts. The meeting rate has more than doubled (albeit on a small sample size).
Proposal, Customer, Monthly recurring revenue (MRR):

Through week one, these have all come in at zero. So far, the improvements higher up in the funnel due to the experiment haven't kicked off new customers for Nectafy. But with a sales cycle always longer than one week, we hope to see these results come in later in the experiment.
Challenges We Faced
The experiment has forced us to look at every single lead that comes through and take an action on it. That's great. In doing this, however, we discovered a few issues in managing these leads.
We want only true Nectafy leads.

Sometimes, a friend, job applicant, or an existing customer will fill out a form on the site. Those get counted toward the number of contacts. We don't want to include those, so we delete them out of HubSpot altogether. But that takes manual work.

HubSpot's sales integration with Gmail creates contacts.

Whenever Lance emails with someone he hasn't before, that person gets created as a contact in HubSpot. We don't want those people counted because they aren't true inbound leads for Nectafy.
I mention those two challenges because it has felt like in the past that the total number of contacts generated through HubSpot doesn't feel too useful. Issues like this may be why, so keep an eye out for challenges like these.
See you next week!
Subscribe to receive weekly email updates on the experiment.
We hope you'll stay tuned to see how things work out! Fill out your info below and we'll send you one email per week for the four weeks of the experiment.