Pesky Content Marketing Challenges For High-traffic Websites
Blog /

Pesky Content Marketing Challenges For High-traffic Websites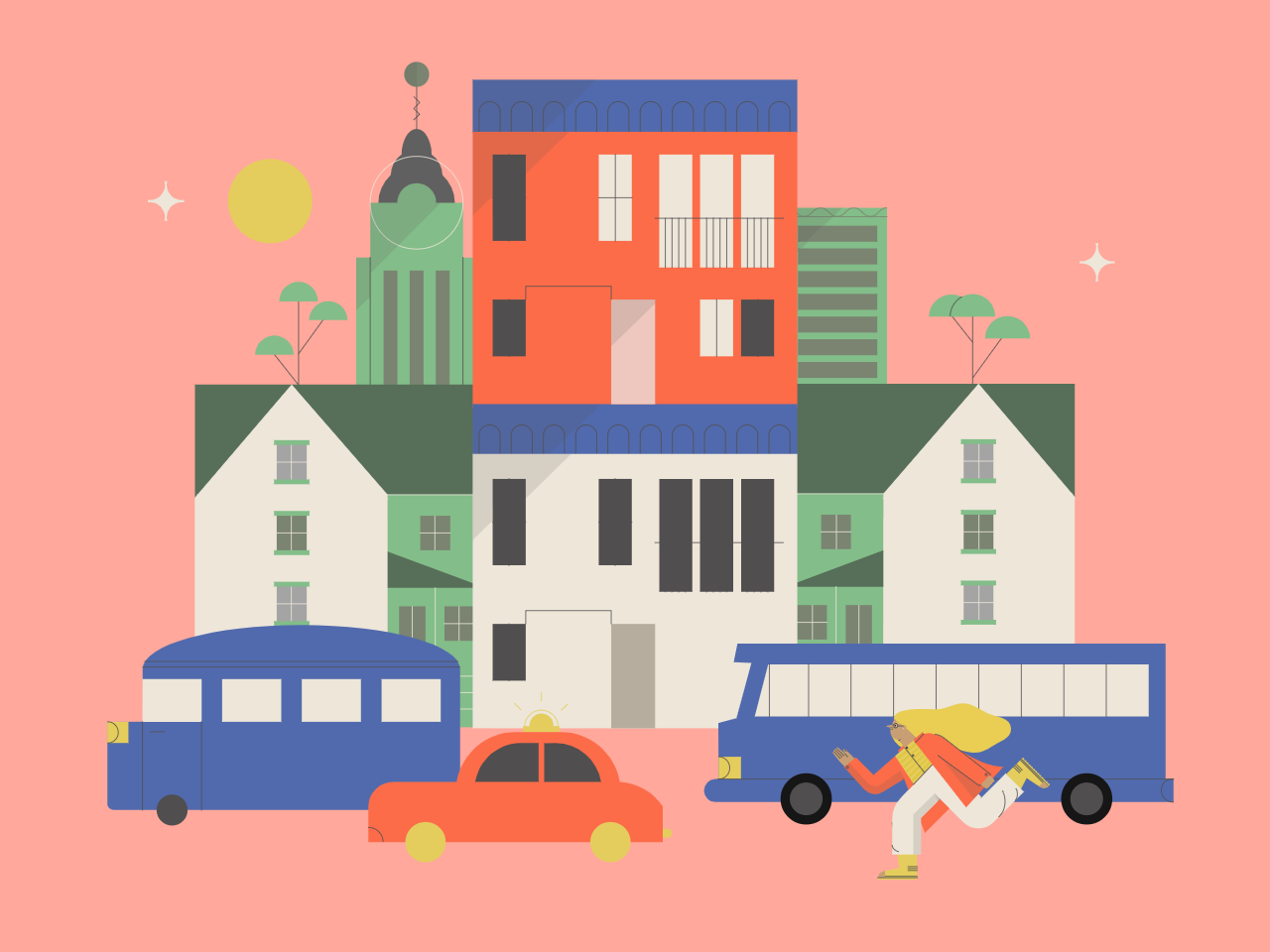 Congratulations! If you're reading this, odds are that your website has reached over 100,000 visitors per month.
While this is an exciting milestone for any website, it does come with some content marketing challenges that could inadvertently cause this new number to decline.
Heavy traffic can overload a site, making a user's navigation experience appear sluggish and slow. Load times can increase and the overall page experience can suffer. These technical challenges can also impact your content marketing, as page experience is crucial to preserving your monthly visitor count.
Following is a list of threats to be aware of when managing a website with over 100,000 monthly visits.
7 Content Marketing Challenges For High-traffic Websites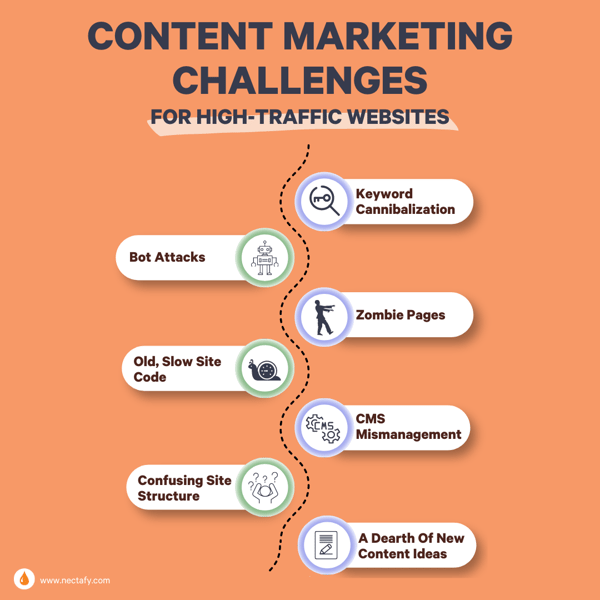 1

Keyword Cannibalization

With a well-established domain, your content library will be larger than that of most other websites. This can open you up to the threat of keyword cannibalization, which is when you have more than one page fighting to rank for a specific keyword.

It isn't always an issue when two pages rank for the same keyword, particularly if the pages have a different intent. For example, say your pages "Yoga Mats For Sale" and "What Is A Yoga Mat?" are both competing for the keyword "yoga mats." The clicks on those two pages are for different intents—transactional vs. informational—which mitigates the problem. Keyword cannibalization only concerns Google if the pages consist of duplicate content. The search engine wants to prevent websites from posting dozens of pages with the same information in the hopes that it will increase their keyword ranking by spamming search results.

Nectafy has multiple blogs that target the keyword 'Growth Content.' yet the blogs are different in subject and intent. One is delivering 'tips' while the other explains how Growth Content can drive a business's growth.
If, on the other hand, the two competing pages are "What Is A Yoga Mat?"' and "The Complete Guide To Yoga Mats," that is a clear case of keyword cannibalization you want to avoid. To eliminate the problem—and take advantage of the rankings for both—combine those two blogs into one, beefing up the information available and boosting your ranking for the keyword.
2

Bot Attacks

To disrupt competitors' websites, sometimes companies purposefully overload them with the use of automated "bots." By overstuffing traffic with fake computer bots, website performance may lag and worsen the page experience for legitimate visitors.

A high bounce rate, low conversion rate, and unexplained spikes are telltale signs of a bot attack.

If you have a sudden burst of traffic coming from a country outside the U.S., for example, that lasts only a day, and all users immediately leave the site without navigating further—that's likely a bot attack on your website.

On the other hand, if you have a burst of traffic that comes from Google and has a low-to-normal bounce rate, and most of the users end up clicking on other pages, then that is likely a normal traffic increase based on improving keyword performance.
3

Zombie Pages

Zombie pages are pages that, while they are not completely "dead" (meaning they bring no traffic to the site), they have little-to-no value. The content of the page is neither informative nor engaging, and the page experience as a whole is not captivating.

Having pages like this on your site can be troublesome not only because they don't provide any value to visitors, but also because they waste the precious crawl budget that Google allows your website.

Google limits the number of pages it crawls. This budget can change based on how much Google trusts you, but for newer websites, this budget can be low. You don't want to waste precious chances to prove to Google that your site is worth being on page one by showing them lackluster blogs with little worth.

Unlike the zombies in most movies, zombie pages don't have to remain dead weight. With a little bit of effort, they can usually be resurrected as appealing, value-packed pages. To address this issue, incorporate into your content marketing strategy rewrites of zombie blogs by adding new, updated information to them; lengthening the content; or combining them with other posts to enhance them. A routine content audit will help prevent zombie pages from infecting your website for too long.
How much could your company grow with growth content?
Calculate your expected growth in organic visits based on the average Nectafy client.
Key Statistics
1,000
Month 1 Organic Visits
10,049
Month 12 Organic Visits
4

Old, Slow Site Code

Websites with high-volume traffic can experience crashes or slow load times that put off visitors.

If you have a website that has been around for over a decade, your code needs to be updated. Google has changed frequently over the years (sometimes even over the space of a few months) and staying up to date with their technology helps both your rankings and organic traffic.

That's especially true after the Google update that began to hold website owners accountable for page experience. If images load slowly and site navigation is laggy, visitors will leave sooner; as a result, Google will dock the site when it comes to rankings.

Updating your website code guarantees your website is performing at the highest level possible. And with over 100,000 visitors a month, you don't want anything to deter them from coming back.

Large websites should consider switching servers to one that is better suited to heavy traffic. One such server is called a VPS or a virtual private server. These are single servers that are separated into multiple virtual environments. Your site's virtual environment runs as an independent server, providing you with your own dedicated resources. (That's opposed to a shared hosting setup, where all resources are shared.) Ultimately, this arrangement will speed up load times for users.
5

CMS Mismanagement

If you're using a CMS (content management system), technical errors can easily sprout. Sometimes CMSs create multiple URLs that accidentally cause duplicate content and add unnecessary bulk to the website. One blog article could end up having multiple URLs, which not only confuses search engines but also your visitors who are trying to find a specific page.

For example, for a blog that's titled:

A CMS can also create URLs like:
www.nectafy.com/blog
www.nectafy.com/blog/index.php
While it's not the end of the world, it's an easy fix that can save your website's bandwidth in the long run. By creating a 301 direct on the duplicated URLs, crawl bots and visitors will be safely guided to the appropriate page without wasting time.
Additionally, there is the 'rel=canonical' tag that directs Google to acknowledge your chosen URL as the primary page and ignore duplicate content.
6

Confusing Site Structure

With a proper content marketing strategy, a large website will have dozens of pages built up over the years. Traversing them can be confusing for a first-time visitor.

It's known that if a user can't find what they're looking for—or at least the next step in finding it—within five seconds then it's likely they'll leave the website completely.

Having your information easily accessible or easily searchable can save your bounce rate from rising month over month.

Some best practices for a navigable site structure include:
Make your structure efficient. People should be able to reach any page in four clicks or less.
Make your URL structure short and sweet. For example: website.com/category/subcategory/keyword.
Create categories for primary topics based on your persona. That way people will be drawn to umbrella topics you're hoping to build leads off of. For example, if your persona is a middle-school teacher, you can have a category around "Middle-grade Classroom Activities."
Utilize internal links to help build a website flow. Link to relevant blogs and landing pages that guide visitors through a sales funnel, using proper anchor texts with a keyword to direct users.
Update your sitemaps with each improvement to help Google better crawl your website.
7

A Dearth Of New Content Ideas

If you have built a website that reaches over 100,000 visits a month, odds are you have been working to reach this milestone for months if not years. In the beginning, it's relatively easy to develop a strong content marketing strategy—there's a wealth of keywords you haven't touched upon, the topics come naturally, and you never (or rarely) experience writer's block. But as the months go by, the keywords you haven't already targeted within your industry start to dwindle. There seems to be nothing left to focus on.

This can be scary for content marketing managers who are expected to deliver a certain amount of content per month. Here are some tactics you can try to maintain your momentum and even mix things up a bit:
Spruce up old content. Take a look back at old pages that could be improved. Update internal and external links, add images, or combine blogs with other pieces to create large pillar posts.
Ask your followers for input. Send out a survey to people subscribed to your website. What are they interested in hearing about? What topics are they searching for that might have eluded you?
Track the news. Being the first to touch upon a recent event can be advantageous. Keep up to date with the latest news in your industry. Find out what people are going to be talking about and beat them to the punch.
Watch your competitors. Get inspiration from your competitors. Are they doing something you're not? If so, how can you build off that to create something even better?
Repurpose old content. Besides just updating old content pieces, figure out ways to turn them into other media: videos, podcasts, infographics, etc. Repurpose old blogs into fresh content.
There will always be content marketing challenges when it comes to owning a website. But with awareness can come opportunities. Be sure to consistently monitor your website for any threats that are holding you back from reaching your next traffic milestone.
In the meantime, if you need help with your current content marketing strategy, Nectafy excels at providing content solutions for websites in every growth stage. Check out our other blogs for more tips on how to grow your website, or talk to us to find out how we can help refine your strategy, increase your content production, or both!