The Main Factors That Drove $540,000 In Sales With Growth Content [Case Study]
Blog /

The Main Factors That Drove $540,000 In Sales With Growth Content [Case Study]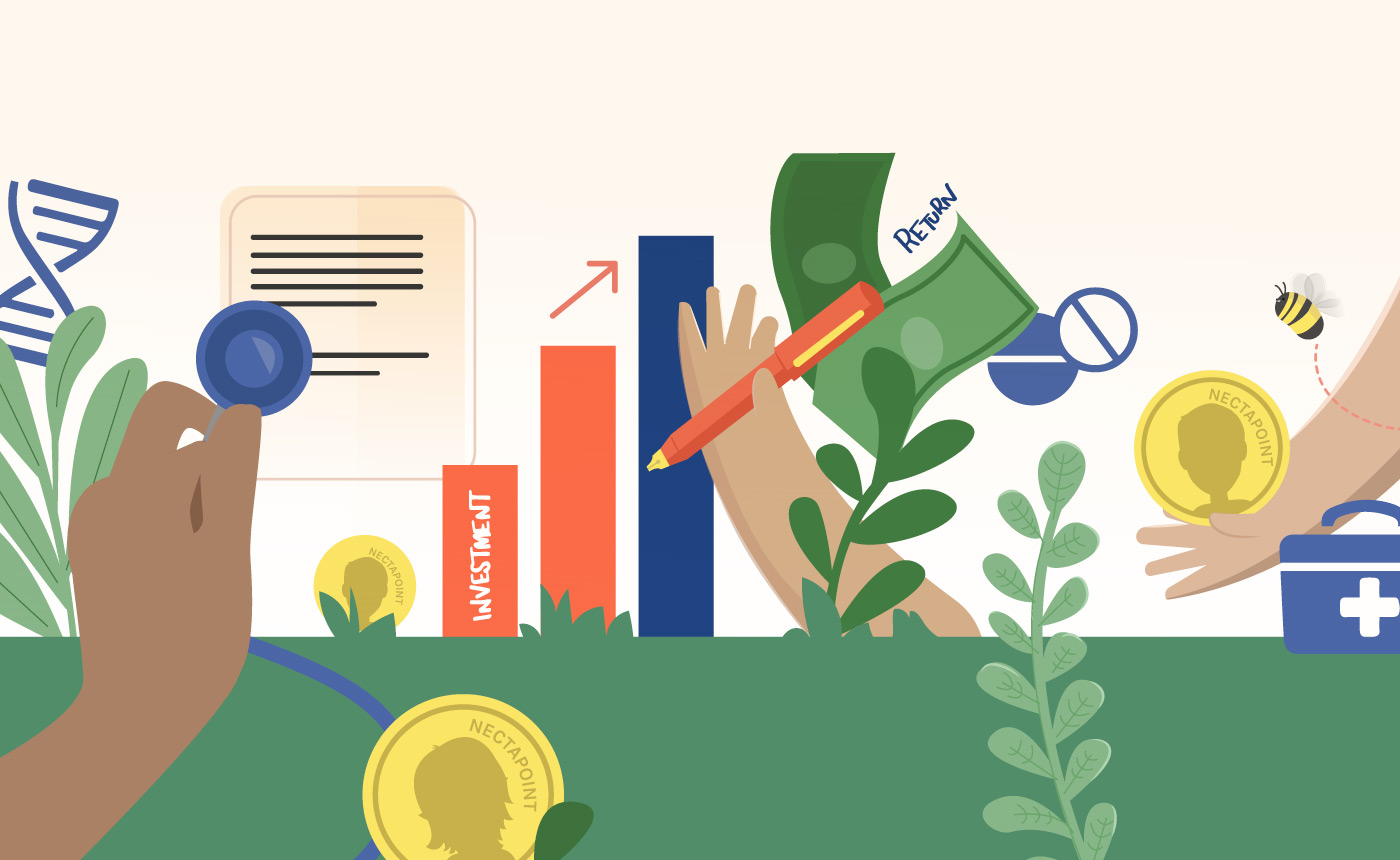 You've read a lot of tips about making content marketing work, and maybe even how to calculate and track ROI. But you rarely hear the real numbers. Today, that's what we're sharing.
If you're considering hiring someone to help you grow your business with content marketing—or you've narrowed down your options and are wondering what you might experience when you work with Nectafy—take a look at these actual numbers about content marketing ROI for one of our clients.
Or, if you're trying to get your own marketing to work, read about the key factors that helped us succeed and some actionable steps you can take no matter where you are in your growth content journey.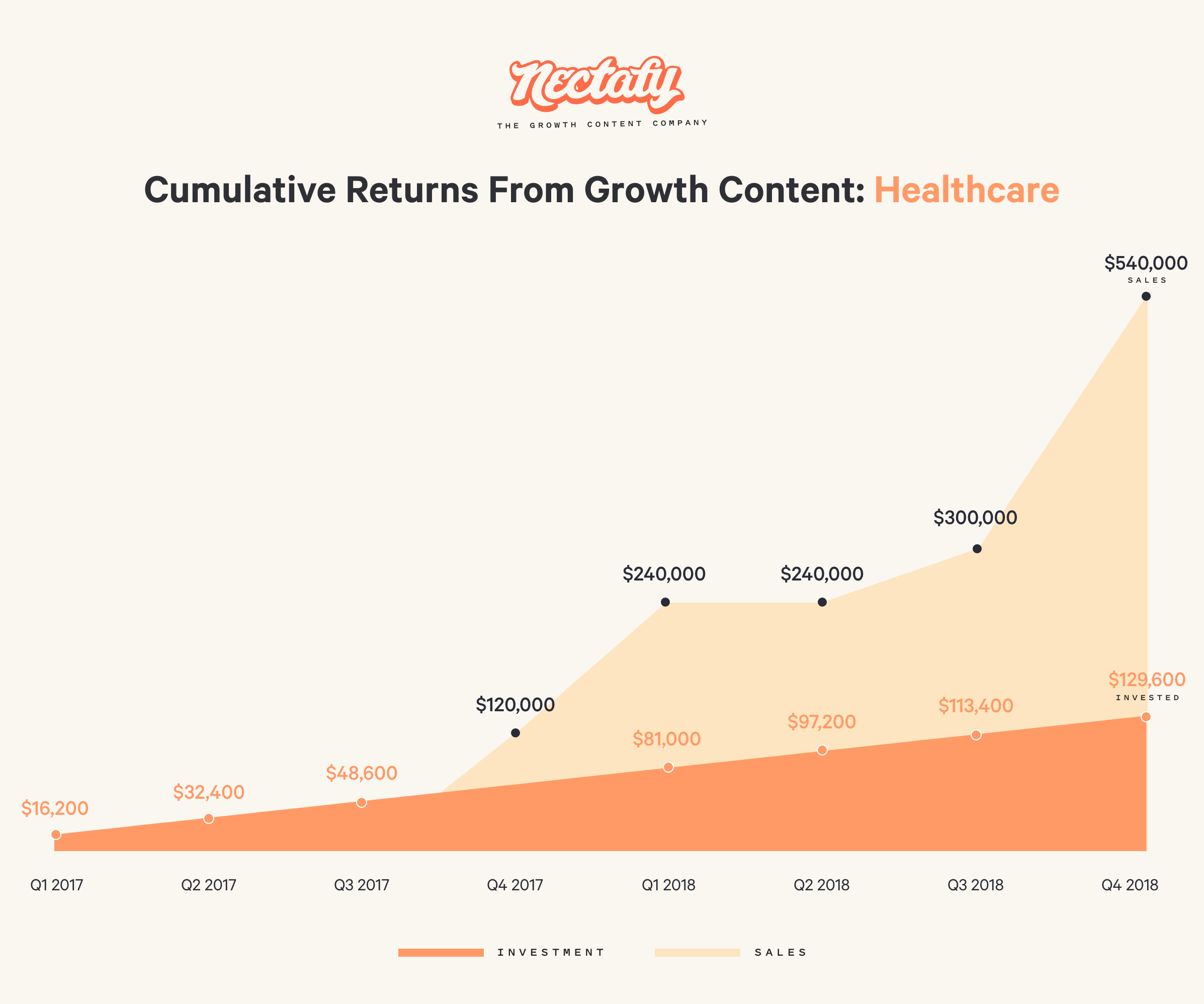 What is the biggest factor for this client's growth?
Knowledge is rewarded in content marketing. For each blog post written on this website, we interview a doctor with expertise on the topic at hand. Here is the positive chain of events that occurs as a result:
Rather than simply doing research, our writers craft original articles based on information relayed by practicing surgeons.
Visitors spend more time reading because they find the content valuable (creating a longer average time on page).
Google ranks our posts higher than others based on average time on page. (Check out this SEMRush study on ranking factors).
Our blog posts find their way to the top of Google searches, bringing in even more people who find the content valuable and trustworthy.
In fact, we just did our own study of 2,000 blog posts across 12 client websites. We learned that having a longer time on site directly helps your site get more keyword rankings on Google's first page, a higher average position, and more in the first ranked position itself.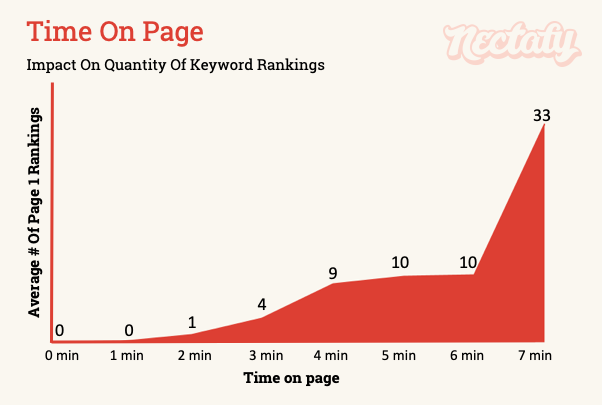 The longer readers hang around, the more first-page rankings you accumulate on Google. Articles that keep people's attention for an average of seven minutes receive an average of 33 page-one keyword rankings!
Growth Content Tips You Can Apply
1

Make sure the people you're getting information from are experts in your industry.

The subject matter experts (SMEs) for this client are truly the most knowledgeable people in the medical world about this particular topic, and it impacts results.

No matter your industry or product, do not leave a writer out on their own to research a topic. You should interview SMEs with a deep understanding of the topics they discuss and be able to talk about more than just their product, so they can answer questions their ideal customers have in all phases of the buyer journey.
2

Focus on and track the time on page metric for each piece of content.

Time on site is the second most important factor to Google because it indicates quality—the longer someone stays around to read your article, the higher quality it is. This correlates to higher rankings, more views, more leads, and ultimately, more customers.

The successful blog posts on this client's site all have a minimum time on page of three minutes, and an average closer to four or five minutes.

You can improve time on page for your content in three ways:
Provide real, thorough expertise that answers your buyer's questions.
Write longer form content (600 words at a minimum, closer to 1,000-2,000 if you can do it).
Don't write fluff, and don't keyword stuff.
3

Do thorough research on your main persona.

The buyer persona is the ideal type of person at the ideal company who you want to attract as a client.

The best way we've found to create an accurate buyer persona is to interview key people at your company and the ideal customers in that industry. With the information we get from these interviews, we can build out the persona profile, compile buyer questions, and answer each of those questions by creating content topical to them.
4

Consider using comparison keywords in your content.

People love to compare things in order to find a winner, which makes it a good addition to your SEO strategy. To find comparison keywords, start by thinking about your personas and how they interact with all aspects of your industry—competing solutions, trends, frameworks, conferences, etc. There are eight categories outlined in this article to start your search.

Here's how to find comparison keywords:
Go to Google and search some of the ideas you have of things to compare.

Look at what Google suggests as you type.
Look at the "related searches" at the bottom of the page, as well.

Visit Keyword Planner, then "Find new keywords."
Type in some of those ideas you gather in the search, and you'll get data for the ones you picked and related ones.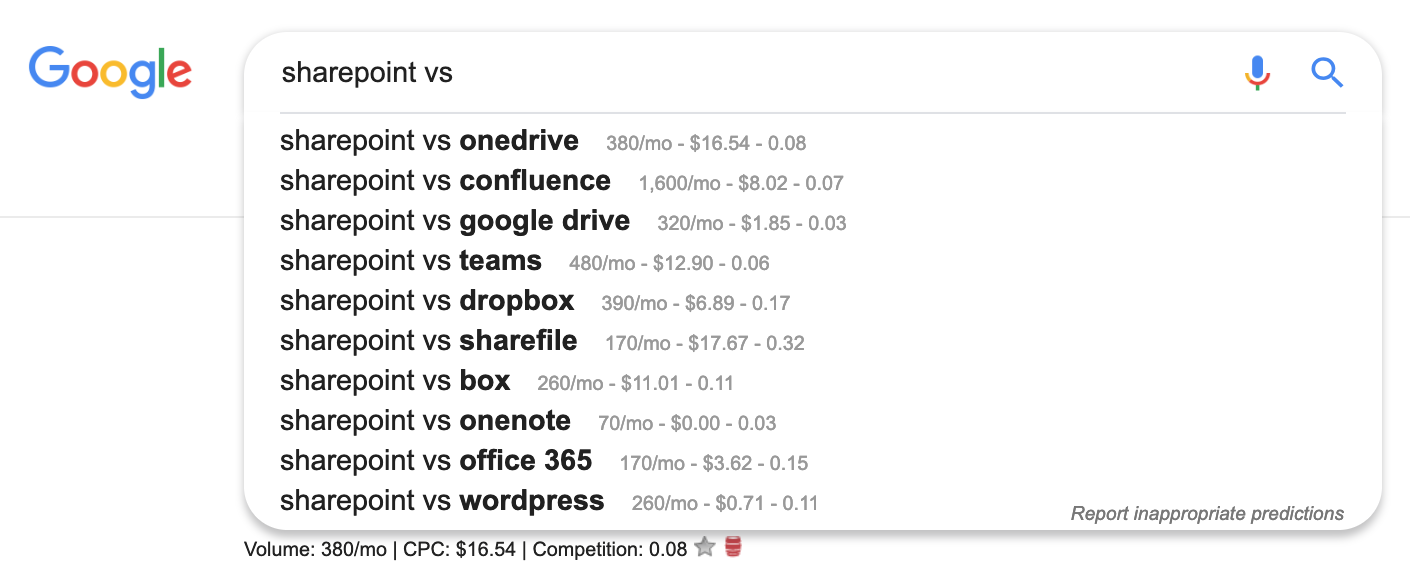 Some notes:
Looking for a partner to help you do all this?
You can do all these things on your own, but if you'd rather partner with a team of experts who can lead the way, talk to us. We'll have an honest conversation about how to get meaningful business results for your company using growth content.
Want to learn about other clients we've helped? Check out how one of our clients in the SaaS industry generated $1.1 million in sales with growth content.