6 Quick Tips On Building A Killer Inbound Marketing Team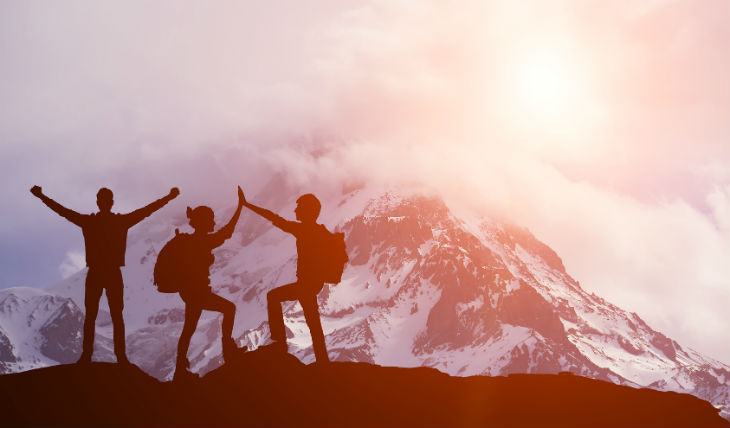 We love hanging out with other agencies and talking shop. One of the questions we (and plenty of other agencies) get asked about a lot is how we've built our current inbound marketing team and how we're continuing to build it.
This is a topic we love, since we've learned a lot about this process along the way (both good and bad!). So I chatted with Lance, and the two of us came up with a few tips we think you should keep in mind as you begin to grow your inbound marketing agency.
1. Create a master list of every role you need to fill.
Unless you already have at least seven people, you probably have team members who are filling more than one role. (In fact, you may be a one- or two-man show filling all the roles you can at the moment!) Even so, we've found it's critical to create an accountability chart of every role you need and then drop names of your team members onto each one. (Hat tip to the Entrepreneurial Operating System for this idea!)
By doing this, you can forecast into the future and consider what roles you need to hire for next. (Note: This is not the same thing as an organizational chart. Think of it more as your ideal team structure.) Here are the most critical roles on our accountability chart—we'd definitely recommend you have them on your agency's chart, too!
Visionary: No, this person isn't a fortune teller or a prophet—this is just the term that Gino Wickman uses in "Traction" to describe the president or CEO of the company. This person is responsible for business development, communicating the company vision, guiding the company culture, coming up with new ideas, and building relationships and clients and employees. For example, Lance, as our visionary, meets with each of us weekly to find out how we're doing and ask what he can do to help make our jobs or our lives easier.
Inbound marketing strategist (account lead): The person in this role is in charge of positioning the client in the marketplace, developing the buyer journey, doing keyword research, coordinating content and campaign planning, and more. This person should have a good understanding of the big picture when it comes to the client's strategy and needs to be able to explain the "why" to the client.
Inbound marketing coordinator: The person in this role is focused heavily on managing accounts. Their day-to-day likely includes working in HubSpot, spending time on social media, doing client reporting, and managing the deliverables process. They should be organized.
Writer: The writer is an inbound agency's "central producer," as content is what drives inbound marketing. Aside from a deep love of writing, this person needs to excel at interviewing and communicating. They should be able to switch writing styles based on company needs and have a strong command of the English language.
Editor: The person in this role is charged with ensuring that all content is of the highest quality. This safeguards your brand. A strong editor shouldn't just check for grammatical errors—they should also offer your writer(s) suggestions on how to improve.
Designer: As a small company, the person in this graphic design role should be multifaceted. They need to understand the concepts of an effective web page layout, have an understanding of development, and know how to represent a company's brand effectively through design.
Developer/IT support: This person—at a minimum—should know HTML, CSS, and JavaScript. It's ideal if they have some knowledge of back-end languages and understand technical commands for new forms of content.
2. Know what you're looking to accomplish as a company.
Before you bring another person onto your team, be sure you've thought through and laid out your mission statement or values. Without doing that, it doesn't matter how many team members you hire—you still won't be any closer to accomplishing your goals. (Because you won't have any!)
3. Consider your unique role in the marketplace.
Lance decided early on that a distinguishing feature for Nectafy would be that our writers are full-time team members, not outsourced. This isn't necessarily the right move for every agency, but most agencies will have something they want to focus on or specialize in. You may want to outsource writing, for example, because you're really strong in development. Whatever the call, be sure to consider this.
4. Look for bottlenecks.
When you started out as an agency, you probably made your first couple hires based on your own strengths and weaknesses. For example, if you're a strategic person, maybe you needed a more technical person on board. You have to use your own personal skills and abilities when you're shaping your company—so only make a hire when someone can take over one of your weak points.
This same idea can be applied as you continue to grow and scale by simply keeping an eye on capacity and identifying possible bottlenecks. You may need to relieve pressure from a person by splitting up duties or hiring someone to take on a role they're not cut out for.
5. Hire based on values—not a resume.
Yes, resumes are important. But a resume and a solid cover letter won't give you any indication of whether the person applying for your open position has the values that your company has established as important.
If your agency has a list of core values, come up with at least one question per value to ask applicants in their interview. When you're creating these questions, make sure they're asked in a way that will shed light on whether an applicant holds that value when they answer. For example, if your company values learning, you may want to ask the applicant what book they're currently reading or if there's a particular topic they're into researching right now.
6. Look for people who are better than those currently on your team.
I know what you're thinking: "But I've already hired the best people in the world... I couldn't possibly find better!" And that's awesome! More power to you. But you should always push in that direction regardless.
Here's an example: When we began looking for a third writer for the Nectafy team, Emily (a fellow Nectafy writer) and I were involved in the candidate review and interviewing process. As part of that process, we reviewed writing samples from a number of great writers. Every time we read something, we were both focusing on whether the applicant was a more talented writer than we felt we were. (Sure, it's subjective—but using that method helped us know we weren't settling when we found Meredith. She's incredible!)
What's your best tip for making a solid hire? Comment below or tweet us @nectafy—we want to hear about it!