22 SEO Myths & Misconceptions
Blog /

22 SEO Myths & Misconceptions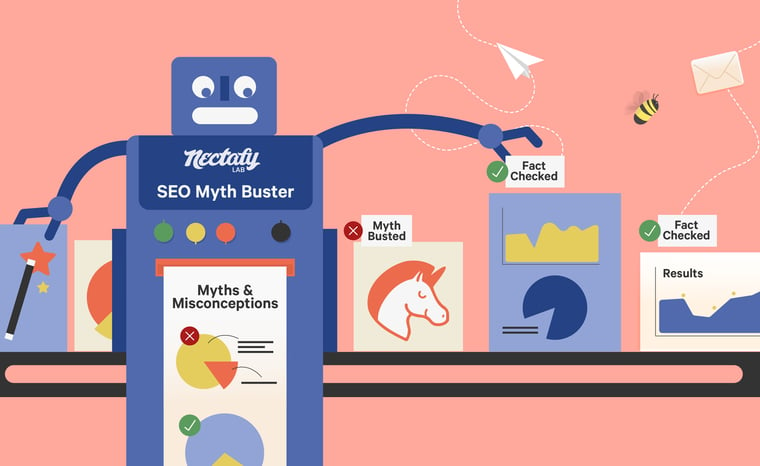 There are plenty of self-proclaimed "SEO experts" out there.
And it makes sense—search engine optimization specialists talk about things with the purpose of getting other people to find them in search engines. Inherently, anyone in SEO will be writing about how good they are at SEO. They're essentially people writing about search engines to rank their writing in search engines.
With so many people writing about SEO, it becomes a breeding ground for myths and misconceptions.
We wanted to learn about the most common SEO misconceptions, so we asked a number of people who have experience doing SEO this question:
What is one thing you thought was true about SEO early in your career that you later found out was a misconception?
Below, we've organized and shared the best responses. Please keep in mind that some ideas may contradict others, and we at Nectafy may not agree with each one. We are simply sharing quotes from the people who contributed to give you a broad range of the views out there.
Early-career SEO Myths & Misconceptions
Simply target the right keywords.
"One of the most frequent SEO misconceptions is that it is entirely about keyword targeting. Many individuals feel that if you merely sprinkle the keywords you want to rank for throughout low-quality writing, the page can rank.
Wrong. No matter how well you optimize for search engines, if you don't produce high-quality content, you won't rank as well in the search results."
—Miklos Zoltan, CEO & Cybersecurity Researcher at Privacy Affairs
Use the target keyword as much as possible.
"I started working in the SEO field almost three years ago and the biggest misconception I had at that time was that the more you use keywords on a page, the better it will rank. I thought I needed to use the keywords as often as possible throughout my content.
I soon realized that focusing too much on attaining a certain keyword density not only ruins content but also makes you lose your credibility. Instead, always write in a natural way using the key phrases and related key phrases. Make sure your content is helpful to users."
—Igor Avidon, President and Chief Strategist at Avidon Marketing Group
Google penalizes for duplicate content.
"Most people believe this one, including me early in my career. But while duplicating content does not carry a penalty from Google, it can nevertheless impact your organic rankings. If your site contains duplicate material, search engines will divide the authority between the duplicates, resulting in a dilution of your rankings.
Additionally, your backlinks will suffer as a result of duplicate material. The crawl budget is wasted on crawling the same information repeatedly, when it could be used to index other critical web pages."
—John Bertino, CEO at The Agency Guy
"This is a common myth that I hear. The concept is that if your website's content is duplicated elsewhere on the internet, Google will punish you. Knowing the contrast between algorithmic suppression and manual action is important to understanding what is truly going on here. A manual step, which could result in web pages being deleted from Google's index, will be carried out by a Google employee. Google Search Console will send a notification to the website's owner. When your page is detected by an algorithm's filter, it can't rank well. This is known as algorithmic suppression. In other words, if you copy from another website, you might not be able to outrank that website. The original host of the copy may be more relevant to the search query than yours, according to the search engines."
—Jake Smith, Managing Director at Absolute Reg
How much could your company grow with growth content?
Calculate your expected growth in organic visits based on the average Nectafy client.
Key Statistics
1,000
Month 1 Organic Visits
10,049
Month 12 Organic Visits
All backlinks are beneficial.
"One thing I heard about SEO was that any backlink from a high domain authority (DA) site was great. I didn't realize that there are so many more components that play into the true strength of a backlink, such as relevancy and how spammy the site is. Once I realized that, I definitely reassessed the backlink sources I was targeting."
—Emily Mast, Content Marketing Specialist at The Exclusive Hawaii
Backlinks are everything.
"Backlinks are one of many factors that influence rankings, according to some SEO people, although they are not the most essential. Links still have a significant impact on rankings. There will be scenarios where a site can rank well without investing in link building, based only on the quality of its content and technical efficiency."
—Dr. Pooneh Ramezani, CEO & Co-Founder at Dr. Brite
Backlinks are primarily purchased.
"I assumed links were bought and paid for. I know that people often pay for PR opportunities, and advertising space costs money, so I thought backlinks were probably the same deal. I was really surprised to learn that paying for links can actually get you penalized by Google."
—Chris Zacher, Content Marketing Specialist at Intergrowth
Spammy backlinks can drag down your site.
"I believed that spammy backlinks could really drag down your sites, but after some time learning a little more I found out that Google generally just ignores a lot of linking from low quality and low authority sites. This means I don't really have to worry so much about adding every single dodgy linking domain to my disavow list."
—Nikki McLaren, Content Developer at Spaceguard Ltd
Your mobile site has no impact on your rankings.
"A prevalent SEO myth is that your mobile site has no impact on your ranking. Many businesses assume that as long as their desktop site is functioning properly, they don't need to bother with their mobile site. That could hardly be further from the truth, given Google's rollout of mobile-first indexing in 2018.
When Google ranks your pages, it takes the mobile version of your site into account. If your website is not mobile-friendly, you will suffer in the search results."
—Darshan Somashekar, Founder & CEO at Spider Solitaire Challenge
Rankings are improved by PPC advertising.
"This widespread misconception is totally false. The algorithm used by Google to rank organic search results differs significantly from the one used to calculate PPC ad placements. Running a paid search advertising campaign through Google at the same time as performing SEO may benefit your site in other ways, but it will have no direct impact on your organic rankings."
—Tony Kelly, CEO at CameraGroove
Metrics from SEO tools are facts.
"I didn't realize how much metrics can differ from one SEO tool to the next. I'd try one tool that was telling me a keyword had a monthly search volume of 50, and another tool would say 500. When I learned the estimated search data provided varies greatly from tool to tool, I quickly signed up for the most effective (albeit pricier) tools available."
—Emily Mast, Content Marketing Specialist at The Exclusive Hawaii
PPC tools can lead your organic efforts.
"A common refrain I heard leading up to the launch of my site was that tools built for Pay Per Click (PPC) keyword research should direct our organic keyword approach. Understanding the purpose of a tool is often as important as the tool itself. If you tailor your approach based on a PPC mindset, you effectively curtail the traffic your drive to your site and limit your future growth."
—Kyle Crawford, Owner of The Inimitable Path
SEO is all about on-page optimization.
"Before I started working in SEO, I thought SEO was just about the keywords, meta-description, title tags, and header tags. However, I quickly learned that SEO is a lot more complicated than those few on-page elements. A successful SEO strategy is dependent upon a wide array of factors, such as site architecture, page load times, back-link profiles, local online directories, and much more."
—Niles Koenigsberg, Digital Marketing Specialist at Real FiG Advertising + Marketing
On-page optimization isn't that important.
"One misconception that I dealt with before starting in SEO is that on-page SEO isn't that important. But I now know that on-page SEO is the foundation from which you build your SEO strategy. I wouldn't want to live in a house with a shaky foundation, and search engines despise websites that neglect theirs."
—Diego Cardini, Founder at The Drum Ninja
SEO is a "one and done" process.
"One misconception that I had in mind before starting SEO is that it's a one-time thing. It would be fantastic if you could hire an SEO wizard to wave their magic wand and fix your SEO for good. That, however, is not the case. It requires constant hard work, modifications, research, and reporting, like with most things in life. Because search engines' algorithms are continually evolving, modifications must be performed on a regular basis. Because competitors can swoop in on your rankings, it's essential to constantly improve if you want to preserve your organic traffic. Basically, anyone that claims to be able to fix your SEO on a project-by-project basis is wrong."
—Jason McMahon, Digital Strategist at Bambrick
"Before I started my SEO career, I firmly believed that SEO was just a one-time task or something that could be accomplished quickly. However, I quickly learned that proper SEO takes consistent work and a lot of patience. I have to adapt to the ever-changing SEO environment and constantly learn and test new strategies."
—Larry Li, Chief Content Officer at Verum Ecom
Google is the only worthwhile search engine.
"Google appears to be a massive, all-consuming beast. Its market share is so large that seeing past its six letters to the competition can be difficult. But don't overlook Yahoo, Bing, Ask, and other search engines. These smaller operators can deliver more results, and they've grown popular among those trying to break free from Google's digital dominion. This alone can be a selling point for businesses and customers, with search engines targeting niche markets of highly engaged people rather than Google's all-or-nothing audience."
—Benjamin Rose, Co-founder at Trainer Academy
SEO is all about what Google wants.
"When I first started out with SEO, I thought it was all about Google. What Google knows, what Google wants, what keywords to use so Google will rank you higher.
But it's actually all about your user. Are you offering the best user experience? What questions does your audience have and are you trying to solve their problem?
The end result might be the same: add keywords, get backlinks, improve speed, etc. But since you're doing it for your user you prioritize differently and you add a more human, empathetic touch to everything."
—Olga Tsimaraki, a Digital Marketing Consultant
Content marketing has replaced SEO.
"Many people believe that search engine optimization is dying since search engines are now recognizing and rewarding excellent content over some old SEO methods. SEO and content marketing are inextricably linked. While quality content is required to engage customers, SEO is still required to drive traffic to the content. Consider a new company that is providing excellent content. It's a positive step, but without optimization, no one will be able to view it if their website isn't found."
—Tommy Gallagher, Founder at Top Mobile Banks
SEO will stifle your creativity.
"When I switched from writing fiction to writing blog posts, I didn't want to be told what to write. But on the contrary, I found my SEO research to be very inspiring—the opposite of stifling."
—Alison Ver Halen of AV Writing Services
SEO is not for beginners.
"I thought I would have to wait six to eight years to start getting results from SEO.
But in one of his videos Neil Patel said that SEO is not difficult and you can see results with a few beginner tricks. That made me start learning SEO. I am glad I took his advice. "
—Ekta Swarnkar, Owner at Tia Says
Guest blogging is dead.
"I started to believe that guest blogging was dead way back in 2014, when Matt Cutts caused an uproar by saying that guest blogging is done and has gotten too spammy. When I started my SEO journey two years ago, I still believed it, and preached against it.
But as I dug deeper into SEO, I found out that Matt Cutts' statement was not about guest blogging being dead. Instead, he was referring to lousy content on certain blogs.
The bottom line: Guest blogging will never die. As long as you avoid spammy blogs, you will always reap its benefits."
—Ryan Patel, Founder at Lottery Sambad
High-volume keywords are the only worthwhile pursuit.
"I was really focused on high-volume keywords when I was just starting and thought these have the best chance at increasing traffic. While this is true when you rank in the top 10 for such keywords, the experience has shown me that achieving those results is virtually impossible if you're just getting started. What I completely neglected was the importance of keywords with lower volume. These were much easier to rank for and consequently brought more traffic than the high-volume ones."
—Nick Chernets, CEO at Data for SEO
"My biggest misconception about SEO was that you should attempt to rank for the keywords with the largest search volume. While search volume is something that should be kept in mind when choosing keywords, you have to look at what sites are already ranking for those words. You don't want to choose broad keywords that established, well-known companies and websites are already ranked for. Choose keywords that are tailored to your niche and are easier to rank for, then consider search volume."
—Chloe Sisson, Outreach Coordinator at Zen Media
SEO has clear rules for success.
"Early in my career, I thought SEO was all about following known principles and simply doing more work. Today, I believe SEO is all about experimenting and finding out what works best for you. Some SEO tactics will work better for one brand compared to another, and you have to test it all yourself."
—Aaron Agius, Co-Founder at Louder.Online
What did we miss?
Would you like to contribute an SEO myth or misconception? Let us know on Twitter @nectafy for a chance to have your idea included.